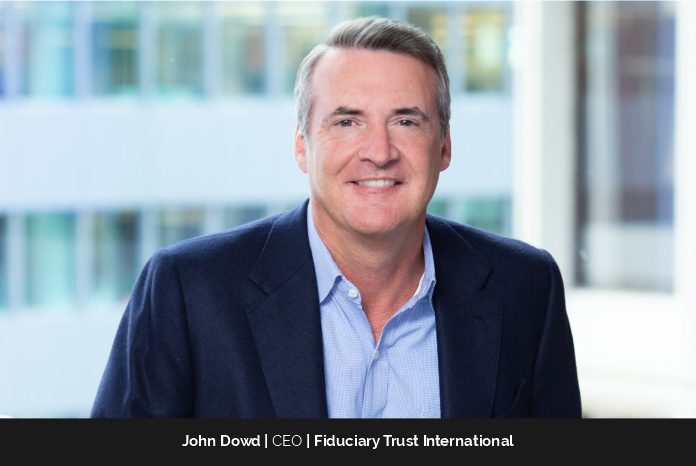 "Success for me is when we have created a working environment where the team feels like the strategic plan is all theirs, that they have license to stretch themselves, and we are having fun. It is also about executing a strategy smartly understanding where the linkages are ahead of time and avoiding duplication," says John Dowd.
John is the Chief Executive Officer, a member of the Board of Directors, and chairs the Management and Operating Committees at Fiduciary Trust International. He has more than 30 years of experience in wealth management and is a frequent speaker on wealth management topics. Prior to joining Fiduciary Trust in 2016, he served as executive vice president and senior managing director for Wells Fargo Wealth Management, where he oversaw the Northeast region. John's previous positions also included serving as head of wealth management for The Bank of New York. He received his B.A. from Guilford College and his M.B.A. from Columbia University. John serves on the advisory board of the UHNW Institute, and on the boards of the Metropolitan Opera Guild, the Montclair Art Museum, and North Capital Investment Technology, Inc.
John credits his success with beginning his career in an entry-level position, and working his way up, taking on as many "dirty jobs" as possible. This gave him a ground-eyed view of where improvements could be made by leveraging technology, changing workflow, etc. Since he had a real hands-on perspective, it also gave him the confidence that he could lead the business to a better place. So, over time, John confidently asked for more and more responsibility.
John thinks he and his team have done a good job of marrying the solid and tried and true elements of a 90-year-old trust company—stability, integrity, dedication, focus—with some of the more modern elements today's wealth management clients expect—speed, digital delivery, sustainable investing, access to alternatives and co-investments. Along the way, he believes the company's core values have remained unchanged— client-centric, objective, and independent, no short cuts —­ and there is a deep appreciation for the technical and specialized skills its people bring to the table. John asserts, "Together that creates our unique culture that keeps clients and our advisors here on average for 20 years."
Fiduciary Trust International
Fiduciary Trust International was founded in New York in 1931 as a specialized trust company. Its aim was to eliminate the conflicts inherent in other wealth management models that were prevalent at the time (and still exist today). The company provides investment management, trust and estate, tax, and planning services to high-net-worth (HNW) clients around the world. John asserts, "Our specialists work in dedicated teams from offices across the US."  The company has over $90 billion in client assets under its care and has been part of the Franklin Templeton family of companies since 2001.
Project Snow Lion
For John, his proudest moment was seeing the entire firm engaged in the firm's strategic reboot, Project Snow Lion. He recalls, "This was a grassroots project designed to improve the client experience, the advisor experience, and our competitive positioning. There have been other satisfying industry recognitions — A Barron's article on doubling the size of Fiduciary within 5 years (we did it in 4), the Family Wealth Report Awards for Excellence in Family Wealth Counseling and Independent Fiduciary/Trust Services— but Project Snow Lion was great to see from ideation to execution to now reaping the benefits."   
Work-Life Balance
John organizes his time daily around four key activities:
Thought Leadership — Staying up to date on markets, the industry, technology, and trends
Operating the Business — Managing the P&L, product performance, and product development
The Client Experience — Meeting with clients and helping with new business, and client retention
The Advisor Experience — Meeting with our teams and communicating strategy, and direction
"Some days one of the areas gets a little more attention than others, but I try to keep the discipline," says John.
As per John, maintaining the balance is hard and has gotten harder with COVID. The team tries to have meeting moratoriums, such as around the holidays, to avoid creepage. It does try and mix its business with social activities. The company hosts employee engagement events regularly. John tries to be himself and be accessible. He says, "What helps, though, is that I love what I do, the people I work with, and the stories around each of our clients. Like Buffett says, it's important to pick a job where you can skip work every morning, which I feel I do. That makes for an interesting visual as I am very tall at 6′ 7."
Keeping Up with The Changes
"Innovation is prized in the company," says John. He stays up at night thinking about new trends, client needs, and demand. He adds that a good example is the work Fiduciary is doing with digital assets. As per John, with the advance of blockchain technology, forward-thinking asset managers like its parent, Franklin Templeton, are looking for illiquid assets they can tokenize, and trade globally 24/7. HNW clients, in turn, will be investing in these assets because of their potentially higher return profile. "It's why Fiduciary is working towards offering digital custody services, and this is the driving force behind our recent investment in North Capital."
John also stays abreast of the changes happening in the industry by staying close to the "disrupters." The fiduciary invests in fintech start-ups, and John has served on two of their boards.
John would like to make Fiduciary Trust International the unequivocal gold standard, globally, for wealth management. He says, "We have such great people, products, and culture that it is very achievable."
For aspiring business minds, John would just say how lucky they are to be alive in this time of such dramatic technological innovation. He states, "It will be fascinating to see the solutions that technology will bring to our clients in the future."