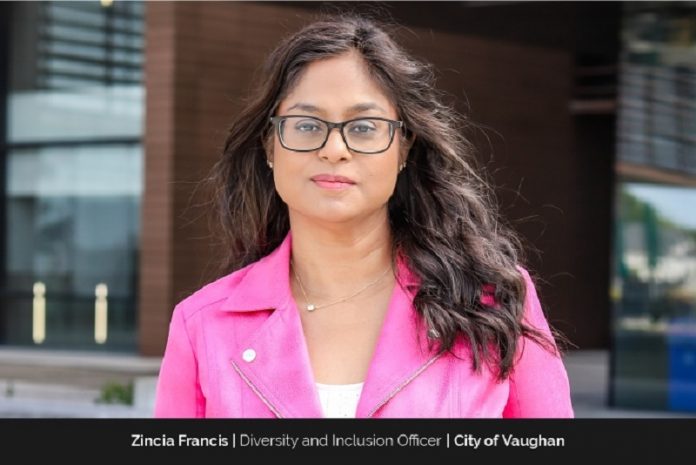 Zincia Francis, the inaugural appointee as the Diversity and Inclusion Officer at the City of Vaughan, has been professionally committed to diversity and human-rights work for more than a decade. Her past experience as a child refugee in Canada profoundly shaped her understanding of the importance of dignity, human rights and compassion.
With professional and educational expertise in diversity, equity and inclusion, Zincia firmly believes that when equity is foundational to society, everyone benefits. Her career in the human services field encompasses a range of activities, from addressing gender-based violence and providing crisis support to those affected by critical traumatic events, to striving for equitable outcomes for children and families involved in child welfare.
Building a Strong DEI Foundation
Before joining the City of Vaughan, Zincia served eight years in the child welfare sector. Her work focused on anti-Black and anti-Indigenous racism efforts with an overall mandate to achieve equitable outcomes for children, youth and families in the Greater Toronto Area. At the provincial level, through her previous work with the Ontario Association of Children's Aid Society, Zincia also worked on equity initiatives supporting Two-Spirit, Lesbian, Gay, Bisexual, Trans, Questioning/Queer+ (2SLGBTQ+) children and youth.
"I know that making changes requires a seat at the table, and that seat comes with responsibility entrusted to you by the communities who have lobbied, advocated, marched and died for change. It was their courage that inspired me to answer that call. When I welcomed the opportunity to work as a Diversity and Inclusion Officer at the City of Vaughan, I knew it required vulnerability, bridge-building and appealing to a shared sense of good," she says.
Zincia saw the opportunity as a path to building a strong DEI foundation in the workplace and the community. She welcomely accepted the position in January 2021. Two years into her role, Zincia leads a team of passionate and dedicated DEI professionals who are equally as committed to building a more inclusive society.
Fostering A Diverse, Inclusive and Equitable Community Culture
The City of Vaughan was incorporated in 1991. It is one of Canada's fastest-growing cities with a population of approximately 345,000. It's located in the heart of York Region and the Greater Toronto Area, and includes the communities of Concord, Kleinburg, Maple, Thornhill and Woodbridge.
Vaughan is a vibrant and diverse city with an appreciation for the many cultures, creeds and faiths that thrive there. As a progressive municipality, the City is committed to fostering a diverse, inclusive and equitable community culture where all residents, employees, businesses and visitors are provided opportunities to engage and participate. Prior to the creation of the Diversity and Inclusion Officer role, efforts to continuously promote and advocate for accessibility had been integral to the City's operations.
The Vaughan Inclusion Charter was signed in 2019 and a corresponding Inclusion Charter Committee was established soon after, in addition to Vaughan's Accessibility Advisory Committee. Fostering active, safe and diverse communities is a long-standing Council-approved priority that continues to be part of the City's strategic plans.
Zincia has a versatile role that adapts to the needs of the community. In 2022, Vaughan Council enacted the City's Diversity, Equity and Inclusion Plan, which serves as a foundational blueprint to ensure every community member feels a sense of belonging and is included. To that end, Zincia offers guidance, advises on the refinement of policies, processes and procedures, and executes the initiatives outlined in the plan. A regular day for Zincia includes attending strategy and implementation meetings with senior leaders, assisting Council-led citizen committees, liaising with the community on topics ranging from accessibility to commemorative events, and working alongside her team to advance DEI.
A recent initiative being led by Zincia is the development of the City's Addressing Anti-Black Racism Community Engagement Action Plan. The plan is driven by Vaughan's diverse Black communities and emphasizes the importance of inclusive engagement in the municipality's daily operations.
Zincia's DEI work at the City of Vaughan has been noticed! The City received a 2022 Canadian HR Award for Excellence in Diversity and Inclusion. This award honours organizations that prioritize diversity and inclusion by offering programs for women, racialized groups, people with disabilities, Indigenous peoples and 2SLGBTQ+ individuals. The City's innovative and leading best practices create a dynamic and inclusive workplace, which helped Vaughan earn this honour.
"In the face of injustice, remember that your voice has the power to spark change. Choose to act. Know that it is a conscious and intentional decision."
Spearheading Initiatives to Advance the City's Efforts
Since the decision to establish a full-time Diversity and Inclusion Officer, Zincia's team has advanced the City's DEI efforts through the following initiatives:
The Diversity and Inclusion Task Force
This task force was mandated to guide the City in developing policies that promote fairness, mutual respect and inclusion among Vaughan's varied individuals, communities and stakeholder groups. With this vision in mind, the task force delivered the Diversity and Inclusion Task Force Findings and Recommendations Report to Vaughan Council in June 2022, after considerable research, consideration and dedication.
The report outlines step the City can take to foster an inclusive, equitable and accessible community for all – including applying a DEI lens to corporate policies, practices and services. The areas of employee recruitment, staff retention and development, procurement and purchasing, and City programs and services were identified.
The report also recommended creating a permanent Diversity, Equity and Inclusion Committee, installing a plaque acknowledging the land and the First People, improving engagement with equity-seeking groups and more. Although the task force's mandate ended in 2022, the City has since recruited a new Anti-Hate, Diversity and Inclusion Advisory Committee to continue this critical work throughout the current Term of Council (2022-2026).
Diversity, Equity and Inclusion Action Plan
The City of Vaughan is wholeheartedly dedicated to cultivating, establishing, and upholding a culture enriched with diversity, equity and inclusion. The City strives to address pressing social justice issues by collaborating closely with its diverse community. In 2022, the Diversity, Equity and Inclusion Plan (DEI Plan) was developed to foster a culture of inclusion and belonging, and ensure every citizen, employee, business and visitor has equitable access to opportunities to engage and participate.
The DEI Plan is a multi-year strategy that strengthens the City's efforts to create a welcoming environment. It does this by setting out measurable actions for change. The plan also emphasizes reconciliation with Indigenous communities, addressing anti-Black racism, engaging with equity-seeking groups, aiming for gender parity in leadership roles and creating community programs that represent Vaughan's diversity. The City's dedication to fairness, social justice and anti-discrimination underpins these efforts.
The Addressing Anti-Black Racism Community Engagement Action Plan
The City is working with the diverse Black community, organizations serving Vaughan's diverse Black communities, and community leaders to identify and remove barriers to Black participation in municipal services, programs, events and more.
The Black community's diverse life experiences, viewpoints, background and identity are essential to the development of this plan. This community-centred City-driven project aims to harness the voices of the City's diverse Black community to inform a multi-year action plan to identify and address anti-Black racism in municipal operations.
The Anti-Black Racism Special Advisory Committee
This special advisory committee was formed in 2022 and includes seven Black community members and policy leaders with lived experience and expertise. The mandate of the group is to provide advice on the Addressing Anti-Black Racism Action Plan project; facilitate community connections; advise and guide the community engagement process; provide feedback on the reports in each phase of the project; and provide feedback on the recommendations and action plan.
Indigenous Relations and Reconciliation
The City adopted an update to its Indigenous Land Acknowledgement in June 2021 to respectfully acknowledge that Vaughan is situated in the Territory and Treaty 13 lands of the Mississaugas of the Credit First Nation. The City also recognizes the traditional territory of the Huron-Wendat and the Haudenosaunee. Vaughan is currently home to many First Nations, Métis and Inuit people today, and, as representatives of the people of the City of Vaughan, staff are grateful to have the opportunity to work and live in this territory.
The collaboration with the Mississaugas of the Credit First Nation (MCFN) is a major step toward Indigenous community relations. By establishing a Memorandum of Understanding and developing a relationship guide, the City aims to lay the groundwork for consistent, respectful, and meaningful collaboration. This partnership embodies the City's commitment to directly address and implement relevant actions from the Truth and Reconciliation Commission's calls to action. By working together with the First Nations communities, Vaughan strives to create a future that acknowledges past injustices, respects Indigenous rights, and paves the way for harmonious coexistence and mutual growth.
Sisters in Spirit
The City has proclaimed October 4, Sisters in Spirit Day each year. This day honours the lives of missing and murdered Indigenous women, girls and two-Spirit people, supports grieving families, and creates opportunities for healing. In commemoration, the City hosts an annual Sisters in Spirit Vigil outside in the Courtyard at Vaughan City Hall for community members to attend.
Rainbow Crosswalk
The rainbow crosswalk in front of Vaughan City Hall symbolizes the City's dedication to inclusivity and acceptance, and affirms identity, history and belonging for the 2SLGBTQ+ community in Vaughan and York Region. It celebrates the diversity and resilience of 2SLGBTQ+ people and sends a clear message: Vaughan and York Region stand in solidarity with 2SLGBTQ+ residents, acknowledges their struggles, embraces their contributions and will continue advocating for a future where everyone can walk with pride and in unity.
The 2023 to 2027 Multi-Year Accessibility Plan
This plan, being brought forward to Vaughan Council later this year, will build on the success of the current Accessibility Plan and further the City's commitment to create a barrier-free community with universal access to its programs, services and facilities. With the implementation of this plan, the City is ensuring people at any age and ability are treated in a way that allows them to maintain their dignity and independence. It will do this by outlining the various activities and initiatives the City will continue to undertake to support accessibility, including designing barrier-free public spaces, enhancing transportation and customer service, using accessible communication and information channels to meet the diverse needs of the community, and championing inclusive employment practices and accessible workplaces.
Accessibility Excellence
The City will continue to implement and champion excellence in accessibility through the Multi-Year Accessibility Plan, and advance innovation in accessibility through the Accessibility Champion Awards. The City is also investing in a Wayfinding Signage Pilot Program around the area of the Vaughan Metropolitan Centre – Vaughan's downtown core – to improve City facility signage, both indoors and outdoors. Additionally, the City is partnering with the Canadian National Institute for the Blind to launch a Wayfinding and Accessibility Pilot Program across several City sites.
Rick Hansen Foundation Gold Certifications
The Rick Hansen Foundation awarded various City facilities with Gold Certification for accessibility. They include Vaughan City Hall, Vaughan Fire and Rescue Service firehalls 7-4 and 7-10, Vaughan Civic Centre Resource Library, and the North Thornhill Community Centre and Pleasant Ridge Library as a combined facility.
The installation of automatic door openers, tactile walking surface indicators on stairs and accessible seating are what contributed to these achievements. The Ontario Municipal Social Services Association Accessibility Award and the David C. Onley Award for Leadership in Accessibility are other accessibility awards the City has earned.
Inclusive Design Standards
Having inclusive Design Standards allow the City to advocate for any new development in the community to be inclusive and accessible for all and demonstrate the City's market leadership from an inclusive design perspective.  These standards exceed the Accessibility for Ontarians with Disabilities Act and Ontario Building Code requirements. These design standards outline examples and best practices to make buildings and other areas, like play spaces, washrooms, trails, service counters, office environments and places of worship, as inclusive as possible.
Project SEARCH
Project SEARCH is a transition-to-work program specifically designed for high school students with developmental or intellectual impairments. Through its participation in the 2022/23 program, the City was able to take steps to break down workplace barriers faced by people with disabilities.
For this year-long pilot, the City joined forces with the local school board and community agency to offer mentorship, dedicated training spaces and internship opportunities across multiple City divisions.
"When faced with differing perspectives or challenges, embrace them as opportunities for growth. Question why you feel the way you do, ask how your life experiences have shaped you differently, and see if there is a more rational or compassionate perspective you could take."
Advocating for Progressive Policies and Legislations
The City plans to continue to advance equity and social justice, and advocate at the provincial and federal levels to push for progressive policies and legislation that support inclusion for all Canadians. Priorities include reconciliation efforts and meaningful engagement with Indigenous communities, addressing anti-Black racism and collaborating with equity-seeking groups to address barriers to inclusivity. Understanding that municipalities have a level of influence, the City strives to advance equity across all levels of government, ensuring its community remains an exemplar of inclusivity and equitable opportunity.
Inclusive Engagement
Public participation is a complex process informed by different historical legacies and power imbalances (gender inequality, systemic racism, inaccessible spaces, etc.). Vaughan recognizes that democratic engagement is an integral part of building an inclusive and welcoming city. To make community engagement initiatives more inclusive and representative of diverse perspectives and needs, diversity, equity and inclusion principles will be embedded into the City's Community Engagement Framework. This includes public outreach strategies, which will be developed with a goal to reach and resonate with marginalized groups, amplifying their voices.
"As a progressive municipality, Vaughan is continually working to champion a more inclusive community. The City has a long-standing commitment to fostering a community culture that is diverse, inclusive and equitable where all citizens, employees, businesses and visitors are provided with accessible opportunities to engage and participate."
The Tangible Results of DEI Activities
Zincia notes that municipalities are the closest level of government impacting the lives of people every day. Working towards equity, inclusion, belonging and social justice is not just the right thing to do for municipalities – it is also a vital economic driver. By employing diverse teams that are representative of varied backgrounds, its fosters innovation and positions municipalities to creatively address challenges. As cities become inclusive, they attract global talent, which in turn boosts local industries and economic activities.
Inclusive cities also experience broader economic participation from all residents from various backgrounds, maximizing local economic output. These cities are celebrated for their diverse cultures and often become tourist hubs, which further fuels their economies. The reputation of a municipality as forward-thinking and progressive, also attracts businesses and investments. This leads to sustained economic growth. Accessibility and inclusivity translate into reduced social service costs, the discovery of new local markets and reduced legal liabilities. By fostering an inclusive environment, municipalities ensure that infrastructure and public spaces cater to everyone, promoting economic efficiency.
Zincia points out that convincing stakeholders of the tangible economic benefits of DEI can sometimes be challenging. Despite its potential, it's increasingly perceived as a social agenda. However, once stakeholders experience these economic benefits, it validates the importance of employing DEI initiatives and provides the momentum to sustain and deepen this work.
Power of Knowledge
Zincia notes that digital platforms have global reach and have facilitated the democratization of information, thereby highlighting to younger generations the importance of inclusion – they aren't asking why we have to do this, but rather why don't we already do this. They are continually challenging the status quo, pushing boundaries, and demanding a more inclusive and just world. Zincia affirms, "this drive, this possibility of an equitable world, is nothing short of beautiful. Their passion, curiosity and commitment to a more inclusive world keeps me invigorated, continually fuelling my own optimism. Every time I witness their efforts, I'm reminded of the brightness of our shared future and am filled with hope for what lies ahead. My aim is to leave a foundation that they can build on."
The Keys to Sustainable DEI Change
Addressing the misconceptions surrounding DEI is part of the work. Many leaders across various sectors believe hiring a DEI leader is the solution to all the organization's DEI problems – but the surface symptoms are the result of interconnected systemic oppression. These systems of oppression are so normalized and part of our daily lives that we simply don't question them.  Leaders are the solution as they have the power and must choose change.   Invested interest is not simply delivering "solutions" but inviting others to co-create the journey.
Building strong, individual relationships and making time for daring, sometimes difficult, dialogues with peers is part of Zincia's key to sustainable change. She extends horizons by intentionally creating space to hear from historically and presently marginalized people, and notes that listening often leads to mutual understanding and, at times, can even challenge long-held assumptions or perceptions.
It is these very moments of tension that can lead some individuals to introspect deeply and evolve, becoming unexpected allies. They not only empathize but take actionable steps, influencing policy and procedures in ways that drive positive change. These moments are transformative – although subtle, they are impactful and can alter an entire organization and community.
Creating Inclusive Spaces Where You Don't Have To 'Fit In'
Zincia sees herself as a resilient leader and feels that her work is often a small step forward while bracing for impact. She advocates for change while managing resistance or indifference and navigates complex socio-cultural spaces that see her as a threat to the status quo.
She confronts deeply ingrained biases by facilitating difficult conversations that are rooted in empathy. "Being resilient, to me, means remaining hopeful, adapting to evolving scenarios and finding innovative solutions to problems set deeply within our culture and institutions. I remain hopeful for the future," she says.
Zincia sees success as progress, not perfection, not linear, not always accumulative in a quantifiable sense – but rather a journey where you learn something about yourself as you try to achieve your goals and dreams. She feels grateful and privileged to have learned from the wisdom of the likes of bell hooks, Arundhati Roy, Ranjani Thiranagama, Cindy Blackstock, James Baldwin, Angela Davis and many others.
"Their courage, experiences and words changed the way I work towards social justice. I strive to build on their progress and leave the world better than I found it. Earning community trust, being equitable in achieving equity and creating inclusive spaces where you don't have to 'fit in' are not necessarily quantifiable but are markers of success for me. In the DEI space, success would be when my role is no longer needed. It's a funny way of putting it, but I hope to get there within my lifetime," she reflects.
Always Aim to Create More Space Than You Occupy
Zincia admits that managing personal and professional obligations are often challenging. Juggling priorities is never an easy task. Zincia reminds herself and her team to relax, set limits and take pauses. While her pursuit to achieve balance continues, her family and supportive team at the City keeps her grounded.
When it comes to her team, she ensures they know their hard work is appreciated at every level, gives credit and acknowledges their work, and reminds them to set their own personal limits and prioritize self-care. As a team, their work can be emotionally taxing. And sometimes, laughter is the answer to stressful days – they have team-building days where they do a fun activity, like bowling, and reconnect as a unit away from the workplace.
"We have space to call each other into difficult and sometimes challenging conversations, and allow ourselves to be human, make mistakes and expect a culture of learning and growth. In our journey, if we stumble, we acknowledge our mistakes openly, continue learning and adapting, being ever driven by our mission to champion diversity, equity and inclusion in Vaughan," says Zincia.
Integrity is vital to equity – and Zincia's work at the City of Vaughan revolves around it. Operating with honesty, accountability and fairness is how true progress is made. Zincia's team's equitable knowledge and life experiences shape their commitment to this endeavour. They consciously avoid a scarcity mindset and firmly believe that true progress encompasses everyone. To achieve equality and social justice, they work towards process equity.
"DEI confronts the limitations of the scarcity mindset. Pursuing wealth or achievement without regard for others not only leads to global turmoil and economic instability but erodes the very essence of our shared humanity."
Zincia's personal goal is to establish and advance social justice strategies at the executive level, as this tier has a profound influence on shaping organizational values and practices. Her goal goes beyond personal advancement into creating pathways and ensuring ample room is at the table for future leaders.
Zincia's message to those who aspire to lead is, "always aim to create more space than you occupy. Leadership is not just about rising to the top, but about ensuring that as you rise, you lift others with you. Each of us has the power to affect change, and when we open doors for others, we amplify that impact exponentially."