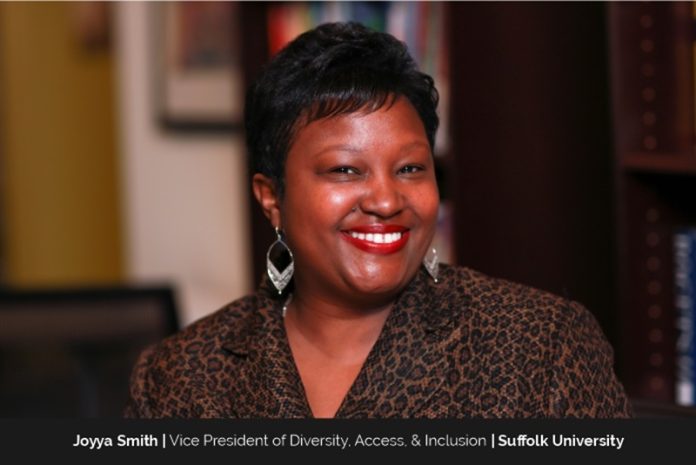 Joyya Smith is the Vice President of Diversity, Access, and Inclusion (DAI) at Suffolk University, responsible for developing and implementing diversity, equity, and inclusion (DEI) initiatives and programs that foster a thriving diverse, equitable, inclusive, and multicultural campus environment. Her influence has a significant impact on the university's efforts towards DEI.
In September of 2017, Joyya stepped into the newly created role of Vice President for DAI. Since then, she has contributed to several initiatives focusing on increasing the representation, access, and belonging for employees and students.  She is helping the university ensure that the campus is conducive to keeping the hope of students alive.
Students, Joyya says, come to the university with the hope that their experience will improve their lives in some ways, whether it be academically, professionally, or socially.
DEI Work a Permanent Fixture
Joyya always tells people that she went to college and never left. She was still an undergraduate student when started doing mentoring work with a minority-advisement program. That work, according to her, similar to the DEI and multicultural work she is involved in today.
After completing her studies, Joyya did not step out of the sphere of higher education. She decided to stay and has built a remarkable career in this field. She has held mostly leadership positions in her career spanning more than 20 years, and her work underscores how DEI has been a fixture in programming, directing, and teaching she has done.
Many people associate DEI work mainly with race or multicultural pieces. Joyya believes that it is not limited to them but takes on many different realms. There are things such as diversity of thoughts and generational diversity as well. The various dimensions of diversity and demographic traits people represent impact not only the higher education space but also the workplace.
Over the years, Joyya has done a lot of work for first-generation college students and similar marginalized populations that need support. Her experience working with the Federal TRIO programs gave her inspiration and tools to support students when serving as the Director of the University's Center for Academic Access & Opportunity she was presented with opportunities to engage in DEI activity that led to her current role of President for Diversity, Access and Inclusion. She remains grateful for the opportunity to interface with students, faculty, staff, and alumni in an effort to advance DEI and promote cultural enrichment opportunities for all stakeholders.
After serving in the role for the last five years, Joyya describes her initial years as the foundational years. The focus was on building community, establishing networks, and creating sustainable programs. At this stage, she feels the institution is continuously growing and evolving to ensure DEI programming is meaningful and relevant to current needs.
Joyya feels grateful that she has the opportunity to support and monitor the campus climate as well. She works with the university's institutional research department to conduct surveys and organize student focus groups to get a sense of the climate.
"I also work with other departments to develop strategies, initiatives, and programs to support or elevate some of the concerns that may have come out of climate surveys or focus groups," Joyya says.
Impacting the University
She has overseen the development of programming around employee resource groups that help faculty and staff build a community based on shared identities and interests. "To me, that has been a very powerful piece," she says. It has been accomplished at a student level and from a different department, not her own.
Joyya and her team have also developed a professional learning community around DEI, which started in the summer of 2020. She points out that eight cohorts of faculty, staff, and alumni have participated in a six-week program focused on diversity, equity, and inclusion. "And the feedback around this particular program has been useful in so many ways," she adds.
It has facilitated greater engagement; even those who had avoided engagement with anything related to DEI are participating. It has empowered people who wanted to get involved but did not know how to find their place. Joyya says that it has given them the latitude to do that. The program has also enabled people who already had some understanding to gain a little more in-depth knowledge about DEI.
"This program, over the last three years, has really enhanced our learning," Joyya says. It has also encouraged people to continue learning past the program, so much so that Joyya and her team have to create a second level of the program. Those participating in this second level have to create their own DEI project. Participants can carry it out in their department or community within six months. "This is pushing the limits of DEI and expanding how people can contribute to advancing DEI," Joyya says.
So, one of the things Joyya is hoping — which she always hopes for – is to find ways for people to incorporate DEI practices into different operational areas. She encourages others to embed DEI best practices into their operations, so they are standard of best practices. That will lead to faster representation, equity, inclusion, and belonging. "It will move us beyond DEI so people will no longer be fatigued or turned off by it."
Greatest Achievement and Success
For Joyya, her greatest achievement is the relationships she has been able to build. Her role has given her the opportunity to connect with all layers of the university: students, faculty, staff, leaders, administrators, alumni, and community partners.
"I have had an opportunity to engage with a wide range of leaders and contributors in this space and other industries as well," Joyya says. "So that has been probably the biggest accomplishment – to be able to make connections, provide support, and to learn."
Joyya's definition of success has evolved over the years. In the initial years of her career, she defined success in terms of a career ladder. It was all about making it to the next level; for example, from the position of assistant director to director, and then from the director role to becoming executive director. She now believes that success is not linear. It takes shifts and turns.
"Success, at this level, is based on being able to hit one's target and goals," Joyya says. The goals and targets evolve. One day, it can be getting prepared for giving a presentation before a group, and another day, it can mean meeting targets for interacting with a number of people on x activities.
"And if you feel comfortable with where you are with certain things, then progress can be a success," Joyya says.
"Success is certainly relative to what is a priority at the moment," she adds.
There Is No Regular Day
Joyya does not have a typical workday. She points out that no day is ever the same, which speaks to the latitude that her role allows for. On the day of her interview with CIO Views, Joyya had a meeting in the morning, followed by a student orientation program. She also helped two departments figure out how to support students and then spent almost 2 hours conducting training for employees in a particular department. "There are two disparate things that I've done before 1 'o'clock today," Joyya says. "And I still have projects to work on."
Joyya appreciates her varied schedule. It allows her to interface with many people and departments, and in different areas, which gives her food for thought on how to make connections across all of them. Joyya follows two leadership styles.
She leads from the front as well as believing in empowering others. She explains that there are times when a leader has to lead from the front of the room, stand up and share the news that may not be favorable, and broach topics and conversations that can be difficult.  But people expect that from the leader in this space.
There are also times when Joyya steps back and empower others to lead. "That isn't service to them in their development and growth. It is being mindful of what is needed at the time and providing that in that space," she says.
Joyya has strong work ethics. She, however, is still working on her work-life balance. In recent years, she has started to go on vacations, which was not the case earlier. "What I recognize is that you burn yourself out when you don't disconnect. Going on vacations is a good way to strike that balance."
There are other things that she would like to do more, such as yoga, meditation, and exercise. "But I can say what helps me maintain a balance is spending time with my family and going on vacations," Joyya says.
The Future in DEI Space
"I think the future of DEI, at least in my space, is empowering people to find their footing with DEI," Joyya says. That empowerment is not just for one person or three offices, it is for everybody. By engaging people in a professional learning community, one can bring people together in this space and then ask them, "how can we do this together." Joyya says that one needs to hear them out.
"That is what the second level of the program is for, to help figure out how they can find their place because one person can't do it by themselves," she adds. "They can try but they'll soon feel burned out." People need to support other people so that they can be a part of the work too.
Message to Aspiring Leaders in DEI Space
Joyya advises aspiring DEI leaders to do their own research and learning. In her message to them, she also says that they should continue to attend workshops and conferences and build their network of people – who can support them in areas where they may not be very strong or versed.
"And keep an open mind," Joyya tells aspiring DEI leaders. "Things evolve and change, and you sometimes have to be open to adjustments."