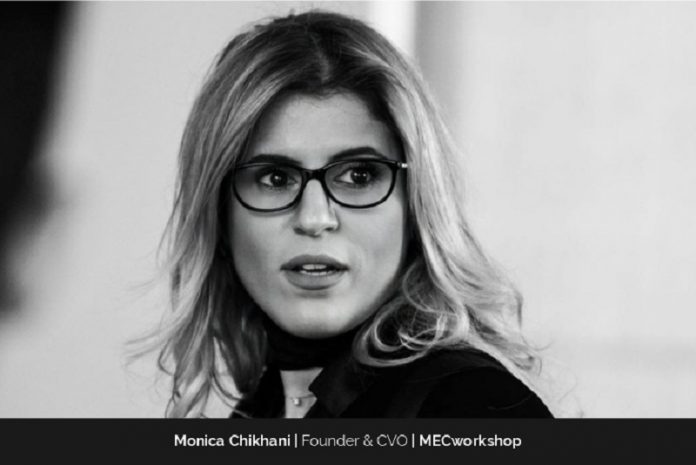 Tailored digital marketing solutions that serve astute customers and clients with an emphasis on building high-quality relationships will benefit all involved.
As Founder & CVO of MECworkshop, a cloud marketing workshop, Monica Chikhani delivers marketing and advertising solutions tailored to the clients' needs and turns brands, products, audience insights, and strategic thinking into marketing campaigns and experiential marketing.
She has over 25 years of experience in delivering powerful, elegant and award-winning marketing campaigns carried out through analyzing brands, trends and consumers insights, translating brand elements into go-to-market, and overseeing all creative development and consumer engagements campaigns to ensure brand positioning is achieved and delivered on market share growth.
Monica also has over 20 years of experience in leading and delivering marketing, creative and customer experiences to clients in diverse sectors. She has led over 500 turn-key creative projects of $10k to 2M and has a solid understanding of market trends, innovative marketing solutions and production best practices.
An early education in entrepreneurship
Coming from a traditional Lebanese family, Monica was born in Paris, holds an Australian passport, and is fluent in English, French, and Arabic. Having lived through the Lebanese civil war for most of her younger years, until she was 16 years old, she learned how to overcome any "difficult" situation by finding solutions to the problem.
Monica credits her father for laying the foundation for her entrepreneurial success, and he is still her No 1 mentor. After she graduated in Advertising Design with distinction from the Lebanese American University of Beirut, she worked alongside him in his office where she also absorbed his negotiation and agreement drafting skills.
"I learned how to be an entrepreneur from my dad, who was one. During my university years, I used to go with him to the office and watch him work," she says. "He made sure I learned everything from being a receptionist, to an accountant, to a business owner, so I can value people for their job and understand that every position adds value to any organization, when done correctly and empowered for growth."
She also credits her mother for helping her develop creative, artistic, and culinary skills. "My mum was an excellent host, a dedicated mother and a fantastic baker," she says. "I am a great baker because of her. Surely, I love baking, love the kitchen. I create dishes and bake creative birthday cakes because she thought me that every detail, every ingredient counts to make a successful dish/ dessert every time."
Working with fondant to create birthday and event cakes was somewhat easy for Monica, as in her university years there was no computers yet, so she developed her hands skills through the courses she needed to take to graduate such as working with clay, airbrush, drawing logos and modeling retail shops.
"Given that fact, my journey in self-growth began as early at MECworkshop, as I needed to learn Adobe cloud to be up to date with the new graduating generations," she says. "I make sure I create and always work on developing my unique personal value proposition to stay ahead of the competition. My skills and knowledge cannot be found in one marketer or a creative director or salesperson. I can easily assess any project by knowing the right skills to hire because I knew what the resource needed precisely to make it a success."
Committed to developing high-quality client relationships
Monica began her career with a multinational company that recruited her as a graphic designer. "After being there a couple of months, I thought that I was not getting any learnings, and I wanted much more than sitting behind a desk and doing what I was told to do," she recalls. "I wanted to show the world what I have to give to the advertising and marketing industry. So, I decided to take an office within my dad's headquarters, with no capital, only my computer, my passion and my vision."
Monica launched MECworkshop in 1996 and found it super-challenging for the first six months, with no business. "I came to a point where I wanted to give up. Still, my dad kept pushing me to go to the office every day and do what I needed to do to bring in business, until one day I was awarded the phone book of the city of Badaro. This has opened a lot of doors. I started building relationships and growing the business."
Today, MECworkshop's catered to many clients' such as Kent College Dubai, Arcadia School, Nestle, Unilever, Emaar, Dar Al Arkan, Taj Lifestyle Center, Qasr Mall, QualityFood, ROI ME, and they overlook countries such as UAE, Saudi Arabia, India, China, Lebanon, Iraq, and Egypt, leading on all marketing initiatives, teams, campaigns, and customer experiences.
Their core sectors include FMCG, Healthcare & Pharmaceutical, Finance, Fodd and Beverage, Real Estate, Grocery, Hotels, Education, Luxury Goods, and Exhibition centers. With over ten years of experience in POP, POS, Fixed Fixtures, Exhibitions visualizing design, and in Digital media Videos, 3D Animation Video, Corporate Video and Social Media, they operate with efficient and extensive experience in VUCA situations across the Middle East region.
Monica believes that challenges make you stronger, while faith keeps you going. She learned that being an entrepreneur with zero capital is not easy, so when clients delay payments, you need to figure out ways to generate cash to pay your dues for your resources, and these are not easy tasks.
"Standing tall to negotiate terms and agreements penalties, due to these setbacks in client settlement, made me know better how to communicate and how to make sure I come up with win-win solutions for all parties," she says.
This built her confidence in the fact that people will support you when you build strong relationships and create rapport with your resources, banks, and clients. "When you come to the table and bring in a solution, not an argument or dismay, people will listen, and they will recommend you and praise your business," she says.
Delivering marketing & advertising solutions sur mesure
MECworkshop is a cloud marketing workshop that delivers marketing and advertising solutions sur mesure (tailored to client needs).
"Although our unique value proposition was seen as an 'obstacle' in 1990 to 2000, because our staff comprised of freelancers working remotely, the pandemic has changed that," recalls Monica. "Our business skyrocketed during COVID because many agencies and organizations needed to release their employees and still had a lot of marketing work that needed to be done."
Being used to working remotely, MECworkshop stepped in and delivered different solutions made sure mesure, such as recruiting the client's cloud team with zero overhead cost, providing creative design solutions, marketing and strategy solutions, digital solutions, and social media and influencer solutions.
"We also conduct a workshop to grow teams in digital transformation, process skills, and cloud marketing," says Monica. "MECworkshop also offers consultancy agreements where I sit on boards and support brands as a cloud CMO to lead their team and grow their business. As you can see, we are very flexible in our solutions and unique in our services and quality, which makes us the No. 1 agency to go to and get things done with no 'obstacles or surprises'."
Growing a business with integrity in marketing
Monica believes in getting up close and personal with her target audience and clients, with the motto, "If I do not like it, I do not try to sell it, period."
"Customers are astute nowadays; that is why integrity in marketing is crucial as with one click, they can get all the information needed, so if you are not genuine about what you are putting out there, trust me, it will not sell," she says. "So, if I am given a product or service to market, I need to be the first to buy it or else I am sure no matter what trick I try from 'the books', it will not work. It needs to tell a story and not just any story, a TRUE story for someone to relate to."
MECworkshop's clients approach them because of their expertise and the results they have accomplished for other brands. "This is why you, as a team player, need to wear different hats and be like water when with the client, play the advocate, the designer, and even the salesperson if need to be, to ensure you get to an agreement and understanding with the client to show them the ROI behind their investment," says Monica.
Innovation is an essential part of their service, and they feel the need to be one step ahead of the competition in delivering innovative solutions to their clients.
"I push the entire team to be constantly on the watch, even on Sundays," says Monica. "While chilling at home, anything that interests them and might add value to our proposition; they just take note of it in our innovative notebook of ideas. I can witness that this book had given us a couple of recognitions and awards when we grew those ideas into winning concepts."
To keep employees motivated, Monica treats them like family. "I look at their best interest and make sure they get paid what they deserve. I share the good and the bad and make sure I listen to them and help them in their career path to reach and achieve their goals," she says. "By drawing a path that we revisit every six months, I check what they have done to get closer to their goals, and what I need to do to make sure they stay on their path to facilitate growth."
"Do not wait; tomorrow is today, start now and cultivate tomorrow."
The day you stop learning is the day you stop living
Being in a constantly changing field like marketing, Monica believes that "the day you stop learning is the day you stop living."
"I push my team and myself to keep growing in knowledge and skills. I use myself as an example, as I started my career as a graphic designer," she says. "Because of my passion and dedication, I grew to be a Chief Visionary Officer. I took every setback, "insult", and NO as a challenge to prove every person wrong, and I did. I got every certification needed to grow me into who I am today and support my team in doing the same to achieve their dreams. And if they want to take my role and prove they can take on the challenge, why not."
Monica believes that how this cultural value grows MECworkshop beyond anyone else is the personal value proposition each member of the team brings to the table.  "For instance, I can sit with a client, do business development, come up with a creative conceptual idea for their brand, and even execute for them to visualize it in one meeting," she says. "Save time, the overhead cost in never ending meetings of 'let me get back to you on this', and deliver a marketing cloud solution sur mesure. I stress cloud, because it was delivered remotely, on the spot, and in the client offices."
For Monica, her best recognition as a businesswoman is the trust of her clients in her business. "I got the recommendations, awards, and certificates of success when it came to being solution-oriented and delivering the best service that any multinational agency can do with a personalized touch that builds solid relationships and friendships," she says.
Monica defines success as making mistakes and learning from them. "I am who I am today because of the mistakes I made throughout my life. Some were hard, and because of my upbringing and the values my father has taught me, I overcame these challenges, dusted off the hurt, the ego, and any negative emotions they bought me and moved on to take the lessons," she says.
"The day you stop learning is the day you stop living."
Multitasking her way to success
Monica starts her day at the gym at 5:30 am. "This is my time to disconnect, reflect and recharge. Then, I come home to see the kids off to school. I have two kids, Jennifer and Kevin, who are the sunshine of my life," she says.
She then gets ready for work and is at her desk by 8 am. "I start with a team meeting going through their schedules, tasks and challenges, if any, to support them and guide them through the best solution to accomplish their jobs," she says.
For the rest of her day, Monica works on business development, connecting with clients to grow their business, listening to their struggles, doing brainstorming sessions, attending a different caliber of meetings whenever needed, going to networking events, and mentoring her mentees through scheduled sessions.
"Sometimes, I take on one project to conceptualize and design myself to keep my skills growing and my creative mind flowing. Finally, I do market research on new competitions and pin them into my boards for references," she says.
Being a single mum with zero financial support has been especially hard for Monica. "I multitask. You can find me cooking while on a conference call and driving my kids to soccer or dentist while waiting working on a project," she says. "I remember my daughter once saying, 'My mom does not have a normal purse. She carries a laptop everywhere she goes'."
As much as Monica found this amusing, it saddens her that she did not get as much time with her kids as she would have loved to, because she needed to run a company and put bread on the table. "So being efficient in multitasking, although some debate that, supported me a lot," she says.
Growing a footprint beyond borders
Monica's vision for MECworkshop is to grow its footprint beyond any borders and cultures. "I want MECworkshop to be the home to all marketing and creative resources to achieve their dreams and embrace their personal growth through our empowering culture," she says.
Monica's hopes for MECworkshop are to be the niche to all "visionary" clients that want to grow their brands beyond the norm and dare to do so by trusting their expertise and innovative solutions.
"I want MECworkshop's cloud proposition to embrace and introduce new innovative technologies by leading the industry by example through its people and clients," she declares.
MECworkshop has signed with a tech partner to introduce NFT to their services that both clients and MEC talents can benefit from. "On a personal level, I am looking to be more active as a consultant and work with influential people, where I can learn more from their experiences and also add value to their business and staff," says Monica.
For her, MECworkshop will always be a priority, but she is looking at different partnerships opportunities to grow it even further in geo-location and services while maintaining all their values.
"The one word that describes me is LOVE," says Monica. "I love what I do unconditionally. For better or worse, I will make sure that MECworkshop succeeds no matter what life serves it in terms of challenges."
Her message to aspiring businesswomen is, "The world has so many opportunities when you set your mind and heart to what you love doing. But, until you do, keep searching for it. As you find it, you will unleash your happiness and growth on all levels – financial, personal, career."
"With dedication, perseverance and faith, everything is possible."