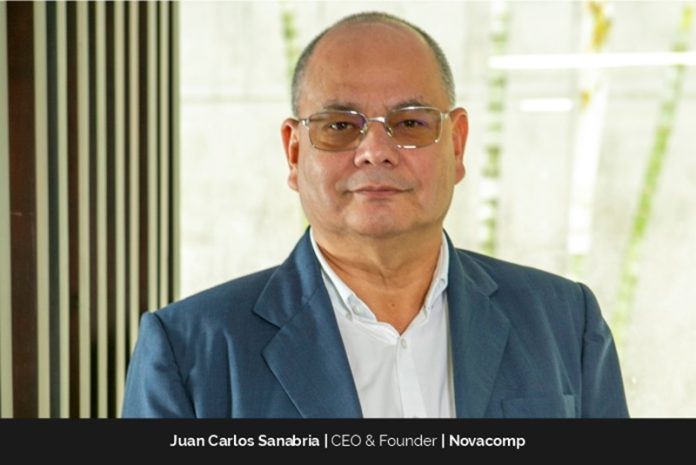 Juan Carlos Sanabria, CEO and Founder of Novacomp is driven by his fervent passion for technology and a profound realization of the potential of IT solutions in bolstering businesses. The inception and vision of Novacomp were sown by his overarching objective to bring about a positive transformation in businesses, facilitating them in harnessing their complete potential through state-of-the-art technology.
Elizabeth Arroyave, Marketing Director of Novacomp, is a dynamic professional whose journey is nothing short of impressive. With a versatile skill set and a track record that shines in business development, strategy, and marketing, she's truly a force to be reckoned with. Elizabeth oversees Novacomp's marketing strategy, brand management, and creative and communications teams. Her typical day involves setting strategic priorities, collaborating with the team, and ensuring that their messaging aligns with their business goals.
Juan Carlos and Elizabeth are also on the Board of Advisors of the NC Tech Association and the IAMCP of South Florida.
Delivering Pioneering, Cost-effective, Customized IT Services
Founded in Costa Rica in 1997, Novacomp came into existence under Juan Carlos Sanabria's leadership, driven by his vision to deliver pioneering, cost-effective, and customized IT services that would enable organizations to flourish in the era of digital transformation. With over 25 years of experience, Novacomp is dedicated to accelerating digital transformation for teams, leveraging their talent and skills.
Novacomp offers a wide array of IT products and services, encompassing software analysis, design, development, testing, implementation, and maintenance across various platforms and methodologies. As a leading Nearshoring Consulting Services company, it offers diverse services in the following areas: Agile Teams as a Service, IT Staff Augmentation and Outsourcing, Software Analysis, Design, Testing, and IT Talent for technical support.
In recent years, Novacomp has witnessed remarkable growth, establishing itself as a renowned company in the realms of Nearshoring and Agile Software Development, servicing diverse sectors such as Financial Services, Telecommunications, Healthcare, Logistics, and Manufacturing. The company has also honed its expertise in Data Analytics & AI, Cloud & Infrastructure, RPA, and Modern Workplace solutions.
Novacomp is known for its transformative impact on organizations, driven by knowledge and innovation. The company boasts a diverse clientele that ranges from SMEs to large enterprises. Clients choose Novacomp for its dedicated and highly skilled teams, which craft innovative Nearshoring solutions to facilitate the journey toward Digital Transformation.
As a technology company that excels in providing tailored IT services, Novacomp is dedicated to providing comprehensive IT services and solutions to organizations. Its mission is to support organizations in achieving their strategic objectives by harnessing technology effectively. The company is deeply committed to agile methodologies and operates with a strong sense of purpose, fostering a service-oriented culture that consistently enhances clients' operational efficiency, profitability, and growth.
One distinctive aspect that sets Novacomp apart in the IT Services and IT Consulting industry is its unwavering commitment to gaining a profound understanding of its clients' businesses and its commitment to understanding its clients deeply and offering solutions that address their specific needs. Instead of offering generic solutions, Novacomp takes a personalized approach to cater to the unique requirements of each client. They tailor their services to meet the specific needs and objectives of each client, positioning themselves as genuine partners in their client's success.
In the ever-evolving IT industry, Novacomp plays a pivotal role by assisting businesses in navigating the complex landscape of digital transformation, data security, and cloud adoption. They empower clients to leverage technology effectively to gain a competitive edge and drive growth, positioning themselves as trusted partners in their clients' digital journeys.
"It's good to meditate and think through decisions carefully, but without falling into analysis paralysis." – Juan Carlos Sanabria
Fostering A Perpetual Spirit of Innovation
The IT services landscape has undergone significant transformations with the advent of cloud computing, artificial intelligence, and cybersecurity challenges. Novacomp leverages a range of core technologies, including cloud platforms, open-source software, and cutting-edge development frameworks, envisions continued leadership in these transformative areas, and aims to expand its global reach.
Novacomp's dedication to innovation differentiates them from the competition. Their commitment to research and innovation is unwavering. They invest significantly in research and development, to stay ahead of industry trends, develop proprietary solutions, and continually enhance their service offerings, ensuring they stay at the forefront of technological advancements and provide clients with the most cutting-edge solutions.
As CEO and Founder of Novacomp, Juan Carlos offers valuable advice to aspiring entrepreneurs and IT industry professionals. His counsel revolves around maintaining a fervent passion for their work, remaining open to continuous learning, and cultivating adaptability. He emphasizes the importance of embracing challenges and fostering a perpetual spirit of innovation.
Novacomp's growth trajectory has been exceptional over the years. They have diversified their service offerings, expanded their global footprint, and established a strong presence in various industry sectors. Their success is not solely measured by financial metrics but also by the enduring relationships they build with clients.
Looking ahead, Juan Carlos envisions expanding Novacomp's global presence, diversifying its service offerings, and deepening its commitment to sustainability. His strategic roadmap includes establishing strategic partnerships, entering new markets, and focusing on emerging technologies to make Novacomp the preferred partner for businesses worldwide seeking innovative and reliable IT solutions.
"Always put integrity and quality at the forefront of your business, and success will follow." – Juan Carlos Sanabria
Nurturing a Culture of Integrity
With a mission to transform the world with passion and technological innovation, to make it a better place, Juan Carlos asserts that integrity is a foundational value at Novacomp. The company upholds principles of transparency, honesty, and ethical conduct in all interactions.
They nurture a culture of integrity through strong leadership, setting a top-down example. Novacomp encourages employees to voice any ethical concerns they may encounter and maintains rigorous mechanisms to ensure that all business practices adhere to the highest standards of integrity and compliance.
Employee motivation is a top priority at Novacomp. They cultivate a culture of collaboration, recognition, and continuous learning. Employees are encouraged to take ownership of their projects, receive professional development opportunities, and celebrate their achievements. Novacomp's open-door policy ensures that every employee's voice is heard, and their contributions are valued.
Juan Carlos highlights that in the IT industry, achievement often stems from the capacity to evolve alongside technology and, above all, from a sincere commitment to comprehending and fulfilling clients' requirements. He encourages prioritizing integrity and quality in all business endeavors, assuring that success will naturally ensue, and aspires to make a meaningful impact by enabling organizations worldwide to embrace digital transformation securely and efficiently.
"Definitely, success is achieved hand in hand with the best team, companionship, and our desire to learn and excel." – Elizabeth Arroyave
Expanding to The Free Trade Zone Of La Ceiba
Novacomp recently expanded its delivery footprint with a cutting-edge delivery center right in the heart of the Free Trade Zone of La Ceiba. This move isn't just another expansion; it's a pivotal piece of Novacomp's grand strategy to cement its status as a true titan in the tech industry.
Novacomp is already making waves with a presence in three delivery centers, including the impressive Momentum Pinares and Oficentro La Sabana. But what sets them apart is their vast network of 20 delivery centers all across Latin America, stretching from the bustling streets of Monterrey, Mexico, to now the buzzing hub of La Ceiba.
Nestled strategically within the La Ceiba Free Trade Zone, this new delivery center puts Novacomp in the express lane toward success. It's not just a building; it's a powerhouse with top-notch infrastructure and a workforce that's second to none. Novacomp isn't just talking the talk; they're walking the walk when it comes to providing clients with the best service quality, cost-effectiveness, and scalability.
This latest addition isn't just about growth; it's about raising the bar for excellence in technology services worldwide. This center is set to be the epicenter for groundbreaking software development, cutting-edge IT consulting, and transformative digital services, solidifying Novacomp's position as the go-to partner for businesses navigating the ever-evolving tech landscape.
Novacomp's decision to establish a presence in the La Ceiba Free Trade Zone isn't just about business; it's about building a thriving local economy. This move is expected to ignite a job boom for the local community and spark the creation of a vibrant tech ecosystem right in La Ceiba's backyard. With this new delivery center, Novacomp isn't just expanding its reach; it's becoming a driving force behind the region's socioeconomic growth. Their growth is intrinsically tied to the prosperity of the local community.
Novacomp's new delivery center is poised to bring innovation, top-tier services, and economic prosperity not just to the region but to the entire global tech arena. This strategic expansion reaffirms Novacomp's unwavering commitment to excellence and its relentless dedication to delivering unmatched value to clients worldwide.
Innovating to Bolster Novacomp's Brand Recognition and Market Presence
Elizabeth joined Novacomp as the company's vision and principles seamlessly aligned with her own. She found inspiration in Novacomp's unwavering commitment to innovation, ethical business practices, and unwavering dedication to client triumph. It felt like the perfect environment for her to make a meaningful impact and become an integral part of a dynamic team.
By strategically positioning Novacomp in the digital landscape and effectively conveying its value to clients, Elizabeth's marketing prowess has significantly bolstered the company's brand recognition and market presence, expanded its reach, and achieved remarkable growth. She and her team collaborate closely with the company's leadership to ensure that their marketing efforts seamlessly align with their strategic objectives.
Integrity and innovation are paramount in Novacomp's team culture. Integrity is nurtured through open communication, transparency, and the establishment of high ethical standards. As for innovation, they foster a culture of continuous learning, experimentation, and creative thinking. New ideas are celebrated, and the environment encourages team members to innovate and bring fresh perspectives to the table.
Elizabeth's vision for Novacomp's future is to sustain its growth trajectory by expanding its global presence and solidifying its position as a trusted technology partner. She plans to continue pushing the boundaries of digital marketing and engagement, effectively communicating their value to clients and the industry at large. If she were to describe herself in one word, it would be an "Innovator."
Beyond her professional achievements, Elizabeth is a dedicated advocate for the growth of Costa Rica's information technology sector. She serves as the Vice President of the Chamber of Information and Communication Technologies (CAMTIC) and leads the Executive Committee of the IoT/5G Chapter. Her mission involves forging strategic partnerships between government entities, academic institutions, and private companies to fortify the sector.
Elizabeth also plays significant roles on the Advisory Board of the North Carolina Technology Association and as the Secretary for the South Florida Chapter of the IAMCP (International Association of Microsoft Channel Partners).
"Never stop innovating and learning, and you'll be well on your way to making a lasting impact." – Elizabeth Arroyave
Fostering a Positive Work Environment to Encourage Creativity and Collaboration
Both Juan Carlos and Elizabeth share a passion for fostering a positive work environment that encourages creativity and collaboration. Their dedication extends beyond professional success, encompassing mentoring and empowering the next generation of leaders in the field.
Elizabeth is a staunch supporter of women in STEM fields and her dedication to sports instilled in her the values of hard work, perseverance, discipline, and goal-setting, which she wholeheartedly applies to her professional journey, leading her to remarkable success.
She believes that success is a delicate equilibrium between personal fulfillment and professional achievements that extends beyond mere goal attainment, encompassing integrity and a positive influence on both the team and the organization. To keep her team motivated, she fosters a positive work environment that encourages creativity and collaboration. Recognizing and celebrating achievements is also a key motivator.
Elizabeth views success as a continuous journey and holds a strong conviction in acknowledging not only the ultimate destination but also the significant milestones along the path. She sees challenges are invaluable opportunities for personal growth. Throughout her illustrious career, she has encountered numerous hurdles that have imparted the virtues of resilience and adaptability.
One crucial lesson she has learned is the necessity of embracing change. In the ever-evolving landscape of marketing, being receptive to fresh ideas and emerging technologies is paramount. Elizabeth views these challenges as stepping stones that have not only honed her leadership skills but also enriched her capabilities as a marketer.
Elizabeth is committed to mentoring and empowering the next generation of leaders. She shares her experiences, both triumphs and challenges, to help them navigate their journeys. Her advice to them is to embrace innovation, pursue their passions, and approach leadership with empathy while making a positive impact on their teams and organizations.
Elizabeth's message to aspiring leaders in marketing is to embrace change, maintain curiosity, and prioritize relationships. She believes that success in marketing goes beyond data and strategy; it's about connecting with people and telling compelling stories that resonate deeply.
"The world is yours to conquer." – Elizabeth Arroyave
Innovative Leaders Paving the Way for Technological Transformation and Growth
In the dynamic world of information technology, the contributions of Juan Carlos Sanabria and Elizabeth Arroyave are nothing short of remarkable. Their unwavering commitment to leveraging IT solutions has not only unleashed the full potential of businesses but has also created a lasting impact in the global tech industry.
Novacomp, under Juan Carlos Sanabria's visionary leadership, has emerged as a trailblazing force, offering cost-effective and customized IT services to help organizations thrive in the digital age. Elizabeth's innovative approach to digital marketing and unwavering dedication to client success have resulted in remarkable growth.
As we look to the future, the impact of Juan Carlos Sanabria and Elizabeth Arroyave on the world of technology promises to be enduring. Their message to aspiring leaders in marketing and IT is clear: embrace change, prioritize relationships, and keep pushing the boundaries of innovation.
With its unwavering commitment to excellence, Novacomp's global presence is set to grow, further solidifying its position as a trusted technology partner and a beacon of success in the tech industry.