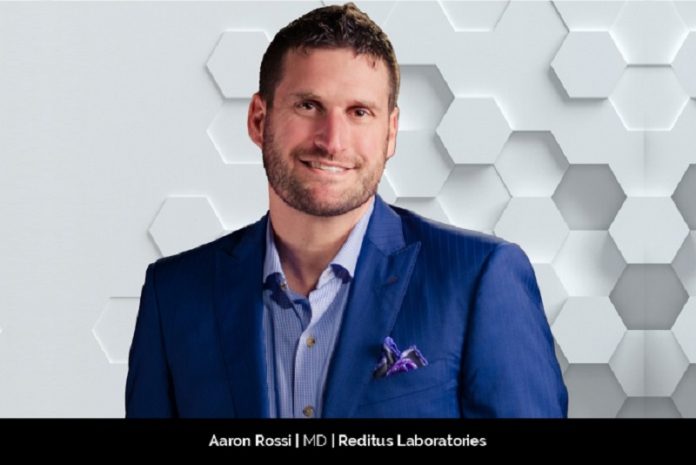 Dr. Aaron Rossi is an unconventional CEO entrepreneur, he is a disruptor by nature, who does not like to follow the standard corporate America methodology. He prefers to lay his own track and moves ahead with his ideas and plans with aplomb. Dr Rossi's desire to make a positive impact on society enabled him to ensure that his company Reditus Laboratories, which he founded in 2019, played a fundamental role in the fight against the COVID 19 pandemic in the state of Illinois and across the country.
In a short time, Dr. Rossi managed to pivot his business from a laboratory that primarily served podiatrists to a full-service reference laboratory that was able to process more than 20K COVID 19 specimens a day.  He started Reditus with ten employees, which quickly grew to more than 300 employees. In June of 2021, the State of Illinois and House of Representatives recognized and honored Dr. Rossi and Reditus' for their contribution and response to COVID 19 during the pandemic.
Reditus: A Brief Introduction  
Reditus Laboratories initially began as a small derma pathology laboratory in 2019, geared towards serving podiatrists. When the COVID 19 pandemic rocked the nation physicians began to slow down on non-emergent procedures and the volume of routine laboratory specimens decreased. Dr. Rossi recalls, "We lost a significant number of samples that we once had coming in." With the number of specimens decreasing and the number of COVID 19 cases increasing, Reditus quickly pivoted and focused on utilizing their PCR machine to process COVID 19 tests.  Under Dr. Rossi's leadership, Reditus was able to quickly meet the demands of the growing pandemic.  "As the COVID-19 testing mandates increased we quickly scaled our business to meet the demand." he says.  To date, Reditus Laboratories has performed over 4.5 million COVID 19 tests; however, Dr. Rossi's vision for Reditus Laboratories did not end there.
As the COVID 19 pandemic began to slowdown, Reditus pivoted yet again, and began to transition to a full-service reference laboratory, providing services to health care facilities, hospitals, government clinical operations and other entities.  Reditus' focus on innovation and technology is one of the things that assist in setting them apart from other labs. "We really try to be innovative and do a lot of specialty testing," Dr. Rossi says. "We are big on providing services to big systems and labs that do not have the means or ability to do so." Key factors of success include accurate and reliable results along with excellent customer service. Dr. Rossi stated, "As we grew, we had to constantly reinvest in technology platforms along with the purchase of laboratory equipment while also managing supply chain shortages."  Dr. Rossi plans to continue his focus on innovation and technology into the future by offering infectious disease testing and oncology testing.
Technology Is Crucial to What Reditus Offers
Technology plays a huge part in the services that Reditus offers. The company developed a point-of-care platform in conjunction with the laboratory information system (LIS), to deliver results to patients.  Using advanced technology, Reditus implemented a process for pre-registration so that patients could move through the testing process faster and receive their results directly in real-time.
"Technology was a huge factor of what we offered, and it was a key selling point of what we able to accomplish in the laboratory space," Dr. Rossi says. With the company's technology capabilities this has helped continue to catapult the business forward.
Overcoming Challenges during Pandemic  
At the beginning of the pandemic, Reditus had to suddenly pivot and get into a completely unknown space, which was not an easy thing to do. COVID 19 testing was never done before. There was very little direction and guidelines were regularly changing "It was a very challenging time for everyone," Dr. Rossi says.  As the business got busier, Dr. Rossi and his team had to rapidly scale up their operation – which they successfully did. "We were bringing in employees at a rapid pace, to meet the escalating need for COVID 19 tests." Dr. Rossi says.
Challenges, however, could not stall anything at Reditus. As CEO, Dr. Rossi ensured that everyone worked as a cohesive group to overcome them. "It was a massive group effort, an all-hands-on deck approach, and everyone worked non-stop," he says. As a result, Dr. Rossi built a rapport with his employees, and a family environment was created. Due to his leadership and his team's efforts, Reditus continues to be on an upward growth trajectory.
A Doctor Focused More on Disruptive Trends 
Dr. Rossi has been around medicine almost all his life. His father is a physician, his mother was a nurse, and his grandfather founded a small hospital. In 2006, he graduated from Elmhurst College and in 2012 he received his medical degree from the University of Sint Eustatius School of Medicine. Dr. Rossi has been immersed in the medical field for a long time now, but instead of medicine and surgery, his interest is more on disrupting trends. He does not like to do a run-of-the-mill stuff day in and day out, year after year. "There are much better ways you can do things. You can be innovative in healthcare and introduce disruptive trends basically for anything in healthcare," Dr. Rossi says. He, therefore, tries to focus on how he can make the experience better by delivering better results and quality.
A CEO Who Does Not Like Routine
As CEO, Dr. Rossi focuses on culture, people, and numbers. He also ensures that they are moving in the right direction as a company by networking and building relationships with potential clients.  "Very, very chaotic" is how Dr. Rossi describes his regular day at work; "No two days are ever the same." Dr. Rossi adds. He also does not mind doing any job at the company, which according to him, helps build a rapport with employees.
Dr. Rossi may not have a set routine like his peers, but like all successful leaders, he works hard and makes a lot of calls outside the normal business hours. Dr. Rossi does not believe in just sitting in his office, he likes to be with others in the trenches. He believes a CEO is just as important as the janitor. At Reditus, everyone is in it together, including him, rowing the boat in the right direction.
The chaotic work schedule, however, makes it harder, for Dr. Rossi, to maintain a work-life balance. "Everyone is pointing at you all the time. Everyone needs help and everybody needs attention," Dr. Rossi says, adding that it can be quite draining for a CEO to keep the morale and culture intact. As part of his responsibility, he sometimes has to tell everyone that they are doing a great job and to keep on fighting, to keep morale up. "So, when you look at the big picture, it can be difficult to maintain a work-life balance," he says. However, once a month, Dr. Rossi, who is a father to four girls and is married to an extremely supportive wife, tries to take some time out and go somewhere, where he can decompress and clear his head.
Opportunities for Employees to Grow
Dr. Rossi understands that it is employees that drive the business, and therefore, he puts a lot of emphasis on his employees. He makes an effort to get to know his employees on a more personal level and provide them with unique opportunities to advance and grow as professionals. Dr. Rossi also intends to provide more jobs outside the corporate umbrella.
Message to Other Aspiring Leaders
Dr. Rossi believes that hard work is needed to run a business efficiently. So, his message to aspiring leaders is: "It takes a tremendous amount of hard work, grit, and grind, and it can be a very lonely world at times because there is no one above you." He points out that it is extremely important to have mentors, individuals who may not be even from the same field, so that one can bounce your ideas off them. "The path to success is a big learning curve, you need to continue to work hard and stay in tune with your people and employees," says, Dr. Rossi
Definition of Success
Dr. Rossi's definition of success means waking up every morning and doing what one loves doing. As he gets to do that on most days, he considers himself very successful.