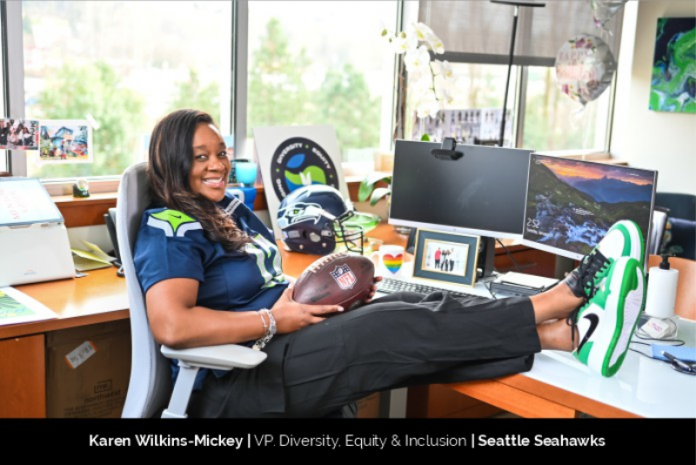 A diverse and inclusive workplace is one that makes everyone, regardless of who they are or what they do for the business, feel equally involved in and supported in all areas of the workplace. The "all areas" part is important. Leaders in the D&I industry have a key role in leading their respective organizations in ensuring that DEI is not only at the forefront of company culture but engrained throughout all aspects of their organization. One such inspiring and influential leader happens to be Karen Wilkins-Mickey, VP. Diversity, Equity & Inclusion for the National Football League's Seattle Seahawks.
Karen Wilkins-Mickey is a tactical and efficient professional who carries over 20 years of DEI leadership experience. She is a trusted advisor to senior executives and a strong advocate for equity because she says, "who I am, matters."
The journey from bachelor's to DEI leadership
A native of New York City, Karen has a bachelor's degree in Communications from California State University Chico. She started her career in recruitment, after graduating from college. Karen worked for a recruitment agency and her role was to fill temporary positions. Early on in her career, Karen realized that she had a passion for diversifying teams and organizations and working closely with the communities they were serving.
Soon after, Karen was leading a diversity council followed by overseeing diversity staffing in Finance, and then transitioned to Microsoft, where she gives the most credit for her career in DEI because she was challenged with increasing diversity in the gaming industry. Karen later moved to support the sales organization and to oversee D&I more programmatically; from there she helped start the DEI office at Expedia. Prior to the Seahawks, Karen also led the DEI initiatives at Alaska Airlines.
"I have been very fortunate in my journey to have roles that I was part of in the beginning. I have never taken over a role from anyone. All my positions were newly created, and I attribute that to the leaders I had the opportunity to work for," she says.
Reaching success with self-belief
In the DEI field of work, one doesn't see a change immediately. "It takes time to see the results of all your efforts," said Karen. Thus, Karen focuses on small wins, like when she sees DEI woven into every aspect of the way a company does business.
"When DEI has become the fabric, and is part of the DNA of the organization, that's success to me."
"People believed in me before I believed in myself," says Karen. Her village of women who preceded her in leadership encouraged her to take the next step. They told her that she was ready and the trust and belief they had in Karen launched her into DEI leadership.
Karen slowly progressed and took the steps to build her DEI competency over time from diversity recruiting strategy to program management, to becoming more strategic and leading DEI and now transitioning to the NFL. "It is a great honor that comes with great responsibility," she reveals.
"Life isn't about waiting for the storm to pass. It's about learning how to dance in the rain." – Vivian Greene.
Overcoming challenges with faith and patience
This is a quote that Karen likes because she believes that life isn't smooth and free from obstacles; it's how you approach the bumps in the road, Karen herself has had many obstacles but it is how she chooses to deal with those obstacles that help her grow.
Karen learned some valuable lessons in her professional journey from the people whom she worked for early on as she was growing in her career. She realized that it is important for her to believe in the brand she was supporting and working for as well as the commitment the company has in support of DEI and the initiatives that she was implementing. She also learned early on to be a strategic leader and measure everything, for what isn't measured will not get managed.
Karen also had to realize that 100% of the organization may not be on board but if the leadership was then that would show to the rest of the organization that it is important. "The closer you are to the top of the organization the more access and influence you can have to impact change," she asserts.
Building a culture of diversity, equity, and inclusion
People often say DEI work is a marathon – a good friend of mine refers to it as a relay, we just continue to pass the baton to the next person to continue in this journey for justice and equity. Specifically, in the sports industry, there is a history of it being male-dominated and lacking diverse representation from women and people of color in front office positions. However, in recent years there has been a shift across the entire sports industry and DEI has become a central focus for many sports teams.
"Since I started at the Seahawks two years ago, there are now eleven NFL teams that have Diversity, Equity, and Inclusion departments, and five more clubs that have a person focused on DEI in a dual role. That is progress," Karen exclaims.
When Karen came onboard with the Seahawks, the team was the NFL's first club to hire a VP of Diversity Equity & Inclusion and that one act, along with having a direct reporting relationship to the President of the organization, showed Karen that the Seahawks meant business. The Seahawks organization is not afraid to face the issues of social injustices, and they are committed to doing their part to in helping to advance racial equity in the community, Karen says.
Additionally, at the Seahawks, she and her team focus internally. "I like to say "Inside-Out" let's take a look inside, at our employees, to ensure we are creating a space where everyone can bring the best of themselves and feel safe and included. If people feel supported in our environment, then others will recognize us as an employer of choice and want to work for us. It starts with our people," explains Karen.
The Seattle Seahawks, because of their strong commitment to community, have always been viewed as a diverse and inclusive place to work.
When taking on this role, Karen's focus was to create an internal brand that is as strong as its external, one in terms of Diverse representation. The focal point to amplify the voices of marginalized people both internally and externally has been her vision since the very beginning.
One example is a monthly speaker series Karen implemented called "Hear Our Voices and Stories." The panels are designed to both educate and inspire their employees through the opportunity to hear directly from others about their lived experiences and culture. They ensure a culture of integrity by always doing what is right. They stand in their truth, in support of their teammates, their loyal fans, known as "the 12s," and all who represent the communities they serve.
Future plans for Seattle Seahawks
Within the two years that Karen has been part of the Seahawks organization, she has been most proud of providing staff with new and increased opportunities to listen and learn from each other through sharing their lived experiences, celebrating cultures and just being kind to one another. They have now gotten to a point where they have laid the foundation and are doing amazing work in DEI through their social justice initiatives, community engagement, and internal initiatives. Karen is also proud of the focus to give back to the community by supporting women and minority owned businesses. The team has made progress in this area by implementing inclusive vendor practices that give greater access and opportunity to WMBE business.
"Our future looks bright as we continue to focus intentionally on our Diversity equity and inclusion initiatives, with a continuous focus on representation, both, internally and externally," states Karen.
Recognition Beyond Awards & Certificates
"Currently, being awarded the opportunity to serve as VP, DEI for the Seahawks is my best recognition to date," states Karen.
When Karen worked at a large technology corporation, she met with different businesses to walk them through DEI workshops and experiences, she also set up a mentorship program for their high-potential BIPOC employees within the sales organization. During her time there, over ten years, Karen made deep connections and relationships and started many initiatives. It has been years since she left, and she continues to receive calls, emails, and texts about the impact of her time with them whether it was a workshop, a mentorship circle or simply being there to share a safe space for them. "That has been the best recognition for me. How I impacted people beyond the time I was there," says Karen.
These initiatives being continued, are the biggest recognition Karen believes she can get as a leader. She doesn't want the things she creates to go away when she does, instead, she wants them to have an everlasting impact. "That is success," she states.
Breaking barriers as a woman of color in leadership
In her career, Karen notes she has been the only woman and most definitely the only woman of color represented in most leadership roles. She doesn't see this as a barrier, instead, she sees this as an opportunity and a responsibility.
Karen also notes she's proud of the representation of women at the Seahawks where the senior management team includes 31% women, including two women of color."I want to make my ancestors proud and continue to show young women and women of color that it is possible. I want them to not only see me doing it but I want them to see how I am doing it and it is not an option to leave anyone behind. I look to my right, left, up, and behind me to always look out for and support other women in the organizations I have supported. Collectively we are powerful. We are better together," she proudly states.
A Glimpse at Karen's responsibilities at Seattle Seahawks
The unapologetically joyful leader, Karen states that DEI at the Seahawks is unique and not the same as it is anyplace else, she has worked. This is not because it is hard, it is just different.
Her focus is on ensuring they have diversity throughout all levels of the organization, fostering an inclusive environment where everyone can bring the best of themselves to work, and creating opportunities and access for their marginalized workforce while ensuring that they are building connections within diverse communities both internal and external. Karen also is diligent about measuring everything she and her team create.
"Our team strives to do things that makes an impact and if it doesn't, we continuously work to make adjustments," Karen states.
Winning at work-life balance by prioritizing
For Karen, her family has always come first. "I read someplace that by focusing on your values and core beliefs, when our actions reflect our values, we feel good about what we are doing. It is about what you prioritize to spend time doing and your commitment to that given thing," she explains.
Karen has always prioritized her children's school events or sporting events. These are non-negotiables, and they are the things that she values. There were times that she prioritized work as it was necessary to do so, because of a big presentation or an initiative she was working on. So, Karen doesn't think balance can always be achieved but she strongly believes that if you keep the values that are important to you at the front and center, you won't feel like you are compromising things important to you.
One also has a choice and Karen has always made choices that work best for her at a given time. She tries to lead by example and ensures to share her learnings with other women in the organization.
Inspiring women to grow and lead with example.
Karen wants women, especially women of color, to realize their dreams and not limit themselves. I want to be an example to my daughter, and to my son, who is on the autism spectrum that regardless of the challenge, if they see it, they can achieve it and if they don't see it, create it for themselves. Personally, Karen didn't see herself represented as much as she would have liked growing up professionally, but that didn't stop her from wanting it and when she did see representation, she made sure to learn from them as much as she could, and when she got the opportunity, Karen recognized that it was her time to shine and prove that she was worthy of the position.
"If people are doubting how far you can go, go so far that you can't hear them anymore." —Michele Ruiz
Karen's message to aspiring female leaders is: Never doubt yourself, and those moments when you do doubt yourself, find people in your life who will challenge you and tell you "You are great and can do anything you want; besides, they hired you because of what you bring, now show them you can!"