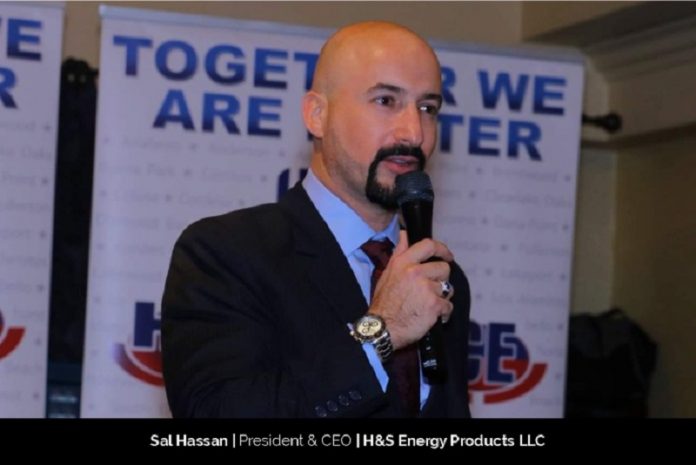 Bringing a change and being a pioneer in today's corporate industry is one of the most challenging things to do. One needs solid determination and will to follow the passion without deviating from the path irrespective of its obstacles. One such personality is Sal Hassan, President and CEO of H&S Energy Products LLC.
With a passion for creating an impact in the energy industry, he is steering the company in the right direction to bring cleaner fuels to the market. Shifting the company to environment-safe operations, he is trying to create a difference and leading the way to sustainable development.
Journey to success
Sal came to the US from the Middle East in 1988. He adds, "As a young boy, I didn't have much and had to find a way to make a living for myself. I always wanted to be the best at whatever I did, and I made it my goal to find what the "thing" was. It turned out to be a business, and that business turned out to be the energy industry. "
While starting out, he realized that energy was a large business and was a hot commodity. Moreover, he was passionate about the energy industry as it supplies people with their daily needs and always will in the future.
He states, "Whether it be traditional fuel, diesel, alternative fuels such as E85 or Biodiesel, or electricity, I want to give people what they need to get to where they have to be."
Roadblocks along the way
Structuring a company from scratch in any industry has its own set of challenges. Being a passionate leader, Sal always looked towards the positive side of the obstacles and tunneled through them without losing any hope.
He looks at the learning lesson hidden in the challenge and tries to ameliorate the services and operations as he takes the company to the next level. Moving forward, the company expanded which included when purchasing locations and going through governmental approvals. The expansion taught the whole team to be more prepared and through with the process to run everything smoothly.
Sal always looks to mold strategies as he moves forward to create better results. He quotes, "Adapt to changes, and you will not fall behind." He instills the same thing in his team and pushes them to evolve as they move forward.
However, no matter what challenges they are facing, they strive to give the best services to the customers, and this notion has brought wonders to the whole company.
Overview of H&S Energy services
H&S Energy operates retail gasoline service stations along with convenience and grocery stores under the well-recognized brands Extra Mile and Power Market.
The Power Market store offers convenience and grocery items at the same time. Being a neighborhood market they offer impeccable services with a wide selection of snacks, hot foods, drinks, groceries, and much more!
Sal states, "We have locations everywhere that serve your community. Having built a reputation for being the most hygienic and clean store, our every-day-customers never have to worry about the quality of the products they buy. You can find any grocery item to restock your kitchen pantry for the next party, or you can just stop by for a quick snack and a refreshing drink. Our staff is dedicated to ensure a smooth experience for our customers, day-in and day-out, and always ensure that all high-touch surfaces are thoroughly sanitized and that our customer's high-demand and favorite products are well-stocked."
They have auto-repair centers that are manned by mechanical experts who believe in creating memorable customer experiences by responsibly finding solutions for their customers.
Additionally, they have drive-thru, touchless, and full-service car washes. To become a part of leading the electric revolution and adapting to more electric vehicles coming to market, the company partnered with ChargePoint to provide EV charging for drivers at their stations.
Evolving with the capricious energy industry
Over the years, the energy industry has had to adapt to the consumer's needs. Sal mentions that when he started out in the industry, it was all about the gas station, but with time elements have changed and evolved. Now, things move differently. The industry has transformed into a more store-focused one. Energy demands have also changed a lot. The rising awareness about climate change and other things has changed the mentality of the consumers. Consumers and the world have become more environmentally focused and have started to demand cleaner alternative fuels such as E85, hydrogen, biodiesel, and electricity.
As a leader in the industry, Sal was on the Extra Mile board that was designated with the task of creating the brand and bringing in consumer insights.
Renewable energy is the future of our world. As the other sources are exhausting and even damaging the environment, it is the need of the hour to shift to renewable resources to keep the environment safe and pass down a good living space to the next generation. Sal states, "As the global agenda shifts towards bringing a halt to climate change with a coordinated shift towards environmentally-friendly and sustainable energy resources, so do our company's."
They were one of the first chains to bring in E85 on a large scale and are planning to have it in most of our locations in the coming years.
Sal mentions, "In our dedication towards fostering sustainability, we have made available E85 Ethanol Flex Fuel – a biofuel made by fermentation and distillation of organic products produced on American farms. We believe this combustible ethanol is a beneficial renewable resource, providing ample horsepower to one day change the American transport system. Drive clean for safe tomorrow!"
As leaders of change, they believe in an electric revolution of smart charging automobiles and vehicles. To live up to their visions, H&S Energy Products, LLC has partnered with ChargePoint to promote electric mobility by installing premium Electric Vehicle charging units on selected refueling stations.
Staying ahead of the curve with innovative ideas
As the industry is evolving at a rapid pace, Sal is infusing the power of innovative ideas in all the aspects of the company to pave it to the top.
He adds, "We stay innovative and always strive to be the best. We really try to look and see what our customer's needs are and how they are evolving. From traditional gas to E85 to electricity or from cigarettes to soda to now kombuchas, we are always on with the trends and try to keep our customers happy and loyal. Additionally, we always want to provide our customers with a safe and friendly environment."
They always seek out innovative ideas and ventures, such as being the first c-store chain on the west coast to offer delivery through Uber Eats, creating their own proprietary loyalty system, and ensuring their locations have the best and latest equipment available to deliver impeccable service to their customers.
Sal mentions, "Many businesses operate vehicle fleets that would qualify for these savings. We encourage you to inquire with us into how you could easily take advantage of those fuel cost savings. No matter the number of company vehicles you operate. This program will not only help you save on your fuel purchases at our stations, but it also helps you easily monitor your fuel purchases online and identify any related fraudulent activity."
Another perk of this program is that the fuel-saving offered by the company starts the moment when customers purchase their first gallon after enrolling in the program.
Sal states, "Many other competing programs increase your savings per gallon progressively until you purchase some projected higher quantities of fuel. In our case, you'll instead get your full savings from the first gallon you'll purchase under our program."
H&S Energy Products, LLC has a statewide network of Chevron and Texaco branded stations in California, expanding from as far south as San Diego to Redding in northern California. They are proud to offer high-quality Chevron and Texaco fuels with Techron at great savings under this program.
The company introduced a mobile app that features a loyalty program and proprietary delivery service available to its entire network of stores.
This program includes special offers that differentiate it from the 3rd-party options, which allows their customers to enjoy a more personalized experience and get amazing deals on their phones.
The proprietary loyalty program is focused on Power Market. It allows all its customers (Power Family) to earn loyalty points (Power Bucks) while they spend and save at their stores. With every purchase the customers make at their stores, they earn points that can be redeemed in the future according to their needs. Moreover, the store offers special discounts for the Power Family.
The mobile app notifies the customers about the special offers and directs them to the nearest store according to their location.
Even when the COVID-19 pandemic was disrupting everything globally, the team under the guidance of Sal held their nerve and evolved to create better results.
Before the pandemic, H&S Energy launched third-party delivery options for its full-service delis and had begun preliminary talks with third-party delivery companies on expanding the service across its store network.
So, when the pandemic and its restrictions came, H&S Energy was able to serve its customers through these third-party options. The business was slow at the start of the crisis, but the team was able to pick up the pace.
They focused on taking care of their customers and learned to adapt to the changes swiftly without complaining about the circumstances.
H&S Energy is, first and foremost, a family company.  This means that everybody in the company is a part of a big family. Sal adds, "We have employees that have been with us for 20+ years on multiple levels across the network. As President and CEO, I always strive for greatness and excellence, and I push that on to my employees."
The company adjusted the operation hours so that the employees can give time to their families in the event of a global crisis. Being a tightly knitted family, they strive to grow together by growing at the individual level. Sal urges everyone to take care of each other and grab new opportunities to add value to the brand.
He expresses, "We are viewed as leaders in the industry, and as leaders, we want to lead the charge in the evolution of the energy sector. People are always going to need energy, and we are always going to supply it to them. "
Currently, they have over 100 fueling stations, convenience stores, and markets and would like to double that within the next 3-5 years.
He adds, "Not only do I want to grow the network, but I want to rebrand it from a gas station to an energy stop. I want the consumer to know that H&S Energy is their one-stop-shop for all their energy needs. Whether it be for their vehicle or a little bit of energy for themselves, we want to be their go-to location."
Fueling the growth of the company as the President and CEO
Taking the onus of the roles in the company, Sal always strives for excellence and pushes everyone to aim for rising to the next level.
He states, "As a leader of my company, I'm more of a motivational figure to my employees by acknowledging and rewarding everyone's achievements that we have set for the company's goals."
While fueling the growth of the company, he ensures to indulge with his family and spend time with his children. He follows a general routine and tries to keep his mind and body fit for the next challenges.
Future prospects for the company
Other than expanding, the goal of the company is to be the energy provider of choice by their customers and become a one-stop station for multiple services.
Sal adds, "Whether it be charging your car and getting a wash, filling up your car and grabbing a refreshing salad inside, or gassing up and grabbing your morning cold brew, we want to give that to our customers. Plans are to grow nationally and take the H&S Energy name across state lines. We hope that through this growth, we can eventually turn the operation over to a global scale. "