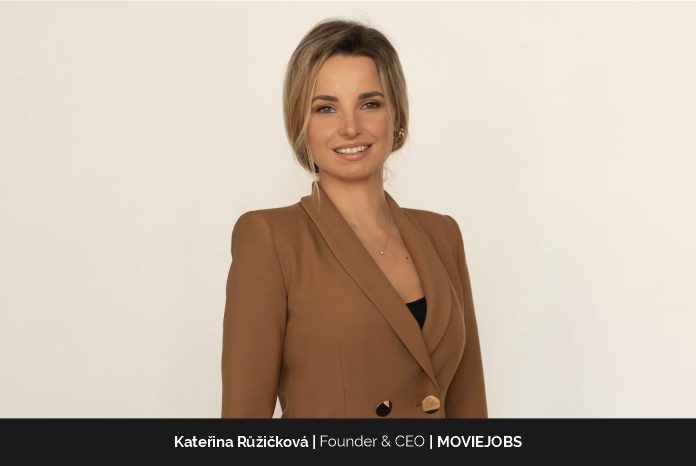 "We bring picture and sound to the black and white world of cover letters."
A determined and inspiring entrepreneur who works hard to change the way we apply for jobs and recruit talent.
Katerina Ruzickova is a Prague-based entrepreneur and founder of Moviejobs.cz, a platform where companies and candidates introduce themselves to each other in the form of video.
Less than two years ago, MOVIEJOBS was just an idea that got Katerina out of bed at 4:30 AM and injected incredible energy into her veins. Fast forward to today, and MOVIEJOBS is a successful portal with job adverts displayed in catchy videos rather than plain old text. "We bring picture and sound to the black and white world of advertisements and cover letters," Katerina describes. Returning personal touch to the world of HR was key to building the venture; Katerina accompanied it with a podcast, offering an inside look into companies right from the start, as well as company updates posted regularly on social media. "It all ties together to give applicants a sense of culture and possible fit long before they apply," the founder explains. Their vision is to become a global social network showing life in companies as it unfolds in real-time. 2023 should see MOVIEJOBS expand to three CEE countries.
The growth of MOVIEJOBS under the exclusive leadership of Katerina 
Katerina's daily bread is to educate companies on the necessity to look for employees differently, adapt to modern trends, and benefit from the power of social sites. "Video in general is a phenomenon that's quickly become a natural part of our lives. Its importance will only grow in the future," Katerina brings recruitment into the TikTok era.
Her vision doesn't discount audio either; the MOVIEJOBS podcast is particularly interesting as it reverses the roles of an applicant and an interviewer: "We call it 'Interviewing the boss' as we sit CEOs and managers down to chat openly about their companies and leadership." The episodes are scheduled to be up to 40 minutes long but generally end up being twice as much. "We get such personal reflections or fun and insightful stories that it would be a pity to cut them out," Katerina, the podcast's producer, and host, laughs.
"Challenges are essential to our growth and running a successful business." 
Her definition of success is building a strong reliable brand that people recognize and relate to easily. From her point of view, success is also closely related to responsibility towards clients, towards society and towards oneself and one's own life goals.
Katerina agrees that challenges make us stronger: "Every new business-owner encounters hardship such as zero cash flow or inner lack of self-confidence but they only turn into obstacles depending on how we approach them." 
The lessons she learned gave her more self-confidence: "If there is something in front of you that you are afraid of, stop for a moment, turn back and recall a moment in your life when you were also afraid but overcame it successfully. Be proud of yourself as you move forward one step at a time. It will help you solve challenges that inevitably come."
The beginnings of Katerina's successful career 
Katerina embarked on her professional journey in a small branch of an HR agency in Karlovy Vary, a charismatic spa town in Czechia. She started working there as a temp, and along with recruiting the right people for other temporary positions, she was also responsible for business acquisitions in the region. "Within a few months, I was able to close new deals and significantly increase the company's overall turnover," she says proudly.
When Katerina moved to Prague, she had to start from scratch but hard work eventually got her the position of general manager in a car part reselling company. She left when the company reached milestones such as EUR 4M in revenue and 150 team members.
With this experience, she jumped right into the unpredictable life of an entrepreneur. Her appetite for freedom and creating her own rules led her into building three stable companies within a relatively short amount of time. "In all of my companies, I was able to create a clear vision that we worked toward together. Seeing it coming to fruition and adding value both to my teams and our clients, is beyond amazing," Katerina shares.
"If I had to describe myself in one word, it would be courageous."
"As of now, I am fully committed to being the CEO of MOVIEJOBS and even though it's hard work, I enjoy it," she says. What does her job title entail? At the beginning of every collaboration, she oversees the employer branding aspect in all the content they create. Before MOVIEJOBS, she was used to focusing only on one brand. Now they're not just building their own brand but above all the brands of their clients. This means they need to think differently about every client and look for ways to communicate their greatest assets.
She also interviews leaders for the podcast and generally sees everything around her as an opportunity: "If I had to describe myself in one word, it would be 'courageous'." 
On staying motivated and maintaining work-life balance
To balance her personal and professional life, Katerina learned to switch off. She turns off her work mode to be present in her personal life, with her boyfriend, family, and sports. "After a while, new ideas and much-needed solutions come to you. It's easier than having your mind stuck at work. Let it breathe," she explains.
Katerina motivates her employees primarily with the company's vision and the goals they want to achieve. Together, they created a board where they displayed their shared goals as if they had already achieved them. It hangs on the wall in their office and works perfectly. "Whenever we need it, we find energy and joy in it that makes us feel like we've already achieved what we wanted," she shares.
Katerina's future plans for herself and MOVIEJOBS 
At MOVIEJOBS, they say: "We don't put out fires in recruitment, we help you avoid them." They are creating a global digital platform that serves as a social media for the life inside your favorite brands and companies. "If we can follow the lives of influencers around the world, we can also follow the lives of our favorite companies. And maybe not now but when we need a job, we will naturally gravitate toward the ones we feel we know, because we watch them online," Katerina believes.
Katerina claims that she has not yet achieved everything she dreamed of. She believes that the peaks of MOVIEJOBS and her business career are still ahead of her. After all, she's on a mission to change the world of HR, and that certainly takes time. Her personal goal is to be a good person and create a happy and healthy family together with her partner.
Her message to budding entrepreneurs is: Be stubborn and don't turn your head left or right. Keep your direction, and rather than listening to others' advice, listen to your inner voice.