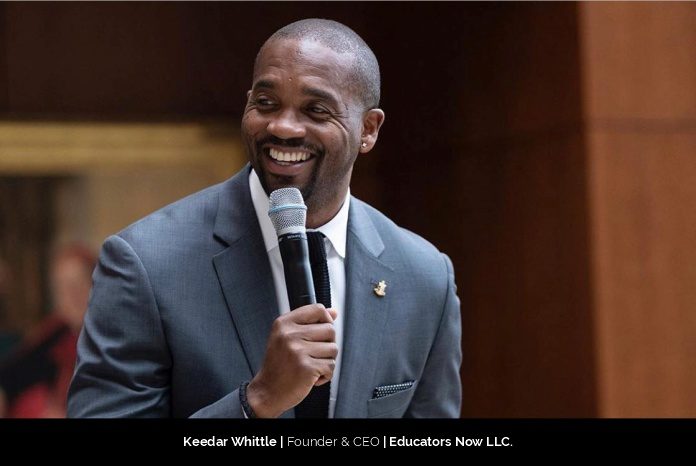 Educators Now is a leading education firm providing quality educators and school staff on a temporary, long-term, or permanent basis. The firm is dedicated to closing the teacher vacancy gap each year while assisting with day-to-day staffing of childcare, grade school, afterschool programs and more. The firm's core values are very important to its daily work habits. "Quality, Flexibility and Going Above and Beyond are just a few of our favorite core values that we look for when considering others joining our team," Keedar Whittle, Founder and CEO of Educators Now asserts. Drawing from the several years of experience in education, Educators Now understands the urgency of providing the highest quality educators to meet the needs of its partnering schools. Keedar's passion for education is evident by his willingness to go above and beyond by leveraging outside partnerships and community organizations to enhance Educators Now's connection to each school. "Our educators go through a selective screening process to ensure that they can meet the needs as requested. With a collective mission to help each scholar reach his or her greatest potential, let us find you permanent or temporary positions," he adds.
Providing QUALITY Educators for All
Educators Now was founded out of necessity to provide quality educators to schools on a permanent or day to day basis. Today, the firm is dedicated to closing the teacher vacancy gap as well as support with day-to-day operations. The journey, since the foundation, has been fast and awesome, according to Keedar. Word of mouth from a reliable source has proven to be most effective for Keedar and his firm. However, there have also been difficulties that needed to be tackled since the inception of the firm. "The initial difficulties were around establishing trust that we could deliver with our clients and educators. Our second biggest challenge was and continues to be making sure we have enough quality educators to fill all the positions needed. Each year, there are over 700 vacancies country wide in public schools. How do we close that gap?! Well, that's one of our missions." Over the past 3 years, Educators Now has grown over 4500%. This growth has enabled the team to help over 100 educators find permanent job placement and provide resources for tuition assistance for educators. Educators Now also provides an opportunity for those going through career transition to leverage their expertise as an educator to provide for themselves during their transition.
'Schools and Programs are Partners and not Clients.'
"We call ourselves an education firm and NOT a staffing agency. The schools and programs we serve are our partners and not clients. We make this distinction because we are here to serve in any way possible. We partner with outside organizations to add value to our existing schools and educators that work with us. For example, we are partnered with an organization in Atlanta that will provide free tuition and give additional living allowances if they major in education. We have several of our educators that take advantage of this opportunity. We are also partnered with financial institutions that provide financial planning and education for some of our schools. Making education obtainable, non-traditional and possible improves educator retention and helps close the vacancy gap," Keedar explains Educators Now's core values.
Post-Covid Education Sector and Challenges
Keedar believes that Covid-19 has exposed our deficiencies in education and made us reevaluate what is necessary. There are clear differences in access amongst states, counties and even within the same school system. He says there is no way we can expect scholars to learn if some don't even have access to internet. "Some schools gave out work packets. Work packets? Work packets are the quickest way to get a teacher fired! But now, it's acceptable, why? Because we weren't prepared, we didn't value all homes having internet or all scholars having access to technology prior COVID. We will be 2-3 years behind when it's all said and done, if we don't act with purpose and quickly," Keedar further adds. He also believes that the "new" requirements post-Covid will continue to evolve and change the future forever. "Our educators sign a waiver agreeing to not go to work if they are displaying symptoms or have been exposed. Having parents that are both working from home while trying to play the role of educator, supportive staff, and parent can be difficult. Most parents haven't been trained to teach curriculum in the same format as their child's teacher. Our business model is also everchanging and we will now deploy educators to the homes or virtually to assist with instruction," he adds.
Why Educators Now (Testimonials)
"I was referred to Educators Now from a friend that I just told I got laid off. Within 1 month I was able to land a longterm assignment which gave me the financial blessing I needed to keep our home from going into foreclosure. I'm forever grateful and appreciate Educators Now for helping me. Professional, genuine, caring is some of the words I can think of for them. If you want to get into education or need a job, they can help!" Brain T. (Former Educator)
"I have been working with Educators Now for over a year now. They are very efficient and provide exceptional service. Keedar and the staff are friendly, approachable, helpful and understanding. Educators Now demonstrate professionalism and passion in our field with hiring QUALITY educators. I appreciate their quick response, efficiency and prompt follow-up to my requests." – Premier Academy Minnie Howell
"It has been an absolute pleasure working with Educators Now. The staff is so supportive, motivating and highly professional. I have gained very valuable information and had such a positive experience throughout the process. Thank you Educators Now!!" – Staff of Atlanta First Day School
Education is my calling in life!
When asked about why education sector, Keedar said, "Education is my calling in life. I'm the Rockstar of Education "Changing Lives Through Education". This is who I am and who I have always been. It's in my blood. I've always wanted to make a difference and feel education. The act of knowing can be a major factor. I do other things in life that bring me joy and even had a career outside of education but ultimately, education is why I was born." Going ahead, educators have to be adequately trained, supported, guided, rewarded, and retrained again. Education is an evolution and not exact. "As the world changes, we do as well. Now we are faced with new technology, family dynamics, understanding of mental illness, learning habits, and more. Ongoing development is vital, and our educators have to be supported as they work through change."
Eyeing towards exponential future for his firm, Keedar says, "Educators Now will continue to grow because we solve a problem. We will be the most significant education firm in the Southeast within the next five years, nationwide in the next 15 and international before 20 years. But more importantly, we want to see graduation rates increase, teacher vacancies decrease, and more scholars pursuing education majors."