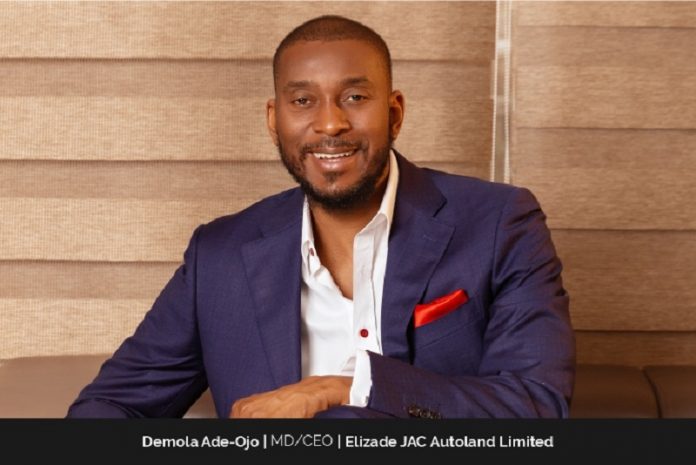 Demola Ade-Ojo is a name that has become synonymous with success in the business world. As the MD and CEO of Elizade JAC Autoland Limited, he has made a name for himself in the automotive industry and is one of the most influential black corporate leaders of 2023. His story is about determination, hard work and a relentless drive to succeed.
Demola Ade-Ojo's journey to the top began at a young age when he started working in his family's car dealership business. From an early age, he knew he wanted to be a part of the automotive industry and make a difference. His passion for cars and his determination to succeed led him to pursue a degree in Finance from the University of Florida, Gainsville in, USA. He also earned a Master's in Business Administration from Wayne State University, Detroit, Michigan. His work experience in the USA included a stint with Toyota Motor Sales, Inc., where he worked across multiple profiles such as e-Business manager and market researcher.
After graduation, Ade-Ojo immediately began working in the automotive industry, starting in various positions and quickly working his way up the corporate ladder. He gained valuable experience and knowledge in the industry and went on to become the MD and CEO of Elizade JAC Autoland Limited. Under his leadership, the company has seen remarkable growth and success, becoming one of the leading automotive distributor and dealer in Nigeria.
Definition of Success
For Demola Ade-Ojo, success is not just about achieving personal and professional goals but about living a purpose-driven life that enables him to contribute to the upliftment of others through business and social endeavours. He believes that success is not measured by financial or material gains but by the positive impact, one can make on the lives of others. As a result, he has a strong sense of social responsibility and is constantly seeking ways to use his position and resources to make a difference in the community.
Demola Ade-Ojo understands that success is a journey, not a destination and his ultimate goal is to create value that will outlive him. He is driven to leave a lasting legacy and positively impact the world. He always asks himself, "Who did he live his life for, himself or in service to others?" He believes that true success is about making a difference in the lives of others and creating opportunities for others to thrive.
Creating a foundation for Elizade Autoland
As a leading automotive dealership in Nigeria, Elizade Autoland came into being due to an opportunity to fill a gap in the market for affordable yet durable vehicles. The company has a strong heritage in the auto distribution and retail business, with over 50 years of experience in the industry. His father, the renowned Chief Michael Ade. Ojo founded the Elizade Group of companies. The family has a reputation for strategically developing the automobile industry in Nigeria and making the Toyota brand number one in Nigeria.
Demola Ade-Ojo, serves as the CEO of Elizade Autoland, following on his father's footsteps and love for a challenge, he launched the relatively unknown Chinese automobile brand, JAC motors into the market at a time of political and economic uncertainty, a global recession and general unrest. The odds were stacked against them, the road to success isn't easy, but all their efforts paid off, their vehicles have taken the local market by storm. Elizade JAC Autoland has become one of Nigeria's leading automotive distributor and dealer with such a short time.
Let's look at Elizade Autoland's Growth Strategies.
Elizade Autoland is the exclusive distributor and retailer of the JAC brand of passenger and commercial vehicles and light-duty trucks in the country. The company has a vision of enabling mobility and solving transportation needs across Nigeria. Additionally, the company provides after-sales and other related services to ensure an optimum experience for their brand of vehicles.
Growing a business is never easy, and this is especially true for a brand in a market that is quite skeptical of unknown automobile brands of Chinese origin due to their perceived low quality. Moreover, the Nigerian automobile user is concerned about the durability and availability of spare parts. Therefore, the management of Elizade Autoland focused on ensuring their customers have the best experience with as little downtime as possible due to parts unavailability. They leveraged partnerships to get the JAC brand into the hearts and minds of people and looked for the most lucrative customers or those whose vehicle budgets meet their price point.
The company also adopted a people-oriented approach to its growth strategy and built systems that enable its team to function at their optimum capacity as they work collectively towards achieving its business goals. This approach has helped the company to establish itself as a leading automotive dealership in the Nigerian market and grow its business successfully.
Leadership of Demola Ade-Ojo
When Elizade Autoland began its journey as the exclusive distributor and retailer of JAC vehicles in Nigeria, the company was transparent with the market and its customers. In 2013, the company conducted a 3-year road and quality test of the JAC brand, along with select customers and published the findings for everyone to see before formally launching the brand in 2017. The management of Elizade Autoland wanted the market to be sure about the quality of the vehicles they sell because the brand name, 'Elizade,' is synonymous with quality vehicles.
Whenever quality issues came up, the company resolved them as fast as possible with the manufacturer's help, slowly building a reputation for resolving complaints quickly and efficiently. This reputation gave other potential customers the confidence to try out their products, and from there, the company grew the brand to what it has become today. The management believes they helped the manufacturer improve their products tremendously due to their constant engagement. It paid off massively with their latest cars with much better quality and incredible designs.
Core Values and Philosophy at Elizade Autoland
Integrity and innovation are at the core of the business philosophy at Elizade Autoland, as reflected by the company's CEO, Demola Ade-Ojo. He learned the importance of these values from observing his father and his training in Toyota Motor Sales, USA.
Demola Ade-Ojo actively coaches his team and encourages them to seek opportunities for improvement and innovation to maintain the company's competitiveness. The company's Head of Departments and CEO engage in problem-solving sessions by taking on projects that have the potential to drive revenue growth or cost reduction and are rewarded for successful completion and are results oriented.
Their core values are exemplified through the acronym "CETIP," which stands for Continuous Improvement, Exceeding Customer Expectations, Teamwork, Innovation and Professionalism. As part of the company's human engagement program, employees who display exemplary demonstration of the core values in their overall work output and relationship with others are meritoriously rewarded.
This encourages others to embrace and live out the core values within the company.
Handling Competition and Overcoming Challenges
Elizade Autoland remains focused on its customers and their satisfaction. The company designs its services to provide value to its customers. The company also rewards its customers who follow and adhere to standards, as many customers need to pay more attention to the scheduled maintenance of their vehicles.
The company's Net Promoter Score (NPS) is measured and reviewed monthly to determine the number of customers promoting its JAC brand. For detractors, the company makes every reasonable effort to convert them into promoters. In addition, the company regularly engages with customers to learn about their needs and how to serve them better. This has helped the company stay competitive while other products and services developed from regular customer engagement.
Reviews that matter: Customer feedback.
While Ade-Ojo's company has received various awards and recognition for achievements such as sales volume, the best new model in the pickup category, best after-sales, etc., from OEMs and other bodies, however, the company's most significant recognition came in the form of a letter of recommendation from the Lagos State government for the T6 pickup truck. This helped establish the JAC T6 as the preferred value pickup truck in the market.
The company's most notable customer feedback occurred during 'Customer Service Week' in October 2022, when one of their customers, who initially had an unpleasant experience, spoke about how the company resolved her case and how she has now become a promoter of the brand. This experience reinforced the importance of always providing the best service to each customer.
Demola Ade-Ojo's Words of Wisdom for the Next Generation
Demola Ade-Ojo is a firm believer in authentic leadership and being true to oneself. He recognises that in today's world, where social media plays a significant role in shaping the minds of the coming generation, they will face challenges regarding authenticity and the pressure to conform to majoritarian beliefs and viewpoints. However, a leader must be prepared to stand alone in their beliefs, take a different path from the majority, and not be afraid of the unknown.
Demola Ade-Ojo has consistently advocated for authenticity, evident in how he leads his team and company. His leadership style is centred around creating an environment where his team is encouraged to be authentic and take risks. In addition, he encourages his team to think differently and not fear the unknown.
When it comes to the coming generation, Demola Ade-Ojo encourages them to be courageous, true to themselves, and strive to be the best version of themselves. He believes that by being authentic and genuine to oneself, one will be able to make a positive impact in the world.
Demola Ade-Ojo's message for aspiring leaders of colour
According to Demola Ade-Ojo, the core of the business is creating value for others, with the added benefit of success for the entrepreneur. To succeed in business, one must first desire to create value and when an opportunity arises, believe in their ability to make it happen.
He believes that business starts with faith, and then through understanding and knowledge, one can gain certainty about what they are creating.
Demola Ade-Ojo acknowledges that the journey of creating value will not be smooth, but one can become the best version of themselves, which is authentic leadership.
Responsibilities of a CEO and the role of employee motivation
As per Demola Ade-Ojo, the role of a CEO is similar across all organisations. Still, his approach is heavily centred on strategy formulation, coaching, mentoring and constant review of progress. By participating in these activities, he ensures that he keeps sight of the mechanics of the company's goals and objectives and how they are achieved.
Demola Ade-Ojo believes in fostering a strong team culture, as reflected in how he motivates his employees. He promotes an "all-embracing culture" and encourages open communication to address areas of concern. He also believes in rewarding employees for excellent performance, which helps to promote a culture of excellence and a sense of ownership within the team.
By fostering this, "we culture," Demola Ade-Ojo ensures that the company and its success belong to everyone and that every employee is motivated to perform their best.
The long-term vision for Elizade Autoland
Demola Ade-Ojo envisions a future where his company becomes an integral part of the auto industry, revolutionising how people interact with product and service providers across the entire automotive value chain. He believes that by leveraging technology and innovation, Elizade Autoland can create a powerful and efficient system that will change how the industry operates and benefits its customers.
Demola Ade-Ojo sees this as an opportunity to drive new levels of customer satisfaction and engagement, making the experience of owning a vehicle more seamless and convenient for consumers.
Learning the art of work-life balance,
Demola Ade-Ojo strongly emphasises maintaining balance. He believes that to perform at his best, he must take care of his body, mind, and spirit. He is highly disciplined about his nutrition and exercise routine. He believes in strengthening his spirit man by reading his Bible daily in somber reflection and particularly enjoys restful holidays away with his wife and children.
Demola Ade-Ojo also encourages his team to prioritise their well-being by dedicating time during corporate meetings to teach them about the importance of spirituality and wholeness. He believes that a well-rounded and balanced employee is more productive and motivated, reflected in the company's overall performance. By fostering a culture that values well-being, he hopes to create an environment that promotes a healthy work-life balance among his Team, leading to increased productivity and job satisfaction.
Innovative and Inspirational Leader
Demola Ade-Ojo's success in the business world is due to his knowledge and experience in the automotive industry and his leadership skills. He is a visionary leader who is not afraid to take risks and try new things. In addition, he has been at the forefront of promoting diversity and inclusion in the workplace and is a strong advocate for the advancement of black leaders in the business world.
Demola Ade-Ojo's contributions to the industry have been notable. Having been recognised as one of the ten most influential black corporate leaders of 2023, he is a sought-after speaker on leadership and diversity in the workplace. His impact on the business world has been significant, and his legacy will continue to be felt for years.
Demola Ade-Ojo's story is inspiring, showing that anyone can achieve their dreams with hard work, determination, and passion. He is a shining example of what can be achieved when one sets their mind to something and works towards it with dedication. His influence and impact on the business world will be remembered for years, and he will continue to be a role model for aspiring business leaders globally.