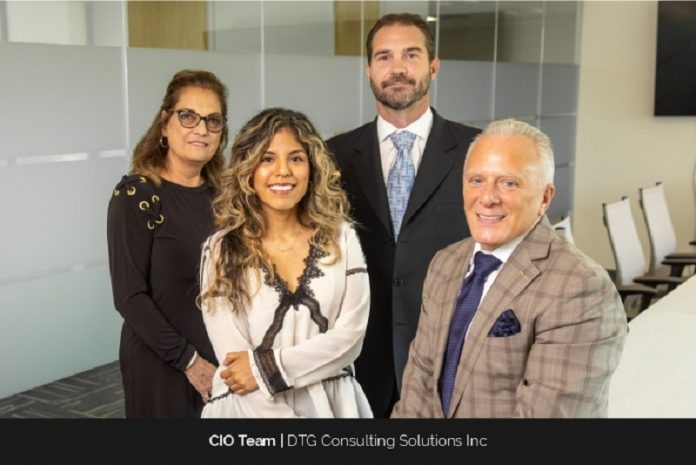 Laying The Foundation For The Growth of DTG
DTG Consulting Solutions, Inc. is a company that focuses on staffing, recruiting, and executive placements. John DiBari founded Datacom Technology Group or DTG in 1972. Using his skills and knowledge of the industry, he quickly built DTG into a company that provided resources to some of the largest companies in the world.
Competing with larger firms at top-tier clients was difficult for a small staffing firm. But John made DTG stand out amongst their competitors by advising clients of the latest trends in the industry and providing IT infrastructure advice to them. John also helped each client reach their goal by providing them with the talent they needed in each area of their company.
Using the skills he had perfected over his years in the industry, John built a training program for the recruiters and account managers at DTG. John taught the recruiters and account managers to prepare not only each candidate for an interview but also the client. This training enabled the staff at DTG to provide the best talent to their clients. With its growing reputation for providing stellar candidates, DTG quickly became a value-added firm to each client.
Growth By Earning The Trust Of Clients And IT Hiring Managers
The candidate and client preparation earned the trust of their clients' hiring managers, which allowed them to compete with more prominent national staffing firms. DTG earned a positive reputation in the staffing industry as they continued to satisfy the staffing needs of the hiring managers at their clients. And as such, those managers introduced DTG to other managers, which enabled DTG to expand its presence at each client site. Many satisfied hiring managers who worked with DTG would also recommend them to colleagues at other companies.
Maintaining a relationship with all their business partners is an essential part of the business development plan at DTG. Communication with their clients is also essential for all of the managers at DTG, as it helps develop an understanding of the client's culture and complex human capital needs.
As those managers changed companies throughout their careers, they always recommended DTG to each subsequent company where they worked. Today, the account managers run DTG with these same core principles.
As technology started changing rapidly in the late 1990s, DTG advised their clients to hire consultants rather than full-time IT employees. Using consultants allowed DTG's clients to upgrade their IT platforms with consultants skilled in the latest technologies. It proved more beneficial to have the consultants at DTG do the work than to find the employees, hire them, and then retrain them as technology changed. It is the responsibility of DTG to provide their clients with the consultants needed to upgrade their IT infrastructure and complete various work assignments. And upon completing those assignments, DTG would find additional work assignments for their consultants at other client sites that needed the technological skillsets they possessed. In 2000 DTG combined its executive search practice and consulting divisions and formed DTG Consulting Solutions, Inc. Today, its client roster includes many national and international firms.
DTG's mission is: To work with our business partners to enhance their organization. We will consult with our clients to identify their needs and provide the right people and solutions for their success.
New Leadership In 2021
George Parente has worked at DTG Consulting Solutions, Inc. for over 22 years. He was hired as the Chief Financial Officer (CFO) in April 2000. And in October of 2021, he became only the second Chief Executive Officer (CEO) that DTG Consulting Solutions has had in its 50 years of operations.
Currently, he is responsible for overseeing all business operations at DTG. He also manages the financial operations, including banking and borrowing relations, budgeting and forecasting, financial statement preparation, payroll, and cost analysis. He has over 30 years of experience in the Accounting and Finance fields; George has dual Masters' degrees in Accounting and Business Administration and currently holds an active CPA license in New Jersey and Maryland.
His commitment to continuing education has enabled him to obtain certifications in Business Law, Change Management, Sales Growth Strategies, and Business Contracts from Cornell University. He received a certification in Advanced Graduate Studies in Business Administration in connection with his doctoral studies. George has also received a certification in Negotiation Mastery from Harvard Business School.
When George Parente took over as CEO of DTG in October of 2021, he planned to build on the legacy of the founder, John DiBari. George adopted a vision for DTG: Our vision is to utilize our institutional knowledge for the betterment of our clients while finding the best career opportunities for our consultants. And as his first act as CEO, he put together a management team to help achieve his vision.
Catapulting The Growth Of The Company In IT Hiring & Training
The management team comprises some of the industry's most experienced people to best serve their clients and facilitate sales growth. George appointed Brian Tarsi as the Director of Recruiting Services, Christine Avagliano as the Director of Client Services, and Carolyn Marcelo as the Director of Human Resources. Together they work on servicing their existing clients to the best of their ability while carefully choosing projects at new client sites for their consulting team.
Brian Tarsi – Director of Recruiting
Brian Tarsi is the Director of Recruiting Services for DTG. He has dedicated his career to the staffing and recruiting industry and has been with DTG since 2003. Brian is responsible for driving production and overseeing operations of the recruiting team, as well as training and guidance for junior recruiters. Drawing on his 20+ years in the field, Brian developed DTG's in-house training program. He is responsible for ensuring that each recruiter is well versed in each application used in the recruiting process. And equally important, he must familiarize each recruiter with the specialized needs of each client.
Brian has brought many Fortune 100 companies on board as clients and successfully staffed positions across the full spectrum of Information Technology in multiple industries, including Financial, Insurance, Management Consulting, and Governmental. Brian has also broadened his technical aptitude to become the company SME for all PeopleSoft recruiting projects.
By interacting with Christine Avagliano, DTG's Director of Client Services, they help DTG become a value-added partner to each client. With Christine's knowledge of account management, and a recruiting team under the tutelage of Brian, DTG continually places in the upper echelon of each metric on the scorecards used by each client to evaluate their business partners. Their ability to change their recruiting process based on the position and client has allowed them to keep up with their client's needs at all levels and enhance the already stellar reputation that DTG has in the industry.
Christine Avagliano – Director of Client Services
Christine has dedicated her career to the service industry and has been with DTG for over 20 years. As an account manager, she has expanded the presence of DTG at several client sites. Christine is responsible for ensuring that DTG's clients receive the quality of service they deserve. She does this by consulting with clients and helping to identify the skillsets needed to achieve the goals of each organization. She works with the recruiting team at DTG to ensure that each consultant provided by DTG enhances the client's workforce both technically and culturally.
Christine has experience in serving both national accounts and small to medium-sized accounts, and she understands the difference in how to service each vertical effectively. Christine is passionate about creating value-added relationships in ways that help businesses and technology work together to accomplish a common goal.
Carolyn Marcelo – Director of Human Resources
Carolyn Marcelo is the Director of Human Resources for DTG Consulting Solutions Inc. Carolyn is responsible for developing and administering plans and procedures for the company personnel and ensuring compliance with employment laws and regulations. Alongside the Director of Recruiting and the Director of Client Services, she helps to execute strategies that will support desired business results.
Carolyn began her career in Human Resources while pursuing her undergraduate degree from Liberty University; she was the Director of Recruiting for the SHRM (Society of Human Resource Management) Student Chapter. While working, she continued her education and completed her MBA in Business Administration, Human Resources from Liberty University. She actively participates in events with SHRM and TechServe Alliance, a collaboration of IT & Engineering staffing and solutions firms, clients, consultants, and suppliers dedicated to advancing excellence and ethics within the IT & Engineering staffing and solutions industry.
Carolyn regularly advises the account managers at DTG and the human resource managers at all client sites on all labor law rulings and all state and federal mandates. She interacts with the recruiting department to advise them of recent governmental rulings and how they affect the recruiting process. Carolyn has instituted a continuing professional education program at DTG to keep all employees aware of recent rulings and how to conduct business in every state.
What Makes DTG Different
DTG is unique in the staffing and executive placement industry in the fact that every employee in the company has dedicated their career to staffing and recruiting. Several employees have worked at DTG for over 20 years, and many have worked exclusively for DTG. As George Parente states: "We have an extensive hiring practice when we look to hire someone to our corporate team. We look to hire the best people for each position within the company. We promote those people with the idea that they will retire someday from DTG."
We set up our IT infrastructure so that employees can log into any workstation in our corporate offices or remotely and have full access to all the systems they need. We make communicating with remote employees and potential consultants as personable as possible through the continued use of Zoom and Microsoft Teams. Using these tools enables us to properly screen all applicants before presenting them to our clients. Technology allows all candidates to be properly vetted no matter their location, states George.
The account managers at DTG like to host job interviews between clients and potential candidates whenever possible. They do this to advise the candidate and the client after the interview. Doing this allows them to add their insight to help the interview process run as efficiently as possible. All account managers at DTG regularly interact with the recruiting team, allowing them to have their finger on the pulse of what is happening with specific candidates and the latest skillsets in high demand in the job market. The recruiters at DTG advise the account managers of the availability of qualified candidates with specific skill sets. And in this tight labor market, candidates possessing particular skill sets are in high demand and not on the job market for very long. It is the job of the account managers to advise their clients on what to expect during each job search.
George Parente describes his job as CEO: "It is my responsibility to assure that each department at DTG interacts and depends on every other department in the company. The recruiting department needs to interact and advise account management on trends with available candidates. The responsibility of the account managers is to advise recruiting on upcoming projects at all client sites to allow for adequate recruiting of the needed skill sets for future assignments. Human resources is now the governing body under which all DTG and DTG's clients must abide. And the finance, IT, and marketing departments provide the infrastructure to make all the production possible. If there is a breakdown in any department, DTG as a company would come to a grinding halt."
What Does The Future Look Like For DTG
The future of DTG will most likely be a hybrid model consisting of remote and on-site office workers. The COVID-19 global pandemic has brought incredible insight into the ability to be productive when working remotely. George Parente states, "Not only are we able to recruit while working remotely, but companies that we service that allow remote IT consultants open up an extensive pool of candidates for every job. Providing IT support for a company in New York that will allow consultants to work remotely enables us to find consultants from other geographic locations that would not be able to commute to New York. A remote workforce provides us with an extensive pool of candidates and allows the recruiters at DTG to get the best talent for our clients. Talent that may not be close to our client's office."
The year 2022 marks the 50th year of operations for DTG. George Parente is excited for the future of DTG and states, "This company has stood the test of time by having the best people in the industry dedicate their careers to making DTG a success. I am excited to see where the next generation of employees takes DTG."