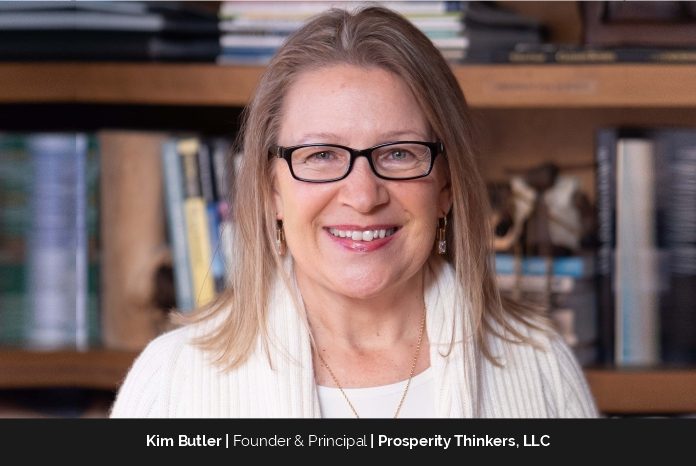 Success is a small word with big consequences. There is no unique or singular definition for success. Success for Kim Butler, Founder of Prosperity Thinkers, LLC is living a life of service, doing well by doing good, owning your time and talents and putting them to use in the most freeing way possible.
Leading A Company to Success Isn't an Easy Road to Take
"I've always liked to hoe my row, in other words, to be the boss, set the standards, lead the way, yet with humble confidence, not egotism," says Kim. She thinks of faith as a relationship, not religion, and she relies on God to show her the way. Kim states that she'd rather rely on that and her skills and work ethic, than on a large corporation, though she's worked in that environment too. As for the foundation? It's one of her favorite words because you can build anything from a solid foundation.
Since she was in 4th grade, she's worked with money when her parents bought her a milk cow and she and her sister, Tammi Brannan sold the milk to neighbors and church friends. Then after college, while working at a bank, she simply realized that she loved helping people with their money so Kim expanded her offerings. "After 30+ years I've figured out what works and what doesn't work and so our newest brand, Prosperity Thinkers, is there to help people with Inspiration, Education, and Activation of the foundational aspect of all personal finance, which is saving, both as a verb and as a noun. The act of putting away money and the act of storing cash and liquidity," she states.
Challenges Make You Stronger 
The non-profit Kim co-founded with her husband Todd Langford, known as The Prosperity Economics Movement, espouses 12 Principles. One of them is Certainty and another one is Uncertainty. Challenges are like uncertainties, sometimes difficult, sometimes awesome, yet critical to a lively life. "If we didn't have them, we would be so bored!" exclaims Kim. She has had numerous legal roadblocks, made all kinds of human and financial mistakes, created messes she had to clean up, etc. Just like anyone, especially an entrepreneur, who is blazing a trail and creating from scratch.
Kim explains the lessons are:
Mindset Matters so figure out a way to be positive.
Install Faith in your Finances so you can keep a solid foundation under you.
Treat your team like gold so 1+1 can equal 11. Meaning you get two people together with opposite skill sets and you get a multiplier effect of not just 1+1=2 or even 3 as many people say, but 11, putting the one with the other one and getting the value of the collaboration all along the way.
Kim's Contribution to Redefine the Industry with Innovative Ideas
Kim works in a 200+-year-old industry. Mutual Life Insurance companies are some of the oldest financial institutions in North America. They create emergency/opportunity accounts for folks which are the most valuable foundation in personal finance, yet they are stodgy and slow and have been resistant to technology. "I've grown PT using these companies yet adding in technology and a real understanding of how humans get results by communicating benefits, writing books for readers, crafting YouTube videos for watchers, and dropping podcasts for listeners so that all types of learners can benefit from what I know," she says. Her team has been instrumental in helping her create and also in freeing her up from administrative work to speak with folks in all 50 states.
Responsibilities As Founder of Prosperity Thinkers
Kim, who describes herself as a person who always strives to grow, states that the best recognition she has received is having numerous employees and independent contractors who have worked with them for almost 30 years. Her main responsibility as the founder is to help people get results. She claims that her life before Prosperity Thinkers was mostly confined, now it's expansive.
Balance In Personal and Professional Life
"Setting strong calendar controls and sticking to my 'office boundaries' (since I've worked from home since the internet began) enables Visioneering in all areas of life. Visioneering then makes it easy to be motivated, since you are moving towards work that you enjoy.  And when you love what you do and strive towards a "self-managing company" under the Strategic Coach system, everybody wins." says Kim.
Future Plans for Prosperity Thinkers
Kim states that she has not achieved everything she dreamed of and there is lots more to go. Her strategy for Prosperity Thinkers is 30 years of helping people with their finances and then a re-brand for another 30 years. "I love my work and want all people to love theirs. Using kolbe.com, Clifton Strengths and other systems is the best ticket to happiness and a great team," she states.