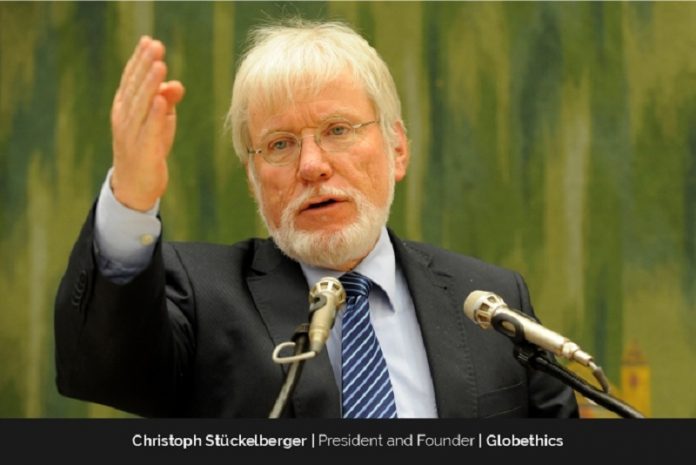 The world is more polarised than ever before. Christoph Stueckelberger, a renowned champion of ethics and integrity across the world, is striving to lessen the polarisation as the President of Globethics, which he founded in 2004. He grew up in the Cold War era and experienced in many ways the painful poles and walls of "West" (US/Europe) and "East" (then Soviet Union) and the developing countries torn between the two blocs.
Christoph is a professor of (theological) ethics and a Protestant pastor. Prior to establishing Globethics, formerly known as Globethics.net, he worked in development cooperation for the Global South for close to two decades. His expansive knowledge of ethics and his work in development inspired him to establish an organisation where ethics and development would be the driving factors and two pillars. In 2024, Globethics will celebrate its 20th anniversary.
Often called the "steward for the common good," Christoph, a septuagenarian, considers it a success when he can best serve the common good: people, planet, society, and creation. And he is in a leadership position not for self-gain but to serve others and make a greater impact and be actively involved in outreach activities.
People have immense trust in what Christoph says and does, and for him, that trust is his best recognition. "Trust and Integrity are the best capital I have," he says. However, as a Christian believer, he does not see that recognition as an award. "All glory is to God, my creator, liberator, and sustainer," Christoph says. "Soli Deo Gloria, which means 'To God Alone the Glory' in English, is the motto of the Reformer John Calvin. With this motto, Calvin paved the way to the global revolution of values in economy, politics, professions and churches. It is my motto as well."
Christoph has also authored almost 70 books and edited more than 100 books by himself or with others. He writes, edits, and publishes books to share knowledge. He believes that either one can use knowledge to dominate and suppress others or one can share it with others and enrich them.
The Beginning 
Christoph's father was a pastor and his mother was a cooking teacher. From them, he learned to take care of the weaker parts of society. In 1979, his theological ethics master's thesis – on economic and environmental impacts – was published. It focused on human-centred growth, and according to Christoph, the publication of his thesis received immediate attention with three reprints and led to a call for a new, environmentally friendly, sustainable lifestyle.
For six years, from 1979 to 1985, Christoph served as Theological Director at Junge Kirche, a Swiss church youth organisation. He then was the Editor-in-Chief at Kirchenbote for seven years. After that, he joined Bread for All, then one of the main Switzerland-based development organisations, as Director. In 1986, he co-created and led as president of the Swiss ecumenical organisation "Church and environment".
Christoph was with Bread for All for 12 years, from 1992 to 2004. After leaving it, he took over as the Director of the Institute for Theology and Ethics of the Federation of Swiss Protestant Churches, dealing with policies and ethical advocacy for Swiss and international legislations.
When he was leading Bread for All, Christoph was engaged in activities to protect agriculture and food. His focus was on technology, the creation of jobs, irrigation, and health projects as well. During his 12 years at the organisation, he also encountered plenty of ethical challenges. Christoph recalls that there were questions related to integrity and corruption.
In 1996, he started Transparency International Switzerland because he felt that development work would be meaningless if the money went to the wrong pockets and not to those who really needed it. In addition to the challenge of corruption and a development, he was also engaged in microfinance as president 1999-2008 of ECLOF International, a global microfinance institution in Geneva. Overcoming poverty needs capital and investments, from large too small.
As a Professor of Ethics and development practitioner, Christoph saw the need and opportunity to combine the two legs: ethics and development. That, he says, was the founding idea behind Globethics. He later added two more legs to this combination: modern communication technologies and contribute to international understanding and respect.
Founding Globethics
Christoph established Globethics, a not-for-profit foundation, in 2004 in Geneva in order to build a global network on ethics. He merged two words global and ethics to come up with the name Globethics, as his aim was to serve corporations on humanity on a global level.
Christoph developed the idea of the foundation with a group of 20 people. He invited them to a founding workshop. Together, they decided on the vision of Globethics, and within a week, they established it after determining its goals and mechanisms and international Board.
The focus of the foundation, since the beginning, has been on strengthening value-driven developments in developing countries, especially in education, business, and government sectors. Christoph says that the focus is now more on the higher education sector – higher education to form responsible leadership, training of professors and students, and also professionals who pass out after university education.
Online communication is the second important aspect of this foundation. Christoph points out that he has seen not only the potential of the internet but also online communication. In 2003, he was involved in the World Summit on Information Societies (WSIS), held in Geneva. The summit opened his eyes to the importance of information and communication technologies for development, called ICT4D. "So, our focus is on ethics related to development using, to a large extent, online facilities," Christoph says.
Through Globethics, he is looking for ways to lessen the polarisation that is happening. He intends to overcome it with values, mutual respect, and unity in diversity. Christoph is convinced that it can lead to a better world and less polarisation. "We together need to overcome poverty and slow down climate warming instead of killing each other and waste money for weapons instead of food and technologies for peace.
About Globethics
Globethics is a global network with an online platform for exchange and access to knowledge resources on ethics, which helps address societal challenges. Its mission is to equip individuals and institutions for ethical thinking, decision-making, and action through higher education and policy engagement from cross-cultural and global perspectives.
Integrity is one of the key values of Globethics. And an 'Integrity Leadership' is a goal for the whole network. Christoph says that they are blessed to have a team in Geneva and in different regions of the world, along with Board members and many volunteers, who have high integrity, often based on their religious values. They are Christians, Muslims, Buddhists, Hindus, and followers of other religions or no religion.
The foundation is active on all continents, having regional offices and programs. It has over 200,000 registered users in 200 countries. Its registered Academy offers online courses and has the largest online library on ethics, with over 3 million books and documents for free download. And Globethics's own publishing house has already published over 300 academic books on ethical leadership and other related topics, again online for free. "The goal of the publishing house is to empower those without the means, for example, professors and authors in Africa, South America, and Asia who do not have the money to publish their research results," says Christoph.
The foundation has grown substantially since its establishment. Christoph points out that the global factor was always there from the beginning, and then, it grew in terms of products, conferences, the online library online publication house and the online academy to empower people through knowledge and affordable teaching and learning tools.
"The growth is in quantity and quality in terms of a deeper understanding of how to deal with differences and have shared values, and then, of course, new ways of communication related to new developments," he adds.
And, as per Globethic's new strategy for 2023-2027, Christoph and his team will strengthen policy dialogues with the UN and UN agencies. "Policy engagement is what we call it," he says. The office of Globethics is in the midst of UN agencies in Geneva. "So, we have many activities and opportunities to bring ethical aspects into multilateral UN efforts," Christoph points out. For example, the foundation regularly organises side events, and they are also involved in AI and ethics topics with the International Telecommunication Union (ITU) and other agencies. "This is a part of our expansion at the global policy level," he adds.
Funding Challenge
There are multiple models available to fund an organisation. Wealthy people, according to Christoph, can establish a foundation with their own money. A millionaire can create an endowment and then run the foundation with it. It is, however, less the funding model in Europe unlike the U.S., where it is prevalent. In Christoph's case, he had an idea, and based on that, he created a foundation. He then tried to raise funds for it as he did not have the money of his own to monetarily support it.
Globethics receives funds from donors; some of them are long-term contributors. Christoph points out that they also need strong efforts to raise funds for the short-term. "We do that institutionally and not through crowdfunding because that can be very time consuming and are usually organised for smaller amounts," he adds. "Foundations like ours need more funds than what crowdfunding can normally raise."
For Christoph, it is a constant struggle to raise funds. It is tiresome and challenging. It is not easy to convince wealthy people and institutions to share a part of their wealth with the needy or governments to invest in ethics, but Christoph also points out that many people open their hearts, especially after they encounter strokes of fate such as health issues or the death of someone dear.
And Christoph does not believe in giving up in the face of challenges. Even at the age of 70+, he continues to put in his best efforts to raise funds for Globethics.
Changing Roles
In the initial years, Christoph led Globethics as its founding President. Four years later, an opportunity opened that allowed him to step in as the Director. When he accepted the Executive Director's responsibilities at Globethics, Christoph quit his job at the Institute for Theology and Ethics of the Federation of Swiss Protestant Churches to completely focus on his foundation.
As Executive Director, Christoph steered the foundation toward growth. After exemplarily serving in this role for 8 years, Christoph stepped down, respecting the retirement age rule. He handed over his responsibilities to the African Obiora Ike, who is a famous professor of ethics, and also a development specialist. Since the last 7 years, Christoph has been working as the President. He was followed in 2023 by Fadi Daou, also a famous professor and international leader.
As the President, he is focused on networking, community and relationship building, and fundraising – all "classical responsibilities" of a President. "The advantage is that I am also a specialist in ethics. So, I can also serve on content, not only on management and leadership," Christoph says.
"It is a privilege to work with excellent people and engage with them", he states. People continue to motivate him and instil in him the courage to not give up. Christoph points out that there are people who live in difficult situations, whether it is financially, materially, or politically, as well as under threats and constraints. Despite their struggles, they continue to do their work. "Why should I give up if those in much worse situations don't give up," Christoph says.
And he is also open about how his Christian religion motivates him to never give up: "If God does not give up and does not leave us aside, and continues to struggle day by day, why should we give up?"
"As long as I'm healthy and I can do things, I've no motivational problem," Christoph adds. It is because I see the needs, the fruits, and the joy in it." For him, it is always a fulfilling activity.
The Future
Christoph hopes to see the expansion of Globethics both in terms of quality and quantity. He points out that it will allow them to make more impact as there is a great need for people with integrity and values-driven decisions. And the expansion will also enable them to reach more current and future leaders.
Also, to increase their impact and reach, they will have to double their budget: "So, we hope to get additional endowment and substantial donations from people and institutions who share our vision for Leaders with Integrity!"
In addition to additional funding, Globethics also needs committed people to make progress and increase its impact. There are many who are interested in working for it because they share its vision. And to attract more committed people, the foundation's second goal is to continue having the political wisdom, economic strength, and character strength to overcome or reduce the polarisation that is increasing across the world.
"I foresee that we will need, in the coming decade, even more courage than we needed in the last 20 years because conflicts will increase. It means we need people with the courage to stand up for their values even if they are a small minority." They should be ready to speak up, not be quiet because their governments, universities, or donors bar them from saying anything.
Message to Aspiring Leaders
Working with others, Christoph wants to play a pivotal role in the education of future leaders and already does it. He wants to train them in integrity. And he also encourages current leaders to be examples and role models for future generations.
In a message for aspiring leaders, Christoph says, "Stick to your own values. Be open to and respectful toward the values of others even if you don't share them." He also encourages them to be courageous and not to give up because others do not give up.
"We should also remain faithful to our integrity because it's the most precious capital we have.,"
Christoph's inspirational work is helping build a better world, where there is less strife and more integrity. He hopes to see large organisations, multi-national companies, and governments extend their hands of cooperation to make a much greater impact in different fields. "I would like to invite readers of this magazine to explore the ways in which we can cooperate," Christoph says. "It is an honest invitation for cooperation."