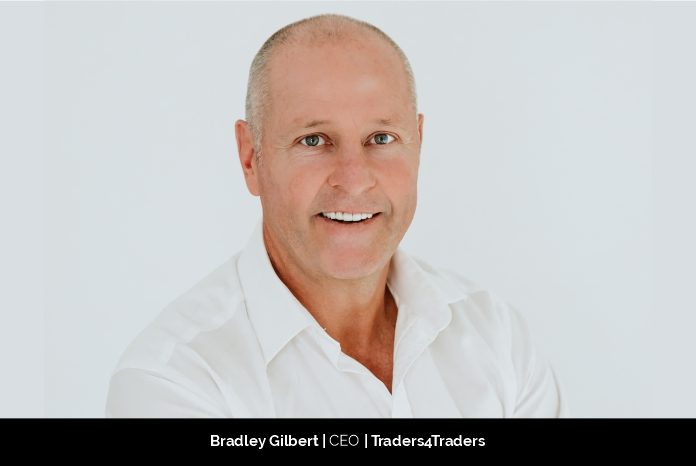 In today's world, online trading has become one of the most popular ways to make money, but it is not a place for those who see trading as a source of easy money without formal education. If you have the determination and appetite to learn how the financial markets work, Bradley Gilbert can support you with his exceptional Foreign Exchange trading program. He has worked as a professional trader for 31 years in some of the largest bank forex trading floors in the world.
Bradley is the Director and Founder of Traders4Traders, a forex trading education company that provides a Certified Diploma in Professional Forex Trading which can be taken online. It includes 3 modules: Module 1 – The Foundation Forex Trading Courses, Module 2 – The Advanced Forex Trader Workshop, and Module 3 – the Trader Development Program. On completion, the trader will be equipped to walk into any forex trading role.
"But not only that we also provide funding for our traders and a career path for a full-time trading career with Traders4Traders. We take the best of the best and offer them full-time employment with T4T Capital Fund Management," says Bradley.
Real Trading Experience Empowers Others
Great successes can't be achieved by one person. Bradley believes true success is achieved when acting as a team. He opines, "The great thing about Traders4Traders is that it enables me to use all the knowledge I have gained in the financial markets and trading to take individuals and help hone their skills."  He further adds, "I regard it as a great success every time I see that our training programs have given someone the capability of being a successful, responsible trader – managing risks excellently and enjoying an enhanced lifestyle." 
Knowledge and Skills in one place
Bradley believes he always had the spirit of an entrepreneur. His early days were all about accruing the knowledge and skills that would make him a successful trader. He says, "As for the inspiration, I certainly had a 'moment of revelation'. I had already felt that after 18 years on the front line of some of the biggest bank Forex trading teams in the world, I wanted to make some serious changes." The moment of realization came when he was invited to a trading expo. After two hours of walking around talking to various educators and trading specialists, he sensed that 'best practice' had still not been achieved by a long way. And where there is a lot of room for improvement, there is a lot of room for success. He asserts, "I commenced setting up Traders4Traders the very next day. I set about building and developing a training program that drew on the same outstanding training I had received at Citibank because this level of knowledge was not available anywhere. I knew it would make a huge positive impact on traders' outcomes." 
Creating a Professional Forex Trading Course
Bradley spent five years continuously improving the training program to ensure it had tremendous clarity and was easy for budding traders to work through. He also has published a book 'FX Insider: Trade with the market, not against it.' It is still available on Amazon. After finalizing the training programs, Bradley then went about developing the slides and videos himself and doing the voice-over of the entire program. It was a huge task with over 400 videos. "It must have taken me at least 12-18 months to complete this task' Bradley adds.
The Core Values of Traders4Traders have never changed. "Adhere to the highest professional standards of excellence in teamwork, communication, support, and create an unrivalled environment for exceptional people to perform to their best ability."
Through Traders4Traders programs, the aim is to provide an environment that encourages traders to always look for sound reasoning rather than just accept the trades they have been given. He asserts, "Egos are kept in check too, and with our flat level of management, the Trading Floor & 247 Trade Zone operates harmoniously. We also know from experience, no two traders are alike, so attention to everyone's training needs is extremely important to us. No one gets left out."
A Team Environment for all Forex Traders 
At Traders4Traders, the vision is to help traders make distinctive, lasting, and substantial improvements in their trading performance and build a team that attracts, develops and retains exceptional people. The management believes, "We will be successful if our traders are successful. Our community of traders, sharing knowledge, trade ideas, and experiences, work together as one with a common goal, to make money out of the market. With our support and network, we believe we can help them realize their goals."  
According to Bradley, Traders4Traders is a values-driven company. These values have been established over the past 12 years of operation, starting with his vision and desire for excellence and cascading through the business.
From managing the business to managing the trading team 
According to Bradley, being a chief of the company, it becomes necessary to keep in touch with all aspects of the business. But sensible delegation is vital, particularly when it comes to exceptional skills needed in IT development.
Bradley's primary focus is to manage the Traders in the company's Trader Development Program. He is extremely passionate about the success of the traders in this program and will do whatever it takes to get them to grow. He still likes to get online and engage with customers through the Traders4Traders' help system as it keeps him in touch with current market trends and how users are feeling towards it. He takes team meetings and provides one-on-one support to each trader when they require and is highly focused on keeping the team motivated, and has some core principles. He says, "We are flexible in terms of our working hours, and are performance and results-driven, rather than fixated on having to work specific times and durations."  
He further adds, "We strive to hit all our work targets in a 4-day week. Monday is often a day off for many of the team members as in trading terms it is usually much quieter. This approach takes away a great deal of the tensions associated with the trading environment and keeps us all energized, motivated, and a lot happier." 
A Focused Mind 
Achieving a work-life balance is a practice to learn with time. After 31 years of the trading career, Bradley now considers he has finally worked it out. The morning starts with having breakfast with the family and helping get the kids ready for school. After that, Bradley turns the screen on to watch what is happening in the market and responds to traders' questions. This can take anywhere up to a few hours.
At midday, Bradley does some exercise and yoga. He believes that a healthy body and healthy mind approach pay huge dividends.  In the afternoon, Bradley comes back to the screens to see what is happening in the market and helps his team over the day's challenges.
Aiming for Global Expansion
The future roadmap of Traders4Traders is extensive and very much about getting global. In the last two years, the company converted all the trading programs into Mandarin subtitles, as it sees the Chinese market with huge opportunities. The efforts the team has put in over such a long time are paying dividends.
The global ambitions the management has for its Trader programs are on target to come to fruition within the next 12 months. Bradley says, "We have spent the past 12 months planning the international rollout. That has meant adopting new language translation tech, employing local speaking staff, and ensuring there is no compromise on product and service."
The goal is to have a Traders4Traders proprietary trading team in every major financial center across the globe within the next 18 months. Bradley asserts, "We know we can achieve this because everything we built, we did with purpose and passion. No stones were left unturned. We did not rush any part of the process when it comes to our global development – it is just a matter of getting the right people and translating the content and website. Our highly skilled and passionate management team will get the job done."