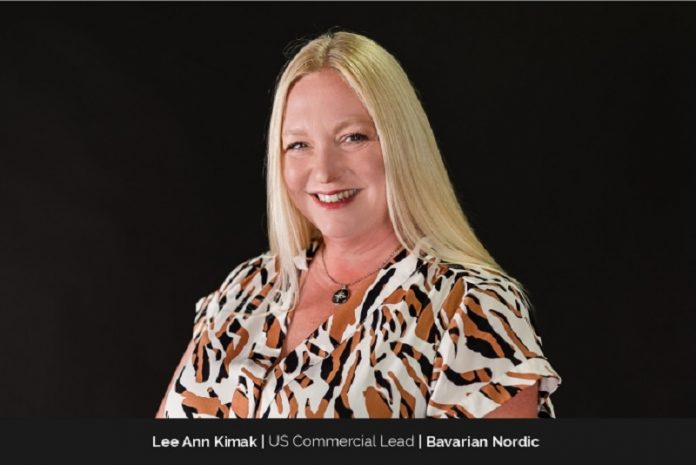 Lee Ann Kimak, Vice President of US Commercial at Bavarian Nordic, was voted one of the 10 Most Admired Women in Biotech for 2021, and one of the Top 25 Women Leaders in Biotechnology for 2020.
She has demonstrated the ability to inspire highly productive global teams, foster a customer-centric culture, and capitalize on market opportunities to drive revenue, profit, and market share.
A talented and tenacious market and brand builder with in-depth knowledge of global healthcare markets as well as legal, patent, and regulatory challenges, Lee Ann is innovative and entrepreneurial in solving complex business problems, fostering collaboration, and leveraging new and traditional marketing and sales methodologies.
A passion for healthcare & vaccines
Lee Ann has been passionate about healthcare since her youth. "I lost my father very early in life and know that if he took better care of his health, he might still be with me. I decided to pursue a career in healthcare because of this," she recalls.
She went on to start her healthcare career at Johnson & Johnson, working in the area of sterilization of medical devices, and found this a great opportunity to utilize her scientific background.
While she was at Johnson & Johnson, Lee Ann was offered the opportunity to get her MBA and join a management development program that rotated her roles through sales, marketing, and other areas. "This was an amazing honor and opportunity to grow my experience and provide a foundation for my future," she observes.
Lee Ann has always been inspired by, and in awe of, the level of science and innovation within the industry. "I can't think of a better way to help people than to help them live longer and more productive lives," she says.
She really found her focus and passion within healthcare when she began working in vaccines. What she loves most about vaccines is their focus on preventing disease, rather than just treating it.
Developing a vaccine at super speed to stop an outbreak
Lee Ann recalls when she faced one of the biggest challenges in her career during a Meningococcal B outbreak in the US. The disease is often misdiagnosed because of symptoms like the flu, but it can cause death within as little as 24 hours.
At the time, Lee Ann was leading a development team for a Meningococcal B vaccine in Phase 3 trials. They were able to accelerate plans and receive emergency approval to deliver the vaccine to help with the outbreak.
She recalls that that there were many obstacles in launching a product so early, including manufacturing, distribution, coverage, disease education and much more! However, they were able to form a cross functional team that spent a lot of sleepless nights to keep the product moving forward, despite the challenges of an accelerated timeline.
It turned out to be one of the most challenging and rewarding periods of Lee Ann's life, as no one thought it was possible that they could get it done. "I'm happy to report that we launched the vaccine two years ahead of schedule and were able to get it to teens that needed it!" she states.
This experience was the perfect proving ground for Lee Ann's role at Bavarian Nordic. There was no commercial organization in the US when she started, and she had the opportunity to hire and develop the capabilities they needed to successfully transition the RabAvert® (Rabies Vaccine) to their portfolio.
Having the opportunity to build a US organization from the beginning — building a team, establishing the processes and infrastructure needed to be successful —was an exciting challenge for Lee Ann. The company leadership and culture were inclusive, collaborative, and agile, making it an enriching working environment.
Committed to saving lives with innovative vaccine technologies
Bavarian Nordic was founded in 1994, with a vision to help improve and save lives through the development and manufacturing of innovative life-saving vaccine technologies. As experts in live virus vaccine manufacturing, they have a strong heritage in vaccine development, and continue innovative research to help fight existing and emerging diseases.
"We are proud of our achievements in vaccine development over the past 25+ years and we are focused on the future. Right now, we are working on bringing patients around the globe an even greater degree of protection from infectious diseases," says Lee Ann.
Bavarian Nordic is a global leader in smallpox vaccines and has been a long-term supplier to the U.S. Government of a non-replicating smallpox vaccine, which has been approved by the FDA also for protection against monkeypox. The vaccine is also approved in Europe and Canada.
The company's commercial product portfolio around the world contains market-leading vaccines against rabies and tick-borne encephalitis. Using their live virus vaccine platform technology, MVABN®, they have created a diverse portfolio of proprietary and partnered product candidates designed to save and improve lives by unlocking the power of the immune system, including an Ebola vaccine.
Bavarian Nordic is also committed to the development of a next generation COVID-19 vaccine and a Respiratory syncytial virus (RSV) vaccine. They have been working to help with the latest monkeypox outbreak, which was unexpected, but resulted in a rewarding opportunity to deliver JYNNEOS® (Smallpox and Monkeypox Vaccine, Live, Non-replicating) to the population in need.
"We are also excited about the potential for our pipeline as we look to tackle important diseases such as COVID and RSV. My goal is to help build the presence of Bavarian Nordic in the US and make sure we bring important products to market. We have an exciting future ahead of us at Bavarian Nordic!" declares Lee Ann.
A super successful career in healthcare
During her career in healthcare, Lee Ann has been a strategy developer who drove game-changing ideas that transformed business models for profitability, such as Wyeth's pioneering customer-focused Healthcare Professional Portal.
She secured a multi-million dollar budget and additional staff, developed a commercialization strategy, launched an integrated marketing campaign, and negotiated exclusive online partnerships; $1.5 million in savings; numerous promotions, company and industry awards.
Lee Ann has demonstrated skills as an inventor, presenter, negotiator, and relationship builder. Using her passion for innovation, she conducted extensive research, developed a business case, and convinced Pfizer's executive management to fund Phase-3 product development over two other proposals, securing 95% of the business unit's annual product development budget.
Lee Ann also developed a market development strategy to increase adolescent vaccination rates; expected to generate $1 billion in incremental revenue over the life of the vaccine. She has also served as a mentor for teenagers through the United Way in various development programs, and helped to establish a not-for-profit focused on the importance of teen vaccination called UNITY.
Lee Ann also likes to give presentations on the topic of vaccines and their impact on the health of the world. "Until COVID, many people had never appreciated the crucial role of vaccines in protecting the public health, not only historically, with respect to diseases like polio, but also continuing to the present. So many lives have been saved by a simple act of getting vaccinated," she observes.
A visionary leader & role model for women in healthcare
Earlier in her career, Lee Ann was also named a Healthcare Businesswomen's Association Rising Star, and she considers it an honor to be recognized for her contributions as a leader and a role model for others, as well as her dedication to women in the healthcare industry.
"I like to serve as a role model for women and have volunteered in numerous organizations that help to promote women in healthcare. I started a chapter of the Healthcare Businesswomen's Association in the Philadelphia, PA area where we focused on helping women grow their leadership and professional skills," she says.
As a visionary leader, Lee Ann was a two-time Pfizer "Great Manager Award" winner for engaging today's talent and developing the next generation of leaders, which she considers her greatest achievement as a leader.
"I always try to be an inspiration to my team and work to provide an environment where people can do their best work. In a company as large as Pfizer, it was certainly an honor even to be recognized with this award once, but two years in a row was really humbling! I love to be a people leader and help them grow in their careers," she says.
Lee Ann also established a local chapter of the all-volunteer global Healthcare Business Women's Association in Philadelphia and grew it to 1000+ members in three years, making it the organization's second largest chapter.
She recruited top healthcare leaders to serve on the advisory board, secured lucrative sponsorships, and organized events and fundraisers to benefit deserving organizations.
Lee Ann thinks that good leadership is the key; and the qualities of a good leader include strong interpersonal skills, being decisive yet open-minded, knowing when to delegate responsibility appropriately, and leading through example.
"I also strongly believe in hiring the best people and then stepping away and letting them do what you hired them for, supporting them when they need it. I think this is motivating to my team as they know they're in control and can help direct the outcome of our efforts and accomplishments," she says.
"Let us all be the leaders we wish we had." — Simon Sinek
A tenacious, passionate and optimistic outlook on life
Lee Ann points out that we're more likely to persevere through good and bad times, and in trying to make a positive difference, if we have a strong belief that things are going to go well in the future. Her optimistic outlook applies to business, relationships, health, and family.
"I strive to maintain a balance in my life by enjoying time in nature. I really enjoy outdoor activities like kayaking, paddle boarding, and boating. I'm lucky enough to live near the water, so I like to take advantage of it and be outside. I also have two dogs who are my fur babies," says Lee Ann.
Describing herself as tenacious, she continuously persists and does not give up easily. She likes to believe that 'where there's a will, there is a way'! "I think you also need to be passionate about what you're doing, because when you're living in your passion, life becomes very easy!" she declares.
What Lee Ann loves most about her job is the variety of challenges that she's likely to face in a day. Some days require more of a focus on customers and making sure they're getting access to the products, which require her to work closely with the sales team or the supply group.
She also spends time meeting with her direct reports so they can collaborate on important activities, like goal alignment, talking about their team, and how to keep them motivated. "I also spend time with my colleagues in Denmark keeping them informed of how the business in the US is going and educating them on the intricacies of US healthcare," says Lee Ann.
She points out that working in small / start-up biotech firm can be challenging, as there's a new problem to be solved every day. One needs to be tenacious and willing to operate with a high level of ambiguity and not a lot of processes.
Lee Ann believes that success comes when you do your best in all aspects of your life. If you know you've done your best, you can feel proud of your efforts no matter the result. It helps you persevere when others might give up.
Like the Roy T. Bennett quote, she affirms that "Success is not how high you have climbed, but how you make a positive difference to the world."
"Success is not how high you have climbed, but how you make a positive difference to the world." – Roy T. Bennett