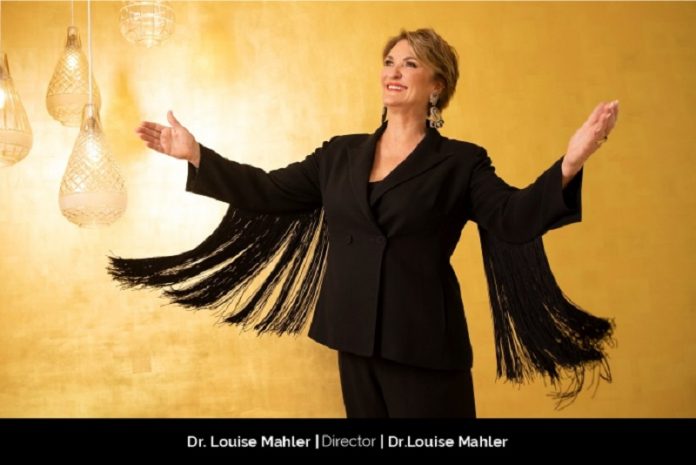 One day, Louise Mahler went to see her boss, the head of a large Australian company, to share her creative ideas. Those ideas incorporated her background in opera for presence and influence in the organization. Her boss initially seemed that he was listening. It also appeared that he was encouraging her to expound her ideas. But, soon, he shed his pretence and asked her, "Are you finished?" When Dr. Mahler replied, "Yes," he said, "Well, don't bring your stupid sh*t back in here again." And she never did. Dr. Mahler quit her job and began her own solo journey to become a global thought leader, top leadership influencer, body language expert, public speaker and one of most original thinkers in business communication, as well as a writer.
Dr. Mahler has a Ph.D. in Business. She also holds degrees and masters in Organisational Psychology as well as Music. Blessed with a brilliant and creative mind, she has worked in diverse fields, including language, economics, organizational psychology, opera, neuro-linguistic programming, and leadership communication. "The thing is that when I look at these areas, I see that all roads lead to Rome," Dr. Mahler says. "The Rome I speak of is where the frameworks of communication and the skills to present them all live in harmony."
"Everything in my life has added a different component to the work I do and the unique perspective I have on that work," she adds.
'This Too Shall Pass'
Dr. Mahler's life has been that of constant change. And she surely had her struggles and setbacks. "In my life, I have changed country, changed languages, changed profession, been a single parent, had marriage breakdowns and financial catastrophes that were no fault of my own," Dr. Mahler says. "Honestly, if that doesn't kill you, nothing will!" When the Covid-19 pandemic hit Australia and the world, almost everything came to a grinding halt. But Dr. Mahler carried on doing what she was doing before the pandemic. She herself now feels astounded that she did not stop. "I find over and over in life that adversity builds strengths and the ability to just keep going," Dr. Mahler says. "You learn that tomorrow is another day and 'this too shall pass.'"
Definition of Success
Dr. Mahler has a unique definition of success. "It is to be heard and to have a laugh." She believes that it is important for everyone to be heard.
"If I am in the media making comments, getting engagement in social media, and hearing the success of others through me, these are critical to my feeling that the work I do is engaging and reaching its mark," Dr. Mahler says. "Of course, the financial benefits follow, but it is all about making a difference."
Measurement of success is important as well. And for that, having "fabulous feedback" is a must, Dr. Mahler says. "Nothing feels better than hearing from someone that their engagement has been powerfully better after the work they do to change. It's thrilling and drives me every day."
She also points out that her work is confrontational. People may not be receptive to her suggestion that they need to consider their habitual patterns and reconsider an alternative. And it can be quite a challenge to convince them. So, it is "absolutely essential" to "include humour," says Dr. Mahler, who is known for her ever present ability to find humour. "And when I am winning on that front, I know I am winning overall."
Audience Engagement and Laughter
In the beginning, Dr. Mahler sets herself a goal of three presentations a week to anyone she could find – paid or unpaid. "You then find that speaking builds speaking and success breeds success," Dr. Mahler says. "People give you a break, an opportunity, and you get catapulted into the next level."
And Dr. Mahler's improvisatory speaking style involves a lot of audience engagement and laughter. And, as she works with audiences, she says that what she does is more akin to a stand-up comedian than anything. "You have to get out and do that!" Dr. Mahler says. "Sometimes I pinch myself as to the honour of having such incredible people listen to what I say, but people are just people in the end," she adds. "We all need a little help, no matter who we are."
During pandemic-induced lockdowns, Dr. Mahler has run hybrid programs, offering webinars and videos as well as master classes online, and singing lessons with sopranos from the Australian Opera.
"Moving into the post-pandemic world, there will be more discreet programs available including presence, interviewing, performance anxiety and virtual communication as well as my current program the Mahler Method Gold Program," Dr. Mahler says. "In this, we look at simple skills that you can do to make a tremendous difference to the way you present yourself in your work and personal life."
The ten-week Mahler Method Gold Program involves an understanding of organisational psychology, the interpersonal skills of communication and the processes for handling high-stake engagements such as presentations, pitches and emotional situations.
Missing Ingredient in Leadership
When Dr. Mahler was completeing her Ph.D., she noticed a missing ingredient in leadership. "This was the disassociation with our work lives and the critical components of our prosodic signature (vocal tone) and the way we use our body," she says, adding that all are connected in a way what she calls "Vocal Intelligence: the mind-boy-voice connection."
She does not like to use the term "body language," as she believes that it is more related to perception of others. "My work is that and more," Dr. Mahler adds. "It is about how we bring our best to any engagement. Yes, folding your arms looks like a blockage, but actually, folding your arms stops you from breathing, so don't do it!"
Vision for Industry
Dr. Mahler's vision is for a world where people influence with good intentions. Often, skills of influence are picked up by con people, psychopaths, narcissists, and those with Machiavellian tendencies, she points out. "We need a world of leaders with good intentions who know the skills to bring others with them for the good they bring."
And, she says that it is especially important for many women, especially those who come into business without the skills having been offered in their school, amongst their peers or mentors. "Many are behind the eight ball with chronic vocal fry, the inability to voice under pressure, or poor structure of engagement," This doesn't mean men don't have those problems as well, but there is one rule for the rich and one for he poor and one for men and one for women. Women need to get it right or be under scrutiny. Dr. Mahler adds. "The good news is that it is all learnable!"
Best Recognition
Dr. Mahler probably began her career of speaking at BHP Engineering – where she worked from 1993 to 1996 – when she had started to engage her speaking skills, along with training. She recalls that she was practising all the time and getting her ideas together. Now, she helps people from all walks of life, enabling them to deal with difficult and hostile situations. She encourages them to express themselves through voice – to find their true full voice and use it. What sets Dr. Mahler apart is that she combines her skills gained from her opera singing career – she has performed with the Vienna State Opera – and organizational psychology to offer informative, practical, and actionable keynote.
A Global Top 30 Leadership Influencer, Dr. Mahler has won numerous awards and accolades over the years. "The best recognition I have received in appreciation for all those years of hard work are the international speaking engagements I have been asked to do," she says.
Twice, Dr. Mahler has been a keynote for the prestigious Million Dollar Round Table in the USA. She says that she has stayed in the room where President Kennedy stayed in on his last night for the Coaches Federation in Texas. She has also been to Barcelona and Florida for Gartner and audiences of 15,000, and she has travelled to Salt Lake City and New Delhi for Adobe. And she was also chosen by IBM as a key creative source world-wide.
Dr. Mahler has won the Professional Speakers Association's 'Keynote Speaker of the Year' award for her work, which she calls a "tremendous honour." She is also the winner of the Lifetime Achievement Award from Stevie for her contribution to Women in Business. And, "Out of the blue I discovered I was voted a Top 30
Global Guru for Body Language and top 30 Guru for Communication," Dr. Mahler says. "That was a lovely surprise!"
A Regular Day at Work
Dr. Mahler's days are all about helping others. Sometimes that is speaking on a stage – these days virtually – and most days it involves coaching 1:1. "Most weeks I run 3-hour leadership adjunct program for PwC, Deloitte, GE, Calvary, Metro-North, NSW Health, ADCO, Women in Banking and Finance, LGPro or other large companies," she says.
Every couple of weeks, she is also on TV commenting on what is happening in the news. "For the funeral of Prince Philip, there were over 600,000 views on the Channel 7 analysis I did that day," Dr. Mahler says. She also says that her new membership is a great joy, and each week, they meet to discuss what is going on, rehearse interactions and discuss what they could have done better. Everyone is now best friends, and Dr. Mahler informs that they are off to Oakridge in the Yarra Valley, where she has a 40-acre property, for lunch to finish the year for those in Melbourne.
Women Stand at a Disadvantage
When Dr. Mahler arrives on a stage and stands in front of 600 Defence Engineers, they glare at her probably saying "What is she doing." But then, slowly, she brings them around to the importance of the work, and they get totally involved. "It is hard work," she says, adding with a smile that she adores their initial reaction.
Women are advancing in all spheres of life. But, the biggest challenge for them continues to be that they stand at a disadvantage. Dr. Mahler says that the western culture perceptions of leadership are male with a deeper vocal tone and standard dress.
"I tend to wear red, white, or black with a trademark huge sleeve, with what I call wings, and of course, my voice is an octave higher than a man's. I just plough through," Dr. Mahler adds. "We will change the perceptions in the end!"
The World is Her Oyster
Dr. Mahler is going global. She believes that the world is her oyster now, and she wants to spread her word far and wide and have as many people as possible benefitting. "That will mean a larger team around me, four more books in the making, and perhaps a television show depicting just how effective the work can be," Dr. Mahler says.