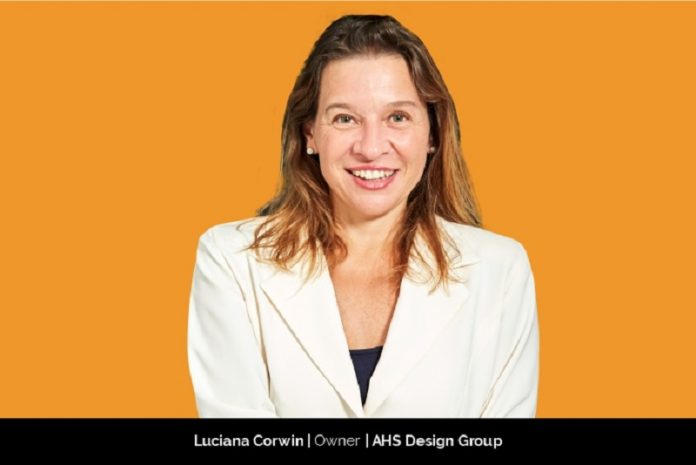 Every leader imprints a special definition of success. Some mark it with earning a great reputation, while others consider financial gain as their epitome of success. Very rare leaders witness success through their remarkable work and the smile they put on their satisfied clients. One such leader is Luciana Corwin, Owner of AHS Design Group. She measures her success through her work which is building elegant residential or small commercial buildings.
She adds, "It is a great satisfaction to see that all the thoughts that were done during the design phase have worked out nice, and it has been built. Also, it gives me a high satisfaction to see my client excited and proud about their house! This is what makes me keep going on every new project!"
In this exclusive CIO Views article, we shall uncover the inspiring story of Luciana Corwin, who reached the success peak by overcoming all the roadblocks on her path and never gave up. Her story presents her life's journey and how she built the brand name of AHS Design Group.
Laying the foundation stone of AHS Design Group
Luciana pursued her bachelor's in Architecture and Urban Planning from UNESP and later completed her MBA in Urban Design and International Business from the National University of California. After her formal education, she had never thought of reaching top heights when she began working. She states, "The beginning of my career started with a lot of energy, no money, and an enormous curiosity to see the world! I spent 1.5 years traveling and getting to see other cultures, realities, and interpretation of a residence."
It turned out to be an enriching experience for her that opened her mind to consider fresh and vibrant ideas. Handling one job at a time and learning through each project, she kept working hard and tried to put her best effort into it. When she just started out, she even followed job sites with the only intention of giving her best, even with no compensation. She apprehended which project had great scope and potential and would love to see its results.
She would keep converting her designs that would fit perfectly and look just like any ordinary house. After that, she even used such project details in her professional portfolio for a number of years to impress other clients and gain more projects.
Knocking down challenges on the way
Luciana had to face numerous challenges over the years to gain the success she had always dreamt of. Every project brought a new set of challenges and needed quick solutions to get the best look in no time. Thus, she knows that valuing knowledge and competency is a must and will reap the best results as well. A lot of people on the way will try to take advantage or put you down.
As a woman working in a male-dominated field, she remembers that at one time, everyone considered her just a decorator; however, over time, they understood her real capabilities.
She believes that one who always does the right thing, using the best potential, and keeps faith in themselves, will always gain exponential success! She also adds, "I am a foreigner that came to this country 20 years ago and worked honestly hard to achieve my dreams." Her determination to face all odds boldly and stand out as an influential businesswoman is commendable and a true inspiration for everyone in the industry.
Comprehensive Services of AHS Design Group
Established in Austin in 2010, AHS Design Group is a one-stop architectural services provider that caters to several residential projects as well as small commercial projects in the big Austin, TX area. Their unique approach to architecture mainly includes a collaborative approach so that they can understand all the creative ideas and business goals of the customers beforehand so that they can impart ample guidance during the design process. The best part is that all the amazing solutions are offered at a pocket-friendly and are personalized as per each of their clients' needs.
Serving all the domains be it, architectural designs, construction documentation, approval process assistance, and selecting interior designs, Luciana shares that their company's designs are distinguished as they go one extra step to impress their clients and add a special touch to their elegant space or architecture. Being the top company that provides the perfect amalgamation of form and function, they always pay more attention to every intricate detail of an individual project.
Most of her clients are young professionals or investors who are looking forward to beginning their new journey of owning a brand-new house. She tries to maintain full client communication during a particular project, and Luciana is specifically involved in every step of it.
Luciana's contribution to the present architecture industry
Disrupting the traditional architecture and interior designing industry, Luciana is paving her way up on top with the help of her excellent contemporary or modern designs. She says, "Each project is treated as a new and unique challenge. Our team keeps looking for new solutions to always sway their clients with their stunning designs as an outcome."
To keep AHS Design Group ahead in the industry, Luciana mainly relies on her outstanding effort in each project. For her, a well-done project is enough to keep them motivated and striving high.
She also states, "I can say that 98% of our clients are referral. We never had to market our company."
Owing to her great client retaining skills, some of the company's initial clients are still working with them. This shows their true client relationship management and helps them stay ahead of all the competitors.
Her deep experience in the field has been loved by all the clients. They are particularly bewitched by her strong insight and the way she transforms a room blending all the emotional, visual, and auditory experiences, thus, imparting a sensational multisensory experience.
Gaining recognition along the way
For her, the best recognition is when she finds her work published in someplace where even she didn't have any idea. Explaining an incident, she says, "Once I was in front of some magazines in a store, and I recognized the kitchen on the cover of a magazine. Sure enough, I had designed it while working in a company."
Further, in 2020, she was also honored by the prestigious award "Most Passionate Architecture Business Leader 2020 (Texas)," and AHS Design Group received "Most Outstanding Architecture & Interior Design Firm 2020." It was all the result of her sheer hard work and commitment to providing the best services at all times.
Life before AHS Design Group
Luciana started her career working as an Architect at Elgin S, where she crafted new store designs and handled several existing store remodeling projects for four years. After that, while pursuing her master's, she began working as a designer for Kitchen Expo, where she mainly handled all aspects of interior designing be it, project designing, coordinating presentations, and selecting high-quality materials, along with supervised vendor purchasing as well as Jobsite coordination.
After that, she joined forces with Klang and associates as a technical designer. She managed everything from designing residential layouts and planning space to utilizing specific materials and creating detailed architectural construction drawings. Later, she expanded her horizon and joined PDI World Group as an Architectural Designer, where she focused on designing different concepts and conducted research for commercial and multi-residential projects in the USA and Asia.
After that, she worked as an Architectural Design Specialist at Viracon – MN, where she channeled her energy in helping designers & architects to design using glass systems (emphasis in curtain wall systems). She even worked with LEED and educated professionals under her to gain the best experience.
Before starting AHS Design Group, she worked as an Architectural and Client Development professional at Parkwood Chicago, where she worked on different market niches and developed good relationships with different architects and designers.
Managing Work-life balance
As a hard worker, Luciana wears multiple hats as the owner of AHS Design Group. From handling client on-boarding and requirement collection to providing world-class solutions as per the client's needs and watching a broad smile on her client's face, Luciana is fully involved in each phase and tries to stay in touch with the client even after the project is complete.
Although Luciana is a great manager, she has always found it difficult to maintain a balance in her personal and professional life. However, she still tries her level best to create a schedule and a priority list so that she can give her 100% in all the tasks while not missing any of the special events.
Future plans of AHS Design Group
Luciana has always considered passion and pleasure as the core of everything she does. She believes that pursuing each task in this way always feels like an achievement. As a visionary and an established business leader, Luciana plans to continue surprising her clients with her profound knowledge and excellence in her field.
According to her, the best advice for all businesswomen would be, "Always go an extra mile since the hard work put into a work can't be measured. We always want more compensation for what we do, but we need to learn that good compensation will come once your work starts to be recognized."