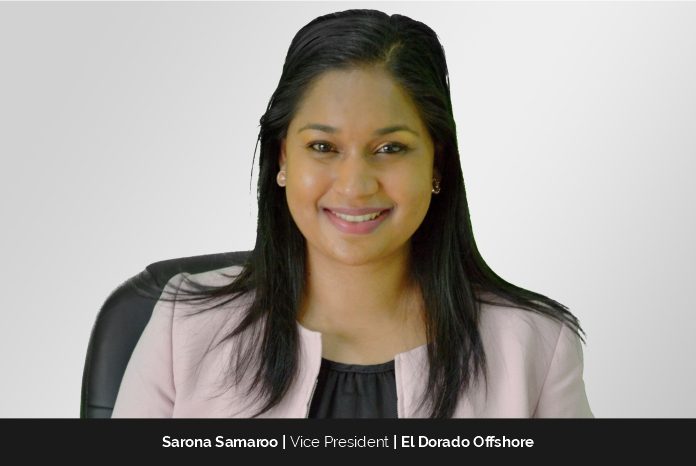 Experienced Strategic Human Resource Generalist with a demonstrated history of working in the public and private sectors Sarona Samaroo is the current Vice President at EDO. She is the youngest female Executive at the Ramps Logistics Group of Companies and she oversees El Dorado Offshore (EDO) in Trinidad, Guyana, and Suriname. Her experience in the Energy Sector has developed her as leader in talent acquisition, business development, project and general management, client relationship management, human capital development, offshore recruitment, training compliance and management and local content development. She has worked in both the private and governmental sectors, which she says gave her the all-around experience she needed to become the expert she is.
Sarona also represented Trinidad and Tobago regionally and internationally in a sport called cricket in her younger days, and she believes that this sporting experience also developed her emotional intelligence, diplomacy and shaped her personality to be able to communicate effectively, work with multi-nationals and speak confidently and charismatically to anyone on the world stage and at any tier in the corporate, political, or community structure.
Beginning as a Professional
Sarona began working at the age of 18, juggling employment with her undergraduate and postgraduate degrees. Her first employment in Trinidad and Tobago was in the public sector, and by the age of 24, she had moved into the energy industry, where she began her present adventure.
Sarona's greatest honor as a leader came when CEO Shaun Rampersad empowered and trusted her to lead EDO locally and worldwide. She asserts, "From the first day I stepped foot into the company at my first job interview at the Ramps Logistics Group of Companies, as the visionary and inspirational leader that he is, he saw something in me before I even realized what my greatest potential could be with EDO."
Great Opportunities Come with Challenges
Sarona thinks that behind every struggle or hurdle are some of life's most exciting chances. Every hardship she has experienced has served as a stepping stone in her development as a stronger and more compassionate leader, both personally and professionally.
When EDO was just starting out and the team was focused on building the business, the team's success rate in winning bids was low. Sarona opted to exploit its quiet phase after the first ten losses to shift gears and focus more on strengthening its people, processes, and technology. She states, "It took us close to two years, but those two years of looking within and mentoring and training our people, defining end-to-end processes and building out our technological capabilities, is what set the foundation for us to now have one of the most consistent winning streaks with bids for projects in the energy sector in the Caribbean during the year of a pandemic."
According to Sarona, the past two years of the COVID-19 pandemic taught her and the team about leaning into agility and ambiguity and not being afraid to pivot, shoot, miss, and do it over and over again until they got it right. So much of what the company has accomplished in the last year was because the team was forced to change course and take risks. And because the company was moving so quickly amidst an incredible amount of uncertainty, the team needed to practice being nimble, so that when those opportunities came along, Sarona was ready to take the shot.
Leading EDO
"The most beautiful aspect of being a part of EDO's growth as a manpower supply and recruitment company in the energy and non-energy sectors has not only been about our team winning bids consistently or growing our employee headcount," says Sarona. One of the biggest accomplishments for Sarona has been transforming the people in the company's three entities in Trinidad, Guyana, and Suriname to become some of the best and brightest in their fields. The company's success lies in being able to build a multi-national team that has the most fun working with each other, achieving greater togetherness and seamless workflows regionally.
When Sarona started leading EDO in 2019, the employee headcount in the Trinidad entity was 12 people, and its headcount in Guyana was 175 employees. As of June 2022, it has one new entity established in Suriname and its headcount today is over 500 employees regionally, with local employees in each entity it operates in, as well as international hires from Canada, Brazil, Mexico, the USA, and Europe. It is also the provider of manpower supply for two major offshore drilling rigs in the Caribbean, and it currently provides manpower supply to over 65% of the clients in the upstream energy sector in Trinidad, Guyana, and Suriname.
Balancing Personal and Professional Life
Sarona believes compartmentalizing your own priorities is important to achieve that work/life balance. She states, "The pandemic brought us misfortune, but I believe it also brought us 10 years forward in a matter of weeks through virtual work and work from home structures."
Our team has a hybrid work structure, so they work from home, and only when the tasks require them to go to the office do they do so. "Hence working from home has helped me prioritize time for my personal life and it has simultaneously kept me more focused on my work for EDO," explains Sarona.
Sarona motivates her colleagues by giving them opportunities to be their most creative and authentic selves. EDO facilitates monthly team-building activities around the country to promote fun, collaboration, and togetherness, and the company's rewards and recognition program ensures that employees will always be valued and rewarded at EDO when they perform at their best. Even when they are not performing to their full potential, the management's compassion, along with mentorship initiatives to help them learn and improve, ensures that they remain engaged. Sarona shares, "Our unique company culture and initiatives show them how much we care about them and how much we want them to become the best at what they do. We live by the saying train your people so they can leave to work anywhere in the world but treat them well enough so they would never entertain the thought of leaving."
Exceeding Her Limits
Sarona states, "As my CEO, Shaun Rampersad would often tell me, 'The most beautiful thing about EDO's success story is that we are just getting started." Sarona believes herself to be satisfied personally, but there is always a desire inside her professionally to continually exceed the edges of her capabilities on a daily basis and outperform the person she was the day before.
Sarona's main goal right now is to work closely with her dynamic team to establish EDO on the international stage, where she can provide opportunities for people all over the world to find jobs that are a good fit for them and to become the international employer of at least 5000 people for clients in the energy and non-energy sectors.
Her lifelong aim is to encourage and motivate everyone around her to turn their work into their passions and reach their full potential, so that they may learn from her, her successes and failures, and become even greater than her.
"I believe when you become passionate about the work you do and when you enjoy doing that work, it no longer feels like a job, it becomes your niche and your highest calling. It makes you give your best each day and enables you to transform your way of work and change the game." says Sarona.
Defining Success
As Sarona sees it, "success" is not an easy thing to define. Similar to how people grow and mature, the definition of success can change as well. She has defined success in different ways over her career. She asserts, "Three years ago, my focus may have been on building a business and brand, but now it is more about helping and mentoring others, and how I can leverage my past accomplishments to help others achieve their own success."
Sarona always works to create a culture grounded in collaboration and consensus. Each day, she learns so much from the people she works with. An open, collaborative environment helps create success. At Ramps Logistics Ltd and EDO, the team also believes that celebration is an important part of a company's day-to-day. The teams always strive to ensure each customer experiences the very best quality of service with our brilliant people, robust processes, and game-changing technology. She mentions, "There is always a reason to celebrate our successes, whether they are big or small, and I believe it is even more important to recognize our losses so we can assess as a team what we need to do differently to win again."
According to Sarona, a leader's success is measured by the number of people he or she can positively inspire to realize their actual potential and enhance their ability and capacities through mentoring to generate more leaders among them. She currently leads a multi-national team of HR specialists and Subject Matter Experts in Guyana, Trinidad, and Suriname to manage our line business and deliver high-quality service to our clients in the energy and non-energy sectors.
A Future Vision for EDO
As a member of the Ramps Logistics Group of Companies, EDO is ideally positioned to develop globally in the same way as its parent company, Ramps Logistics Ltd. For over 30 years, Ramps Logistics Ltd. has been the leading provider of freight forwarding and supply chain management services, supplying transportation and logistics solutions with tailored technology and solutions to support the way clients want to do business, wherever they are on the globe.
Sarona's aim is for EDO to make its mark on the international scene as the top provider of manpower supply and people logistics services in the Caribbean by becoming a worldwide recruitment firm in the energy industry. The team also recently made inroads into the USA, Mexico, and Colombia, where it has been building a talent pool of candidates with a series of recruitment and career workshops for possible international job opportunities for locals in those countries. She says, "It is our plan for EDO to also venture into West Africa through collaboration with local contractors to maximize the provision of our services and presence in the energy sector."
A Message to Aspiring Entrepreneurs
Sarona's message to aspiring entrepreneurs is, "Do not be disheartened if you experience challenges with building your business or losing bids to expand your operations." She further suggests cutting your excuses in half and doubling your action. She believes that the key to success in building and growing your business is what you do during the period when you are losing opportunities or when you are in an uncomfortable position professionally.
Sarona finds the world is often crowded with mediocrity and suggests one should focus on mastery. She says, "Create your own economy as an entrepreneur by learning how to align your people, processes, and technology." She further adds, "When you learn to maximize your potential at key touch points of your business growth and expansion phase, that is when you will be empowered to create opportunities and constantly exceed the edges of your capabilities and lift your limits."