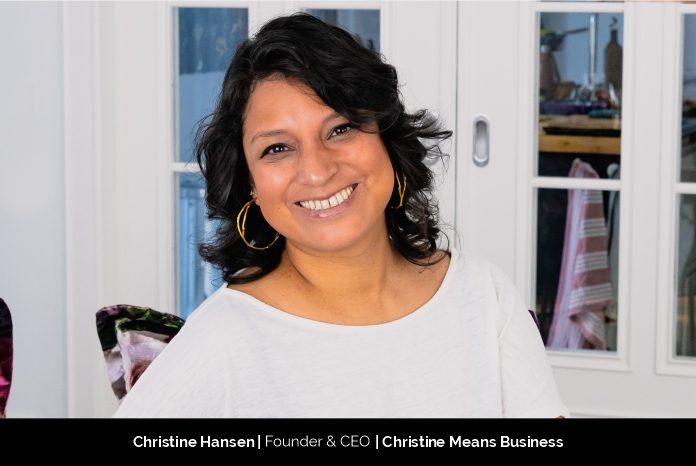 Every leader has a unique definition of success. To Christine Hansen, Founder & CEO of Christine Means Business, we mustn't define our success based on external ideas i.e. our parents', family's, friends', or society's in general. "Usually, we think about it in terms of finances, which is valid as having stable finances will simplify a lot of things, but I would always consider freedom of time, joy, and purpose as well," she says.
The Foundation Of Christine Means Business
After having built her first company successfully Christine realized how much fun she truly had building businesses online. She says that getting there cost her a lot of nerves, money, and
time. "I am grateful for every mistake though as it is now a tool in my arsenal that helps me collapse time for my clients and guide them to a foundation that can truly carry their business for decades to come. That is my mission, my purpose, and my pleasure," states Christine.
Challenges make you stronger
In the world of business, most of Christine's clients start because they want to share or work with their skills. What they don't bring with them, because it isn't really taught in school, is business knowledge. 'What is marketing, how do I organize my finances, how do I create content, how do I
package and price my skill, how do I create graphics and use social media, etc .'  This is a huge challenge and in the process of learning all of it you invest in courses and teachers but some may help and some won't.
"My word of wisdom here is: don't reinvent the wheel. Invest in someone who has been there, knows the strategy, and gets to know you, and then tailors the pieces to your character," Christine advises. Just like a doctor listens, checks and diagnoses a good consultant and coach should be doing the same. That way you avoid unnecessary challenges and get to keep your energy. The journey will still be challenging enough but that's ok.
Her second thought here is to always, always include personal development in your journey. It is too often overlooked but it is the biggest piece when it comes to building a business.
Redefining the industry with innovative ideas
Christine Means Business is a fairly unique company in the way that it truly combines consulting and coaching. Christine believes that it is key to include a client's personality in the process. She is also very careful to include masculine and feminine energy in a business. This is quite a new trend as earlier, the masculine with persuasive marketing was more dominant.
In terms of growth, she states that she is proud that her book 'We Mean Business, is doing very well and is impacting more and more people all over the world.
Best recognition received as a leader
"I don't have one single moment. To me, it is the small messages I get through social media or when people meet me in person and tell me how they love my content or how I inspire them," exclaims Christine. When she creates, she pretends that nobody is paying attention so that she doesn't get nervous. She states that when she realizes people then do read, watch or listen it is always an exciting moment for her.
Responsibilities as CEO at Christine Means Business
As the CEO of her business, Christine mostly has long-term strategies and ideas while also creating the main source pieces of content that her team then takes and distributes on different social media platforms. Earlier she had a regular job and then founded Sleep Like A Boss, where she had similar tasks that now include leading her team of sleep consultants. Christine, who defines herself as a 'multi-passionate' person, states that she prefers being a solopreneur more than anything.
"I have achieved the most important, which is living a life I love doing something I adore. There are still some goals to achieve but I am getting there steadily," she states.
Maintaining a balance in personal and professional life
Christine keeps her business super simple and only does the most necessary tasks. Through that organization and pre-planning, her team knows when something is supposed to happen and they can then adapt their schedules which means there are rarely any surprises or stressful situations. This is a formula she highly recommends.
"Eventually, I will only focus on my business tripper community. A community of entrepreneurs who travel the world together to pause, get perspective, and permission, rekindle their passion for business and play! That combines my favorite things and I love to facilitate it for others," says Christine.
Every success takes momentum. So her advice to aspiring entrepreneurs is not to neglect the first small wins but to realize that they help you gain that momentum.