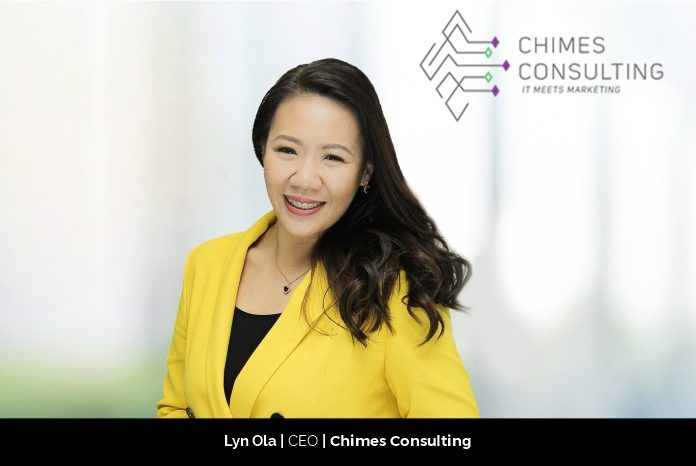 Helping others with their business with SMART digital marketing strategies, Lyn Ola, founder and CEO of Chimes Consulting, is all set to transform the digital marketing and IT industry. Through Chimes Consulting, she aims to take her client's business to new heights with the different services her company offers.
Behind the curtains
Before Chimes Consulting, Lyn, who is currently taking her doctoral degree, was a graduate of Information Technology and Business Administration, majoring in Marketing. With her talent and skill, she worked for different notable multinational organizations. Using the skills and experiences she developed working in the field, she began teaching part-time at prestigious colleges and universities in Metro Manila.
Her time as an educator further reinforced her belief in the importance of digital marketing in the business domain. During this time, Lyn slowly started building her company.
In the process of integrating more marketing online, Lyn states " I started to create a small team who would help me execute digital marketing and information technology strategies for different start-up companies and clients online. With consistent progress with our clients, Chimes Consulting was formed to better integrate both I.T and Marketing.   The inspiration towards the foundation of Chimes Consulting is simply through the thought of helping others with their businesses and giving back."
She saw that many businesses could be more successful if they had adopted modern marketing and business systems, and so she founded Chimes to cater to this rapidly growing market.
Crossing impediments along the way
Along with the difficulty of setting up a business in the Philippines, Lyn faced the challenge of explaining what Chimes can offer and how it can benefit various businesses.
She adds, "We found it difficult to explain how Chimes Consulting's services could benefit a business without evidence from a previous client or the reputation to back it up."
Through grit and determination, she tackled these challenges with a positive attitude and pressed on forward. Today, Chimes has growing clienteles, with more inquiring into what the company has to offer.
Revolutionizing the marketing industry with Chimes Consulting
Chimes Consulting is an expert in the field of Digital Marketing and IT solutions for businesses. With services ranging from marketing a client's products across the internet to providing specific technology and software solutions to run business operations more efficiently, they have it!
Lyn states, "Our top 3 services include: digital marketing, software development, and website design and development."
Over the past year, Chimes Consulting has seen a shift in how the martech industry has evolved and forced businesses to adapt to a more digital set-up. Especially with the pandemic ongoing, businesses have seen a large portion of customers demanding online options to get the products they need from the safety and comfort of their homes.
Businesses can no longer ignore how potent the internet is when it comes to marketing products and services. Customers want more access to products via online platforms and have an increasing awareness of the companies they buy from. Without proper effort in developing both an online presence and access to products, businesses will find it difficult to prosper and grow.
Lyn expresses that "Chimes Consulting is built on this basis and will continue to follow the trends and improvements in technology. We have adapted our marketing to best follow where the most user engagement is, and we have adapted our IT services to meet the current needs of businesses."
Chimes Consulting innovates solutions to cater to the problems that businesses encounter, both internally and externally when it comes to running their business. By doing so, they further advance their knowledge and expertise when providing IT and marketing solutions.
Lyn says, "We are more focused on adapting to the changes and problems that we see in terms of digital marketing and information technology."
Life as Founder and CEO of the company
It isn't easy running a company, but the challenge and achieving set milestones motivates both Lyn and her employees.
As the CEO of Chimes Consulting, her primary role is to set the direction, and oversee what the company does internally and externally. Since the company is still small, she can oversee all projects of the company, decide major corporate decisions, and manage the overall operations and resources of the company. While this can be overwhelming and stressful at times, Lyn is more than up for the challenge.
She expresses, "I do believe that the most important role I have as the CEO of Chimes Consulting is my responsibility to connect and bring out the best solutions that we can provide to our partners."
She further states, "I believe that as a female leader and CEO of Chimes Consulting that helps other businesses with their digital marketing and information technology problems, I have a big role to play not only for Chimes Consulting and the employees I handle, but also for every young girl who dreams of being a leader someday as well."
Lyn is driven by the knowledge that her company helps other businesses become successful, and that the services Chimes Consulting offers is truly making a change. She states, "I am also motivated to continue the services that Chimes Consulting provides since it houses jobs and opportunities for my team and for other members of the community who wish to join the growing team of Chimes Consulting."
Future plans for the company
Lyn's vision for the company is to be the most trusted and sought-after provider of marketing and information technology solutions to businesses and entrepreneurs worldwide.
She states, "Over the next few years, the goal is to be globally known and present to other businesses and have them know why the solutions we provide are important for them. I know it would take a while before we get there, but with our consistent promotions and providing great services to our clients, I know we get there soon enough."
Under her guidance, she is determined to make Chimes Consulting into the premier company that provides excellent digital marketing and information technology solutions to clients in the Philippines and beyond.