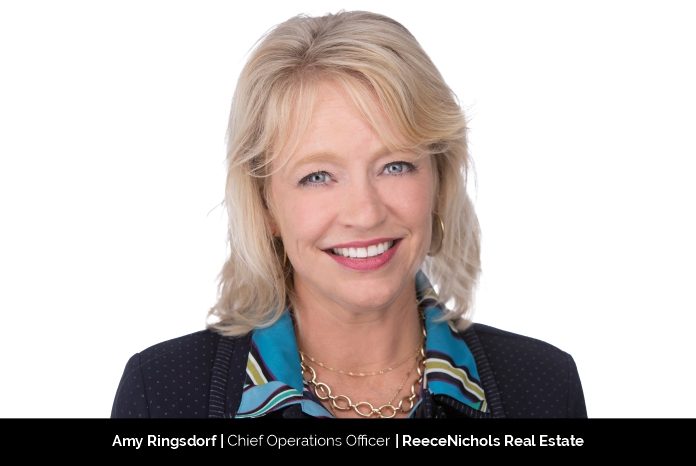 ReeceNichols Real Estate is Kansas City's runaway market leader and one of the nation's most successful realty firms. Spearheading its day-to-day operations is Chief Operations Officer Amy Ringsdorf, who combines extensive legal expertise with financial prowess and a focus on providing solutions through innovation and creativity.
Amy is particularly proud of her team's innovative approach to better serve the communities in which ReeceNichols operates. "My team is constantly evaluating ways to empower and support our agents, enabling them to provide the gold standard in service. Likewise, we are looking at strategic partnerships with local businesses and charitable organizations to bring about positive change in our communities."
Joining forces with ReeceNichols Real Estate
From the onset, Amy planned to merge her legal and business acumen. In the early 2000s, Amy handled commercial bankruptcy and loan enforcement matters within the financial services practice at the Polsinelli law firm. When the economy boomed, she handled the origination and modification of commercial loans secured by real estate.
Wanting to expand her business experience in high tech, Amy later worked with a group of well-respected attorneys at Sprint Corporation (now T-Mobile). "Mobile carriers are technology companies, and I was fortunate to gain exposure to a wide variety of business and legal issues that serve me to this day," she said.
Now at ReeceNichols, Amy reflects on her decision to return to real estate in 2013.  "Having a business background, even before starting law school, I knew that I ultimately wanted to leverage my law degree," she said. "ReeceNichols represented an amazing opportunity to work with a leadership team, learn the business, and leverage my legal skills."
Having worked the last eight years at ReeceNichols, Amy thinks back on thousands of success stories. "I have never met a group of people who care so much about helping their clients achieve their personal goals, and they don't usually tell their clients all that they're doing to get them there," Amy says. "I am proud of what we do and how every day we impact people's lives in very big ways." 
Overview of ReeceNichols Real Estate
ReeceNichols Real Estate is a real estate brokerage with a title company, mortgage company, insurance company, and commercial real estate firm.
It offers a one-stop experience for consumers wanting to buy or sell homes. ReeceNichols is owned by HomeServices of America, a Berkshire Hathaway affiliate and the largest residential real estate firm by units in the United States. Amy adds, "We are the market leader in Kansas City, and many of our sister companies are the leaders in their markets. We are the local experts with a network that reaches well beyond Kansas and Missouri, and we have built our company with both consumers and agents in mind."
Playing a part in the bigger picture
As COO, Amy plays a critical role in supporting more than 2,700 real estate agents by providing them market-leading services, technology enhancements, in-house legal representation and training opportunities. Amy, along with CEO Mike Frazier, is responsible for evaluating market trends and leading ReeceNichols in a successful direction.
Amy's commitment to community engagement, one of her passions, has recently gained momentum. ReeceNichols wants to ensure that everyone who wants to buy a house has the tools and knowledge necessary to do so.  This is especially important in order to combat the long-term impacts of redlining, which have hampered minority generations and prevented them from building wealth via homeownership.
"We've set out to run a boots-on-the-ground, building trust campaign through community involvement and education," she said. "We embarked on this journey several years ago, and it is not a simple one. We are continually assessing strategy, leveraging new resources, and finding new ways to connect, and we will continue these efforts well into the future."
A Highly Trained Team
According to Amy, ReeceNichols real estate's agents are its foundation, and the company loves to partner with them to help them grow. Amy believes that challenges are opportunities disguised as roadblocks, hurdles, and the risk of failure.  Without challenges, growth can be slow or even non-existent.  She asserts, "To strengthen muscle, you must "challenge" the muscles you seek to build through exercise.  Likewise, a challenge is necessary to strengthen a team and each team member. Challenge represents the opportunity to improve." The company has 2,900 highly trained agents in 50 offices throughout Kansas and Missouri operating as one team.
ReeceNichols  helps its agents build their business one step at a time by giving them the building blocks they need to succeed. Amy adds, "I'm infinitely grateful for the many challenges I've had throughout my career and continue to experience.  I would not have the strength, grit, and skills I do now without them." 
Success that Changes Lives
Amy and ReeceNichols are making a difference in people's lives one sale at a time with an innovative concept that is proving to be a huge success. Amy is pleased to share, "We partnered with the Ronald McDonald House Charities in the communities to create the Gold Key Project," she described. "Our agents can apply to become Gold Key Agents. Gold Key Agents agree to donate $100 for each transaction completed during the project. That $100 represents the cost of one night's stay for a family with a seriously ill child. ReeceNichols, in turn, commits marketing resources for these Gold Key Agents and for Ronald McDonald House Charities to promote the program and themselves." 
So far in 2021, ReeceNichols Gold Key Agents have contributed more than $235,000 to Ronald McDonald House in just under six months. That's the equivalent of more than 2,350 nights covered for families who stay there. "Clients feel good knowing their choice of agent and their purchase or sale of their home will result in a family having a 'home away from home' while their child is gravely ill," Amy explained. "Agents feel good being part of the Gold Key Program which is making an enormous impact in our communities. We're promoting both Ronald McDonald House Charities and ReeceNichols Real Estate while having a direct impact on families. It's a win, win, win."
Words of Wisdom
Amy has advice for women who wish to lead. "First, you can have anything you want if you are willing to give up the belief that you can't have it," she says. "Second, seek out those organizations that value diversity of thought and experience, and know that diversity is not about checking a box; it is what will ensure future success."