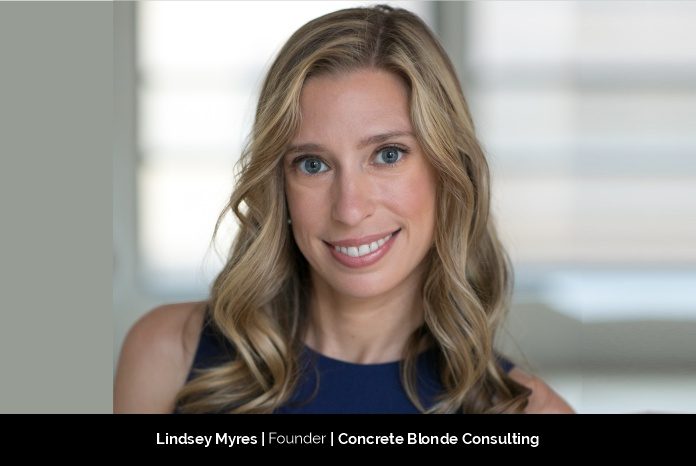 Communications industry is evergreen, just the mode changes! Lindsey Myers, founder of Concrete Blonde Consulting began to follow her passion in November 2016 to start building revenues and stellar reputations using numerous business development marketing strategies. Owing to her consistent efforts, the company has been recognized as one of the "Top 15 PR Agencies in New York" by The Manifest, one of the "Top 10 Best PR Agencies" by Web Surf Media.  Even, Lindsey herself got acknowledged as one of the "30 Most Innovative CEOs" by Insights Success magazine in 2018.
Being a communications expert and entrepreneur, she has gained 12+ years of experience catering a multitude of industries such as consumer products and services, technology, the Hamptons luxury market lifestyle, hospitality and nonprofit companies in NYC.
Marking her name in the Communications World
After completing graduation from Boston University with a BS in Communications and concentration in PR, she commenced her career with the first job at WordHampton Public Relations and in 2013, she became its partner to launch the company's NYC division. She has a proven track of counseling clients along with bagging some multi-billion brands such as NAPCO Security, Inc., to increase brand reputation and boost profits.
She even became a guest lecturer at several universities including Hofstra University and Saint Joseph's University, that shows her confidence and leadership. She has been awarded for her excellent expertise and leadership throughout her career including; PRSA Big Apple award, PRSA Bronze Anvil award, eight MarCom awards, nine Fair Media Council Folio awards, Communicator award, SABRE award and an Excellence in Communications award.
Facing her roadblocks bravely
Fear used to be the chief roadblock for Lindsey. While she thought, it was just fear of failure initially, however, she later realized that it was a fear of success. She was facing self-worth issues that led her take contracts which were smaller than they should have been owing to her inability to demand fair market value for her services. When she took an amazing seminar led by Terri Maxwell, named "Succeed on Purpose", she could feel the difference and it motivated her to advance further confidently.
Comprehensive services, vision and values of Concrete Blonde Consulting
Based in NYC, Concrete Blonde Consulting is an all-in-one services firm that mainly serves the marketing and consulting in the best way. This company has experts who proffer custom marketing solutions to implement further growth and profit. Lindsey shares, "By examining your business development pipeline, we are able to identify new areas for growth, while also creating strategies to amplify current opportunities.  In addition, we provide a competitive media analysis, streamline marketing campaigns and build additional sources of revenue. We service various industries including consumer products and services, tech, lifestyle, hospitality and nonprofit companies."
As communications is a fast-paced field and the company needs to adapt the changes and deliver as per the powers of both influence as well as interaction. They provide clients multiple tools, be it from third-party PR endorsements or social influencer campaigns to reach all types of consumers and drive business growth.
Everyone in the company has a firm belief that every client is unique. Thus, partnering with them is a core business goal and for that, they create perfect strategic marketing plans that witness all key points to track the progress and know about the methods amazingly. The team is responsible enough towards the clients and stays as responsive as possible to cater to their needs.
Impact bringing is the only thing that she focuses on right now and made it the vision for the company. She shares, "Instead of scaling for growth and trying to build a firm with 150 employees, I've scaled for impact. We've very selective about the clients we take on and really partner with them to provide profit and growth solutions. I also take on several pro-bono clients each year as a way to give back to the community."
She expresses, "Our core value is one that a rising tide raises all ships. Forgive me for resorting to cliche, however, I feel as though all too often people view the world of business as a zero-sum game.  We've been successful by taking the opposite approach."  Owing to this, the company regards of all the strategic partnerships within the business as well as encourage all the clients to build them too.
Lindsey's Achievement and Contribution in marketing and consulting industry
Lindsey shares, "Before I came to Concrete Blonde Consulting, I worked at a boutique PR firm based in East Hampton, NY.  During that time, I'd consider the work I did mentoring other employees as my greatest achievement."
Since the industry has fully transformed ever since she began her professional career in 2005. There were media opportunities only in print newspapers as well as glossy magazines. After the advent of internet, print has shrunk, publications have gone online, the blog world has exploded, social media was created and podcasting has taken off.  Earlier media opportunities used to be more general, now larger publications have become quite specific to help in sourcing opportunities easily.
Being an integral part of numerous networking groups, she keeps interacting with new people to know about all the new trends. She also emphasizes on professional development and thus, keeps on participating in a plethora of peer groups.
Balancing between personal and professional life
Working as the Founder of Concrete Blonde Consulting, she is quite motivated herself to assist all entrepreneurs and help them reach their dream goal. She adds, "My major responsibility is to them and the businesses I support. I believe overall, the most important thing I do in a day is ensuring their vision is clear and that we are tracking KPIs to stay on target."
In her personal life, she is an early riser and goes through different media newsletters and morning news as her first thing. Being in PR process, she needs to be updated. Thus, she keeps on monitoring the media cycle and checking pieces written by other journalists on her target media lists. Later, she scrolls through her emails and responds all incoming emails. All the conference calls are scheduled in the afternoons. Then, she takes a break, goes out for clearing her head and has lunch.
Future roadmap of Concrete Blonde Consulting
She says, "We are already a global company and many of the clients we have worked with over the years are based internationally and looking for someone to represent them as they launch products or services in the US market (usually starting with Manhattan as a major metropolitan market)."  She plans to keep on servicing all those businesses that they support and detect other potential clients who use their industries and tend to make significant impact.