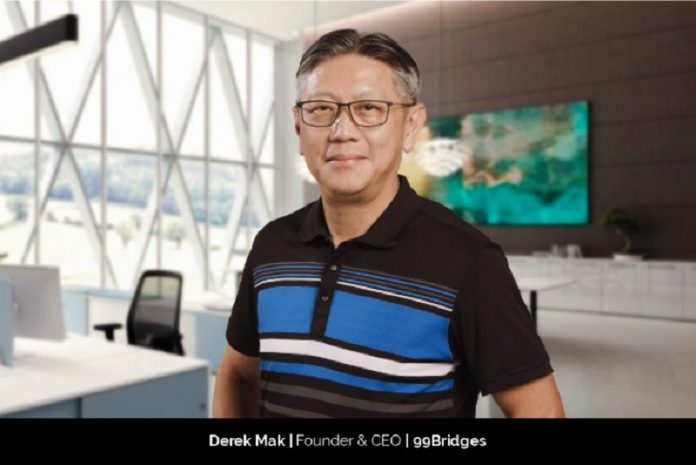 Holding extensive international exposure, Derek Mak, Founder and CEO of 99Bridges, is infusing the power of a holistic thinking and result-oriented approach to create a sustainable ecosystem and powering the transition to a Circular Economy for cities and businesses. Tapping into his broad skillset, he develops smart strategies to drive new businesses growth and forge strong partnerships to deliver business solutions for a carbon neutral future.
Bringing the unique concept into reality
As a child, Derek was fascinated by video games, the traditional ones, namely, Pong, Space Invader, and Pac-Man. He was intrigued by how the games were made, which pushed him to experience the world of programming. He states, "The first program I created was a Star War theme song on a Commodore 64. My passion for technology never faded over the years. The moment I thought I was caught up, something new emerged. The older I got, the more I appreciated how technology can help improve the quality of life."
Pursuing his passion, he chose computer science as his major in college, deciding software development to be his dream career path. Entering the 3rd year of his college, Derek discovered another side of his personality to be around people. He was still in love with computer science but did not want to have a job that confined him in front of a terminal coding for long hours. He realized that his source of satisfaction comes from the process of creation. "Starting my own business has always been a dream. I am a dreamer. I often think about how things can be done differently. That's the creative side of me. Creating something from scratch gives me the freedom and control to turn my dreams into reality," he adds.
However, he knew that conceptualizing an idea and dreaming about it was not enough to bring a revolution and proper execution was necessary. To brew reality into the concept, he must learn the necessary skills and execute things accordingly. He expresses, "You can't learn execution from a vacuum; there are people who could do that, but I need to experience the doing to internalize and truly learn. The more I know how to bring a concept (a dream) to life, the less of a risk I am taking if I were to create my own business. I don't like to gamble so I take measured risks to maximize my chance of success."
Having spent over 21 years at Cisco Systems, Derek learned a lot about execution from different roles, from strategy to sales, to marketing, to development, and to delivery, all of which gave him the opportunity to learn by doing. While fueling Cisco, Derek honed his leadership skills and strived to focus on what really matters. He realized that the team produce the right results only when the leader is clear about the mission. If the mission is unclear, there is no chance for the team to be focused and achieve the desired results. The ultimate prize as a leader is seeing the team coming together with the clarity of the mission, playing their positions to accomplish results that cannot be achieved individually. The sum is greater than its parts.
Before bringing 99bridges to reality, Derek was head of global IoT (Internet of Things) and Smart Cities business development which seeded the idea of sustainability in his mind and pushed him to work over it. Being a global business leader, Derek wanted to swap the ongoing traditional thinking of people with a sustainable one. So, he structured the foundation of 99brides on a unique approach and game-changing innovation to let people be a part of a bigger picture.
Countless roadblocks come in doing anything worthwhile
Believing in the words of the golf legend, Greg Norman, "I can't think of anything worth doing without going against the grain," Derek expresses that, challenges sometimes lead to failures and can wear a person down, but it is crucial to learn to get back up, train the mind to handle situations under pressure and strive to create the best out of given set of circumstances.
The biggest lesson Derek learned on his professional journey is to listen from the other person's perspective. He adds, "There are many "no" leading to one "yes." There is always time pressure, resource constraints, and financial challenges. Knowing that everyone who said "no" are just trying to do their jobs and my job is to listen from their perspectives and package my asks to help them do their jobs. It is about making their jobs easier, not harder."
Driving the world towards a sustainable economy
99Bridges is formed with a single mission in mind, that is, to Power the Transition to a Circular Economy. The company develops technology solutions to help businesses build a more sustainable future for everyone. Building a sustainable future is not about doing one or two things differently; it is a wholesale change to how people live.
Derek states, "To power our mission, we embraced a future where everything is connected. It is a future where everything has data – a massively decoupled and distributed data universe.
With data, we gain insights and knowledge that power informed actions. That future requires a system to properly collect, protect, share, analyze, and act on data that transcends organizational and geographic boundaries. That system is our foundation; a secure distributed data exchange designed to enable our sustainability solutions. We call it the Mosaic System.
We see ourselves focusing on plastic problems in the near team, then expand into other areas where we can apply three disciplines to create differentiated sustainability solutions: behavioral science, environmental science, and computer science."
Their recent Beyond the Bag pilot is a great example where the company's system powers the Beyond the Bag Retail Consortium consisting of the largest retailers in the country to eliminate single-use plastic bags for everyday shopping. More details can be found at www.99bridges.com/btb.
Pursuing the mission with innovative ideas
Derek firmly believes that with the collective effort of all the people around the world, the long road to achieve a sustainable future can be shortened. What we need is a tool to help people come together, to incentivize people to act.
He stresses the point by stating, "It is estimated that Americans use 100 billion plastic bags per year, and less than 10 percent are recycled. Most people, if you ask them, would agree that plastic bags are not good for the environment. A single-use plastic bag on average equates to roughly 33 grams of greenhouse gas emissions. 100 billion plastic bags yield 3.3 million tons of greenhouse gas emissions, which in layman terms, means roughly 7.5 million miles. It is like driving your car from the west coast to the east coast back and forth more than 900 times."
Seeing the current situation, Derek decided to aware people of it and make small changes around them. He mentions, "What if we can provide a tool to people to make that small change? What if we can make it easy, fun, and rewarding for people to make that small change? That is what I believe as the "low hanging fruit" – helping millions of people to make a small change will lead to a massive transformation."
99Brdiges created Mosaic as the stepping-stone into the sustainable future. It is a consumer mobile app platform that brings behavioral science, environmental science, and computer science together to change how people live.
Paving the company to top with a unique approach
With environmental impact being a pillar in today's investment climate and public policies, numerous innovations are already taking birth in the market.
Derek shares, "The notion of a circular economy as a new way of life to help create a more sustainable tomorrow is no longer a theory. It is a $4.5 trillion dollar market by 2030 and growing rapidly, according to Accenture. That means there will be room for lots of innovators."
To lead the way in this emerging market, all long- and short-term bets must be considered. For 99Bridges, it means keeping close attention to four core successful factors: product, business model, go-to-market, and talent. Derek is sure that keeping these four as the pillars will lead to unprecedented success.
Derek states, "We want to be a company to provide technology solutions not only for those who truly care about our environment but for those who don't find it convenient to change their current way of life. That means we have to find ways in our solutions to help everyone effortlessly change the way they live. For example, how can we make it easy for people to reuse a shopping bag or a plastic bottle or a more effective way to help people recycle to prevent harmful materials going to the landfills."
In business, timing is everything. The good news is that promoting sustainability is no longer like a fish swimming against the current.  The Millennial and Gen-Z generations prefer purchasing from companies that enable them to live a more responsible and sustainable life.
Fueling the company's growth as the CEO
Being the CEO, Derek mainly ensures that the core mission of 99Bridges is crystal clear to all the employees and everyone contributes to fulfilling it every day. As a budding startup, everyone in the company, including himself, need to adapt to the needs of real-time and compete for time daily. Thus, he has trained himself to stick to a plan – a schedule and become more disciplined about managing time.
Explaining it further, he adds, "I review my schedule weekly to make sure that there is a balance for everything I need to pay attention to; for example, fundraising is a part of life in a startup, product development, business development, team interactions, project execution, and operational issues are all important components. On top of that, I make time for my health and take a step back regularly to see if we need to adjust our course. That is my routine: plan weekly, execute daily."
He feels discipline is the thread that helps him balance all these activities without any hassle. In this way, he can shift his focus on executing and winning that particular day.
The Balancing Act
Derek values his quality time with his family. He enjoys his family time together with home cooking or having a nice dinner out. Further, he loves to play golf which helps him relax his mind and focus on something else other than work. It also helps him recharge his worked-up brain and re-energize for future challenges.
As the COVID-19 struck, he learned to cook some gourmet dishes and is happy to have a perfectly balanced schedule. This also boosts his confidence to enjoy all the moments while not working.
He shares, "A balanced and healthy mind produces the best quality work. Quality work shows up in results. Good results give people the satisfaction and motivation to take things to the next level. Again, it all comes back to clarify the mission, the purpose. People are motivated when they are clear on what is expected and how they are measured."
As a huge fan of Thomas Friedman's work, he is deeply inspired by his notion "groundswell" within an organization. The concept stated that as a leader, one needs to go beyond the top layer and meet the people in the groundswell, which is the storehouse of all the great ideas. In this way, the employees feel more motivated to know that their leader cares about their opinion and perspectives.
Thriving Future Ahead
Derek opines in the fact that creating a business with exceptional products that customers love needs continuous iteration, shaping and refining every step of the way. Following this agile method, 99Bridges is boldly forging a path to this emerging multi-trillion-dollar market.
He says, "Businesses and countries around the world are increasingly pledging meaningful commitments to be carbon neutral. Investors are looking for companies with clear environmental, social, and corporate governance (ESG) measurements. With consumers making purchase preferences toward companies with sustainability products and services, I believe we are on a journey to take advantage of this macro trend in the coming decades."
On a chance encounter with Steve Wozniak, Derek was able to get an inspiring quote signed on his book for his son's upcoming birthday. He shares the same message for all aspiring entrepreneurs, 'Follow your Dreams, Change the World, Think Different!'