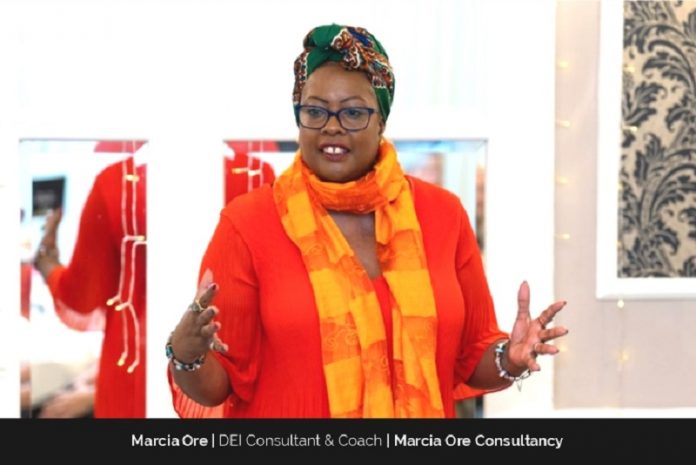 Marcia Ore, DEI Consultant & Coach at Marcia Ore Consultancy promises to keep her clients safe and foster a more diverse workforce using the knowledge and expertise she gained as a Diversity, Equity, and Inclusion Consultant because she understands its importance to a company's well-being, output, and morale.
Her involvement in diversity, equity, and inclusion goes back a few decades, starting with 30 years of experience as a Police Officer where, over her long career, she witnessed and experienced systemic failures by organizations and governments who talk about their commitment to diversity, equity, and inclusion, or equal opportunities.
"The evidence doesn't lie. It's becoming quite a mountain that shows lots of words, but the impact is negligible. We're now going backward. I feel I have to do something, where and when I can to support, guide, and challenge individuals and organizations to not only know better but to do better and stop making excuses," Marcia observes.
"Equality is the soul of liberty; there is, in fact, no liberty without it."
– Frances Wright (1825)
A Boundless Commitment to Equality and Openness
Marcia's experiences as a mother of two, a partner in a same-sex relationship, and caretaker for her two elderly, disabled parents have had as much of an impact on who she is as anything she has accomplished in her professional life. "True to form my family and friends fuel my boundless commitment to equality and openness," she states.
Marcia notes that aversion to change and clinging to familiar ways of life are at the heart of many arguments. Her intention with this "wrap" is to make those transitions less difficult for her clients using a strategy she devised that is effective on at least three inter-related levels:
Employee or Student development moves to thrive because of diverse inclusivity
Management improved efficiencies improve because of staff contentment
Product and/or services grow because of work efficiency and staff harmonization
Success is About Creating Meaningful and Impactful Change
Marcia's talent is to quickly and efficiently get to the bottom of her client's problems, figure out what's going on and what needs to be done, and then get out of the way so they can focus on getting things back on track.
She helps her clients solve several problems, such as pockets of hostility, poor work performance, student behavior, unexplained resentment, inability to increase performance, weak policy documents, and poor management practices.
Noting that everyone should define their idea of success based on what is relevant and appropriate for them, and as people change and evolve that definition may well change, Marcia clarifies that success, for her, is to effect meaningful impactful change.
She aims to achieve this by disrupting the status quo, challenging what's viewed as 'normal', to achieve a more equitable world and society where diversity is truly valued and we live and work more inclusively. Marcia lists a few of the challenges she has faced in achieving her goals as follows:
Lack of integrity and honesty at individual and organizational levels. Gatekeeping disguised as advocacy and allyship.
Lack of investment at the executive leadership level in their own personal and professional journey.
Failure to link and embed DEI in business strategy and outcomes instead of adding it on as an optional extra which can be detached when its optics have served their purpose.
"Leadership isn't mystical and mysterious. It has nothing to do with having 'charisma' or other exotic personality traits. It's not the province of a chosen few. Nor is leadership necessarily better than management or a replacement for it."
– John P. Kotter, What Leaders Do, Harvard Business Review's 10 Must Reads on Leadership
An Uncompromising Approach to Personal Values and Credibility
Marcia stays abreast of developments in the industry through reading, watching programs and documentaries, observing behaviors, networking, and self-reflection.
"I am not competing with other organizations in this industry. I work in collaboration with other DEI specialists on projects where we can combine our strengths. I share opportunities and have them shared with me. I am not looking to dominate the industry. I am looking for opportunities to work with people and organizations who want to make changes that will impact the lived experience of others," she insists.
Marcia's contributions to redefining the industry and bringing in innovative ideas of D&I to enhance the growth and vision of Marcia Ore Consultancy, include sharing articles, research, and other information and resources and sometimes making strong challenging statements or asking questions.
"I won't support or be part of performative DEI activities. I know that there are people and organisations who genuinely want to bring about change. Not interested in contributing to an optical illusion. Let's work together to make it happen. I won't compromise my personal values and credibility. I know who I am and what I stand for, but my journey continues on a personal and professional level," she declares.
"What does it mean if we've curated a diversity that looks good on Instagram, but doesn't feel good to the people on your team?"
– Bethaney B. Wilkinson, The Diversity Gap, Where Good Intentions Meet True Cultural Change.
Making An Impact on The Lives of Others
At the heart and soul of Marcia Ore Consultancy, Marcia is her very own team, so it is easier to ensure a culture of integrity. "I'm the CEO, COO, CFO, Marketing Executive, Project Manager, and operational DEI Consultant and Coach all rolled into one. I've probably missed some other roles, but you get the gist," she remarks.
Marcia's working day varies depending on what meetings, speaking engagements, training, facilitation, or coaching activities she has booked, and then factoring in other administrative tasks and activities.
"When you work for yourself, your personal and professional life can become blurred, particularly when you have clients based in different geographical locations and time zones. Ensuring I take these factors into account in my scheduling and planning is vital, particularly as my wife's work takes her overseas regularly," she shares.
Marcia's plans for the future are to continue to connect and collaborate with individuals and organizations who value her knowledge, skills, experience, and expertise; to develop her podcasting capabilities; attract more speaking engagements; and write the book she has been procrastinating on for far too long. But what she values the most as a leader is the impact that she has had on individuals and the next generation.
"Diversity, equity, and inclusion can be like Marmite. Some people love it and some people hate it. Others will use it, like adding a dollop to a dish they're making, using it as an opportunity to progress their careers and raise their profile and brand," she quips.
In her stirring words of advice to aspiring leaders, Marcia poses some questions they should ask themselves: "Why do you want to be a leader? What makes you think or believe that you possess the qualities and behaviors that others are seeking in their leader? How can you make a positive impact on the lives of others?"
To illuminate the possible answers to these questions, Marcia shares a quote from Heidi R. Andersen's book, Diversity Intelligence: How to Create a Culture of Inclusion for Your Business, which says: "[Inclusive leadership] requires deliberate work to improve people's inclusive leadership competencies. Any process to help a leader become more inclusive has to begin with a sense of understanding themselves."
For more info please visit:
Website link: marciaoreconsultancy.com
LinkedIn profile: