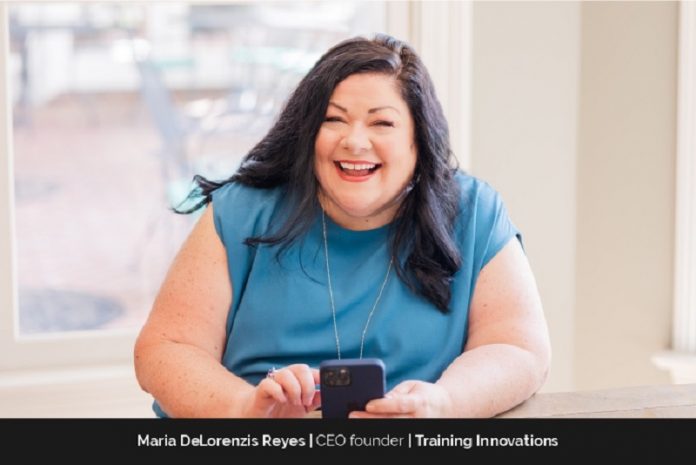 As the CEO and Founder of Training Innovations and MDR Brands, Maria DeLorenzis Reyes has the unique perspective of seeing things from both sides – inside multi-million and billion-dollar organizations and building her own businesses and that of her clients.
She has assisted hundreds of businesses — large and small — in restructuring and growing and worked with over 1600 companies in more than 8 business sectors, presented over 5800 times, and trained over 200,000 people.
Through that experience, she helps CEO's, Entrepreneurs, and Leaders achieve real business transformation. She has created multiple training products to serve this market, all under THE SCALE FACTOR FORMULA program name, and is also the host of 'Finding the Upside', a new weekly podcast she launched this year.
With over 30 years of extensive experience, Maria's expertise demonstrates the rich knowledge that she possesses in leadership, training and development, product management, project management, client service, business process innovation, marketing, software implementation, process optimization, product development from concept to market delivery, and entrepreneurial business expertise.
Maria is goal-oriented and motivated, confident yet humble, and personable, making quick, yet long-lasting connections with her clients easily. She is passionate about what she does, sharing her insights and knowledge with others to help and serve them. She has also been a featured speaker at yearly business conferences and gatherings, as well as industry seminars, events, and corporate-sponsored training programs.
Mara got a Maria holds a Bachelor of Fine Art in Advertising and Marketing degree, and completed various management, technology, and Project Management Professional (PMP) Certification training courses throughout her career. Her life before Training Innovations included a focus in training, presenting, and developing training programs and tools, both traditionally and web-based, for corporate employees and clients in a broad range of industries.
Before starting Training Innovations, she was an Associate Director of Research at Harrington, Righter and Parsons Inc., Senior Group Research Manager at Petry Television, and Director of Product Management for Nielsen Media Research. This combination of corporate and entrepreneurial experience, coupled with business education in varied industries, is one of her most significant qualities.
A change agent achieving transformation through innovation
"I started Training Innovations after working in the corporate world for 20 years," Maria remarks. "Through that experience, I saw firsthand some of the barriers in mindset and tactics that caused stagnant growth and dysfunction that commonly occur in organizations."
She believes that much of this is because of what she calls "corporate think", which creates non-effective methods used in leadership and team management. It ends up frustrating staff and leaders, but they can't seem to see what's creating it, and that they themselves are often participating in, and perpetuating, approaches that are counter to growth and productivity.
Maria's goal was to enlighten leaders and management to embrace new ways of thinking and, in turn, help to educate them and their staff to create the transformation that they were seeking, but couldn't seem to attain. Threaded through all the programs offered through Training Innovations is the intention to educate and inspire others to move towards that goal in a new direction.
MDR Brands is an extension of that same mission, through personal brand products that Maria has pushed out to deliver through social media, coaching programs, and with info products sold through the mariadr.com website, and educating others through speaking engagements and appearances.
Hailed as a straightforward leader, Maria only gives the real truth to help companies and individuals grow and prosper. Pushing boundaries at times, her intention is always to challenge the status quo, help open minds, and try innovative approaches that others may not see as options.
"Because my approach to achieve transformation is through innovation, and I am always attempting to be progressive and pro-active, often that can be met with resistance. I am a change agent, and humans don't like change – they can be threatened by it for many reasons – the unknown, being pushed out of their comfort zone, and fear of 'losing something'," she observes.
For Maria, this can be the biggest challenge in getting her clients to see the benefits of the change and to push through that to achieve the results they desire. She guides with this as the leading principle and mantra – "Transformation is on the other side of implementation."
"The times I watched someone grow beyond what they thought they could be – the journey of that is the most rewarding part of leadership."
Bringing training solutions to companies of all sizes
Training Innovations brings training solutions to any company ranging from small business to Fortune 500 companies. As a premier training organization, it provides comprehensive training and educational resources to clients across the country. Their services start with a needs analysis, and the options they offer allow their clients to train their staff with a program that is customized to those needs.
With a team of experts, their training expertise spans all industries, and includes the business skills needed to succeed in today's competitive markets. Each year, they provide training programs and resources to thousands of individuals and organizations in NJ, NY, and across the country.
Through MDR brands, Maria offers information products for professional and personal development, to companies and individuals all across the US and globally. Training Innovations' work also includes direct consulting services that range from training program design and build, onboarding processes and programs, and system implementation projects, to name a few.
Maria points out that being the Founder and CEO of Training Innovations requires a lot of responsibility. During a regular day at work, she is often busy meeting with clients, developing and/or presenting training, meeting with team members, and focusing some time on new business ventures.
Challenging outdated, unequal ideals around women
Maria notes that it took a great deal of work and time to reach the level of success that she enjoys today. "I think the best piece of advice that I can offer is to stay true to your goal, despite anyone doubting your ability. That is the most challenging part of finding success in anything, really," she maintains.
Maria remarks that, although many people will impose their doubt on you, you cannot let that derail you. The second thing that is most important, according to her, is to be flexible. She states from her own experience that "the path to success is not a straight line, and unexpected curves in the road, setbacks, and failures are all part of the journey." Therefore, she welcomes challenges as opportunities, and reminds us that the greatest successes often come from the lessons learned along the way.
Maria mentions that, as a woman, it can be difficult to garner respect as a leader, particularly in comparison to, and around, male business leaders. This is partly due to the patriarchal structures in our society, and she has experienced the impact of that, as well as the bias that exists regarding women.
"If you're a strong leader as a woman, you run the risk of being seen in a negative light, while if you're a man with the same behavior, you would be seen as competent and effective," she observes.
Further, when balancing work and family, it was common to be seen as less committed, even though typically she and her female colleagues put in more time and energy into their work. Maria points out that this comes from the prejudiced belief that a woman can only be dedicated to either their family or work.
"This is highly biased and untrue, and that was the reason for most of the barriers I faced in my career. I was fortunate to prove myself, but many times the cost was higher in time and energy to do that," she says.
Maria appreciates that currently things are changing, and outdated, unequal ideals around women are being challenged, and there's hope for that evolving. But, since this is so rooted in our culture, there is still a lot of work to do. "This is one of the reasons why I'm so passionate about empowering other women leaders and entrepreneurs," she declares.
Helping other women prosper as entrepreneurs
Maria has made a commitment to help other women prosper as entrepreneurs. While she does not exclusively serve women business owners, she is particularly passionate about ensuring that she models female entrepreneurship as an attainable goal.
She notes that many women don't see it as possible to start or own their own business, due to family history and limiting beliefs placed on them by society and their family. This is particularly true in communities with lower economic status and families with immigrant parents.
For those reasons, Maria wants anyone that dreams of owning their own business to know that it is possible and seeks to find opportunities to educate and inspire others on this topic. She makes time to join and attend women entrepreneur programs, donate to women organizations, and highlight young women entrepreneurs around the world in her work and social media.
Maria also shares her experience and knowledge with aspiring and budding entrepreneurs, and helps motivate them to not only dream it, but to achieve it.
Sharing knowledge by educating and mentoring other professionals
Recalling some of the professional achievements that made her proud as a leader, Maria notes that she serves on the advisory board for The Seton Hall University, Stillman School of Business CX program, which is an Executive Education Certification Program for Professionals that focuses on building the best Customer Experience.
Her background in Client Service and Product Development allows her to contribute to this program with real experience that she has built, in building products and support services that meet the demands and changing needs of customers.
In her corporate experience with Nielsen Media Research, Maria was tasked with building out an exceptional customer experience for their data and software clients – through their journey from contract to delivery and beyond, with support and education to ensure they achieved the ROI intended in subscribing to their products.
"That intention and formula is one that I have weaved into my own company brand and built into the products and support that I create, to ensure my clients' satisfaction," Maria declares. "Further, it allows me to mentor other working professionals that have a role in creating and leading customer experience initiatives in their organizations. Being able to share my knowledge, and educate and mentor other professionals in this realm, is a complete honor."
Maria lists a few more certifications that she is proud of having achieved:
Project Management Professional, PMP
Certified Personal Empowerment Coach, PECC
Certified NLP Coach (Neuro-Linguistic Programming)
NLP Practitioner
Certified Hypnosis Practitioner
Certified Practitioner of TimeLine Therapy, TLT
"Being able to share my knowledge, educate, and mentor other professionals in this realm is a complete honor."
Always staying motivated to deliver the best services
Defining herself as "real", Maria notes that a balance between personal and professional is sometimes overlooked and overlapped in her workflow. However, she has created set boundaries to maintain a healthy balance.
"I know when to cut myself off work-related activities, and just relax and focus time in my person life. If I don't spend time and maintain a healthy personal life, I am burnt out and start to suffer in my professional life," she observes.
Maria also notes that mutual encouragement between her and her team members helps them stay motivated to deliver the best services. She also allows her team members to be open and creative in their own way when delivering services.
"For most of their work, they can do it in their own way, providing them with control, and allowing them to reward their intrinsic motivation and goals that allow me to be motivated myself. Our team all has each other's backs, and I think that is why we're always motivated to deliver the best services," she maintains.
Bringing big thinking to business and personal goals
As for her plans for the future of Training Innovations, Maria lists a few goals that she is working on.
Creating and delivering more training programs and information products for Training Innovations.
Coaching Business Owners and Executive Teams to produce the results they set to achieve their goals and allow their business to thrive. Expanding the reach of the coaching side of the business, to complement the training and education services.
Expanding MDR Brands, which was launched in late 2021, and creating more products and services to help business leaders scale their companies to the next level of success.
Maria's personal goals include spending time with family and friends, as well as supporting her son as he advances in college. She also plans on continuing the quest to learn new things and explore new places.
Maria is also focused on building her speaking portfolio, with multiple speaking engagements at virtual and live summits and events, where she will be sharing stories of inspiration, educating to help others grow, and motivating to help them attain the success and personal best they desire.
Another one of her goals is to release a co-authored book on the limitations of labels, which she collaborated on with a group of inspired, empowered women.
In fact, she is currently working on writing two more books, one on leadership and another on diversity and inclusion. Through her personal stories, this book is aimed at helping others learn, embrace, and celebrate other cultures through compassion and understanding.
Be true to who you are and unafraid to be vulnerable
Maria's parting words of advice for aspiring leaders is to be true to who you are and unafraid to be vulnerable. "People connect with those that have the courage to be vulnerable and demonstrate that they are just like the people they lead – that leaders are people too."
Maria also observes that there's a tendency to veer away from doing that as a woman, and many female leaders end up overcompensating by being too tough and strong, fearing that showing their vulnerability will lead to being viewed as weak. "That has a counter effect, and definitely is fueled by the prejudice in our society about women," she notes.
Maria points out that the ability to connect with people you lead is the single most important factor to succeed as a leader, as people develop a level of trust with only those, they feel connected to, and that leads to setting the tone for the entire relationship.