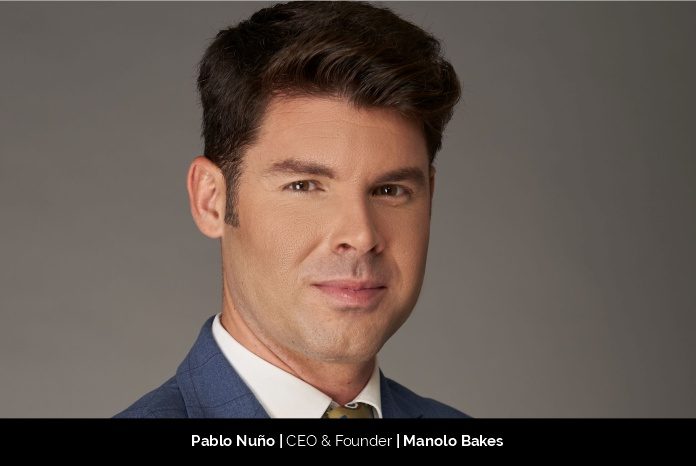 Manolo Bakes was founded by Pablo Nuño Utande with the support of Alvaro Morata´s family and Manzano´s Family with the goal of blending traditional pastry with the freshness and originality of a young and innovative team. He intended to rebrand himself as a "Bakery Coffee Shop," modernising the classic pastry idea and adapting to current trends. It is a Spanish firm that was founded from the ground up in 2018. It established its first store in June 2018 and had a fantastic response right away. Manolo was born, according to Pablo. The star items, Manolito, Palmitas, and its 100 percent natural Arabica coffee, are transformed into a one-of-a-kind experience owing to the brand's retail design. It has opened 40 outlets and amassed a workforce of over 600 individuals in less than four years.
Since he was a youngster, Pablo has always had a competitive and ambitious mindset. He also believes himself to be a highly inventive guy who is constantly eager to learn new things. He began working in sales, where he learned that you get paid what you're worth. He says, "Perhaps when I started as a salesman, I accepted the risk and knew how to handle it."
Looking back and seeing how each business and the individuals who started with him from the beginning have developed, as well as seeing them loyal and motivated to continue developing, is the greatest praise he has ever gotten.
Reforming the F&B sector
Pablo spotted a unique potential in the food and beverage industry. He felt that by delivering a revolutionary concept with tasty and high-quality products, he might reinvent the sector in Spain. He had previously worked for another company, so he was familiar with the dangers and rewards of beginning a new business. That's why, after discovering "los Manolitos" (the primary product), he felt he had to establish Manolo Bakes and distribute it throughout the world.
As Pablo sees, Manolo Bakes has transformed the consumer experience in its industry. It features a product offering that is centred on sharing, as well as a very appealing sales strategy, making it one of the most popular brands on the market. The brand's upkeep and product presentation have also helped the company become one of Spain's top delivery companies.
According to Pablo, success, according to him, is feeling balanced in your personal and professional progress while appreciating the present moment. He asserts, "It is essential to take care of the internal conversation that we have with ourselves on a day-to-day basis. To be truly successful, one has to be in balance."
A Look into the Backstory
Manolo Bakes has been around since 2017. Pablo united two companies, Crosantino and Pasteleras Manolo, to supply a critical component of the business, such as the product, not just the Manolitos, but the rest of the preparations—as well as marketing, business development, management, and technology to scale the business. He recalls, "The business model they had was based on central workshops, and we proposed the model, which is the one that Manolo Bakes has inherited, is a model where production is decentralized. In other words, there does not have to be only central workshops, but there can be small labs, ., which is what we call the workshops, that from the same store can produce for the same or for others, and thus have small workshops in the centre of the city."
Solving Challenges through Teamwork
Challenges are our finest teachers, even if we don't always enjoy them. That is why it is critical to be analytical, contemplative, and to take the time to comprehend what has occurred in each complex circumstance.
Pablo, like many entrepreneurs, has been in circumstances when he was alone, without money, and putting everything he had into the idea. He states, "There are also times when you don't know how to deal with a new situation for you, due to a lack of experience or knowledge." That is why Pablo places a high importance on cooperation and ensuring that each person feels valued in their position. He believes it is critical to comprehend that when one is accompanied, one may achieve more success.
Establishing Balance
As CEO, Pablo's primary responsibilities include supervising and coordinating departments with the management team. In addition, he negotiates and develops strategies and collaborations to help the firm achieve its growth goals. He's also the chairman of the board of directors, and he keeps partners and investors up to date on the company's progress.
Pablo believes that it is critical to prepare the weekly agenda and stick to it, as well as to work in blocks and at pre-determined hours. He says, "In this way I am more productive because I cannot exceed the set times. Sport, meditation, rest, nutrition, and having a very well-organized agenda are key to my mental and physical health. If I don't feel good about myself, it is impossible to give my best version in my business." He goes on to say that in order to keep your staff engaged, they must feel that they are in charge of their tasks or areas of activity. That is why it is critical to develop productivity bonuses, as well as individual and team objectives, and have a well-defined and feasible career plan. Pablo says, "Surround yourself with people who make you better. Learning to relativize, maintaining a positive attitude, and being an exemplary leader are key to forming the team you need. And the most important thing: everything that your mind can come to believe, it can create."
Extending Reach
Manolo Bakes is a company with a lot of potential and a product that appeals to a worldwide audience. It seeks to set itself apart from the competition by the flavour and quality of each of its goods. Pablo hopes that when customers from all over the world experience one of Manolo's goods, they recognise it as Manolo Bakes, and that, above all, Manolo establishes itself as an aspirational brand within everyone's grasp.
Manolo Bakes plans to open 100 outlets in Spain over the next four years. It will establish the team to start worldwide expansion next year. It will be a large-scale plan with the goal of achieving operational excellence.