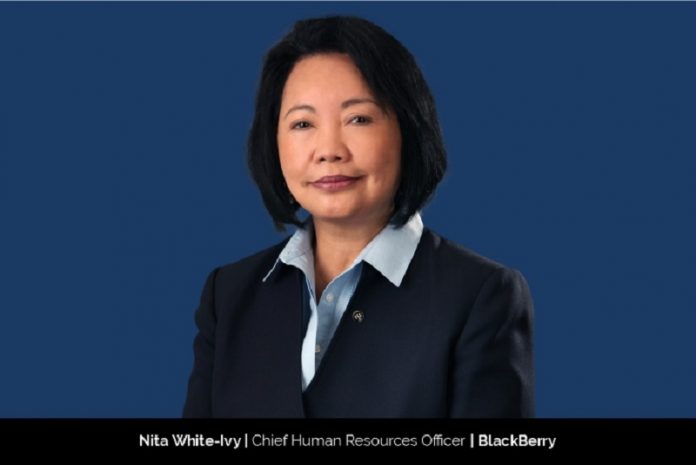 Nita White-Ivy is a tenacious woman. She has seen plenty of ups and downs and suffered setbacks in her career and life. But she has never allowed any of that to stop her from becoming highly successful in the field of human resources. Her background, tremendous fortitude, and impeccable leadership qualities have enabled her to set a unique example for others. And, as the chief human resources officer (CHRO) at BlackBerry, she is participating and contributing to the company's achievement of its operational and strategic objectives with her valued team.
BlackBerry (NYSE: BB; TSX: BB) provides intelligent security software and services to enterprises and governments around the world. The company secures more than 500M endpoints including 195M vehicles on the road today.  Based in Waterloo, Ontario, the company leverages AI and machine learning to deliver innovative solutions in the areas of cybersecurity, safety, and data privacy solutions, and is a leader in the areas of endpoint security, endpoint management,
More than seven years ago, Nita joined BlackBerry to reshape the global HR function and prepared it to support the company's turnaround journey.  Nita is currently leading, engaging, and working with the global HR team to design and deliver programs, initiatives, partnerships, solutions, and services in all facets of HR.
Making an Entry into Human Resources Profession
At a very young age, Nita became a parent to a son. And she was raising him all alone. Soon, she realized that education was needed to create a better life for herself and her son. "I knew that I had to equip myself with a strong educational background if I were to earn a good living, compete in the business world, and provide for both of us," Nita says.
Those were the most difficult years of her life. Nita, however, was determined. She banished all the negative thoughts from her mind, including "cannot" and "impossible." And she trounced her fear, anxieties, and the feeling of being alone by persevering and strengthening her faith.
After gaining an education in finance, business management, and psychology, Nita began looking for an appropriate career opportunity that would allow her to implement what she had learned. Human resources turned out to be the best field for that. Nita believes that successful HR practitioners apply both emotional intelligence and business analytics to be effective in fulfilling their responsibilities and adding value to the company and its people.
"As an HR professional and a leader, I have gone through a lot in my career," Nita shares. "And I have learned much along the way." She has learned from the setbacks, treasured the good experiences, and emerged wiser after crossing every milestone. "I believe this is what life is all about," she adds.
Professional Journey Before and After Joining BlackBerry
Quite early in her career, Nita was identified as a high-potential employee by her first high technology company. "That gave me the inspiration to push for achieving my full professional potential," she says.
Nita's first stop on the high-technology-industry map was a large mainframe computer company. She worked there as an HR manager of professional employment and compensation. Before joining BlackBerry, she spent 15 years as the head of global HR at Sybase, Inc. She served in that position until SAP acquired the company in 2010. Nita concurrently served as Chief People Officer for SuccessFactors, another SAP-acquired company.
When Nita joined BlackBerry more than seven years ago, its HR consisted of a good-sized team. But, the company was outsourcing several critical functions to third-party vendors. "Today, we have a very small group of highly dedicated, collaborative, agile, get-it-done and make-it-happen global HR professionals, and have not outsourced any of our critical functions and programs," Nita says.
At BlackBerry, Nita is responsible for HR business partnerships, mentorship, talent development and management, talent acquisition, total rewards, employee relations and compliance, DE&I, HRIS/HRIT and analytics, HR operations, support services, and strategic programs. She also assists BlackBerry's Executive Chairman and CEO, and the Chairman of the company's compensation, nomination, and governance (CNG) Committee of the Board of Directors, in providing appropriate compensation and benefits to officers and board of directors.
Road to Success Was Not Easy
Nita did not achieve success overnight. As a woman and a minority, she found it tough to enter the high technology world. Success was hard to come by, and challenges were galore. She, however, was steadfast in pursuing her goals and tireless in her efforts. Instead of getting disheartened, Nita worked "doubly hard" every step of the way. "I did my homework to be prepared and demonstrate proficiency, and I earned professional respect accordingly," she remarks. Nita was also open to learning from others.
"I took note of the qualifications, communication style, and professional traits of the people around me who were successful and respected, and had a few of them as my mentors," she shares.
Also, in her career spanning more than two decades, Nita has faced challenges because of her role as a corporate officer in three turn-around companies. Working with such companies comes with its own set of challenges, roadblocks, and setbacks. "In my mind, these are inherent in leadership and are there to overcome and navigate with purpose and determination," Nita says.
And, when does Nita feel like a success? It is when she experiences a good feeling in her heart after achieving what she has set out to accomplish – whether big or small. "It [Success] is one's ability to navigate through life's ups and downs and to emerge stronger and wiser from challenges and setbacks," Nita says.
People Leaders Vital for Company's Success
Nita believes that people leaders are the "critical linchpins" and "anchors." They are needed to execute the company's strategy, operations, and success. Therefore, it is essential that they "communicate and clearly articulate the company's culture and organizational mission," she says, adding that they need to implement accountability by setting and updating performance expectations. Also, it is their responsibility to cultivate a positive work environment that offers every individual a sense of belonging.
And as the HR officer at the company, Nita has a clear view and up-to-date knowledge of its direction, operations, and objectives. Because of that, her HR team gains the ability to update and devise programs, communications, and services to effectively support their global executives, people leaders and employees, and the company's success.
Motivating Her Team as a Working Leader
A working leader, Nita believes in equally carrying the load of the HR mission and purpose with the rest of her team. "I very much value the BlackBerry HR team who are highly dedicated, collaborative, agile, responsive, and mission-focused with a 'can-do-and-make-it-happen work and team attitude'," she says. "We strive each day to walk the extra mile to support our internal customers and also make a difference in the local communities where we live and work."
Nita and her team have garnered several HR/Employer Awards with the support of multiple company stakeholders, people leaders, and employees. They have earned recognition and rewards because of their hard work and dedicated efforts. "Our determination is second to none," Nita adds.
"Companies do not undergo successful transformations without smart, dedicated, creative employees who have the drive to succeed," she remarks. "That is how we win these Employer/HR awards."
And Nita also values the opportunity to mentor, coach, and develop team members. She feels rewarded when her team members grow and succeed professionally. "Yes, there will be some disappointments and setbacks along the way, but they are part of the leader's journey to success," Nita says.
Rising to the Occasion during Pandemic
Businesses all across the world have felt the impact of the Covid-19 pandemic. BlackBerry also has not remained untouched by that. Nita shares that her team's collaboration and effectiveness were "very much tested" because of the "unprecedented challenges" that the pandemic threw up. 
"Unfortunately, there is no 'best-practice box' to draw from to navigate the day-to-day demands and expectations for HR support and communication," Nita says. Despite the challenges, the HR team continued – and continues to – to provide the much-needed guidance, support, and communication to the company's global leaders and employees, Nita states. Also, they did not dilute their commitment to give back and contribute to the local communities. That commitment still stands strong.
Nita adds that it was also very satisfying to experience the successful application of their HR Business Continuity Program in delivering and processing timely and consistent HR services and transactions. The Program has helped avoid business disruption and protect employees.
Day-to-Day Work Life
Nita's workday consists of keeping herself organized, juggling priorities, ensuring focus on the company's top priorities, and not leaving anything critical unattended each day. It also includes leading a global HR team in supporting BlackBerry's internal customers – employees, people leaders, and executives. "In a nutshell, it can be described as a pressurized and challenging day-to-day work life that is equally fulfilling," Nita states.
It is not all work and work for Nita. She also knows when to take mental and physical health breaks. "This means doing something that makes me happy and healthy," she says. "I read books that have got nothing to do with business or work, go for walks, and go for leisurely meals and people watching."
Committed to Helping BlackBerry Complete Its Turnaround 
Nita is committed to helping BlackBerry complete its successful turnaround. "That is the ultimate reward and the sweetness of success when a company succeeds in achieving its transformation objectives," Nita says. She believes that the company's successful transformation will boost employees' morale and performance. It will also enable them to retain employees and recruit critical talents who can perform in the very competitive market. And there is also a gain in the company's stock price because of the successful turnaround.
Inspire, Influence, and Support Women
Nita hopes to inspire, influence, and support generations of women in their leadership development. "I have been transparent about my background and professional journey in the hope that my sharing would encourage and inspire someone to also rise above any roadblocks and challenges to reach their full potential," she says.
And, as the CHRO, Nita also aims to elevate the value of women's leadership in achieving BlackBerry's operational goals and strategic objectives.
Attain a Balance between Your Mind and Heart
Nita advises aspiring women leaders to have a strong professional purpose as that will enable them to focus on their objectives and not get derailed. She points out that feelings of anxiety, fear of failure and the unknown, and lack of confidence, are part of professional journey and personal growth. So, women leaders should not shy away from acknowledging them. And, they should reach out to successful leaders with high integrity and request mentorship, coaching, and sponsorship, Nita remarks.
And her advice for those who want to grow in the HR field is: "achieve a delicate balance between your mind and your heart to attain a better understanding, appreciation, and consideration of multiple and generational perspectives." She wants them to apply emotional intelligence, especially during challenging times, as that will enable them to connect and bond with their team, colleagues, and internal customers.
"Today's proficiency in HR requires the application of both 'caretaking' and 'analytics'," Nita says. "Always analyze the possible aftermath of HR decisions before implementing them and be cognizant about setting a precedent, applying fairness, equity, and consistency, and complying with global employment laws and practices."