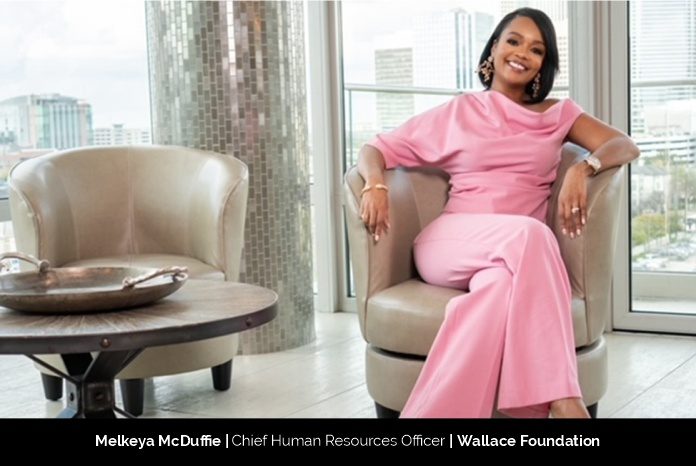 An executive, a doctoral student, an advisory board member, an author, a mother, and a wife, Melkeya McDuffie, Chief Human Resources Officer of The Wallace Foundation wears many hats with immense joy while she makes her way towards success.
Over the span of her career, Melkeya has received many awards and recognitions, but she considers being credited for the development and success of other leaders as her biggest achievements.
Melkeya believes that every successful leader should be committed to creating more leaders, and that remains her main focus. To her, success is not just reaching one's maximum potential but helping others grow and reach theirs. In her words, "Success is knowing your purpose in life, growing to reach your maximum potential, and sowing seeds that benefit others."
Discovering Her Path
More than 20 years ago, when Melkeya began her HR career, there was a leader who saw the potential in Melkeya and offered her an HR role in Learning & Organizational Development, this marked the beginning of her career. After that, she held many HR leadership roles with large global companies in the financial, healthcare, and environmental services industries.
She was also the Enterprise Vice President of Organizational & Talent Development for Waste Management, a 50,000-employee environmental services company headquartered in Houston, Texas with more than $14 billion in annual revenue. Throughout her career, she got the opportunity to meet many inspirational leaders who mentored her, supported her and believed in her ability which helped her climb the success ladder.
In 2020 an opportunity presented itself to Melkeya and she made the decision to join The Wallace Foundation as its Chief Human Resources Officer. She adds, "I was drawn to Wallace's mission and purpose, its leadership team, and its commitment to diversity, equity, and inclusion. A commitment that extended beyond talk or words on paper, but a commitment towards operationalizing these elements so that it is seen and felt both internally and through the work that we do in support of others."
An Independent National Philanthropy
The Wallace Foundation is one of the 50 largest independent foundations in the U.S.  It is a national philanthropy based in New York City that seeks to foster improvements in learning and enrichment for children and the vitality of the arts for everyone. The foundation aims to develop knowledge about how to solve social problems, and promote widespread solutions based on that knowledge, by funding projects to test ideas, commissioning independent research to find out what works, and communicating the results to help practitioners, policymakers and leading thinkers.
Life as a Chief Human Resources Officer
As a CHRO, Melkeya serves as a key member of the leadership team. She is responsible for driving an innovative, people-first culture centered on building team and leadership capability and cultivating a culture of diversity, equity, and inclusion. She oversees employee relations, organizational development, culture, total rewards, talent acquisition, and HR technology. She reports directly to the President and works closely with the Board of Directors as the primary liaison to the Governance and Compensation Committee.
Throughout her career, Melkeya has seen the role of HR evolve exponentially. She says, "As an HR leader it is imperative that we serve as strategic partners and change agents within the business. This first begins with ensuring that you build and/or hire the right talent for your team. Two important core competencies to look for when hiring are integrity and innovation. So beyond hiring for these attributes you must continue to hone and cultivate these by creating a space to fail safely and recognizing and incentivizing innovation."
What Doesn't Break You Makes You Stronger
The road to success is often riddled with hurdles and Melkeya believes that these challenges act as the steppingstones for success as they only make us stronger and wiser. She too has encountered her fair share of challenges. "Some of the more pivotal lessons for me were around this idea of 'adaptive authenticity.' Authenticity is often viewed as a strict coherence between your actions and your values. However, 'strict coherence' might be inhibiting one's growth. Therefore, it is important to maintain a growth mindset and an open attitude. Adaptive authenticity is about allowing your true self to become something more – an evolved version of your former self," she shares.
A Clear Cultural Vision
Melkeya's vision for The Wallace Foundation is to have a clear, inspirational cultural vision that is strongly anchored in everything it does. Your cultural vision should be an aspirational statement which serves to define 'how' you work as a team and 'how' we will support the communities that we serve.  The cultural vision statement should reflect the values that the organization holds high, such as diversity, equity, inclusion, and belonging, and become part of the cultural fabric. Therefore, working on the vision can't be treated as an initiative that is easily shelved when other priorities come into view.
A Source of Inspiration
Melkeya is committed to continuous learning and the development of others. She strives to improve in all areas of her life, hoping that she might serve as a source of inspiration to someone, as so many have been a source of inspiration for her.
Melkeya has her own unique definition of success and encourages other women leaders to establish their own definitions. She advises, "Set clear, attainable goals, and smash the heck out of them!"