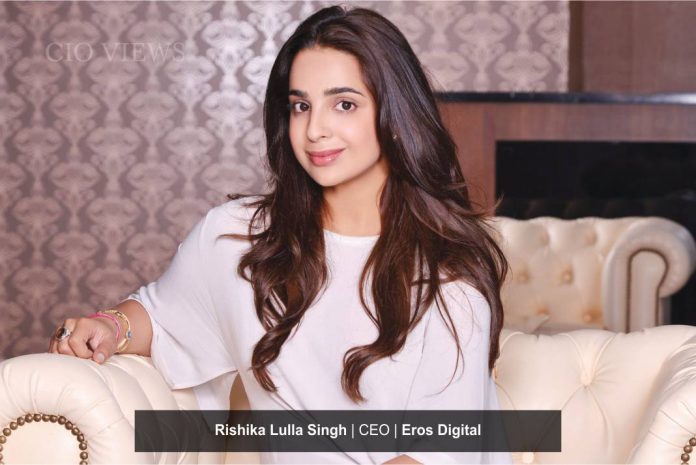 As a forerunner in the OTT space, Eros Now started their exhilarating story a few years ago, leaving trails of success tales that glorify their remarkable presence in the Indian Film & digital Entertainment Industry today. Their strong network and relations built over the years, with leading talent, production companies, exhibitors and other key participants has played an important role in the growth of the company making them one of the leading companies in their field. Eros has been a pioneer in entertainment space in India continues to be a brand to be reckoned with especially when the country is changing the dynamics of the world's entertainment consumption story. As a company, Eros remains the first fully vertically integrated studio model within the industry, with the largest library and over 30% market share of the top 100 box office hits over the last decade.
Eros has been at the forefront of technology adoption, including being the first distributors of VHS from India and that trend has transpired to evolving technology and viewer consumption platforms over the last 4 decades. Eros Group has been first movers in technology adoption and understanding the significant shift in content genres and viewership behavior. The group launched India's first on demand digital platform Eros Now.
Sharing some inspiring insights from the success book of Eros Now is the lady in the lead who has largely contributed towards the business development, the CEO of Eros Digital Rishika Lulla Singh.
The Inception of a Pioneering Path
Eros has cultivated distinctive accolades along their journey; however, they too had their share of ups and downs as a part of the business. As pioneers in the OTT space, they faced challenges at an industry level even at the beginning of their venture, as basic 3G/4G infrastructure could not support seamless viewing experiences. However, with the advancing of technology they witnessed a pivotal turn in the industry in 2016, when 4G was launched. This was a massive revolution for the entire ecosystem. Another roadblock that they experienced was creating awareness and educating the customers to maneuver their way from a large screen to a smaller screen to drive a change in consumption habits. The skilled team of Eros   backed by a knowledgeable leadership embraced these challenges together as an organization citing it as an opportunity to grow and cater to a global audience that loves consuming Indian content.
Consequently, today with over 12,000 Movie titles, Music Videos, Television Programming and originals, Eros   caters to more than 154.7 million registered users and 18.8 million paying subscribers worldwide, with the promise of endless entertainment. They have set a benchmark in the Indian entertainment industry as the leaders of the lot, making them the largest Indian movie offering platforms not only in the country but around the world.
A Spectrum of Spectacular Services
Eros Now is Eros International Plc's On-Demand South Asian Entertainment Video Service, accessible worldwide to viewers across internet enabled devices including mobile, web and TV. Eros   is the ultimate one-stop entertainment destination with a vast content library consisting of over 12,000 Movie titles, Music Videos, Television Programming and originals available in 10 languages.
Be it a minute or hours, they have content that will keep you engaged and entertained. They successfully launched some of the most highly rated and acclaimed originals in the industry. Their original titled 'Smoke' was also handpicked amongst all counter parts to be screened at the prestigious Cannes in October 2018.
Towards the end of 2018, keeping up with the audiences' evolving needs and interests, Eros expanded their original content offerings with the launch of 'Eros   Quickie' series. Each episode of a Quickie series spans between 8 to 10 minutes, with about a total of 6-10 episodes per show. Content featured under this IP offers both fictional and non-fictional shows across genres such as comedy, docu-drama, slice-of-life, travel, and food among others.
The Graph of Success that Redefined Business Growth
According to the recent India OTT Video Content Market Consumer Survey, Eros Now caters to the largest share of millennials in Tier II/III cities of India (a population of 1.35 billion approximately) compared to all major OTT platforms. They have the largest share (59%) of users in the 25-39 age bracket in Tier II/III cities with a total of 68% of their consumers watching content on the platform daily.
Eros   users watch content on the platform for more than 21 hours in a week – highest amongst all major OTT platforms in India. They also have the highest percentage of their users consuming content on Smart TVs. A total of 27% of Eros   users watch content on Smart TVs. This can be attributed to their applications UI and in-app content discovery experience. The study testifies their endeavor to not only expand the consumer base but also strengthen their foothold in smaller cities of India. The company's strategic entry into the rural markets of India plays a significant role in the growth of OTT industry in the country.
From a content perspective, they aim at providing unlimited entertainment and have premiered a total of 237 movies on Eros   till date. In 2018 Eros   successfully premiered 40 movies across Indian languages and 19 premiers in 2019 (till June), launched 7 original series and 5 short-format original series under their new content brand Eros   Quickie. They have been able to accomplish so much due to the brands USP of offering a vast content library which comprises 12,000 plus Movie titles, Music Videos, Television Programming and originals across 10 languages. Today 7 percent viewership comes from English content, 63 percent comes from Hindi and 30 percent comes from other languages and it is the last set that players are keen to tap and grow. In the last few months, Eros   has produced some exceptional in-house flagship original programming in genres like drama, comedy and thrillers.
Seven successful years in the business, today Eros caters to more than 154.7 million registered users and 18.8 million paying subscribers worldwide with the promise of endless entertainment. As per Morgan Stanley's recent research report, Eros   stands 4th in top global OTT services in global subscribers.
The Relations Built on Promising Grounds
Eros Now's legacy of entertaining the masses is a well-trod territory and with time they have further aggregated deeper relations with their audiences across 135 countries with International viewership contributing close to one-third of the overall time spent on the platform.
In order to achieve scale, Eros Now ensures that they have the widest distribution network and take immense pride in some of their recent partnerships. These strategic alliances are with brands with mammoth distribution networks and are looking to consolidate their content play, which results in a win-win situation for both entities.
Listing few of their recent key partnerships:
Eros Now becomes the first Indian player and only non-US Brand to partner with the launch of the new premium Video Service Apple+. Apple users can get Eros Now service bundled or à la carte across 100+ countries
Eros Now has several international tie-ups such as Virgin Media and tvfor global distribution
Eros Now has also strengthened their presence in the MENA region by partnering with Etisalat, DU, Vodafone Qatar for their SVOD offerings
Additionally, Eros has partnerships with Chinese state-owned film and entertainment companies, Shanghai Film Group Corporation and China Film Group Corporation to create, co-produce and distribute Sino-Indian films across all platforms in both the countries. The MoUs were signed by Eros MD Sunil Lulla at an India–China Business Forum in Shanghai which was part of Prime Minster Narendra Modi's China visit. The first film is directed by Kabir Khan, currently in development and scheduled to shoot towards the end of this year.  The second film is currently being developed. As well as this year Eros released Andhadhun in China which grossed $46.9mn in China. Before that the company also released Bajrangi Bhaijaan which also did $50mn.
Eros Now takes immense pride in being the only Indian Digital brand with 2 strategic distribution deals in China with Iqiyi and Wasu Media.
Besides having a dedicated play for International Markets, Eros and Eros Now has been very proficient with the larger content and distribution business in India. Growing the footprint of audiences beyond the diaspora markets has been a legacy strength of the brand and they continue to double down across production, distribution and digital business.
The Resourceful Guidance of a Powerful Leader
A free spirited, daunting personality with an inquisitive mind who enjoyed challenges, Rishika Lulla Singh the CEO of Eros Digital, grew up with fascinating aspirations that kept changing frequently. Her discipline in sports and martial arts essentially laid down a strong foundation for her in terms of gaining the right outlook and approach. She always had a strong inclination towards technology and always knew that she needed a fast-paced evolutionary environment. These distinctive attributes of her personality directed her steps to the career path that she excelled in, creating a notable impact as a powerful female in the lead.
As the CEO of Eros Digital, she has majorly contributed in the strategic planning, decision making and significant growth of the business. In her journey with the company she has witnessed great successes, from setting up the business ground up, to achieving their first milestone of 10k paid subscribers. She is backed by an incredible and skilled team of professionals, Rishika is extremely proud of.
Apart from key milestone numbers, and industry success, the most rewarding experiences are the human experiences daily. "Watching and driving the team to grow and creating a beautiful set of talent in Eros   has been really rewarding. Ensuring the team is dynamic, nimble and able to think out of the box and driving that edge striving to be the best we can each be is the most wonderful thing to experience.", shares, Rishika.
The Momentum of Motivation that Steers Success
While the entertainment content industry is at the cusp of a revolution driven by the OTT boom in the recent times, there certainly is room for improvement. The team of Eros   believe that this can simply be achieved by overcoming multiple roadblocks on the industry level like need for growth of streaming infrastructure, technology growth and roll out to villages in India to create a new market.
They have identified that today's consumer can control their own media consumption through an escalating range of smart devices and curate their personal selection of channels using OTT services. With these learnings, they understand that India is not a single market but a combination of multiple markets, each with its unique characteristics. Hence, they work towards creating narratives that cater to each of these markets while also looking into price innovation, content creation & acquisition, and partnerships as the engine for growth.
Apart from their crazy visions and goals they have set for themselves, be it technology or reach; the process that the team of Eros   goes through to achieve these goals keeps them highly motivated. They are a bunch of efficient team players who learn from each other and strive to create an environment of growth on both personal and professional fronts.
The Reel of Passion that Motions the Future
In-order to reach a wider audience- the rural markets of India, they have also had some successful partnerships with like-minded organizations like Veriown Global, Inc, as they are working towards the collective mission of bringing digital entertainment and energy to rural India. Through this alliance, Eros   powers Films, Originals and other content on 'The Connect' a product designed and conceptualized by Veriown.
'The Connect' aims to improve lives by not only providing electricity but also a wide range of digital content for entertainment. This technological advancement and innovative solution are a market first.  It will also help in building a digital ecosystem by fulfilling the demand for entertainment in remote villages of rural India in line with their promise of penetrating deeper in tier 3 and 4 markets. The service acts as a sense of safety and security during the night and works towards enhancing social status by giving consumers access to entertainment and educational content.
Eros is driven by their goal, to achieve at least 50 million paid subscribers in the next 3 years. They have currently achieved over 150% YoY growth. Understanding the pulse of the target audience basis what is topical, they recently launched an original series on the Indian PMO titled 'Modi: Journey of a Common Man' which showcases prominent events in his life that led him to becoming the Prime Minister of India.
They continue to grow the distribution side of the business around the world; with an addressable market of one fourth of the world's population, however, they still have a long way to go. They have launched some landmark deals with apple (only non-US service to be launched on apple +), Virgin media, Veriown, MENA deals etc. As they focus on distribution, they also continue to focus on high quality binge worthy content and look forward to the original releases this year which are to follow.
All the recently published data and trends are pointing towards a massive opportunity for Indian Content Creators and Platforms to deliver splendid experiences to the audience world over and at Eros Now, they are striving to make the most of it.