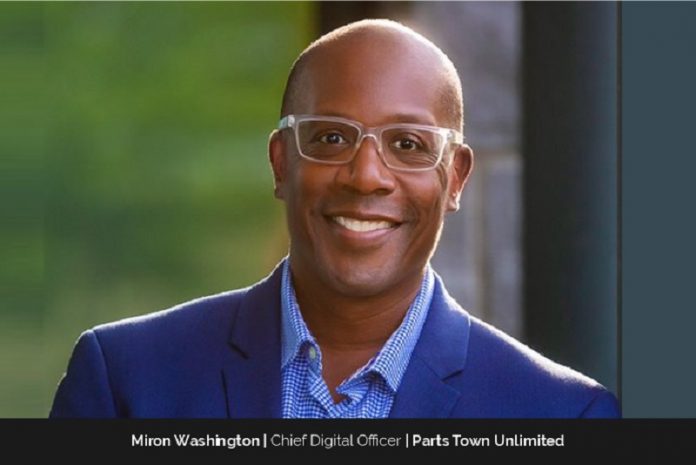 In the fast-paced world of business and technology, few leaders stand out as exemplars of success, integrity, and innovation. Miron Washington, the Chief Digital Officer of Parts Town Unlimited, is undoubtedly one such leader who has left an indelible mark on the industry. Recognized as one of "The Most Influential Black Corporate Leaders to Follow in 2023," this seasoned executive has redefined success, navigated challenges with grace, and brought his expertise to drive growth and excellence at Parts Town.
Miron Washington has a wealth of experience spanning 25 years in various areas, including business-to-consumer and business-to-business e-commerce, global supply chain operations, digital transformation, and overseeing multi-billion-dollar profits and losses. He holds a bachelor's degree in accounting from the Leavy School of Business at Santa Clara University and a master's degree in science from Oregon Health and Science University.
In the featured cover story, Miron imparts his firsthand experiences and narrates his career trajectory and shares invaluable words of wisdom for aspiring leaders in this particular domain.
"The time is always right to do what is right." – Martin Luther King, Jr.
Redefining Success: A Journey of Integrity and Digital Transformation
Each leader holds a unique perspective on what defines success. There is no one-size-fits-all formula, as it varies based on individual beliefs and aspirations.
When asked about his definition of Success, Miron confidently explains, "At Parts Town, our success is defined by our growth and our commitment to culture, and innovation fuels our growth." As the Chief Digital Officer, his success is measured by his integrity as a servant leader and by the extent of digital transformation across e-commerce, integrated marketing, and digital selling channels that continuously elevate the customer experience.
His journey at Parts Town began with a step of faith, inspired by the company's unwavering focus on delivering convenience through technology innovation. The alignment of his vast experience in building and growing B2B and B2C e-commerce solutions with Parts Town's desire to continue innovating made it a perfect fit for him.
Lessons in Challenges: The Path to Lifelong Learning
Encountering challenges and navigating through them cultivates resilience. The understanding that obstacles can be overcome, lessons can be learned from struggles, and mistakes work as steppingstones paves the way for success in the future, helping people who defy failure. For Miron, challenges are not obstacles but opportunities for growth and learning. He states: "Having a learning mindset allows me to approach challenges without fear of failure because whatever the outcome is on the project or role X, I know there are lessons to be learned." His career evolution, which spans Fortune 20 B2B and B2C companies in various industries, has honed his customer-centric and result-oriented DNA, making him well-equipped to tackle any setback that comes his way.
"It's not about what it is, it's about what it can become." – Dr Seuss
Parts Town and Its Services
At Parts Town Unlimited, innovation is not just a buzzword; it is at the core of their mission. The brand stands at the forefront as a technology innovation-driven distributor of genuine OEM (original equipment manufacturer) food service, residential appliance, and HVAC equipment repair parts. Whenever any equipment encounters a glitch, they respond quickly with a vast inventory of in-stock parts, coupled with cutting-edge technology, ensuring an unparalleled customer experience. Their tailor-made solutions cater to equipment service technicians, chains and independent restaurants, schools, healthcare facilities, and hospitality providers alike. By forging partnerships with the industry's leading manufacturers, Parts Town enhances the supply chain, boosts sales of genuine OEM parts, and ensures seamless operations for every customer. Additionally, Parts Town collaborates with equipment and supplies dealers of all scales, offering a comprehensive one-stop-shop experience through its Parts Town marketplace.
How Miron Washington's Expertise Fuels Parts Town's Success
Miron Washington, the Chief Digital Officer at Parts Town Unlimited, has contributed to the company's impressive growth and success. Although he joined the company relatively recently, he brings a wealth of experience from Fortune 20 B2B and B2C companies spanning various industries. His expertise is poised to accelerate and amplify the impact of Parts Town's customer-centric approach, driven by cutting-edge technology and innovation.
Fostering a Culture of Integrity and Innovation
Maintaining a culture of integrity and innovation is crucial for Miron and his team at Parts Town. The company comprises integrated teams that deliver extraordinary customer experience and innovative technologies. Their dedication to the core values of safety, integrity, community, passion, courage, and innovation has helped create a work environment that promotes excellence and collaboration.
Miron Washington: Paving the Way for Future Leaders
Being a person of color or belonging to any underrepresented group in the corporate landscape of America undoubtedly presents unique challenges and barriers. The experience of being the first or sole individual of color in a room, the struggle to have one's voice heard, and the pursuit of equal opportunities can be formidable. For Miron, invaluable wisdom from his grandmother resonates deeply: "A closed mouth doesn't get fed." These words have guided and empowered him to express his needs, objectives, and concerns to those in positions of power and influence.
Embracing emotional intelligence (EQ) over mere intellect (IQ) and acceptance of vulnerability have further fortified Miron's brand of leadership, rooted in authenticity. His encouragement to the next generation of leaders is simple yet profound: "Be fed," advocating for their voices to be heard and their aspirations to be realized without hesitation.
Best Recognition as a Leader
Recently elected to the Board of Directors of Impinj, Inc., a Rain RFID industry leader, Miron feels honored to serve in this capacity.
Vision for the Future
Looking ahead, Miron indicates that Parts Town will be steadfastly determined to elevate its aspirations and augment investments in talent and technology.
The company's Chief Digital Officer specifies, "We see an opportunity to innovate across several mission-critical parts categories, delivering a unique customer experience with the help of our e-commerce innovations and partnering closely with manufacturers to grow OEM parts share, simplify operations, and improve equipment uptime."
This accomplished veteran takes immense pride in the remarkable efforts and achievements of the entire team at Parts Town. Their unwavering dedication to the company's core values will remain resolute as they progress and expand their reach in the industry.
Miron's Role as Chief Digital Officer: A Digital-first Approach
As Chief Digital Officer, Miron drives the e-commerce business, digital acceleration, innovation, and marketing capabilities for the group. His digital-first approach, rooted in collaboration and data-driven strategies, has helped build a values-driven culture prioritizing innovative customer experiences.
Miron Washington's Distinguished Career Journey
"My career actually began in a financial position at HP back in 1989, supporting internal audits and other responsibilities," shares Miron. Over the years, he transitioned into a supply chain role, managing crucial relationships with manufacturers, third-party logistics providers, and retail chains. This experience paved the way for his expertise in demand planning, encompassing product life cycle management, production scheduling, capacity planning, and inventory control.
In 2008, he joined Amazon, initially leading in-stock planning for Consumer Electronics and Office Products. Subsequently, he ventured into general management, spearheading the growth of Amazon's trade-in platform across multiple international markets. Miron credits this time at Amazon for honing his customer-centric and result-oriented approach.
His career journey further led him to NorAm International Partners in 2012, where he assumed responsibility for strategic planning, business development, manufacturing operations, software development, information technology, and human resources. He later served as Staples's Senior Director of E-commerce Product Management & Business Development, focusing on B2B e-commerce capabilities and digital sales efficiency.
His digital expertise continued to thrive at Monotype in 2017 before assuming the role of Vice President of Customer Experience at Home Depot in 2019.
"Success is no accident, it is hard work, perseverance, learning, studying, sacrifice, and most of all, love of what you are doing." – Pele
Balance and Motivation: The Key to Success
Achieving an ideal work-life balance is a challenge faced by many, but only a few succeed in mastering it. Juggling back-to-back meetings and punctuality at family dinners require strategic planning and unwavering discipline. For Miron Washington, maintaining a balance between personal and professional life starts with an early start to the day, combining gym time with catching up on emails and reading. He cites, "From there, I'm ready to tackle what may come my way." 
The motivation to deliver the best services comes from being maniacally focused on customers, technology, and innovation, where learning together as a team and challenging one another drives excellence.
A Legacy of Transformation: Miron's Personal Goals
As Miron continues his career journey, he aims to leave a legacy that transforms the approach to delivering customer value through technology and innovation. His message to aspiring business leaders echoes Pele's wise words, "Success is no accident. It is hard work, perseverance, learning, studying, sacrifice, and most of all, love of what you are doing or learning to do."
Miron Washington's journey at Parts Town epitomizes leadership that thrives on integrity, novelty, and enduring learning. His commitment to fostering a culture of excellence and dedication to driving digital transformation continues to inspire the next generation of leaders to create meaningful impacts in the world of business and technology. As we follow Miron's journey, we will indeed witness more remarkable achievements and transformative milestones for him and Parts Town.