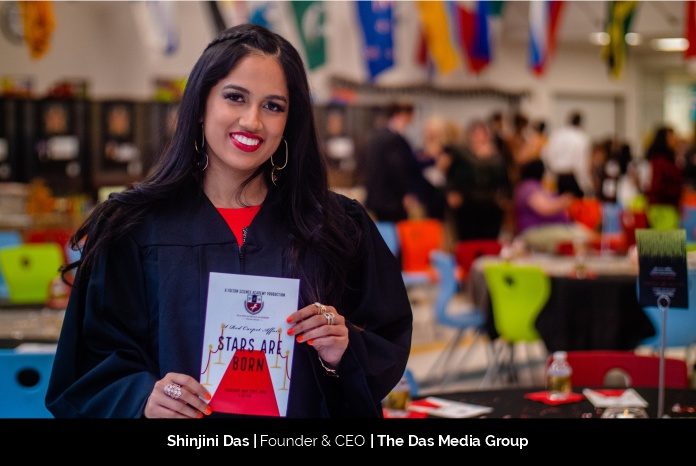 Yahoo Finance has named Shinjini Das, Founder and CEO of The Das Media Group, as a Top 10 Motivational Speakers to Watch in 2021 for motivating go-getters to go get their goals. She calls herself a go-getter 'The Go-Getter Girl' who is on a quest to lead a personally and professionally fulfilling life while positively empowering individuals to take action to achieve their highest potential. Her media content company specializes in creating content to motivate go-getters to go get their goals.
Helping Dreamers With Their First Step
For Shinjini, success amounts to the number of people she can transform from dreamers to go-getters. According to her, today, most people are just waiting to achieve their goals but not actually achieving them. Her motivational content is helping dreamers become go-getters. It is helping them to make the first move to go and get their goals. She counts this accomplishment as success.
Building Motivational Content
As a young woman, Shinjini could get her voice heard anywhere. She realized she would open a vista for herself and decided to start a business. She decided to become an entrepreneur and start a media company at the age of 24. People are not achieving their goals because they lack inspiration. While media offers a lot of entertaining and educational content, there is a want of inspirational content. Her media company builds motivational content to motivate go-getters to make the first move to go get their goals.
Monetizing Motivation
Shinjini's audience is people requiring motivation to attain their goals. This inherently means that they are struggling and are financially inadequate. A financially challenged audience cannot be monetized. Shinjini was aware of the roadblock, "How do you monetize an audience to grow your own revenue when they inherently have no money?" She has been finding creative ways to monetize her audience of go-getters and it has been a fruitful and energizing exercise.
Converting Followers to Dollars
The Das Media Group sells content strategy and content execution to monetize in the media to B2B, B2C, and D2C platform players. Their content helps their clients build messaging to attract their ideal target audience and then convert that target audience into their buyers, monetizing and motivating attention to take action to become go-getters and accomplish their individual goals. They build media messaging for brands targeting go-getters to convert followers to dollars.
In A League of Their Own
Shinjini is convinced that personalized motivation is the future of marketing. Businesses have to motivate people individually to take action in order to purchase their products or services. In the case of The Das Media Group, they provide motivational content in a personalized fashion to motivate go-getters to make the first move to go get their goals. Shinjini knows that they are in a league of their own and emphasizes that they will continue to stay top-notch and unrivaled.
The Incredible Feeling of Motivating Others
Shinjini feels that the stories of personal transformation that The Das Media Group are architecting every day are her greatest achievements. She is proud when people share that they did not give up on law school because of their content or that they are motivated to wake up every day to keep working hard on their goals in Nigeria because of their content. She feels incredible when kids share that they finally feel like they have a purpose in being young, that they should not waste their youth.
An Amalgamation of Data Science, Technology Consulting and Digital Marketing
Shinjini has a background in Technology Consulting. She worked as a Business Technology Analyst at Deloitte Consulting and Digital Marketing, a boutique digital marketing company in Silicon Valley specializing in technology clients. She has completed her Bachelor of Science in Industrial and Systems Engineering from Georgia Institute of Technology.
As an Industrial Engineer, she is combining her skillsets in Data Science, Technology Consulting and Digital Marketing to deliver a content strategy to her clients with motivation ROI.
Facilitating A Higher Arching Vision
As the CEO of The Das Media Group, Shinjini's major roles and responsibilities include facilitating a higher arching vision for the company and directing strategic objectives towards audience acquisition across her personal social media platform @SpeakerShinjini of 500K+ and then architecting a broader content platform to share their messaging around what it means to be a go-getter. Her detailed responsibilities include aligning digital product launches, sales goals, and client acquisition goals for their growing content strategy services business.
Shinjini is in the business of Motivation and therefore, she understands that it is critical to keep her team motivated to feel purpose in their impact.
Identify Goals and Accomplish Them
Shinjini confesses that work-life balance is difficult, especially because the media never sleeps. She believes in maintaining strong and strict lines between work and life. Having said that, she is a firm believer in chalking out goals. She thinks that having strict audience acquisition goals help a lot in identifying clear metrics for audience growth and impact, as well as content production both for their internal production platforms and for their content strategy clients. Staying true to her role as the leader of a media company, she produces an average of 100+ pieces of content per day across her personal social media platforms. Daily, she is also involved in driving their sales goals of content consultations, small business content strategy clients, digital book sales of her memoir at 26 e-book called "Unapologetically, Shinjini," on www.unapologeticallyshinjini.com, and soon to be released motivational audio products, etc.
Reaching for The Stars
The Das Media Group turns five this September. Their forecast for the next five years is to roll out their coaching services to help dreamers become go-getters more globally into an organized coaching program as well as to expand their boutique content strategy services division to more multi-billion dollar technology clients to define their content branding strategy.
Shinjini's 10-year vision for The Das Media Group is to initiate a boutique services division that focuses on client service with multi-billion dollar players who want a tighter content strategy towards monetization for their products and services. In addition, they will have a merchandising division spreading the go-getter methodology of living to encourage dreamers to go get their goals, a growing Small Business Accelerator helping small businesses message their value proposition in the media and an exclusive focus on their digital product offerings teaching dreamers to become go-getters to make the first move to go get their goals. Shinjini and her team aspire to attain these stellar goals by 2026.