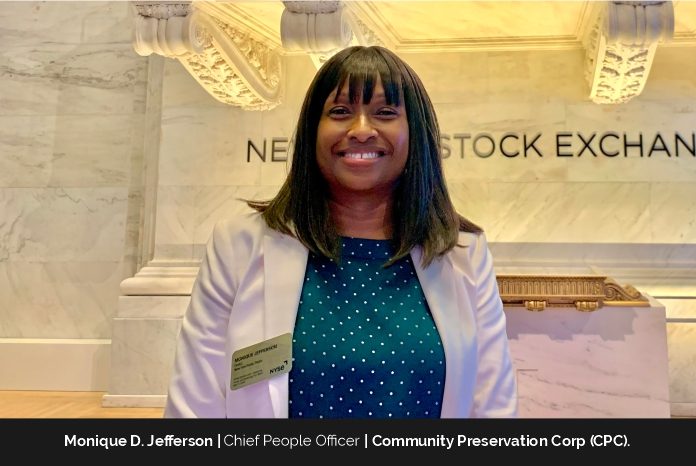 An expert in human capital management with an instinct for determining the impact of organizational change, Monique D. Jefferson is the Chief People Officer at The Community Preservation Corporation. With over 20 years of experience in the legal, insurance, media, non-profit, and professional services sectors, she is a results-driven human resources executive with a proven track record.
As an auditor for Ernst & Young LLP, Monique began her career in accounting. She worked there for two years before realizing she didn't want to be a CPA. She did, however, find certain aspects of the job enjoyable. She appreciated being a part of an engagement team, attending to a company's financial needs, and providing guidance and advice to leaders facing business issues. She likes the component of the job that involves working with clients. Monique was also involved in the mentoring/buddy programs for new associates and campus recruitment to attract diverse early-career talent to the firm. When she assessed the aspects of the job she enjoyed, she realized it fell under this umbrella called "human resources". She recalls, "My first job in HR was with Coopers & Lybrand now PWC (PricewaterhouseCoopers). I couldn't have asked for a smoother transition into the HR field. I was fortunate in that I understood the business given "I carried the bag" and did that job so I was able to gain trust and creditability with clients very quickly." She shares that as an HR person one always wants strong relationships with employees and senior leaders.
As an HR leader, Monique is intentional in the decisions she makes and the counselees and guidance she provides senior leaders as she recognizes the impact that it has on the talent of the organization. She believes that with respect to DEI, all organizations need to be intentional if they are going to move the needle and make sustainable progress in addressing institutional racism and dismantling the barriers that exist.
Community Preservation Corp. (CPC)
CPC is the largest CDFI solely committed to investing in multifamily housing, having invested more than $11.9 billion to finance the creation and preservation of more than 220,000 units of quality housing in various neighborhoods across the U.S. CPC believes that housing is central to transforming underserved neighborhoods into thriving and vibrant communities. That's what the company is about: providing innovative capital solutions, fresh thinking, and a collaborative approach to the often-complex challenges that owners and developers of multifamily housing face.
As Chief People Officer, Monique is responsible for setting and driving the human capital strategy of the company, and for designing a future focused, strategic people agenda that will enable CPC to attract, motivate, engage, develop, and retain a diverse, high-performing, collaborative workforce. Her team and Monique advise and influence senior business leaders on all talent processes, programs, and initiatives, as well as continuing to build a company culture that is aligned to our values.
The changing landscape and role of HR
The function of HR has evolved since the pandemic. The function is at a crucial point right now. When it comes to returning to the workforce, many HR directors have developed into stronger strategic partners with their top executives. As an HR leader, one has the chance to influence the future of work at a crucial point right now. When it comes to returning to the workforce, many HR directors have developed into stronger strategic partners with their top executives. As an HR leader, one has the chance to influence the future of work. Finding out how individuals perform their occupations and the skills and competences needed, some of which may not exist or be present in the workforce today, is just as important as determining where and when people conduct their jobs.
With more businesses doing hybrid or remote work, chro/cpo has had to reconsider its culture. Monique says, "How do you leverage technology to build or maintain the company culture in a hybrid or remote working environment." She anticipates that over the next few years, the chief people officer (CHRO) role will become more dependent on data and talent analytics, require greater accountability for employees' overall well-being at work, and require talent acquisition that involves utilizing larger, non-traditional, or alternative talent pools (i.e., neuro diversity).
Work has an effect on an employee's mental health and general welfare, according to Monique. Employers must recognize their responsibility for fostering a work environment and culture where employees are treated fairly, feel safe and included, and have a sense of belonging.
Life before Joining CPC
Prior to joining CPC, Monique served as the CHRO of New York Public Radio, where she was in charge of building a human resources agenda that complemented and enhanced the purpose, strategy, and goals of NYPR. She co-led the Race Equity Action Plan's execution at New York Public Radio with the Chief Diversity Officer.
Outside of work, Monique is very active in two organizations:
Member for the past 7 years of The Links, Incorporated- Brooklyn, NY Chapter. As co-chair of youth facet, I develop and implement STEAM career and College readiness programs to Middle School students in Brooklyn, NY.
CALIBR Global Leadership Network. Member for over 10 years, past national president and current board member. CALIBR is a leadership development organization dedicated to accelerating the readiness of mid-level Black executives for senior executive roles, through specialized training, coaching, and mentoring that give members access to the best practices that drive business success. The mission is to provide the resources, tools, and networking opportunities to support the career advancement of black leaders, as well as to compliment and support the talent retention efforts of businesses.
Feedback is a Gift
If they don't give you a seat at the table, bring in a folding chair. – Shirly Chisholm
Early in her work, Monique learned that the saying "no news is good news" is false. particularly in terms of performance. She discovered that one must be proactive and request both positive and constructive feedback. "Ask for examples so that you can put the feedback into context," she says, "and if the manager only tells you what is wrong, make sure you get the manager to commit to how they are going to develop and support you in addressing the feedback." She believes that many leaders fall short when it comes to giving performance evaluations. It frequently isn't relevant, precise, or practicable. Because of her early-career manager, Monique learned to check in and ask for input. She also learned to be proactive and honest when giving feedback to her team so they could advance and improve.
Achievements that Show Commitment
While working at Merrill Lynch, Monique developed and launched the first diversity mentoring program for the institutional business. Internal affinity groups often consist of lawyers, according to the organization of the majority of law firms. She started making places and using her network to connect the staff members with outside resources because she felt excluded and was unable to formally join. She asserts, "I identified and partnered with external organizations so Hogan Lovells could become a corporate sponsor, which led to leadership development programming for staff and also increased early career diversity recruitment."
The Hogan Lovells business services team was also excluded from America's diversity and inclusion action plan. In Monique's opinion, this needed to change for the company to truly have an inclusive culture and a diverse workforce. The International Management Committee formally committed to staff making diversity and inclusion a strategic priority with the firm's leadership transition in 2020. The first Americas Business Services Diversity Committee was created by the new top leadership of the company, thanks in part to her direct efforts.
While at New York Public Radio:
Monique expanded the parental leave policy to a more inclusive family leave policy of 12 paid weeks. In response to SCOTUS ruling on abortion extended bereavement leave policy to loss of pregnancy.
Work Life alignment at Office and Home/ Flexibility
Because balance is subjective and appears differently for each person, Monique prefers to refer to it as "work-life integration." Therefore, it is acceptable if she must log off at 3:00 in order to be present for her children's track and field competitions and then log back on at 9:00 to finish some work. She and her team place a high value on adaptability and meeting people where they are.
Monique is a leader who not only works very hard but also plays hard. She asserts that it's crucial to set aside time to express gratitude and rejoice in accomplishments. One of the blessings for Monique as a result of the pandemic is that has forced her to be more present and refocus on her family as well as her self-care and overall wellness.
Success in True Means
Monique defines success as combining her work with her purpose and passion. She believes she has accomplished this in her current position as CPC's Chief People Officer at this point in her career. Monique is able to use her dedication to the company's vision, its work in the affordable housing market, and its influence on the community in her position.  She shares, "I have a direct impact on diversifying our workforce to reflect the communities we serve while creating an inclusive culture where employees have a sense of belonging."
If you don't stand for something, you will fall for anything. – Alexander Hamilton
Monique's other measure for defining success is seeing the progress and accomplishments of the people she has developed and/or mentored throughout her career. She takes great pride and pleasure in seeing people who were part of her team advance and grow in their careers. It's one way she knows she is doing something right.
Showing Direction to All HR Leaders
Goes back to what Monique stated earlier, "try to align your profession with your purpose and passion. Whatever you choose to do, find an organization where you feel included and have a sense of belonging. A workplace where you can be your authentic self and not have to fundamentally change who you are to make others feel comfortable or to fit in."
Be open to different career opportunities, take risks, and learn from your own mistakes. Monique feels she was fortunate earlier in her career to have both generalist and specialist roles within HR across different industries. She suggests having a growth mindset and being a curious, continuous learner. She adds, "If you are comfortable and not being challenged, then it's likely time to move on."
Service is the rent we pay for the privilege of living on this earth. – Shirly Chisholm
An HR executive should lead with inclusivity. According to Monique, a better conclusion and outcome follow from intentionally bringing all voices and people to the table.
Monique advises all HR executives to practice servant leadership because she thinks that when one works to help others, one succeeds and flourishes. And always attempt to meet a demand or supply a solution.