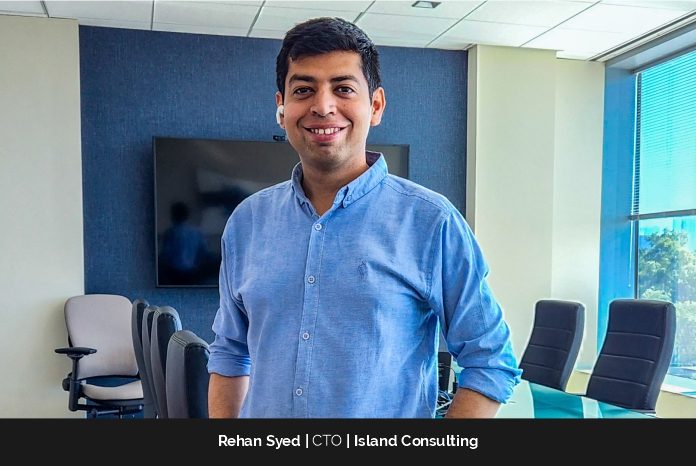 The CTO role in a business has altered as a result of the advancement of technology. Until recently, a CTO served as a service provider for the majority of industries (with the exception of tech firms themselves). But in today's world, the majority of sectors now operate differently as a result of digital transformation. As the ultimate resource for a company's transformation, the position of a CTO is quickly evolving. They must develop fresh business strategies, digitize their offerings, and use technology to address case-specific issues in HR, finance, and sales. As a "bridge-builder" between people, processes, and technology within a company, a CTO's profile has evolved into that of a Chief Business Enabler.
At Island Consulting, Rehan Syed serves as the chief technology officer. It is a global IT company that specializes in tailor-made solutions. His role is to help the organization's management make the best decisions moving forward, to help create a road map, and to support daily target achievement. Rehan Syed spent four years as the CEO of Techs Holding prior to joining Island Consulting. He started several companies during this time and assisted in managing activities involving over 300 workers. He also contributed to the creation of strong and supportive workplace policies. He says, "I am not sure if I can define in one word, but the closest to what I can relate is "Coach"."
As a leader, Rehan Syed's personal goals are to help build a better future. It is through a combined effort; everyone can live in harmony and make this world a cleaner and healthier place for future generations. He advises aspiring entrepreneurs to never give up on their dreams. He asserts, "Along the way, multiple obstacles or hinderances may come, but once you face a closed opportunity, another will come along the way, which will help you achieve your aims."
Years of Progress
Rehan Syed remembers how his mother Dr. Fatima and his late father Engr. Afzal purchased the first 386 computer and set it up with a Tom & Jerry game for him and his sister. What kind of sorcery is this, thought Rehan Syed. He recalls, "You can control characters by a clicker and move them around by pressing some keys. Ever since that day, I had great interest on how things work and how things are made." At a very young age, he constructed his first remote-controlled airplane, and through self-taught programming, he created the first website. Since then, Rehan Syed has been able to complete a doctorate in information technology and contribute to the creation of numerous start-ups in various industries thanks to the support of his family and very understanding elders.
Rehan Syed has held jobs along the way, including Chief Operating Officer for a well-known restaurant chain, Chief Executive Officer for a ridesharing and food delivery company for a new start-up in the Middle East, and now he is guiding Island Consulting to a new level of success. The best recognition Rehan Syed received was back in 2015, in Sultanate of Oman, for "World Leader Businessperson" from the World Confederation of Businesses.
Island Consulting
Several outstanding young men and women founded Island Consulting a few years ago. It began as a modest business operating out of a conference room, but it eventually expanded to have a presence in other nations. Currently, it works to become a one-stop shop for its customers and works with vendors from all across the continent. Island Consulting assists its clients by researching their needs and supplying a tailored solution that enables them to offer the community better services and goods.
Every Minute is a Teaching New Things
Rehan Syed asserts that hours, minutes, and seconds make up one's time and are a great teacher while discussing his thoughts on the difficulties he has in life and at work. Some lessons cannot be learned without going through the experience and moving forward. He has been working in the field for more than 20 years, and this teacher assisted him in developing competence in information technology, hospitality, and tourism. Rehan Syed asserts, "I learned to work with tight deadlines, across countries, making the impossible possible, look for out-of-the-box solutions, train colleagues, and above all, help people achieve their dreams." He thinks the most valuable lesson he learned is that everyone has a unique talent, and if one is willing to believe in them, nurture them, and guide them, they can surprise with the results.
On Attaining Balance
Rehan Syed makes an effort to separate his personal and work lives. He breaks down all milestones into smaller tasks and plans his tasks. In order for everyone to enjoy their own time, he works with individuals, solicits their input on the company's actions, and fosters teamwork. Rehan Syed welcomes everyone. He shares, "If someone has an idea, they can always come in and I will discuss with them how to make it happen." He always prefers quality over quantity and believes the team is here to make the company's employees, its stakeholders, and its customers' lives happier.
On Path of Achieving Dreams
Rehan Syed thinks he is still halfway through achieving all that he dreamed of. He says, "Some tasks are still to be materialized, some plans are still in the primary stage and need more research before I can start those projects." He firmly believes that everyone can realize any aspirations they have for themselves with persistence, perseverance, and hard work.
For Rehan Syed, success consists of a collection of outcomes that demonstrate the accomplishment of a goal. Working with several people and combining efforts to achieve a goal may be necessary. Everybody has meetings with various experts throughout the day, and he makes an effort to assist them in achieving their objectives and improving their quality of life. When he realizes he has an impact on someone's life, he feels successful.
Building Best IT Development Solution Provider
Rehan Syed intends to transform Island Consulting into one of the top providers of IT development solutions in the future. He sees a future where Island Consulting will be the go-to company for clients seeking specifically tailored solutions and where Island Consulting will be able to give them access to greater business resources and services.