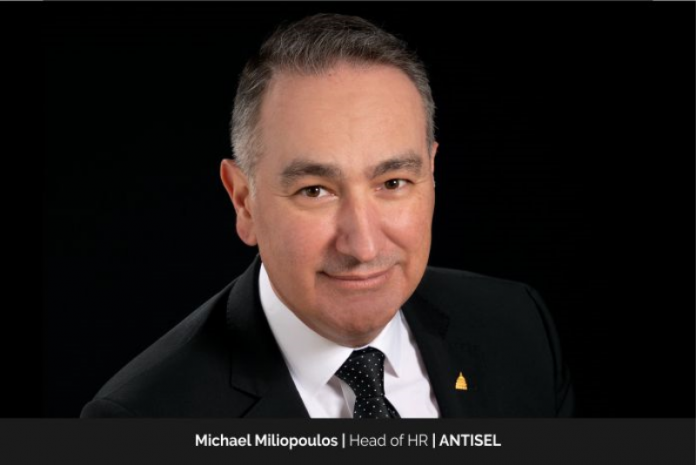 Michael Miliopoulos is a seasoned Human Resources professional with a passion for innovation and excellence. As the head of Human Resources at ANTISEL, a leading company in the life sciences and medical devices industry in Greece, Michael has been instrumental in driving the company's mission to provide customers with the latest and most innovative products and technologies to enhance their scientific research. With 18 years of rich experience in human resource management, Michael has a proven track record of building new departments from the ground up, integrating best-in-class human resource functions into internal operations, and turning around underperforming units.
As a strategic thinker, Michael has a reputation for delivering intelligent solutions to employee issues and improving overall efficiency through significant improvements to systems and processes. In addition, he is a skilled multi-cultural communicator who has earned the trust of stakeholders and executives, negotiating effectively with clients and leading multi-functional teams to achieve success. With his extensive experience and proven results, Michael is well-equipped to continue driving ANTISEL's mission and success in life sciences, molecular diagnostics, applied science, analytical measurements, blood banking, microscopy, imaging, laboratory, additive manufacturing, and medical equipment.
Michael's Philosophy for Success
Michael Miliopoulos is an innovative and strategic human resource management leader who deeply understands what it takes to achieve success. He believes success is not just about personal accomplishments but also about inspiring and motivating others to reach their full potential. According to Michael, the ability to inspire and motivate others is crucial to achieving success in the workplace, especially in a leadership role.
In addition to encouraging others, Michael believes that success also requires the capacity to navigate challenges and adapt to change proactively and innovatively. He recognizes that change is an inevitable part of business and life, and the key to success is responding to it in a way that drives positive outcomes.
Furthermore, Michael acknowledges that success is subjective and may be defined differently by different people. He recognizes that what works for one person may not work for another and that success is a journey that individuals must determine for themselves. Michael's inclusive and empathetic approach to leadership is what sets him apart, as he can understand and respond to the unique needs of his team members, creating a positive and supportive work environment for everyone.
Driving inspiration and impact
Michael Miliopoulos' journey in the human resource industry began almost two decades ago when a former Human Resource Director inspired him with a robust sociological background. The Director's passion for the field and commitment to excellence in HR management was contagious, and Michael knew that this was the career path he wanted to pursue.
This decision was driven by his deep-seated desire to help people and organizations reach their full potential. He believed that HR was the perfect platform to make a significant impact.
Turning obstacles into opportunities,
Michael took the bold step of leaving the stability of his 13-year-old career at retail giant Schwarz Gruppe to embark on a consultancy role in London and later in the GCC region. He viewed these transitions not as challenges but as opportunities to learn about new cultures and achieve professional growth.
To enhance his skills and capabilities, he pursued a variety of certifications and accreditations. Despite facing obstacles, Michael remained committed to turning them into opportunities for learning and growth.
Understanding ANTISEL: Pioneers in scientific progress
Established in 1967 by visionary entrepreneur Mr. Apostolos Selidis in Thessaloniki, Greece, ANTISEL has evolved into the foremost provider of scientific equipment and services in Southeastern Europe. The company's mission is to equip scientists with advanced human health, well-being, and environmental protection solutions. ANTISEL provides customized solution concepts to meet each customer's unique needs and has broadened its collaborations to serve the entire region while steadfastly adhering to its core values and principles.
Revolutionizing ANTISEL with AI adoption,
Michael has been a driving force behind the integration of Artificial Intelligence technology in ANTISEL's onboarding, recruitment, and learning processes, resulting in a notable improvement in efficiency and employee experience. The implementation of machine learning algorithms has led to a reduction in turnover rates and an increase in employee satisfaction.
In addition to his role at ANTISEL, Michael serves as the chairman of the SHRM Global Forum in Greece and Cyprus, sharing his expertise with other human resource professionals and serving as a visiting lecturer at universities. Throughout his career, Michael has learned valuable lessons from his challenges. He firmly believes that failure can be an influential teacher and that more can be learned from mistakes than successes.
One obstacle Michael faced was while leading a team on a large-scale project that needed to be fixed and over budget. This experience taught him the significance of clear communication and setting achievable expectations with stakeholders. Another challenge was when he was working on a project that needed to be aligned with his team's strengths and skills, which taught him the importance of understanding and utilizing the unique abilities of each team member.
These experiences have helped Michael to become a more effective leader and team player. He has learned that it is vital to be receptive to feedback, remain flexible, and continuously be open to change and learning opportunities.
Harnessing the power of data and analytics in human resource management
The human resource industry has undergone significant transformation due to technology, revolutionizing how human resource professionals approach recruitment, onboarding, training, and employee engagement. Automation has enabled human resource professionals to concentrate on more strategic and value-adding activities, such as building relationships with employees and enhancing their skills. The technology has also provided access to vast data and analytics, empowering human resource professionals to make informed decisions and pinpoint areas that require improvement.
The most remarkable aspect of technology's impact on the human resource industry is the opportunity for personalization and customization enabled by Artificial Intelligence and Machine Learning. These technologies have enabled the creation of tailored onboarding and training programs, resulting in increased employee engagement and retention.
Technology has dramatically improved the efficiency and effectiveness of the human resource industry, and it will continue to shape its future. Michael Miliopoulos believes that, as technology continues to evolve, the future human resource will become even more exciting with the incorporation of Metaverse, Virtual, Augmented, and Mixed Realities.
Cultivating a culture of integrity and innovation
Michael Miliopoulos prioritizes cultivating a culture of integrity and innovation in his organization, acknowledging the importance of his leadership role. He adopts a transparent communication approach, creating a workspace where employees feel confident in taking risks and collaborating with their colleagues across departments. He sets the bar high for himself and his employees by upholding the values and expectations of the organization and investing in training and development programs to empower them to make ethical and innovative decisions.
According to Michael, cultivating a culture of integrity and innovation is a continuous process that demands constant attention and dedication. However, it can be accomplished by maintaining open communication, fostering an environment that nurtures innovation, holding everyone accountable, and providing ongoing training opportunities.
"Excellence is never an accident. It is always the result of high intention, sincere effort and intelligent execution; it represents the wise choice of many alternatives – choice, not chance, determines your destiny." (Aristotle)
Maintaining priorities to beat competitors.
As the Head of HR, Michael Miliopoulos, shares the key factors that help the company stay consistent on its path to success. ANTISEL prioritizes its customers, stays ahead of the curve in technology and innovation, and remains agile and adaptable to remain competitive in the industry. They also uphold their unique culture of integrity and innovation, a core value since 1967.
The company invests in business development and continually seeks new growth opportunities. This combination of intelligent strategies and hard work enables ANTISEL to remain ahead of the competition and continue its success.
Combining Financial Education and Human Resource Management
Michael began his career by uniting his financial education and passion for the human resources field. His financial background provided a unique perspective, which enabled him to communicate more effectively with management and stakeholders. Over the course of his career, Michael has earned numerous HR awards from each of the companies he has worked with, spanning multiple HR pillars. Recently, he was named a "Leader of Distinction in EMEA for 2022". Yet, Michael's daily recognition from his colleagues and employees is the most meaningful, according to him.
The Swiss Knife of HR Management
As the Head of HR at ANTISEL, Michael oversees all aspects of human resources, from recruitment to employee relations, training and development, and performance management. On a typical day, he may review resumes, conduct interviews, and meet with managers to address employee relations issues. In addition, he dedicates time to employee training and development programs and performance evaluations and participates in meetings with the leadership team to discuss company-wide initiatives.
With a diverse range of skills and expertise, Michael can effectively tackle various challenges and succeed in multiple areas. In addition, his ability to multitask and adapt to different situations makes him a valuable asset to the company, earning him the nickname "Swiss Knife." To Michael, being a "Jack of all trades" is a strength that allows him to be an effective leader and problem-solver.
Balancing professional and personal life
Balancing personal and professional life can be challenging, but Michael has learned to deal with it effectively. He acknowledges that the two will often overlap, but he has implemented strategies to manage the demands of his job and still make time for himself and his family. This balance is an ongoing process for him.
As a leader, Michael believes in setting a positive tone for the team, clear communication, and recognizing and rewarding hard work and achievements. By leading by example, he helps keep everyone motivated and engaged.
Fostering growth for employees and the organization
Michael aims to foster growth for employees and the company by promoting a positive company culture. He keeps himself updated with the latest human resources trends to build solid and motivated teams. In addition, he sees himself as a mentor and guide for other Human Resource professionals, helping them to enhance their skills and reach their full potential.
As a leading provider of scientific instrumentation, reagents, and laboratory equipment, the company is constantly seeking to expand its product offerings and global reach. In this context, Michael strives to keep ANTISEL ahead of the curve by seeking new and innovative solutions to meet its customers' evolving needs.
Advice to aspiring human resource leaders.
Michael has a message for those aspiring to become HR leaders. He encourages them to maintain a curious and learning mindset, embrace new ideas, and take calculated risks. He also emphasizes the importance of serving others and fostering an inclusive culture. According to Miliopoulos, adaptability is critical in navigating the constantly changing business environment.
Conclusion
Michael Miliopoulos has proven himself as a strategic HR leader, who is passionate about innovation and excellence. With 18 years of experience, he has been instrumental in driving the company's mission to provide customers with innovative products and technologies.
He believes that success is not just about personal accomplishments but also about inspiring and motivating others, navigating challenges and adapting to change, and understanding the unique needs of team members. Throughout his career, Michael has learned valuable lessons from his challenges, which have helped him become a more effective leader.