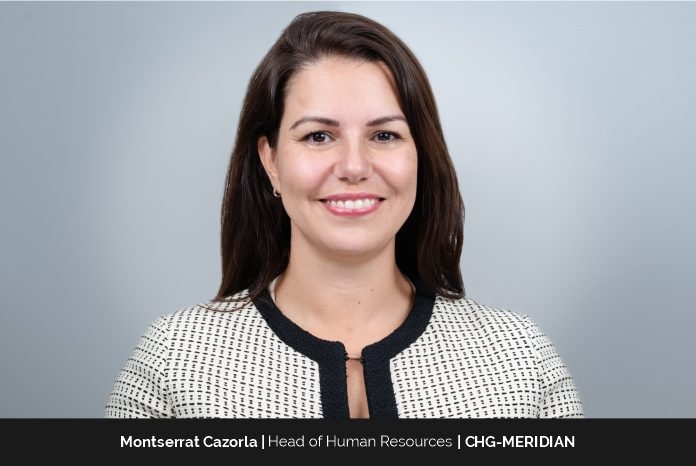 The COVID-19 pandemic has hastened changes in how we work and sparked a number of HR trends to which the human resources function as a whole needs to respond in a coordinated manner.
The top HR goals for 2022 are a swift reaction to these HR trends, which are compelling firms to alter their workforce and workplace policies. In order to improve the employee value proposition (EVP) and boost company performance, HR directors must adapt the way they identify, recruit, and retain vital talents as well as rethink work. HR executives have a rare chance to influence the future of work in ways that were not previously thought of as being beneficial to both businesses and employees. All HR professionals will face possibilities and difficulties in 2022 as a result of a few unique HR trends.
Montserrat Cazorla, Head of Human Resources Mexico, CHG-MERIDIAN, has more than 15 years of practical experience in organizational and talent development, including talent planning and attraction, change management, compensation, and training in a variety of industries, including retail, big 4, technology, manufacturing, and finance.
Montserrat frequently works on projects at CHG-MERIDIAN, so she categorizes the kind of project, its urgency, and the tasks that need to be completed during the day. She then schedules calls, brainstorming sessions, reviews of reports, interviews, meetings, and, most importantly, 1:1 meeting with her team or issues that come up at work.
The parts of Montserrat's career that she has always enjoyed the most are the times when she is interviewing potential employees or conducting in-depth conversations with them. It is at these times that a relationship of trust is first established, and Montserrat only needs to ask the right questions and have faith that the people she is speaking with are being honest with her. But very early on, she encountered a situation where she was able to stand by a candidate about a sensitive personal matter that he had brought up in the course of the interview. She recalls, "The person was surprised not only that I remembered what he told me after a few months, but that I came up with a solution that impacted his family and made me understand that I wanted to do that all my life and that was my best recognition."
About CHG-MERIDIAN
The CHG-MERIDIAN Group is one of the top independent technology developers, financiers, and managers of specialized, cutting-edge lifecycle services for the IT, business, and healthcare industries. It provides its customers with full assistance for their technological infrastructure, ranging from consultancy, financial, and operational services to used equipment remarketing services, with more than 1,200 personnel working in 28 different locations across the world.
The quest for a second-hand mainframe computer marks the start of CHG-history MERIDIAN's in 1979. Since that time, a lot has changed. The close contact with its clients, technological know-how, independence, and flexibility has all remained constant. Its current status as a global technology management and financing specialist is a result of all of these factors.
The circular economy has always been at the center of its business strategy. For more than 40 years, it has managed the technological investments of its clients, handling every stage of the lifecycle from purchase and usage through data erasure, refurbishment, and remarketing.
The company manages technology effectively for large and medium-sized businesses. It now manages technological assets worth more than €6 billion and serves more than 11,000 clients globally. Maximum transparency in technology management is offered to more than 15,000 users through the online-based TESMA® Technology and Service Management System. Germany's Weingarten is where it has its headquarters.
By incorporating new, complementary business models in 2022, the organization is laying the groundwork for future development and profitability: CHG-MERIDIAN is launching a subsidiary called devicenow GmbH to serve the global market for device-as-a-service ideas. Small and medium-sized businesses may purchase reconditioned IT equipment from the recently established B2B start-up circulation.
A True HR Expert
The fact that one may have a tremendous impact on business is what motivates Montserrat to pursue a career in HR. The importance of her subject is seen in how expectations, dialogues, decisions, hiring decisions, skill development, and the establishment of a culture with regard to what is permitted and what is not give a company a soul. She says, "Putting labels on some people because of my own silly paradigms and thereby limiting their potential, losing that person's trust, and worse, causing damage to their self-esteem, was undoubtedly the greatest learning of my life and career." She further adds, "This may sound obvious, but it is not, so seeing others as human beings, without labels, without judgement, hierarchy makes a completely different environment, free of bias, inclusiveness, and trust."
Input to Bring More Refinement
According to Montserrat, her main contribution to the human resources industry is to have an impact on leaders by working not for them but with them in a personalized way, through routine conversations aimed at developing a relationship of trust, taking into account their overall well-being as they work toward goals, and advocating success as a team outcome. She is convinced that creating good leaders is not a matter of an 8- or 24-hour training, but rather, like the torture of the drop, involves counseling on a daily basis, asking the right questions to determine whether people's decisions take into account the big picture, and maintaining relationships to the best of one's ability, regardless of the situation. Therefore, the human resources department must reinvent itself, forget what it was, and focus on the individual, without paradigms or categories, in order to help them feel like they are valued for who they are and that they are a part of the organization's culture. Effectiveness follows confidence and great results.
Montserrat is committed to the organization's vision and believes in bringing on the finest candidates. She shares her enthusiasm with the rest of her team and other executives and works to connect the organization's goals with each individual's own mission.
Learning, Living and Coaching Others for the Same
In the post-pandemic period, everyone is trying to figure out what the greatest work model will be to draw in talent, nurture it, and keep it, regardless of industry, location, or time of market entry.
Montserrat is enthusiastic about each accomplishment, both in her personal and professional lives, and she has very specific goals. She also enjoys having fun while learning, meeting new people, and guiding them. She enjoys challenging others to discover that purpose since, in the absence of it, management cannot inspire employees.
Montserrat's Success View
Beyond leading a human resources division, Montserrat's primary goal as a person is to influence how people achieve goals in terms of both productivity and economics. She understands that it is important to examine who will do what and for whom, to take into account a healthy atmosphere, to ensure that relationships do not deteriorate with time, and that collaboration entails responsibility but also benefits. Success is merely the result at that point.
Success for Montserrat is the outcome of her choices and deeds. She had to make better judgments throughout the experience, more deliberately and calmly, but the moment where she felt the most accomplished was unquestionably when she saw them manifest in the accomplishments of other individuals or teams. According to her, not everyone wants to affect other people, which is okay, but the absence of objectives or having them just individually makes it impossible for a team or corporation to hold onto one.
A Word for Emerging Leaders
As Montserrat feels that working in a company in which technology, sustainability, and customized services are part of its DNA, it makes it almost impossible not to have innovative ideas in day-to-day life. She says, "Everything we do is innovate, so a healthy environment is undoubtedly the basis for being able to do what we do." Creating a culture focused on people, where the corporate plan is matched with personal goals and that works toward success as a result, she continues, is crucial support. To become a true leader, Montserrat advises anyone who wants to move beyond the boss role to consider how they can serve their team, the business, their clients, and their coworkers and how much confidence they can instill in them so that they believe they can overcome any obstacles they may encounter.