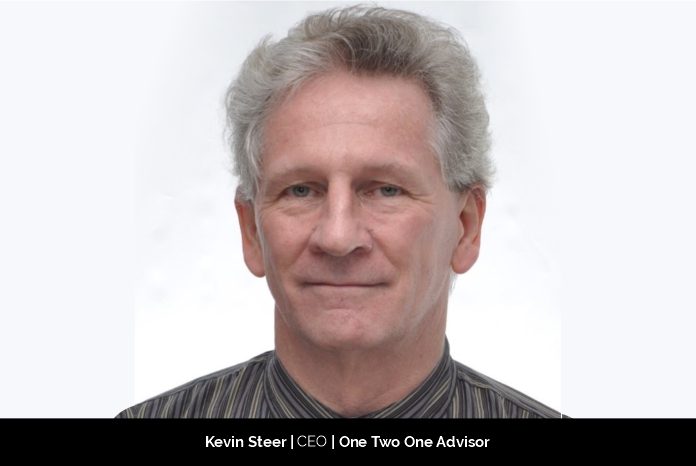 In today's capricious world, technology plays a crucial role in paving the way of a company to the top. Harnessing the power of the latest trends in technology like AI, ML, Robotics, and whatnot, Kevin Steer, CEO of 121Advisor, is disrupting the FinTech and InsurTEch sector with new innovative solutions. Boasting the motto, "We Don't Follow Trends, We Pioneer Them," the company is serving fantastic services to the clients to make their life smooth and easy.
Foundation of the company
At a very young age, Kevin understood the hidden potential in AI and Ml. He also realized that there was a need for innovative finance and insurance solutions, and the gap can be bridged by encompassing the power of the latest technology trends.
He expanded his academic base and added more skills to his armory. In 2010, he marked the advent of the company that was all set to disrupt the world of FinTech and InsurTech with its innovative solutions.
Having vast experience in the banking and insurance field, he structured the way of the company to mark its unique presence in the market.
Under his leadership, the company has won several accolades and awards. The company was ranked among the Top 10 InsurTech Consulting/Services Companies in APAC 2018. 121 Advisor was recognized as Recommended Insurance Tech Solution Providers for 2020.
Crossing every hurdle along the way
Kevin founded the company in 2010. At that time, InsurTech and FinTech were not that popular, so they persevered to sell their solutions and slowly expanded their customer base.
He adds, "We started building our solutions from scratch and implemented them. We grew the business and acquired more customers. Our lessons were to make our products & services Regulatory Compliant, for the cloud services."
The team focused on creating innovative solutions that allowed them to tunnel through the thick and thin time and expand their customer base. By 2020, they are serving 18 customers and are all set to expand their roots.
121Advisor:  Revamping the InsurTech and FinTech sector
Growing under the leadership of Kevin Steer, the company has implemented several innovative solutions in the industry.
Kevin states, "We have implemented 12 solutions, including Predictive Analytics Modelling, ChatBots & Robo Advisors, Web portals for a number of customers, Referral Management for banks, Sales Activity Management Solutions, Online store for selling Insurance & Takaful, Mobile solutions for Windows, IOS & Android, Customer Service Portals, Agency Management Solutions to compute commission & pay agents, Online Communities, Claims Management Solutions & Product Configurators to set up new products."
Even in the troubling times of the COVID-19 pandemic, the company introduced a knowledge portal, u12know, which advised people about their lifestyles (single, married, young family, grown family, retired), financial goals, and health and wellness.
Kevin mentions, "We will shortly be rolling out a 'Total Health Score' to assess if a person is healthy, unhealthy or in critical condition."
He expresses that the Millenials are the key demographic that is quite prone to fall into debt and max out their credit cards. So, the company wants to help them by advising them on health and financial planning.
121Advisor: Deploying Enterprise Digital Framework (EDF) for better solutions
The company uses its Customer First Connected Enterprise Digital Framework to understand the requirements of the business and match them with its objective. By comparing them, the company provides powerful insights that can help the clients to grow their business.
Kevin adds, "EDF supports the organization's need in achieving an overall digital experience in Marketing, Branding, Prospecting, Selling and Servicing."
The framework includes the following solutions that cover all the five aspects of consumer engagement.
Customer Self-Service Portal: View policies, update profile, pay a premium, print statement, service requests & claims notification.
Choices Online Store: Simplified UX, integrated payment and submission, Online Insurance Point-of-Sales
Takaful & Insurance Mobility Made Simple: Cross-platform Mobile Point of Sales Prospecting & Sales Fulfillment on the move with e-Payment services & e-Signature.
Enterprise Product Configurator: Create, validate and test new products & deploy to a common product rules engine running on Mobile Apps, Windows, and Online stores
Community & E-worksite Marketing & Distribution: Build online communities to offer Financial, Insurance & Takaful products direct to community members.
Referral Management & Marketing Automation: Generate Leads, acquire referrals, track consumer experience, establish digital marketing capabilities, using consumer analytics to run targeted campaigns.
Web Portal Solution for Sales & Servicing: Responsive design, SEO-friendly website, digital marketing, distribution, and service channel.
Multi-channel Distribution Management: Simplified digital channel & affinity partner management, reporting & compensation payment
Multilingual Chatbot for Financial Insurance & Takaful: Providing 24*7 personalized consumer engagement and lifestyle financial Robo Advice.
Digital Marketing Services: Online Engagement, Social Selling, Empower Agents and Companies on social platforms.
With this framework, the company delivers personalized engagement to the financial, insurance, and takaful business.
Expanding under the leadership of the CEO, Kevin Steer
121Advisor has influenced the industry using AI Predictive Analytics, as well as ChatBots & Robo Advisors. They have implemented Mobile Point of Sales solutions for agents, as well as Customer Portals, where we can submit service requests and update the customers.
Being a techie, Kevin keeps on infusing the power of the latest trends in technology into their solutions. Under his wings, the company has started selling its products to different companies, including Manulife, AIG, AIA, MCIS (part of Sanlam Group), Etiqa, Sunlife Malaysia, AmMetlife, AmMetlife Takaful, Zurich Takaful, FWD Takaful, Bank Simpanan Nasional, MBSB Bank.
Getting his constant dose of motivation from his passion for technology, he aims to instill the same feelings in his team.
He expresses, "We motivate our employees by showing them new solutions to implement and advise them on the solutions to build, giving them advice on new products."
Mission, Vision, and Future Prospects of the company
The mission of 121Advisor is to deliver cost-effective solutions that empower Financial, Insurance, and Takaful providers with robust, innovative technology solutions enabling the generation of quality leads, secure sales, and building customer loyalty in a professional and regulatory compliant manner.
Kevin wants to see the company as the renowned Financial, Insurance, and Takaful technology enabler in the region. He adds, "With our knowledge portal (u12know), we want to expand into other countries (Indonesia, Philippines, Vietnam, Myanmar). Then in the future, expand to Europe & the US, providing multilingual translations."