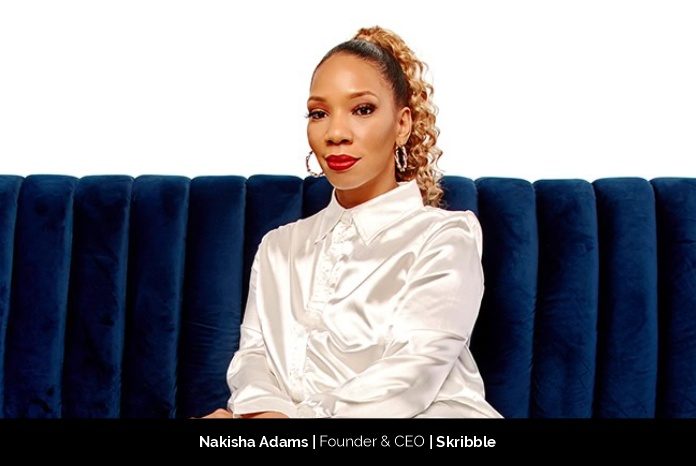 To achieve success and mark a unique identity in the market, one should try to think out of the box. Being a firm believer of this notion, Nakisha Adams, Founder and CEO of Skribble, grabs new opportunities with an unorthodox approach without thinking of the outcome. She believes it is necessary to take steps out of one's comfort zone to achieve new heights. No doubt, it will be difficult, but it will reap good results. She adds, "It is easier to step back and critique the mistakes of those who are navigating outside the box. Putting yourself in a position where you attempted something, knowing you may fail, that is a success."
Journey to success
Before Skribble, Nakisha was in Corporate America. She always had a passion for attaining a good education. While progressing forward in her career, she completed her BBA degree from the University of Wisconsin, MBA from Cardinal Stritch University, and Bachelor of Science Management from the same university.
Having a good hold on numbers, she stepped into the finance industry and continued to climb the ladder of success. However, at the back of her mind, she always wanted to help people rise. At one time, she was balancing the scale between a working job and her passion for helping nonprofits.
She knew she had to make a tough decision and leave one thing to give her best. Her significant other, Sean Rush, pushed her to follow her passion, so she left her job and stepped into the entrepreneur world.
She adds, "I saw that there was a need, not only the need for women in this industry but women of color. To be able to assist an individual in telling their story is one thing, but to assist an individual in telling their story, because you see yourself in it, is another." She took matters into her own hands and laid the foundation of Skribble.
Growing stronger with challenges
Nakisha believes that challenges make a person stronger. After overcoming them, a person can reflect on the journey and see the changes for oneself.
While climbing the ladder of success, she had to cross several hurdles. She left a working job which gave a blow to her financial stability and security. She stepped into a new world, where there were many unknown variables to encounter.
Moreover, she had to familiarize herself with the concepts of entrepreneur life. To normalize the situation, she had to learn to manage her time and understand other key concepts.
However, with strong determination and a never-give-up attitude, she crossed every hurdle and came out victorious.
For the rising businesswoman, she mentions, "Never be afraid to step outside the box. There will never be the "perfect or right time" to go after a dream. Sometimes you just have to do it and figure it out while you are in it."
Assisting nonprofits with Skribble
Skribble is a nonprofit consulting company that assists nonprofits with strategic planning, grant writing, and board development. The team meets organizations where they are at and takes them where they want to be.
She adds, "My contribution to redefining the industry is working with smaller nonprofits to assist them in their goal of being recognized by funders that tend to give to larger know organizations and to assist them in building bridges, which allows more visibility for the work they are doing."
The vision for the company is to continue to deliver services that assist others in changing the communities they serve while being innovative in the way those services are delivered.
Wearing the hat of the CEO of the company
Her responsibilities as a CEO are to create and implement growth strategies, build and maintain the right team of individuals, and ensure the brand of Skribble maintains a cohesive message that is broadcast on all platforms.
She likes to manage her day so that she can look after every client. She takes up the work according to the highest priority and adjusts the future events with the same approach.
She makes sure that when the team is working on a project, then everyone focuses on it without any disturbance. This way, she ensures that they maintain a high quality in their work.
She likes to end the day by discussing the agenda of the next day and making sure that everything is over for the current working day.
She keeps herself and her team motivated by pondering over the core mission of the company itself. She adds, "I remember and remind us of the "WHY." Why are we doing this? I am not doing this for me, but for the organizations that trust Skribble with their missions."
She wishes to continue to learn about business as it relates to nonprofits. She adds, "I have several mentors around me that continue to push and challenge me so that I never get too comfortable."
Other than this, she wants to pay back to the community. She grabs the opportunities where she can speak to the other young women about her journey and provide assistance to people so that they can pave their way to the top.
She expresses, "My vision is to continue to build a legacy. I want to know that when I am no longer here, I have created and left something for my children that changed the lives of individuals in a positive way."
Balancing work and personal life
While fueling the growth of her company, she makes ample time to indulge with her family. She states, "I designate time to ensure I do not miss out on opportunities with my children. Before Skribble, I hated missing games, plays, and other special moments. Now I make sure I am able to attend games. Pick up my children from practices and can be home when they arrive from school."
Future plans for the company
Nakisha aims to expand the roots of the company in the coming years. She adds, "I want to continue to build clientele in other states and countries. I would also like to start a nonprofit foundation that assists young women in their entrepreneurial goals."