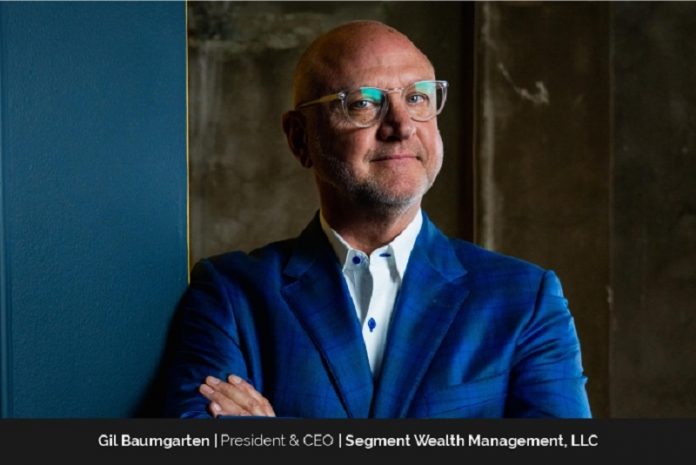 In today's global market, comprehending the diverse definitions of success across cultures is paramount. To discern how leaders perceive this treasured trait in their professional and personal lives, we sought the stance of various prominent personalities. In our cover story today, we explore the insights of Gil Baumgarten, the President and CEO of Segment Wealth Management, LLC.
Gil Baumgarten, an esteemed financial advisor and industry veteran, founded Segment Wealth Management in 2010 to create a fiduciary firm that prioritizes the alignment of client and firm interests.
As a distinguished name in the investment industry, Gil was recognized as one of the "Top-20 Exchange Traded Funds Thought Leaders in America" by Barron's and The Wall Street Journal in 2019. He has consistently ranked among Barron's "Top 1,200 Financial Advisors in America," having earned the distinction of being a Top 25 Financial Advisor in Texas for 2023. He was also named one of Houston's Most Admired CEOs in 2022.
Gil aligns with Warren Buffett's definition of success, which posits that success is reverence by associates and love of family. In his view, a life well-lived is marked by the endearment of one's loved ones and the admiration of one's peers. While financial success and professional achievements can facilitate this, they do not exclusively define it. Success in personal and professional domains stems from virtues such as love, honesty, integrity, kindness, generosity, patience, and self-restraint.
Baumgarten's ardour and unwavering commitment have secured him a prestigious standing among "The 10 Most Influential Finance Executives to Watch in 2023."
Aspirations and Childhood Experiences that Shaped Gil's Values
We asked Gil to define himself in one word. He chose: 'Resilient'. Gil attributes this to the trauma his family experienced through his parents' divorce fifty years ago. He developed skills in math, determination, and patience that he uses in his career as a top financial advisor, as well as an acclaimed artist. Gil once performed a study for his firm, Shearson in 1989, which revealed that financial trauma as a teenager was the single most common trait among top-performing stockbrokers.
"My brother and I were raised by a single mom. Although she did a great job raising us, we had the typical struggles of that kind of arrangement. I wanted more for my kids. I wanted more resources for them and to be part of a parental team that has an enduring marriage. It was something I did not experience as a kid and felt was a huge advantage for my children."
Carving a Career: Gil Baumgarten's Journey in the Brokerage Industry
Gil Baumgarten's career as a stockbroker began in the mid-1980s when he joined EF Hutton, a prominent brokerage firm at the time that later merged with Morgan Stanley. Gil's professional journey led him to pioneer the use of Exchange Traded Funds (ETFs) as a tool for building client portfolios. In 2002, he was a part of UBS's original beta test team, where he was permitted to run discretionary ETF portfolios. Despite being cost and tax-efficient, ETFs were not widely embraced by the brokerage community due to their lack of revenue streams kicked back to the brokerage firm, as is prevalent in the mutual fund industry. Baumgarten likes to say that ETFs are quite a bit more "investor friendly."
Gil's experience at EF Hutton and UBS marked the beginning of his career and shaped his perspective on the brokerage industry. He recognized the implication of innovation, diversification, and transparency in investment management and client relationships. These early experiences propelled him to become a prominent leader in the ETF space.
Lessons Learned from Roadblocks in Professional Journey: Client Relationships and Commoditization
While working for two of the nation's largest brokerages, Gil hit several snags that taught him powerful lessons that reinforced Gil's ethos for valuing customers. During a conversation with his boss, Gil expressed concern about a self-serving rule negatively impacting his client. His boss's response rang an alarm. Recalling the conversation, Gil shares:
"He said that I worked for the firm and not for the client and protecting the firm's interest was in my interest. I told him he and I were not in the same business."
The boss also warned Gil about the firm's ownership of client relationships and discouraged him from pursuing ideas of taking his patrons elsewhere. In response to his warnings, Gil stated his opinions without mincing words and said:
"I told him that what he provided was a commodity and that every client was brought to the firm by way of my personal relationship with them. I also promised him he would get a chance to prove who had the upper hand in his theory that the firm owned those relationships. I left six months later, and they kept none."
Putting Client Interests First: Why Gil Baumgarten Left Traditional Brokerage Behind
Although Gil had a successful 25-year career as a broker, he wanted more from the profession. One major issue with a traditional brokerage is the way it handles taxes. According to him, traditional brokerages often prioritize client activity over results, leading to higher expenses and friction for clients, as many brokers tend to avoid giving tax advice and engage in trading behavior that can harm investors' tax advantages. Gil believed this misalignment of interests needed to change.
He left traditional brokerage behind 13 years ago to achieve this goal and founded Segment Wealth Management with the belief that advisory clients deserved more allegiance than the industry was delivering.
"We custody client money at Schwab for safety and reliability, and our advice business is fully fiduciary. We do for clients what they would do for themselves if they understood how the watch was made," the Founder and CEO remarks. "Having been a stockbroker giving advice and listening to clients before starting my own firm, I understand how investments work and how people think."
Segment Wealth Management: A Leading Financial Advisory Firm
Segment Wealth Management is a prominent financial advisory firm that operates under the guiding principles of low fees, tax efficiency, and a long-term perspective for economic prosperity. The firm offers specialized investment strategies and provides asset management services to its clients. Doing it this way eliminates an entire tier of fees that most advisors allow to be imposed on their clients. Baumgarten estimates these fee savings to his clients exceeds three million dollars per year. Under the astute leadership of Gil Baumgarten, Segment Wealth Management has garnered over $1.2 billion in Assets Under Management. The company is steadfast in its commitment to ensuring that its clients' best interests are always prioritized.
In the financial industry, brokerage business models often have flaws that can harm clients. These models are often associated with backroom dealings and kickbacks that harm clients; practices that Segment Wealth Management criticizes and points out.
Gil Baumgarten's Fiduciary Mindset: A Key to Segment Wealth's Success
He believes that a fiduciary mindset, where client care is at the forefront, is the key to success in the financial advisory industry. By reducing friction points such as the tax issues mentioned above, and customizing investment strategies to individual tax situations, Segment Wealth Management has achieved impressive results for its clients.
This approach has resonated with sophisticated investors who want to maximize their returns without the burden of navigating complex tax laws. As a result, Segment Wealth Management has grown by 500% over the past decade, setting an example for other firms in the industry to follow.
At Segment Wealth Management, integrity and innovation are two core values that define their approach to client services. As a fee-only fiduciary, the firm is committed to empowering clients to make informed financial decisions. Baumgarten laments that there are many grey areas in the advice business. He says it's much easier to navigate as a fiduciary since everything is cut and dried.
Leadership and Strategic Responsibilities as President and CEO of Segment Wealth Management
As President and CEO of Segment Wealth Management, Gil Baumgarten oversees various critical responsibilities to ensure exceptional client service and sustained business success. Among his leadership responsibilities, he establishes policies for addressing multiple client needs, such as developing the tax policy for tax-managing clients' gains and losses.
Gil also leads the investment strategy committee, where he and his team determine what investments to buy and sell for clients. With his vast knowledge and experience in the brokerage industry, Gil is equipped to provide expert insights and guidance that align with the firm's investment philosophy and client goals.
Another essential aspect of his leadership involves managing clients' charitable activities. At Segment, the team optimizes client-giving programs to maximize their impact and minimize costs. By leveraging their expertise in charitable giving, Gil and his team empower clients to expand the reach of the charities their clients support, as well as create meaningful and lasting legacies that align with their clients' values and financial goals.
Tax Efficiency: Driving Exponential Growth at Segment Wealth Management
Segment Wealth Management has experienced remarkable growth, attracting over a billion dollars in new investments in recent years. This success can be attributed to the firm's unique positioning at a crossroads where investors often find themselves stranded in a "no man's land," according to the CEO and Founder.
At Segment Wealth Management, the team recognizes the gap between investors' desire for tax efficiency and the narrow focus of their hired professionals, including CPAs, Financial Planners, and Brokers. They have developed a methodology to bridge this gap, offering clients comprehensive wealth management services that serve their best interests.
The firm's outstanding results and tax-efficient strategies have attracted wealthy professionals and entrepreneurs seeking exceptional guidance. Their success has been bolstered by positive referrals from clients' trusted CPAs, who have become 'big fans' of Segment's approach.
"We give the client all of the grey area. I view Segment as being a part of our clients' team, and we never leave our team members in a bad spot of our doing, or by arranging things so we come out ahead. That is a non-starter," shares Gil Baumgarten, the Founder and CEO.
Navigating the Tax Code: Best Practices for Investors
According to Gil Baumgarten, navigating the tax code is critical to successful investing. At Segment, the team maintains a hierarchy of what the tax code encourages and discourages, prioritizing these in order of value for their clients. Used correctly, this would create and optimal path for client decision making. To ensure that their portfolio actions align with the parts of the code that offer the most powerful benefits, Segment works closely with clients and their CPAs to help them navigate the various financial turns of life. This proactive communication is critical to preventing clients from inadvertently creating tax liabilities that run contra to best practices. Investors often need a deeper understanding of tax policy and need investment professionals who are similarly familiar with the nuances of the code. While some CPAs are willing to offer investment advice, many prefer to stay out of this space.
Segment Wealth Management has earned a stellar reputation amongst its clientele by consistently exceeding their expectations and stressing tax efficiency and strict adherence to sound investment policy, consistent with the tax code.
How Tax-Free Benefits Can Impact Investment Policy
"The most powerful part of the tax code concerns how tax-free benefits are allocated," explains Gil. For instance, the "Step-Up in Basis Rule" is a tax-free benefit allocated when an owner dies. This benefit waives the capital gains taxes of every property the deceased owns. However, engaging in transactional management of stocks can wipe out this tax-free gain with every sale. Understanding this concept can change investment behavior and the choice of advisors. Segment Wealth Management helps clients optimize their benefits.
Future Plans for Segment Wealth Management
Gil's experience with Segment Wealth Management has exceeded his expectations. The company has grown beyond what he could have imagined. He has been fortunate to have a team of exceptional employees working collaboratively to deliver holistic solutions for their clients. He is particularly grateful that the company has achieved this without any internal drama. This growth has also given him more freedom and resources than he ever thought possible.
This savvy businessman is focused on institutionalizing Segment Wealth Management to ensure its longevity beyond his tenure. It includes finding capable hands to lead the firm and serve future generations of clients and advisors.
Gil Baumgarten's first book, Foolish: How Investors Get Worked Up and Worked Over by the System
In addition to his accomplishment as a financial advisor, Gil is a published author. His debut book, "Foolish: How Investors Get Worked Up and Worked Over by the System," was released in May 2021 and bagged Best Seller status on Amazon. This book delves deep into the intricate ecosystem of the brokerage industry and points out several practices that brokerage houses should avoid if building trust is their ultimate objective. It also examines fear, greed, ego, and self-justification, all human nature traits, and how they can contribute to a downward spiral for investors.
Balancing Work and Personal Life: Insights from Gil Baumgarten
Baumgarten strives to maintain a healthy equilibrium between his professional and personal life. He prioritizes spending time with his family over his work. By focusing on these priorities, he ensures that his most important relationships remain enduring and well-nourished. As a result, he looks forward to his work and finds it fulfilling instead of burdened by it.
He shares: "Every day is new, and I encourage my employees to have a similar outlook. I understand that balance is important, and I aim to keep our work environment as stress-free as possible."
Revolutionizing the Finance Industry: The Impact of Modern Technology, as Explained by Gil Baumgarten
Three decades ago, the large brokerages monopolized the business, relying on their ability to invest in technology to meet their clients' needs. However, the introduction of powerful off-the-shelf software, starting around 1994 and accelerating ever since, has revolutionized the industry.
Over the past two decades, client assets have naturally moved towards independent advisory firms, offering greater transparency about the differences between the fiduciary advice business and the brokerage business. The result is a more competitive and diversified financial landscape driven by technology.
Unlocking Your Potential: Advice for Aspiring Business Leaders from Gil Baumgarten
Gil Baumgarten shares his insights with aspiring business leaders. He advises, "The key to reaching your potential, and experiencing success and fulfilment, is by unlocking that door in front of you called fear." Reflecting on his journey, Gil conveys that he stared at the fear door for too long, waiting until age fifty to start his own business. He encourages others to avoid making the same mistake and to take action sooner rather than later. In addition to overcoming fear, the veteran leader emphasizes the importance of being fearlessly truthful, particularly about what one believes in and is passionate about. Baumgarten is convinced that pursuing significance while aligning actions to your beliefs creates more happiness than the outright pursuit of happiness alone. He concludes, "Speak the truth boldly and let the chips fall where they may."