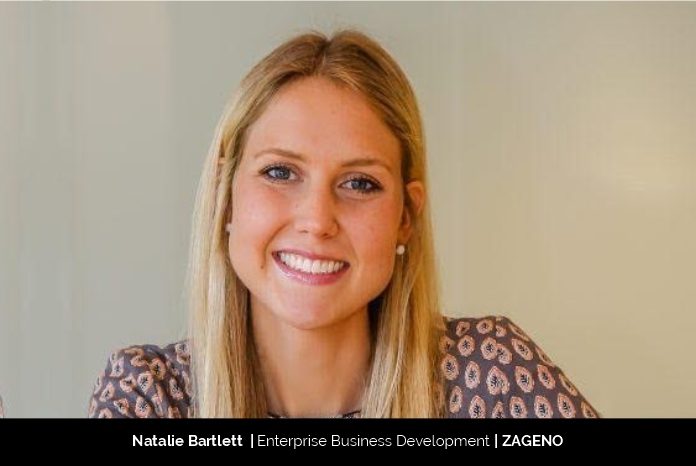 Helping pharmaceutical companies save lives by saving time, Natalie Bartlett works with scientific and R&D procurement executives at global pharmaceutical companies to help transform their scientific user experience for purchasing R&D supplies and thus improve their time-to-milestone. Currently, she is the Enterprise Business Development at ZAGENO.
Natalie is a start-up investor turned operator who is particularly interested in how new software technologies may help the life sciences industry become more efficient.
In her leisure time, she teaches yoga at a local studio and loves integrating this emphasis on presence, authenticity, and mindfulness into the business world.
Journey to Becoming Proficient
Natalie has always been interested in the medical field because both of her parents are doctors. She started college thinking she'd be a pre-med candidate, but psychology and business classes piqued her attention. She says, "The notion of being in the "business of science" remained with me." She further adds, "I just had to take my own path to get there."
Natalie's first several jobs were in venture capital, where she looked for early-stage software investment prospects. These positions taught her a bit about a variety of disciplines and gave her a prism through which she could evaluate the long-term worth of firms. With this background in mind, she chose ZAGENO and bet on a company that could generate significant value for both the industry and investors.
For Natalie, joining ZAGENO wasn't a step of faith—quite the opposite, actually. She recalls, "When you encounter smart people with a vision that you share and an opportunity that fits your skills along with an ability to grow, it's a sign of a path anyone should take."
Natalie's average week at ZAGENO consists of a variety of tasks that assist in moving deals from start to finish, both client and corporate facing. This comprises marketing to potential clients, first conversations; platform demos, business case development, and navigating the contract redline procedures to signature. Every contract, she believes, needs internal navigation and training so that the team is prepared to take on new customers as they arrive. Weekly pipeline checks with her team, commercial reviews with leadership, and onboarding conversations with the company's customer success team are all part of her job description.
Being Flexible while Conquering Challenges
According to Natalie, challenges are inherent in building a career or growing a business. She suggests that an important lesson to learn is that challenges are frequent and numerous, but they are exacerbated if one is not adaptable. "You accept the constant changes and learning that's inherent in a fast-growing company, then the "things" that could be perceived as challenges become just turns in the road to get you to where you are going," says Natalie. "Some turns simply have bigger roadblocks than others."
Natalie has come to appreciate having a trusted boss and mentor who can help navigate creative solutions to get around almost any of these challenges.
ZAGENO
ZAGENO is the sole source of supplies for the research community, with a marketplace that contains tens of millions of specialty, commodity, and industry-leading items. In addition to its marketplace, ZAGENO offers digital solutions to alter the process of product comparisons, availability, pricing, and purchasing. ZAGENO was started in Germany in 2015 and has since expanded to include offices in the United States, the United Kingdom, Germany, Belgium, and India.
ZAGENO was created so that researchers may devote more time to study and have more eureka moments. To do this, it has created a feature-rich marketplace that allows users to make informed, fast purchase decisions.
Leading the Team in Rising Competition
Natalie opines, "The biggest competition is the status quo from customers sticking with what they're familiar with." As she sees it, in life sciences and specifically supplies for R&D, this means relying on the same distributors and people to help navigate purchasing. Natalie also adds that while consumer ecommerce evolved years ago, the same has not occurred for the lab researcher community. She asserts, "Resistance to change—no matter its source—is what we compete against and is actually the most challenging and most exciting part of my role." It compels Natalie to find early adopters and assist them in persuading others in the organization of the benefits of a contemporary R&D buying process in terms of time and cost savings, as well as predictability of supply flow to the lab.
Recognition for Unwavering Determination and Hard Work
In the roles Natalie has had at ZAGENO, she has come to appreciate just how important relationships are with superiors, especially those passionate about helping their teams grow. "Separate from everything else, knowing that the person to whom I report invests in my success is a huge driver of my hard work," adds Natalie. "Last fall, after spending only six months in a brand new position, this person announced that I was one of the best salespeople he'd ever worked with."  For Natalie, this recognition trumped all other awards or honors because it was based on a personal connection and investment.
Perfecting Balance in Life, Mind, and Work
A few times per week, Natalie teaches an evening yoga class, which she sees as a way to find clear separation between her work and personal day. Natalie asserts, "I get to close my laptop and interact with people from all walks of life in a more energetic and spiritual dimension."  Natalie values sleep and spending time with her friends 3-4 times each week, whether for a walk outside, dinner, or a gym class. She is most driven when she has a clear head and is in good physical, mental, and emotional condition.
Insights on Success
Most people define success as achieving whatever goals they set for themselves. This is a common definition and easy to measure. Natalie's defines, "In my role, success might mean booking X number of deals with Y revenue. I think of success differently. In my view, it is not only achieving the goal, but building an intentional set of knowledge for yourself and others along the way that makes performing the next goal exponentially easier, faster, and/or better than the last." She further adds, "Take the sales function as an example. To be more successful it should include building resources that can be applied to new steps of the deal process such as documenting customer personas." Natalie's use of "intentional" is very important here because as she believes, "knowledge is an outcome of almost every process towards achieving a goal, but unless one is presently focused on acquiring and organizing this information, it loses its power."
Plans for the future of ZAGENO
Natalie aspires to see ZAGENO succeed in its goal of becoming a public corporation. While she is unsure of her future at ZAGENO, she expects to generate new pharma business in the immediate term and maybe employ additional individuals as the company's pharma team grows.
As a woman leader, Natalie strives to be an approachable mentor for any woman at any point of her career who can relate to her narrative. She emphasizes, "I would also like to bring more male colleagues into the conversation to help young females navigate their career paths."
Natalie's advice to aspiring female leaders is to cultivate strong relationships with people who are involved in their success. She goes on to say that you can accomplish this by being accountable, being incredibly communicative, and working together to attain your goals. "When you help the team and company achieve success through your own success, it's a win-win," says Natalie.