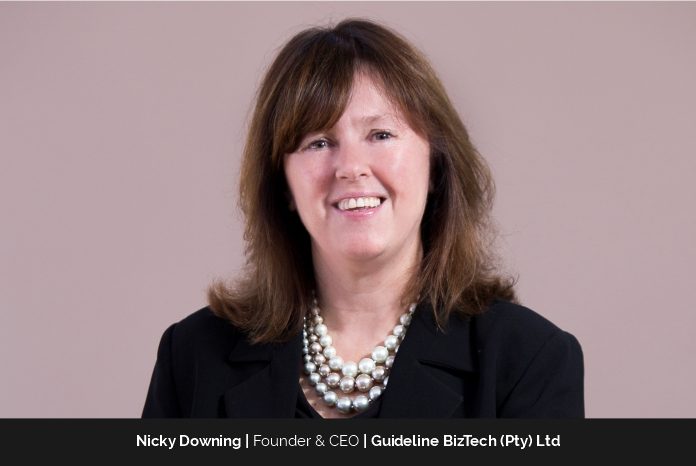 Ranging her expertise from developing software solutions to specific business requirements around improvement in business management and performance, Nicky Downing has more than 20 years of experience in the design, architecture and successful deployment of GRC solutions. Nicky has often presented on the subject at tertiary institutions, such as UNISA and Technicon SA, giving guidance and insights to students, with respect to technological approach to support, governance, and compliance management strategies to their fullest. She has spoken at a number of GRC conferences as a guest speaker. Nicky, further, gives educational and awareness briefings, on integrated risk management, corporate governance, and international standards, to company boards and management teams on a regular basis.
Guideline Biztech's Founder and CEO is Nicky. Although most of the firm's design work is now managed by the excellent RUBIQ key design, development, and test team, she is the firm's primary subject matter expert and provides a significant contribution to the direction of its RUBIQ GRC product offering. Nicky has played a key role in the development and implementation of the RUBiQ platform as a leader.
Growing as a Leader
Nicky entered the corporate sector when she was 23 years old. She'd just returned from the United States and was the mother of 18-month-old twin children with little resources and support. She had some experience with e-books and hyper-link technologies in their early stages. She saw an opportunity to convert the Occupational Health and Safety Act from a physical book/legislation to a more user-friendly, e-book format. This was her first foray into the governance, risk, and compliance field. Nicky used this chance encounter to learn as much as she could from some very remarkable people in the risk and insurance business, as well as the large South African corporations for whom these people worked. "I, was lucky enough to have doors open to be able to take the most unique journey into the university of real world life application, in GRC systems design and how to improve the workability of management of risk; embed better governance into organisations, find more effective ways of managing the ever growing demands of internal and regulatory compliance, all the while gaining a tangible understanding of what works, in realistic terms, and what is doomed to failure," says Nicky.
RUBiQ
RUBiQ is a cloud-based platform that uses cutting-edge technology to provide a genuinely unique, comprehensive, and dynamic governance, risk, and compliance ("GRC") management solution for any sized company, wherever in the world. RUBiQ is easy to use, has a lot of, ready to use knowledge repositories and information and features, and is inexpensive, regardless of the size of your company.
RUBiQ was founded in response to a demand for businesses to improve governance, minimize enterprise risk, and comply with particular compliance requirements that the majority of them are unaware of. This risk management framework allows your company to run more effectively while also assisting in the development of a strong and well-respected work culture among your workers.
Because its whole infrastructure is cloud-based, and is supported by a knowledge rich, structured implementation approach, the RUBiQ platform is always on, always updating, and constantly advising, and can be accessed from anywhere in the globe. Multiple accolades in GRC technology progress have been received as a result of these breakthroughs – for a team that merely wants to simplify this difficult but important environment.
Achieving the Unachievable
As the saying goes, if you want to see a very successful entrepreneur or captain of industry, a successful individual at the top of their game, you should search for someone who has gone bankrupt and struck rock bottom at least once, if not twice or three times, prior to success. Nicky thinks that genuine power comes from facing actual hardships. She asserts, "This type of individual will tend, no matter what, to pick up one's bootstraps and step up, when it feels like it is just impossible to go on, and then achieve the unachievable."
Nicky has a personal mantra that she repeats often: "Happiness is the overcoming of not unachievable obstacles towards the given goal." She claims that this essentially necessitates a bird's eye view, stance on the part of the leader/leadership, with a clear strategy in place that allows for the continuous evaluation, of the business/enterprise's forward momentum, with consistent correction and adjustment, of course, as a good captain of a ship will do, along with an exceptional navigator. In development of effective, winning strategies, she also says that while difficulties are necessary, each one must be "overlookable" (achievable) in order for the wins, (success factors), to be accessible for everyone to benefit.
Filling Every Role Passionately
Nicky tries her hardest not to be CEO at home, since her primary responsibilities, in this arena, are as a wife and mother. These two domains have extremely different dynamics, and if an individual combines them as one, they will eventually cause conflict. So, she's done her best to keep the family and business relationships as distinct as possible, focusing on family time as a key part of the day, while also ensuring that her family is aware of her CEO role, which she must give her all to during business hours. She says, "This has worked for me and has maintained a balance, which has in many ways contributed to my success. So, I can put my jeans on a just be a mom and a wife but can also focus on what is needed, when it is needed, in the role I play for Guideline and RUBIQ."
Following Transparent Work Culture
Nicky has acquired a strong interest in the areas of governance, risk, and compliance, as well as how the proper technology, when designed and implemented correctly, may really improve circumstances in any Organisation. This is something she tries to instil in each of her top executives, and she appears to have been rather effective. "Interest and purpose, they say, will wake the dead, so I find each employee's interest, as best I can and then get them to define their function, in line with their key purposes and life goals," explains Nicky. She further adds that this gives them passion, drive, and self-motivation, which ultimately leads to a highly effective team.
Nicky is very transparent with all of her employees, and she has weekly staff meetings where she shares as much of the firm's overall goals and strategy, as she can. She feels that maintaining openness of vision and consistent and open communication with your whole team is critical. They want to be on the same page, and it's a leader's role to bring them there and let them understand the thrill of the company's future growth. She goes on to say that this allows workers to participate in a more knowledgeable and engaging way, and you get the most of what they have to give.
Success for Nicky
As Nicky sees it, success is a succession of incrementally increasing awareness, of the road one travels, which is bolstered by the perspectives, opinions, effective deeds, and guidance of every single person one encounters along the way, all of which have some meaningful contribution to offer, if one takes the time to properly listen. Clients, partners, workers, topic experts, educational specialists, technicians, shop floor stewards, cleaners, board executives, advisers, consultants, and everyone else in between, she claims, provide these insights. She says, "I would say, in the early years of the companies I formed, built, and lost, my single best developed skill, was the art of listening more than I needed to hear my own voice." She recalls that listening to what clients needed and desired, along with listening to and keenly observing the GRC trends, was a key factor in her decision to start Guideline Biztech and design the RUBIQ Platform. She also adds that listening to employees as key team members about what they needed to improve their ability to contribute to the overall stated goals of Guideline and RUBIQ, as well as how to make improvements, for not only her client in the use of the application, through past failures and competitor success, but also listening to employees as key team members about what they needed to improve their ability to contribute to the overall stated goals of Guideline and RUBIQ.
Vision to Acquire Global Reach
Nicky has a variety of active, local and worldwide expansion plans, for Guideline and RUBIQ, some of which she can reveal and others which are still in the works. She said the firm's current focus is on cyber risk management as well as data privacy and information security. Overall, within organisations as a whole, there is still a significant lack of awareness, skills, and maturity when it comes to cybersecurity, data privacy, and security management, as indicated by the cyber criminals' winning score; realized in the rising number of data breaches and ransomware assaults observed throughout the world in the previous two years. So, Nicky finds a lot of work is going into this space, in all respects of process, services, technology, training and awareness, etc. She states, "There is still much more to do, but we are definitely seeing improvements in the clients we are working with."
RUBIQ will continue to push its fundamental vision on a daily basis, according to Nicky, with an ingrained capability to listen intently to what is required and wanted, and then ensure the Organisation delivers and maintains that every day, is a critical part of our RUBIQ ecosystem.
Advice for Emerging Futurists
Nicky advises all young people today to be as true to themselves as possible; this is easier said than done in today's environment, as many young people enter adulthood with numerous self-confusions and anxiety. She goes on to say that if you want to be a successful leader, you must first be centered and self-assured, calm and happy within yourself, before extending your wings and making your impact on the world. Leaders of the future need to be able to keep their head and see their way through the problems, when others are less calm, and chaos abounds. She goes on to say that empathy, genuine understanding, and genuine caring for others, as well as discovering your true passion and staying the course, will lay a solid basis for your future potential success. Also, as Nicky points out, LISTEN, LISTEN, LISTEN to everything around you; there is so much to learn in the environment we live in, and by simply taking the time to look around us, take it in, and listen, opportunities will present themselves, in unique and remarkable ways.