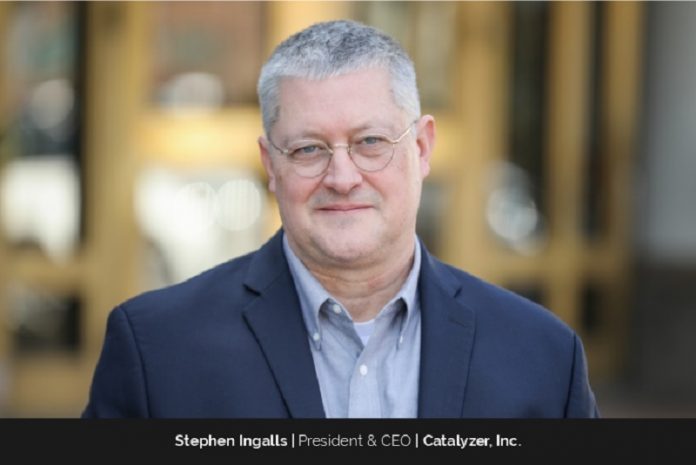 Incomplete, humbling, and intensely gratifying is how Stephen Ingalls, President and CEO of Catalyzer, Inc., describes his journey as a leader. In his long and distinguished career, Steve may not have achieved all that he had dreamed of, but he has found his dream job. "Catalyzer gets me out of bed in the morning, keeps me rapt in almost every moment, and drives me to be better," he says.
At Catalyzer, Steve sets direction, ensures quality, oversees organizational health, and is the caretaker for the organizational culture. As he leads a small business, he does not follow the axiom that CEOs "don't work in the business, they work on the business." He violates it.
"I don't feel we can enjoy the luxury," says Steve. So, he also oversees corporate operations, leads curriculum development, and leads their business development and sales efforts. He is heavily involved with program delivery as well.
Catalyzer: A People Company
Catalyzer, previously called LGL Leadership, combines rigorous leadership study with high-energy programs delivered by a cadre of accomplished leadership practitioners. The company was founded on the belief and buy-in of its founders. "To think we'd be where we are based on two checks, each written for $883.50, is mind-boggling," says Steve. "Beyond that, our team's academic and business foundations, excellent education, and experience paved the way for what we do."
The military backgrounds of the company's core group add a level of pragmatism to the academic – helping it "uniquely" approach its craft with humility and intellectual curiosity. Steve calls Catalyzer first and foremost a people company – that just happens to offer leadership development services.
Since 2009, Catalyzer's growth has been sporadic at times; however, when it comes to metrics, its 2021 gross revenue was about 525 percent higher than that in 2011. This year the company has already set a new revenue record, and Steve expects the 2022 revenue to double in size from 2021.
Growth, however, is not the sole focus or objective of Catalyzer's top leadership. They also sustain a strategic objective of growing their thinking. Steve points out that they have done a fair job of that over the years through new and unique curricular programs, facilitator development efforts, and recruiting. "By the way, I happened to be in the senior leadership seat as CEO, but these are team accomplishments," adds Steve, who has served as Catalyzer's President since 2011, and its President and CEO since early 2015.
Different, Immersive, Engaging Approach
Several years ago, one of Steve's partners suggested they needed to find their blue ocean after he read Blue Ocean Strategy. At the time, to Steve also, it seemed like a good idea, but as the company grew more, they realized that there were not that many great leadership consultancies in the red ocean. "And we aspire to be great," Steve says.
John Kotter in his Harvard Business Review article, titled "What Leaders Really Do," noted that businesses were "overmanaged and underled." Steve and his team's experience, too, has been similar, so they focus almost exclusively on leadership.
Team Catalyzer follow an approach that enables leaders to discover by themselves the right way to lead. And dialogues are preferred over PowerPoints. In Steve's opinion, the industry:
Tries way too hard to reinvent the wheel where leadership is concerned. We don't. That doesn't mean we don't have new thinking about how leaders should lead, but neither should we abandon what Maxwell, Lencioni, Kouzes and Posner, Sinek, Abrashoff, Collins, Gladwell, Goldsmith, and others have shared over time. We're talking about relationships between people, so reinventing a concept to me is the lazy man's way out of diving into the existing body of knowledge. We study and curate the best from the best.
Attempts to commoditize leadership development into 5 or 10 easy steps. It's not that easy and a tad delusional that someone would suggest it is. Our approach isn't about how to lead as much as it is about how to think about leading. The conclusion should be left to the adult learner. When someone asks us what we think, we'll sure tell them. Otherwise, our primary job, we believe, is to ask the right questions in the right way so that learners figure it out for themselves. And, by the way, that's a lot harder to do than it sounds.
Makes it seem as if you can get it in a weekend cheerleading session. You can't. After all, we're talking about thinking and molding human behavior. Anyone trained in the field of psychology would suggest you'll need a few months, at a minimum, for something to become "sticky" or a new habit. Leadership development is a journey. Our programs are 12-18 months long.
Says we're open-minded and then tries to shove a process we've fallen in love with down your throat. Every human should be uniquely led according to their talents and abilities. Perhaps a further riff against commoditizing leadership, we work to understand an organization before we challenge leaders to enhance their performance in it. It's never about Catalyzer's process. It's about the leadership that works wherever that human works.
Invite you to "come to the mountain top." We don't. We spend lots of time on airplanes and in hotels away from family because we know you don't have days and weeks to spare in one fell swoop. Neither is it helpful that your organization sends one human to a week-long training somewhere (the mountain top), only to struggle with knowledge transfer upon return. We put a cohort in a setting somewhere nearby and get a group dialogue going that can be used later than the day or first thing tomorrow.
"I could go on, but I'll summarize by saying that organizations we've worked with consistently walk away with the perspective that our approaches are: Different. Immersive. Engaging," adds Steve.
The Moose Rule
Success, according to Steve, is ultimately decided by those they support and work with. He believes that they get to decide whether they've gotten there or not.
A few years ago, when Steve taught engineering at the United States Military Academy at West Point, he had "artfully" filled 13 chalkboards with derivations, starting from F = ma, during one of the lectures. He thought that it was excellent. After the lecture, he asked one of his students, an Army football player whose nickname was "Moose" (an offensive lineman), "Moose, pretty good lecture today, wasn't it?"
Moose replied, "Sir, that was perhaps the most beautiful derivation I've ever seen, but I didn't learn a thing."
Since that moment, Steve refuses to answer the question: how successful they are. "My response lacks objectivity and really doesn't matter," he says. "We refer to that as 'the Moose Rule'."
Working on Emotional Intelligence
Steve was not always an exemplary leader. He was a terror of a boss and a difficult subordinate, worried about who the smartest in the room was. He recalls that he belittled others and failed to see people in any other light than the one he had cast for himself. "I have a temper I exercised regularly," Steve adds. "Until I was 50 years old, I truly couldn't get out of my own way."
Failures in his late-40s/early 50s were significant, and they made Steve return to his engineering roots for a little "root-cause analysis." "While my career was filled with great opportunity and a fair amount of success, I found myself in mid-life trouble – at work and home," he remembers. "Not until a counselor of mine at the University of Kansas, Terry Proctor, told me I needed to work on my emotional intelligence did I begin to turn things around."
That analysis pushed Steve to some things that he had been hesitant to try. "Emotional intelligence, like we tell every human we interact with, has been the difference between leadership success and failure," says Steve.
Favorite Recognition
The first time Steve felt like he was doing something unique was when a family friend, Jerry Hargrove, promoted him to Shift Manager at Burger King #1390 in Columbia, Missouri. He believes that this leadership opportunity, in charge of folks younger, the same age, and older, made the difference when he was competing to get into West Point.
And, Steve's favorite recognition came recently from a gentleman he coaches one-on-one. After a few coaching sessions, when Steve asked how it was going, he responded that whenever the coachee was a little out of sorts at home, his daughters would tell him he needed to have another coaching session with Steve.
"Times like those are when you know you're having a tangible impact," says Steve.
Maintaining Work-Life Is Difficult
As a small business owner and principal, Steve finds maintaining a work-life balance extremely difficult. "Just ask my wife. I travel more than she'd like," he says, adding that his attention is on the business when he is home.
"Truly, I'm learning how to do this (balance) better as we speak, but I've become sufficiently self-aware and honest with myself that I know when I'm tired and when a break is needed," Steve says. "I'm also sufficiently aware socially that I know when those around me are tired and in need of some downtime – for themselves or from me."
And Steve does not have to motivate his team too much. He leads a self-starting troupe of consummate professionals – they motivate themselves well. So, his primary task is to prevent himself from demotivating them, and he works every day to do that better than the day before. "Beyond that, we believe transparent, regular communications, executed at a pace that builds and sustains trust, is what keeps us collectively motivated," says Steve.
Changing Leadership Development Landscape 
The biggest change – and challenge – that Steve sees in the leadership development landscape are myriad "leader-tainers." He feels that they have great "sound and light shows" but there is not much depth there.
If someone is in the market for someone to help their team build and deliver a leadership development program, Steve says that he would ask a few questions:
Tell me about the latest leadership-focused book you read. Did you like it? Why? What were your takeaways? Non- or generalist responses are red flags.
Ask about what too many are calling "The Great Resignation." Why are people leaving the workforce? If pay and benefits come out of their mouth first, they're in the county, but not even close to the real challenge.
Tell me about accountability and what it means. If the answer is a euphemism for dispensing discipline, they wouldn't be wrong, but there's much broader thinking required.
Have them define leadership, culture, workforce engagement, etc. You'll know by their response if they've thought about these topics a lot or are just then making it up.
"So how does this relate to Catalyzer? We believe we're the furthest thing from leader-tainers and approach what we do rigorously and seriously," Steve says, adding that they have completed a meta-analysis of world-class leadership development programs and model their approaches along those frameworks. "Plainly, we're doing the work."
Steve describes his team as practical life-long learners and academics, working diligently to ensure contextually appropriate application of the body of leadership development knowledge.
Future Plans
At Catalyzer, two things are rising to the top of Steve and his team's priorities list, and both have to do with building additional capacity.
Steve points out that first, they have been fortunate to continue to grow – now to a point where they need additional capacity to deliver. That involves a rigorous approach to facilitator recruiting and training; the latter so that they can continue to provide the "in the room" experience they are most known for. "That effort is underway but never easy, especially when we've set our standards at a level that is difficult to achieve and maintain," says Steve.
In a few years, Steve says that both he and his partners are going to have aged to the point where none of them may have as active a role in the company as they do now. So, currently, they are also recruiting the next generation of leadership for Catalyzer.
"We preach succession planning and have been actively moving in a direction that will allow us to transition leadership within the next five to 10 years," says Steve. So, his personal goals are about working on the dream list that includes setting Catalyzer up for the transition to the next CEO. However, he does not intend to go far and envisions the day when he gets to move to the back of the room and coach those who are then doing what he is doing now.
"In a broader sense, at the end of my days, I want to leave my name unsullied, to have friends and family gather to celebrate my life – not to confirm my passing – to have watched my children continue maturing as the productive adults they've become, to continue loving the woman I married 40 years ago, and to enjoy seeing the world anew through my grandchildren's eyes," says Steve.
Message to Aspiring Business Leaders
"You can't know it all. Stop trying to convince us or yourself you do," Steve tells younger leaders entering the business. "Listen, be intellectually curious, and anticipate failing every now and then (aka be humble)." He also tells them to help their seniors establish a path for their development, and by that, he means do not leave it to them — "It's your path."
"Communicate your aspirations and actively work alongside them to achieve those goals," Steve adds. "We'd like to see your profile in this magazine in a few years."