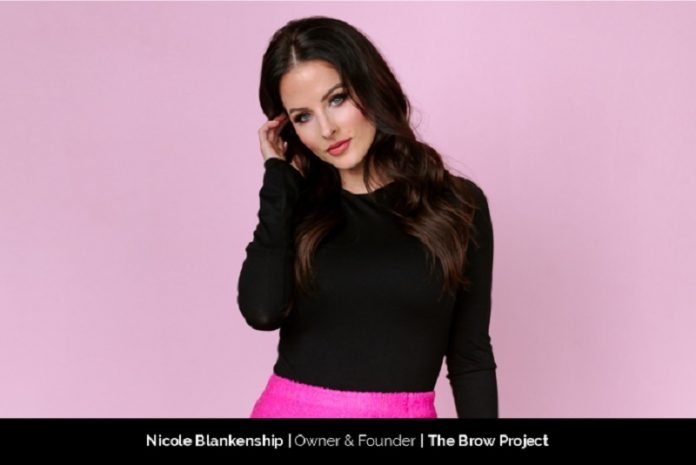 Leading a successful life has different meanings for successful leaders. For some, it is all about money and fame, and for others, it is about creating something that matters and helps people lead to the path of success. Nicole Blankenship, Owner and Founder of The Brow Project, believes that success is overcoming obstacles, achieving goals personally, professionally, and being able to give and lead others to a path of success.
She adds, "To me, success doesn't mean money, title, fame, or material things. It's more important to me that I'm living a fulfilled life, evolving, paying it forward, and helping others in the process."
Having a passion for helping others, she is steering her company in the right direction and impacting tons of lives as she moves ahead.
Journey to success
Nicole always had a passion for makeup, skincare, and educating others about the domain. She expanded her skills and stepped into the world of makeup and beauty to make a difference.
She was a professional, freelance makeup artist for eight years, where she honed her skills in the domain. She managed a medical spa, worked as a business manager YSL Beaute' at Nordstrom, and took on the Sales and Training Coordinator position for Lancôme.
Every title allowed her to add valuable experience to her armory and get deep insights into the market. Having a good command of people's skills, she expanded her network and aimed at building long-term relationships with her clients.
There were two prime incidents in her life that pushed her to start her own company. First, she was laid off from her position with Lancôme because Macy's as a whole had been struggling, and they combined a lot of their districts. Since she had only been with the team for six months, her territory got dissolved and was added to another territory.
She adds, "I was offered the same job but would've had to relocate to Kansas from Texas to manage another territory, which I was not willing to do."
She realized that the future of retail was changing, as most people shop online now. She witnessed the change with her own eyes as she had worked for a long time in the market. So, she knew that she had to make a change, and that is the moment when she had her "AH- HAH" moment and decided to create The Brow Project.
The second push towards building her own company was when she was mesmerized by the experience of getting her brows done professionally for the first time in 2015. She adds, "I remembered how beautiful and confident I felt in my own skin afterward. That feeling right there is what inspired me to start my business. I wanted to pay that amazing feeling forward and do the same for women that permanent makeup did for me."
At last, in 2016, she backed up her passion, grit, skills, and experience in the domain and marked the dawn of The Brow Project LLC.
With over 12 years of pro-industry experience as a makeup artist, trainer for multiple L'Oreal luxury makeup brands, an extensive waitlist, celebrity clientele, and press releases to show for it, she leverages her expertise and passion for helping others to try and make a difference in thousands of women's lives.
She has built quite the following and clientele in a short amount of time, five years to be exact. Her immeasurable passion and solid determination to make a difference have paved her to the top and won her different recognitions and accolades.
Prior to The Brow Project, while working with the YSL, she was awarded The Excellence in Luxury Service Award with Women's Wear Daily and L'Oréal.
With The Brow Project, she has been invited to present and speak about her knowledge and techniques on stage at Permanent Makeup Conference's like The Worldwide Eyebrow Festival in Rotterdam, Netherlands May of 2019, America the Beautiful Conference in Las Vegas December 2019, and now the pinnacle of her career, Dubai this September at The World Micropigmentation Conference.
She feels truly honored and grateful to have these opportunities and is all set to impact tons of lives in the future.
Getting stronger with life challenges
Creating a company from scratch comes with its own challenges. There are tons of responsibilities to handle, and moreover, a lot of risks are involved at every stage.
Nicole mentions, "I've fallen a hundred times and got back up. I've hit some very low points in my career, where all I wanted to do was give up because I didn't think I was capable of overcoming some pretty traumatic times."
However, she held her never and kept on moving forward, learning from the challenges and evolving into a successful entrepreneur. The most valuable lesson she learned while climbing the ladder of success was to be more patient and not be afraid to ask for help when struggling, personally and professionally.
She has the same message for young entrepreneurs. She states, "Be like Nemo in Finding Nemo, "Just keep swimming." There were so many times I have felt defeated, broken, or wanted to give up because of hardships through this journey. It's important to never give up on your dreams and never be too scared to ask for help and support when needed. Don't compare your journey to others, and always invest in continued education and always push yourself to do better, be better, and take care of yourself in the process. Healthy boundaries are so crucial with your clients and business partnerships!"
Providing fantastic services at The Brow Project
Located deep in the heart of Dallas, The Brow Project has been offering a variety of permanent makeup services since 2016. Since their opening, their services have expanded to cosmetic and aesthetic services like cosmetic injectables, Procell therapies, microchanneling, and saline tattoo removal.
Nicole states, "We offer modern and natural results for aesthetic treatments including permanent makeup, cosmetic injectables, skin needling, and carry the industry's latest and best technology in skincare. We take pride in creating an educational, inviting, luxurious, but FUN experience for our clients & patients."
There are different services under the permanent beauty domain, namely, 3D Manual Eyebrow Microblading, "Blade X Shade" Combo Look, Prism Powder Brow, Lip Tint/Lip Blushing/Lipstick Look Lips.
3D Manual Eyebrow Microblading includes manual hair strokes that provide the softest and most natural look.
"Blade X Shade" Combo Look includes manual hair strokes and soft shading to give a textured look from hair strokes and soft, dusty color throughout the brow. It is a better option for oily/combination skin, clients with sparse eyebrows, and if a person prefers a slightly more dramatic look, then microblading can bring wonders. However, color boosts are recommended every 2-4 years depending on skin type, lifestyle, health, etc.
Prism Powder Brow is performed by machine/ manual and delivers a powdery makeup look. It gives cleaner edges because this technique is done with a smaller configuration of needles. It is ideal for most skin and for clients with previous work on the brows if the color is light enough and not discolored.
Lip Tint/Lip Blushing/Lipstick Look Lips: Lip tint is a very light wash of color for sheer coverage. Lip Blushing is a sheer – medium coverage lip tint. Lipstick Look is going to be the more vivid and defined option, with a more defined lip line.
Nicole and her team proudly use organic, vegan pigments that are significantly more concentrated than iron oxide pigments, meaning the body will not break down the pigment as fast.
She adds, "Because of our more concentrated inks, you'll save time and money long term due to not having to come in for touch-ups as often, and keep the integrity of the skin healthier, longer!"
Other than these services, the company brings in Guest Artist Tara Smith who specializes in Lip Blushing & Smoky Lash Enhancement, to perform different techniques every 2-3 months. So, if the clients are interested in the service, they can book their slots with the company and get exceptional services from the Guest Artist. Recently in October 2021, the company expanded their services and added a Board Certified P.A. specializing in cosmetic injectables like botox, filler, sculptra, and chemical tattoo removal and microchanneling.
Staying ahead of the curve in the market
What sets Nicole apart from her competitors is not only her unparalleled artistry but capitalizing on the customer experience and building the relationship.
Nicole mentions, "We are always a step ahead in offering the latest techniques the permanent makeup & injectable industry has to offer by investing in our continued education by industry world leaders from all around the globe."
The brand values include equality, integrity, compassion, building relationships, empowering others, and giving back something to the community.
She expresses, "We pride ourselves in providing a truly unparalleled beauty experience, and I'm proud to say that close to 800 clients have the same to say online with our 5-star reviews, which I'm so grateful for!"
The Brow Project is now becoming one of Dallas's premier & luxury beauty studios & medspas! They have worked their magic on over 5,000+ local Dallasites, with clients coming from all over the U.S. for their artistry, skill, and expertise. With great attention to detail and exceptional client service, The Brow Project has become 'The' destination for permanent beauty and named Dallas' 2019" Best Beauty Experience by Dallasites 101, 7 Most Exclusive Beauty Treatments in Dallas by PureWow, and recognized in Paper City Magazine, Dallas Observer, and The Scout Guide.
The Brow Project has set the standard and bar high for excellence in cosmetic & aesthetic treatments and capitalizing on the client experience in what is now known as "The Pink Place."
Fueling the growth of the company
Being the Owner and Founder of the company, Nicole oversees several things. However, being a seasoned leader in the industry, she knows not to stress everything on her own and delegate the work to create better results.
Fortunately, she has a solid team at her disposal and a fantastic studio manager, Jo, that helps with all back-of-the-house admin, client communication, greeting clients, check-outs, and anything the team needs to run smoothly.
Nicole adds, "A regular day at work includes creating content for our social media channels, responding to any comments or messages on Instagram, Google, Yelp, Facebook, etc., meetings, planning, strategizing, and of course, my clients and making their brow dreams come true. I also do payroll, create email marketing, and place essential orders and inventory."
Having a resilient nature, she never backs down from the challenges and looks to grab the hidden opportunities in them to grow. She is extremely competitive and strives to above the standard for beauty and aesthetic services by creating an unparalleled client experience.
She gets her constant dose of motivation by delivering high-quality services to the clients and making them gratified with the results. She likes to lead her team with her own example and makes sure they are valued for their services.
She adds, "I pay my team well, create a warm and healthy work environment, and make sure everyone has a healthy work-life balance."
Achieving work-life balance
When leading a company upfront, it becomes difficult to shut off work-time. Nicole mentions, "I really struggled with the first four years of being a business owner. I've worked very hard over the last two years to take care of myself personally, too."
She tries to maintain a work-life balance by making sure that everyone, including her, gets at least two Saturday's off a month besides the regular off on Sundays and Mondays. She has also limited the number of clients she caters to daily. She expresses, "my job is pretty hard on my neck, back, hands and eyes, so I need to preserve my body now so I can continue creating my art with my clients for the long haul."
Future prospects
Due to her exceptional services, Nicole is booked four months in advance. As of July 2019, she has opened a 1500 sq foot studio in the heart of downtown Dallas.
However, she still believes that this is just the tip of the iceberg, and there are several amazing things on the way.
She states, "Now that I have more help and time on my hands, I would like to put more focus and energy on an online and in-person training academy to certify and train aspiring artists to change lives with brow tattooing and also coaching them on the business and marketing side of it all which is equally as important! I also believe the business and marketing courses will benefit most industries, not just beauty! "