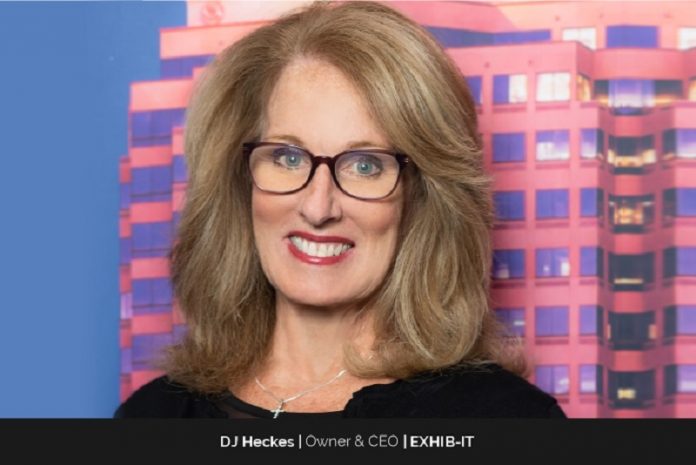 In the realm of business, if one seeks a dynamic woman idol who has broken the glass ceiling and proved that leadership is gender-neutral, then it has to be DJ Heckes. An expert in Full BRAIN Marketing, DJ stands out, exhibiting in real time what and how to ace as an incredible relationship marketer for customer service. She is famed for her highly interactive and engaging conversations. The CEO/Owner of EXHIB-IT!, DJ Heckes embodies the definition of a self-starter. Commencing her professional journey in 1995 as an account executive, DJ stuck to her philosophy, which reads, "Priorities are What We Do. Everything Else is Just Talk!"
DJ is a rare combination of resilience and foresight. One can sense it in her brainchild, i.e., EXHIB-IT!, which has been vanquishing the toughest hurdles. The recent Covid-19 upheaval tested her mettle once more. Her strategic acumen and dedication facilitated a remarkable post-pandemic resurgence, with revenues soaring from $550,000 in 2020 to $1.8 million in 2022 and has grown over 214% in business since Covid-19. She swears by the empowering words of Sheryl Sandberg: "Leadership is about making others better as a result of your presence and making sure that impact lasts in your absence."
This sagacious businesswoman is unstoppable. DJ has earned the iconic repute of "The Most Successful Businesswomen to Follow, 2023." Additionally, her contribution to NAWBO and other organizations emphasizes her passion for the community. She's also a nominee for the Top 10 Small Woman Business Owners in the Nation by NAWBO. The testament to her versatility is evident in her command as an author of 'The NOISE Behind BUSINESS'.
She has extensive public relations, media communications, and marketing expertise, and is well-respected in New Mexico and throughout the U.S. for her ethics and client communication skills. DJ is an Exhibit Designers Producers Association (EDPA) National Board Member, NM Workforce Solutions Board Director, Ambassador for Albuquerque Economic Development, and Women's Business Council Site Visit Recertification Volunteer.
It is impossible to box DJ in as she flows like an uninterrupted stream, and equally challenging to contain her life's chronicle in a few pages. We have tried to do justice to portray her inspiring saga as our cover story.
Exemplary Leadership and Personal Integrity
Renowned for her 'lead-by-example' ethos, DJ Heckes consistently upholds elevated standards, setting a precedent for others to emulate. This quality extends to her three adult children and nine grandchildren, reflecting her unwavering commitment to her word being her bond.
She notes: "People trust me, and I value that as a leader."
Evolution of Dreams and Passions: From Legal Aspirations to Marketing Excellence
DJ's journey into marketing didn't begin until 2000. She had pursued her dreams of becoming an attorney, even preparing for the LSAT, before abruptly shifting gears into a new career direction. This switch led her to the world of marketing, a domain she embraced wholeheartedly. Immersing herself in the field, DJ absorbed knowledge from marketing luminaries, consistently placing herself in roles that paved the way for her ascent. She served as President of the American Marketing Association, NM Chapter, orchestrating its recognition as "Chapter of the Year" in 2005 through her exceptional team-building skills. Additionally, she presided over the National Association of Women Business Owners, NM Chapter, transforming it into a significant force, acknowledged nationally for its advocacy efforts in New Mexico.
Overcoming Challenges and Thriving as a Female Leader
From the outset, this woman entrepreneur embraced Eleanor Roosevelt's wisdom: "You gain strength, courage, and confidence by every experience in which you really stop to look fear in the face. You must do the thing you think you cannot do." Her journey as a female leader commenced with resolute courage, navigating a male-dominated trade show and events industry. Over the past 28 years, she witnessed the growth of numerous female leaders. This path led her to adopt the name "DJ" instead of "Debbie Jo," strategically opening doors and enabling her to establish her presence in various regions nationwide.
Distinctive Services and Products of EXHIB-IT!
Unique Value Proposition (UVP): Catering to busy Business Owners and Executives seeking streamlined Event, Retail, and Tradeshow Marketing solutions, EXHIB-IT! offers a hassle-free approach. Their innovative designs, displays, graphics, and marketing materials alleviate the stress of event management, allowing clients to focus on business growth.
Comprehensive Services: EXHIB-IT! stands as a one-stop solution, delivering Event, Retail, and Trade Show Marketing and Design from concept to completion. DJ highlights their commitment to excellence in areas such as:
Logo, display, and exhibit design
Marketing consulting, branding, and collateral materials
Turnkey Custom & Modular Displays and Graphics
Customized rental options for exhibits
Full-fledged Show Management Services, including setup, shipping, transportation, and storage.
Setting EXHIB-IT! Apart: What sets EXHIB-IT! apart is its evolution from a trade show exhibit company into a multifaceted service provider. It ventured into complete show management in 2006, filling a gap in the market. Despite the recession in 2009, its branding and marketing prowess led it to serve companies needing design services and printed marketing collateral. When the pandemic hit, it persisted, keeping staff employed and growing 214% over two years. Unlike many competitors, EXHIB-IT! excels in design and sales and in asset management for national clients. Expanding its in-house storage capabilities solidified its niche, offering a rare blend of design and show management prowess, setting it up as a small business with substantial client impact.
Navigating Growth through Adversity: Overcoming Industry Setbacks
Facing setbacks is an inherent aspect of any professional journey. DJ Heckes and her company, EXHIB-IT!, have encountered and triumphed over three major setbacks that have catalyzed their growth over the years: the far-reaching impact of 9/11 in 2001, the challenging economic recession spanning from 2008 to 2015, and the industry-wide shutdown caused by the COVID-19 pandemic from 2020 through 2021. Each of these hurdles, while daunting, has forged resilience, strategic adaptation, and sustained success for both DJ and her firm.
Steering the Changing Tides of Marketing and Events
As an industry luminary, DJ Heckes sheds light on her impactful journey and the evolving marketing landscape. She notes: "Marketing and the Events/Tradeshow industry changes constantly, and to be able to keep forward momentum, you must be a "Better Way" and "Strategic" thinker.
Reflecting on her entry into the industry in 1995, the landscape was dominated by metrics like call volumes for exhibit and graphic sales. However, when she founded her company in 2000, she recognized the paramount importance of customer experiences. DJ pioneered the development of systems and processes to enhance customer journeys, anticipating the current trend.
Notably, referrals have been instrumental in the company's growth, a testament to customer satisfaction and a proactive approach to networking. DJ emphasizes the value of physical presence at events, fostering customer relationships, and implementing meticulous follow-up processes. This holistic approach has played a pivotal role in EXHIB-IT's remarkable growth, transcending the limitations of phones and the internet.
A Journey Through Leadership: Reflecting on the Path Ahead
Defining her journey as a woman in leadership, the CEO of EXHIB-IT! finds resonance in Kat Cole's insight: "Leadership is about the team—the culture they keep and embrace; it's about empathy for your customers, clients, employees, and the communities where you do business; it's about doing the right thing for the right reasons, being confident enough to take risks and responsible enough to think of those who your decisions and risks may affect." 
Thriving in a predominantly male-dominated industry is a challenging feat, akin to the School of Hard Knocks. DJ's path was devoid of mentors or awareness about the plethora of resources available for women launching businesses—a knowledge she now wishes she had possessed. Instead, she acquired her expertise through trial and error, learning from numerous missteps along the way. Now a certified SCORE Mentor, she extends her guidance to empower others in their entrepreneurial journey, enabling them to learn and progress more swiftly.
Early Life and Achievements
DJ Heckes' upbringing as a military dependent ingrained discipline, structure, and accountability in her from an early age. Her athletic background in both High School and College fostered teamwork and collaboration skills she later transferred into building cohesive and effective teams within her business endeavors.
Greatest Achievements: Nurturing Leadership and Fostering Growth
DJ's proudest accomplishments lie in witnessing her employees evolve into capable leaders. When filling job openings, she is resolute in her stance that she doesn't merely hire employees but cultivates future leaders through her training and guidance. This commitment to developing talent reflects her dedication to fostering growth and instilling leadership qualities in every facet of her professional journey.
Over the years, DJ has been awarded numerous accolades and honors. A few of the notable ones include "Top Ten Women of Influence" by New Mexico Business Weekly in February 2007, SBA Winner "The Small Businessperson of the Year for the State of New Mexico" and competed in Washington, DC, in April 2007 for the national award, where she ranked 35 for Top Women Owned Business in New Mexico for 2007. One of 20 women across the nation for 1 to 5 million revenues dollars as 2008 "Enterprising Women of the Year" by Enterprising Women Magazine, 2009 "Top Performing CEO of New Mexico", New Mexico Business Weekly, 2010 "Albuquerque Hispano Chamber of Commerce Small Businessperson of the Year" and ranked 32 for "Top Women Owned Business in New Mexico" for 2016. The list further has awards such as NMBW, Best of 2017 Women-Owned Small Business, Albuquerque Award Program, Gold Level Family Friendly Business in New Mexico for April 2018 and 2019, February 2019 "Top 50 Women-Owned Business in New Mexico", Albuquerque Business First, June 2019 "Top 100 Privately Owned Companies in New Mexico", Albuquerque Business First, and "Fastest Growing Company List in NM" for consecutively year 2019, 2021, and 2023, Albuquerque Business First.
Roles & Responsibilities As the CEO/Owner of EXHIB-IT!
As the Owner & CEO of EXHIB-IT!, DJ shoulders immense responsibilities. She explains, "I am still the Custom Exhibit/Projects and Larger Show Management Rainmaker and hope to find a replacement for me one day." Over the past decade, she has gradually transitioned away from day-to-day operations and portable sales. Her next objective is to recruit an individual with solid strategic thinking abilities who can effectively manage all the tasks involved in overseeing a show. The production of tradeshows can often be accompanied by high levels of stress, as can the demands of the industry itself. By doing so, she can focus on her true passion – building strong teams.
Strategic Vision and Employee Motivation at EXHIB-IT!
DJ Heckes envisions a seamless transition within the next two to three years, wherein she will be succeeded and EXHIB-IT! will continue to flourish and surpass the achievements she has accomplished during her tenure as the owner. She consistently challenges her employees daily and effectively motivates them through a performance-based bonus plan, which rewards individual achievements rather than a uniform payout structure. She's a firm believer in % of the goal, and her staff is well-informed in advance about the specific tasks required to be completed quarterly. They are aware of their monthly contributions towards the pay-for-performance component. The team highly appreciates this aspect of the system as it is perceived as fair and reasonable.
Striking Work-Life Balance
"Balance has been challenging since Covid," DJ says. Her mother's Alzheimer made the transition from Florida to New Mexico in an Independent Living community more challenging than she had anticipated. DJ also has seven of her nine grandkids living in the area, so she makes it a priority to spend time with each one, alternating weekends so they all get attention and memories together. She also spends a weekend in the birth month with the birthday child, and at the age of ten, the grandchild is taken on vacation to the destination of their choice. She does all this while balancing visiting her two out-of-state grandkids and running a fast-growing company.
She shares that on weekends, in addition to attending Church together, they spend the day together doing various activities and playing with the kids. Every other weekend, her husband and DJ go on a date, and they take at least one vacation a year with adults only. They're doing a two-week cruise of the Mediterranean this year. If she finds herself short on personal time, she tries to spend "girl time" with her gal pals at least once a month. Additionally, she reserves her Sunday afternoons for personal downtime, rest, and relaxation, allowing her to recharge before another busy week in the fast-paced business world.
Mapping the Path Forward for EXHIB-IT!: Insights into DJ Heckes' Vision
As EXHIB-IT! charts its course for the future, DJ Heckes envisions a seamless transition by identifying a successor to helm the company. She intends to propel it to even greater heights and witness the brand's continued ascension beyond her accomplishments. Positioned as a respected name within the industry, EXHIB-IT! boasts a devoted team whose unwavering dedication echoes their belief in the company's mission.
Empowering Wisdom for Aspiring Businesswomen
DJ, a visionary in the business world, imparts a powerful message to aspiring businesswomen: "Never let anyone tell you that you "CAN'T", and find a "Better Way" to learn and grow." She suggests surrounding oneself with people who are smarter and learning from them. Emphasizing integrity, she also urges these future female entrepreneurs always to do what is right, even when no one sees it. With the inspiring words of Greta Thunberg, "You are never too small to make a difference," this business executive encourages women to embrace their potential and make their mark.
The DJ wraps up with a highly logical exposition. She illustrates that people are inclined to seek candidates with prior volunteer experience during the hiring process. When considering managerial or leadership positions, the focus often shifts to candidates who have overseen volunteer organizations. According to her reasoning, this approach is rooted in the understanding that adeptly leading volunteers generally translates to even more effective leadership of paid employees, owing to the distinct motivation and dynamics between the two groups.