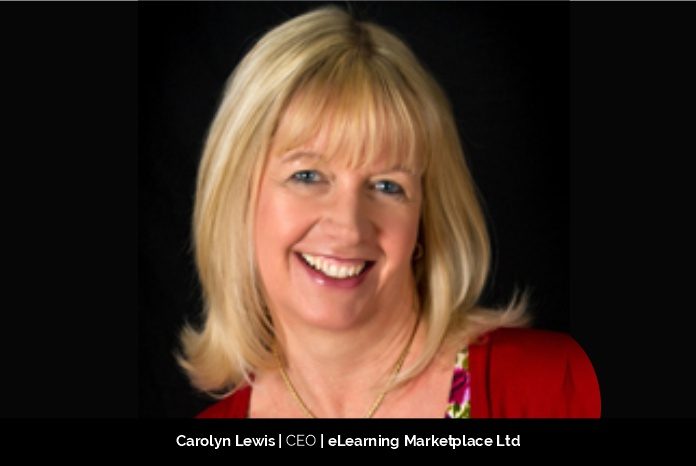 Education is an ongoing process of learning, developing skills, and acquiring new ones. With a passion for life-long learning, Carolyn Lewis, Managing Director of eLearning Marketplace, aims to provide access to learning to everyone whether it's in a remote village in South Africa or an office of a multi-national company.
Taking a Leap of Faith
Carolyn started her career introducing the first personal computers into a pharmaceutical company, in her free time, she would help employers with the implementation of IT in their businesses. After that, she lectured in further education colleges teaching post 16 students in IT, where she thoroughly enjoyed passing on her knowledge and experience to young adults just starting their careers.
It was whilstworking as a quality assurer of delivery of qualifications for City and Guilds that Carolyn realized that many businesses and training organizations aspired to be innovative in their training delivery, but lacked the knowledge and skills, and finance to implement their vision. On the other hand, other organizations had the knowledge and skills, and finance to implement technology-driven learning experiences, but faced challenges in marketing them to reach those who would hugely value their products. Hence, the eLearning Marketplace idea was born to create a place where organizations that produce quality digital learning resources could reach and sell their innovative products to those who sought them. At the time, she was running a successful learning technologies consultancy company, with some high-profile customers in the adult education sector. To quit a well-established consultancy was a huge risk, but after a year of mulling the idea over and a relatively quiet time in her work schedule, she took a leap of faith and founded the company in 2013.
Challenges and Lessons
The road to leading a company is riddled with challenges, Carolyn also, was exposed to a myriad of hurdles which led to many doubts but in the end, it was the achievements and rewards that kept her committed to building the business.
After entering the world of e-commerce she realized that the knowledge she had about it barely scraped the surface and that she had to learn quite a lot to be able to run a successful business. With the help of a regional business growth hub and funding, she undertook a business leader's course at Henley Business School. After a few years, she applied for the company to be supported by the UK Government's Department for Industry and Trade who identified the company as having 'significant international growth potential' She says, "All the support I have received has been invaluable, I've also read lots and still do, and listen to anyone prepared to offer advice."
About eLearning Marketplace Ltd. and its Services
Today, eLearning Marketplace is a multi-award-winning marketplace for eLearning. They have received national awards in customer service, e-commerce, and business services. She adds, " I have won several awards over the years, but the one I am most proud of is the Best Business Women Awards for Customer Service, as treating customers well and building good relationships with customers is the ethos of our business."
They are also the UK's largest provider of immediate access online training with customers in over 50 countries and include customers such as British Airways, NHS, Nandos, Defence Medical Welfare Service, and many UK schools and colleges. Their courses range from compliance and professional development to vocational qualifications up to Level 7. They work with subject matter experts and large e-learning publishers to bring their customers a unique catalog of over 2500 online courses with a price match guarantee, a free learning management system, and a range of flexible purchasing options.
Redefining eLearning Industry
Since 2000 e-learning has been one of the fastest-growing industries in the world. In the UK, before eLearning Marketplace, customers had to approach various online course providers to enquire, view content, and get pricing. The type of purchasing model offered was mainly subscriptions, this is true even today, butthey aren't always the most cost-effective option for the customer. eLearning Marketplace is the only online training provider in the UK to provide customers maximum flexibility. Carolyn says, "Customers can purchase immediate enrolments through our website or can contact us for user, course, bundle, subscription, or site licenses. Customers can purchase training using one or a mixture of licenses from one or a variety of course providers and can get a trial before they buy."
The growth of the industry is attracting a lot of businesses that are not operating legally and customers are falling prey to these fraudulent businesses. Carolyn adds, "It's because of this that eLearning Marketplace is going through the UK Trading Standards 'Buy with Confidence' accreditation, which involves an assessor going through a wealth of stringent checks across the whole business to ensure that we are operating fairly and legally. I'd like to see more recognition of this type of accreditation so customers can have a better awareness of who they are buying from."
Vision for the Company
Carolyn aims to continue to build the eLearning Marketplace brand as the e-learning company of choice. With customers in over 50 countries, their strategic plan is to further increase their international growth. But growth, is not the only driving factor for Carolyn, in addition to providing an access to learning for everyone, she also aims to help more organizations train their staff with quality online learning so they can reduce their carbon footprint.
On Work-Life Balance & Message to Aspiring Business Leaders
As David Allen says, "You can do anything, but not everything" and Carolyn admits that running a business is much more than a full-time job, it affects your personal life, your health, she says, "I've been extraordinarily fortunate to have a very supportive family who has encouraged me right from day 1 and I have a great team working for me."
Carolyn has worked in training and professional development for over 30 years and has seen the importance of learning and how it can turn someone's life around. She says, "Knowledge and skills are the keys to opportunities and when an opportunity presents itself it's then down to doing your best to make the most of it."
She advises aspiring entrepreneurs to only pursue a business idea if they are passionate about it and committed to hard work. She adds, "Business leaders need resilience, creativity and the ability to be agile in response to a changing environment"