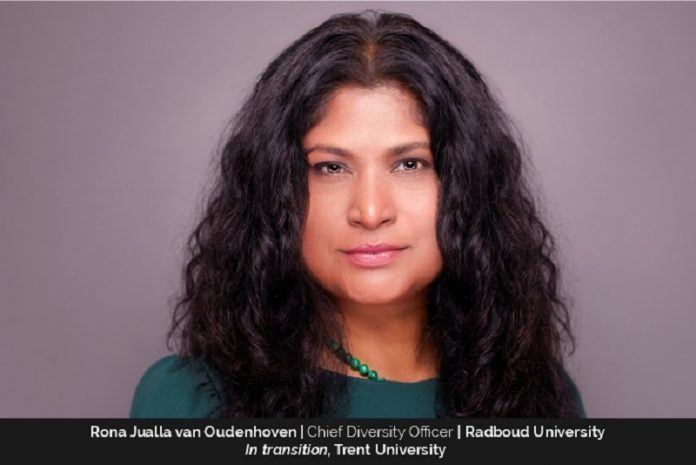 Rona Jualla van Oudenhoven, an accomplished Diversity, Equity, and Inclusion Strategist at Radboud University, has led a fascinating and inspiring career journey. Her personality, driven by constant growth and a strong alignment with her values and vision for society, guided her career choices from an early age.
This sociologist, author and equity practitioner began her professional journey as a teacher, where she quickly recognized that meritocracy was merely a myth, leading her to dedicate her life's work to addressing inequities within the system. Even before Diversity, Equity, and Inclusion (DEI) became an organizational concept, Rona was actively involved in DEI work. During her academic years in the Caribbean, she was deeply affected by the use of corporal punishment by teachers in the classroom. This exposure to injustice and systemic violence instilled a determination to drive positive change, including her masters research on teacher-training and corporal punishment.
As her career progressed, Rona became a researcher, teacher-trainer, lecturer, and international development consultant, working extensively with marginalized groups on a global level. Her contributions included instrumental roles in the development of the Masters Course in Children's Rights at the University of the West Indies in Trinidad and Tobago and various positions, including Director of DEI at Durham College and Director of Equity, Communications, and Community Partnership at Durham Children's Aid Society in Canada.
Through her vast and diverse research contributions, Rona has exemplified a dedication to creating positive social change and championing human rights for marginalized communities worldwide. Her work continues to shape policies and programs, promoting equity, inclusivity, and justice on a global scale.
Approach to DEI Leadership
Rona challenges the notion of a "step of faith" and instead sees her journey as a logical one, built on real data and sound research. Her extensive experience working with marginalized groups and individuals in challenging environments has been a driving force behind her efforts to make a positive impact, even though small gestures.
The inspiration for her work comes from witnessing people rising above adversity, overcoming their deepest struggles. These experiences have led her to translate these voices into practical and effective practices, forming the path of Diversity, Equity, and Inclusion (DEI) leadership.
For Rona, the key to success lies in listening to everyone within an organization, validating their opinions, and fostering ownership of the DEI task. This approach fosters solidarity and paves a joint path forward, where the achievement of goals and maximizing positive impact become feasible. By involving and empowering individuals from all walks of life, Rona ensures that her work has a lasting and meaningful effect on the lives of those she seeks to serve.
Overcoming Adversity
Throughout her career, Rona has encountered numerous roadblocks and challenges. These obstacles have varied from facing gender, race, or age-based biases, with some individuals in positions of authority failing to recognize and acknowledge her skills and contributions. She has often found herself having to work harder to prove her worth and have her voice heard, leading to feelings of being spoken over or disregarded.
Feeling invisible and constantly encountering roadblocks can be exhausting, but Rona draws strength from the support of certain senior leaders who recognized her potential and provided the platform and resources needed to make a difference. These supportive leaders made a significant impact, overshadowing the negative experiences and roadblocks.
In her journey, Rona has also learned that obstacles can come from fellow colleagues or peers rather than just leadership. To navigate such situations, she has employed strategies that promote collaboration and cooperation, allowing others to join her cause rather than oppose it. By properly identifying and understanding the roadblocks, such as fear of change or the unknown, she has been able to find solutions and turn red lights into green lights.
Patience, contextual understanding, and the ability to navigate differences have been essential in overcoming roadblocks. Rona emphasizes the importance of building bridges and finding common ground to move forward successfully. These valuable lessons have shaped her approach to leadership and have enabled her to make a lasting positive impact in the face of adversity.
Impact on Academia and Society
Radboud University's commitment to innovation and cutting-edge research makes it a leading institution in both the Netherlands and the world. With a rich history of emancipatory struggle, the university embodies the values of respect, integrity, and standing up against injustice. This blend of traditional values with a modern organizational landscape contributes to its continued success.
The university's motto, emphasizing that everyone has a part to play, reflects its strong sense of community and inclusivity. Radboud University recognizes the importance of embracing the digital age while maintaining its core values and principles.
Support for researchers in Open Science showcases the university's dedication to advancing knowledge and collaboration on an international level. Teaching and research are held in high regard, and student voices are respected, fostering a vibrant and engaging academic environment.
Radboud University is committed to creating a campus that is sustainable, diverse, and inclusive, ensuring that everyone has equal access to opportunities. This focus on equitable opportunities and a people-centered approach contributes to the university's significant impact on both academia and society as a whole.
Leading Transformation
Rona holds the prestigious position of being the first Chief Diversity Officer at Radboud University. She began her role in an inaugural capacity, as the university's Executive Board took a deliberate and conscious decision to integrate Diversity, Equity, and Inclusion (DEI) into the institution's structural and cultural framework. This strong commitment from the executive leadership removed the first obstacle in her line of work, making her ability to drive change much more effective.
Entering a culture that was open to change and innovation, Rona and her team were able to bring forth innovative ideas and strategically act as a DEI catalyst deeply ingrained within the university's core. This led to the development of DEI committees in every faculty and the formation of student advocacy groups that represented various underrepresented communities, such as antiracism, LGBTQI+, neurodiversity, differently abled, and those distant from the labor market.
Collaborating closely with teaching and research staff, Rona and her team made important policy amendments to promote inclusivity and developed a cutting-edge gender equality plan. Furthermore, they created comprehensive DEI and social safety training modules accessible to all students and staff members. Building strong partnerships with the university's people and communities, they established a DEI epistemic community, fostering ongoing dialogue and understanding.
Rona's transformative work and the wide array of interventions can be seen in the university's comprehensive Diversity, Equity, and Inclusion Plan for the period 2021-2025. Her efforts have resulted in a profound and lasting impact, shaping a more inclusive and equitable environment for all members of the Radboud University community. Rona has written several DEI books and articles including recently published, The Myth of Child Protection, an Equity Guide for Change 2020 and Diversity Dialogue 2018.
Success Redefined
According to Rona, the definition of success is subjective and can be seen as the achievement of one's goals. However, her personal definition of success revolves around creating an optimum positive impact. For Rona, success is not just about achieving objectives but is measured by heartfelt moments when interventions lead to positive change, equitable outcomes, and just processes. The ultimate question she asks to evaluate success is, "Did it have a lasting positive impact?" This approach reflects her dedication to making a meaningful and sustainable difference in the lives of individuals and communities, ensuring that her work leaves a lasting and positive legacy.
Rules of Engagement
Rona promotes that team dynamics follow what she has defined as their Rules of Engagement, a set of principles that guide their interactions and behaviors. These rules prioritize humble inquiry and respectful listening, fostering a culture of curiosity and openness. By functioning from positions of non-judgment, team members continually check, confront, and challenge biases, actively listening to learn and understand from diverse perspectives.
In this manner, teams encourage both assenting and dissenting views, recognizing the value of diverse opinions and committing to collectively owning the responsibility for social engagement. This engagement is characterized by respect, critical thinking, and insightful conversations that allow for reflection, learning, and unlearning. Courageous conversations are welcomed, even if they elicit strong emotions and passionate reactions, with the understanding that managing responses is essential to minimizing harm to oneself and others.
In line with their commitment to inclusivity, teams aim to use inclusive language and practice self-care, recognizing the importance of creating a safe and inclusive space at all times. Here, everyone's opinions are respected, and resources are readily available for support when needed. By adhering to these Rules of Engagement, teams ensure an environment where everyone feels valued, heard, and supported, fostering a culture of growth, understanding, and inclusivity.
Pioneering for the Future
Rona reflects on her challenging journey to gaining the respect and recognition she rightfully deserved long before it came. As a woman and a woman of color, she faced hurdles on her path to leadership, and she acknowledges that the road to leadership should not be so riddled with obstacles. Her wish for the next generation is for their journey to be less arduous, allowing them to access the resources they need to fight for a more just world.
Through her work, Rona aims to make a positive impact on the lives of young individuals, particularly Generation Z, Alpha, and the generations to come. She sees them as remarkable thinkers, full of curiosity and passion, and she is excited about the prospect of having the future in their hands. Rona believes that these emerging generations will lead with compassion and a greater focus on creating a sustainable world.
Rona's unwavering dedication to the promotion of equity is evident throughout her career. Her work has been instrumental in shedding light on social injustices, fostering inclusivity, and empowering marginalized communities. Through her academic pursuits and various leadership roles, she continues to be a driving force in creating a more equitable and inclusive world.
Rona's impressive involvement in action research spans across a diverse range of programs, all focused on addressing crucial issues related to anti-oppressive practice, diversity, equity, inclusion, and human rights. Her work has made a significant impact both locally and internationally. Some of her notable contributions include:
International Girl Power Program in Bangladesh, Pakistan and Nicaragua
Program Evaluation for primary education with refugees from Myanmar/in Thailand
Family and community empowerment program in Israel and Palestine
Positive Deviance in Kenya
Program Assessment and Development ECD, Tajikistan
World Bank's work in Russia – Moscow and with various regions in Siberia – Yakutia, Khanty-Mansysk, also with indigenous communities
Violence against children and women, Jamaica, Palestine, Romania, Suriname
Inclusive Education for persons with disabilities/exceptionalities, South Africa
Rights-based Approaches to Gender Education in the Caribbean
Roma peoples, Central Europe – Austria, Italy
Street children, European Union, Nicaragua, Trinidad and Tobago
Marginalized youth – Caribbean and Canada
Student Voices on Sexual Violence, Ontario Canada.
Restorative Justice with Indeigenous Peoples Canada
Investigative studies on street children and socially displaced adults.
Psychosocial exploration of behavioural/attitudinal change re: adult education: relationships among teacher-training, teacher-type, corporal punishment.
The application of a rights-based approach in the analysis of violence using a historical colonial perspective against the backdrop of international development initiatives.
However, she also acknowledges the challenges that lie ahead for these young individuals. The current generation has played a part in negatively impacting their ecological future and has left them with imbalanced family/work life, complicated political terrain, and confusing social norms.
Rona's dedication to fostering positive change through her work in Diversity, Equity, and Inclusion is driven by her desire to pave the way for a more equitable and just world, ensuring that future generations have a better, more supportive foundation to build upon. She recognizes the need to address the shortcomings and inequalities of the present, empowering the next generation to tackle global issues with resilience and determination.
Prioritizing Collaboration
One word to define Rona is collaborative. Her role as Chief Diversity Officer at Radboud University is dynamic and diverse, with no typical day. She engages in various activities, including brainstorming workshops with her team of interns, meeting with community partners and stakeholders, participating in research panels, holding workshops, and facilitating courageous conversations with students and staff on important issues. She also manages disputes related to discrimination, seeking ways to address such matters effectively.
As the strategic lead for Diversity, Equity, and Inclusion (DEI) at the university, Rona is responsible for aligning and implementing DEI goals throughout the organization. This involves creating a DEI hub both within the university and in the larger community. She also networks nationally and internationally, participating in professional networks across Europe, North America, and the Caribbean.
Rona's approach to promoting DEI is multifaceted, encompassing policy revisions, such as inclusive toilet, language, and gender policies, as well as delivering antibias, social safety, and cultural competency training. She emphasizes that systemic interventions are essential for long-term sustainability, relying on data, metrics, and monitoring and evaluation to ensure the effectiveness of initiatives. In the end, the entire staff and student body at Radboud University is a member of the DEI office.
Striking the Balance
It's important to acknowledge that Rona has faced challenges in maintaining a balance between her personal and professional life. She candidly admits that societal pressures often push individuals to prioritize work over personal well-being, leading to working long hours, overtime, and weekends.
However, Rona takes pride in her growth and the positive changes she has experienced in her later career stages. She credits the supportive environment at Radboud University for minimizing the impact of work on her personal life. The institution places a strong emphasis on work-life balance and encourages employees to prioritize their mental health and well-being.
Rona actively practices self-care by going to the gym, biking, and taking walks, even on campus. Radboud University respects time boundaries, ensuring that meeting times are honored, and avoids imposing tight deadlines or sending late-night emails. The university's approach to work-life balance is not just limited to significant initiatives like work retreats but is also reflected in small gestures like having coffee conversations and taking short meeting walks.
A Commitment to Diversity, Innovation, and Inclusion
Radboud University is celebrating its centenary this year and Rona celebrates the remarkable achievements and progress made over the past century. With a historic first of having a female rector magnificus and a female majority in the Executive Board, the university has shown its commitment to diversity and gender equity.
The sound sustainability and Diversity, Equity, and Inclusion (DEI) Plan set for 2026 will pave the way for a more inclusive and progressive institution. The innovative research culture, particularly in Artificial Intelligence, promises to push boundaries and lead to groundbreaking discoveries.
Rona is inspired by the growing political student voice that advocates for climate action, equity, inclusion, and internationalization. As future leaders, these students hold the key to shaping the university's direction in an ever-changing political landscape.
In this time of divisiveness and hate ideologies, Rona hopes that Radboud University will continue to protect the most vulnerable and uphold the essence of its birth – a struggle for liberation. The university's legacy and future lie in nurturing a community that embraces diversity, equity, and inclusivity, striving for a better and more just world.
Vision for Women in Leadership
Rona's personal goals for women in leadership are centered on empowering them to be authentic, comfortable in their skin, and embracing their fluid gender identities. She envisions a shift away from the traditional view of leadership, which has often been associated with masculinity and power. Instead, she advocates for women to lead with democratic and inclusive qualities, actively listening to others and embracing diverse perspectives.
Rona aims for women leaders to be approachable change agents, open to collaboration and dialogue with others. She emphasizes the importance of not letting struggles harden them when they take on leadership roles. Instead, she encourages women to lead with confidence, grace, and the knowledge that their uniqueness and beauty shine through in every aspect of their leadership.
By promoting this vision of leadership, Rona seeks to create an environment where women can fully embrace their individuality, contribute to positive change, and make a lasting impact on their organizations and communities. This approach to leadership challenges stereotypes and empowers women to break barriers, inspiring the next generation of leaders to lead authentically and inclusively, with empathy and respect.
What's Next?
Rona's work at Radboud University has been rewarding and successful in terms of having a sustainable positive impact. In the interview she mentions that with mixed feelings she will soon turn her gaze back to Canada to be closer to her other family. She will continue her DEI work at Trent University Ontario promoting cross border collaboration. She truly believes the world is one big glocal [global + local] village.