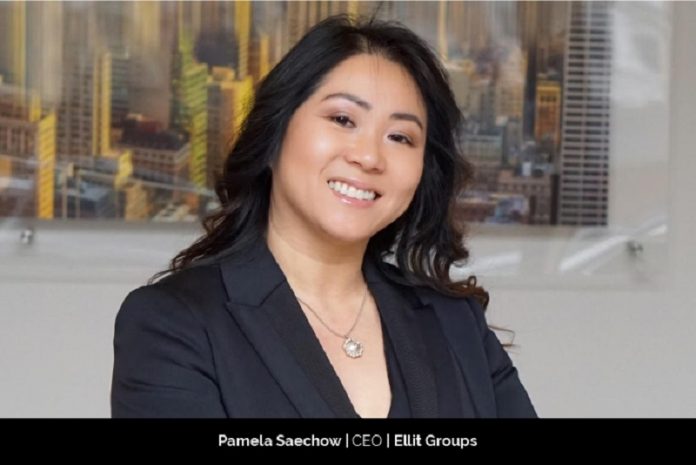 A successful leader is confident, determined, strong-willed, disciplined, ethical, empathetic, decisive, and always ready to embrace change with time. Pamela Saechow, CEO of Ellit Groups, is a rare gem who embodies all these traits and is propelling the organization to the next level. She is a mature leader with 20+ years of experience in the healthcare sector. Being a strategic thinker, she deploys smart strategies by balancing the short and long-term goals to pave the way of Ellit Groups to the top. Knowing the potential of modern technologies, she aims to blend them with the healthcare sector to pioneer innovative solutions for everyone.
Rising-up in the healthcare industry
Pamela was born in Laos and raised by her grandmother.  She watched how her grandmother selflessly served as the medicine woman for a village in Laos to live healthier lives when there was no access to healthcare.  This upbringing served as a catalyst for Pamela at a young age to have curiosity and compassion, which drove her to solve challenges that would promote happier, healthier lives.
Pamela began her healthcare career as a pharmacy technician. After working several years in that capacity, she gained an interest in technology and information systems.  She augmented her skills and experience by completing her Project Management certification and assumed new and expanded roles as a Project Manager and then as a Program Manager.  She advanced to a Director of Information Technology role with Sutter Health, where she worked for 23 years. As a Director IT Executive, she was responsible for the design and implementation of the enterprise governance model. The model is used to ensure IT alignment to the organizational objectives and initiatives throughout Sutter Health. This led to the integration of disparate IT operating units and systems through vision, consolidation, standardization, and interfaces amongst inpatient and outpatient areas. With her team, Pamela provided technology leadership for inpatient, ambulatory, revenue cycle and key program initiative divisions, decision support, data warehouse, internet, and intranet.
Pamela then became the Vice President of NYC Health + Hospitals for the EHR Implementation, Optimization and Support. She was responsible for the strategy, budgetary oversight of $1B+, and direct oversight of 456 staff collaborating and partnering with her colleagues and operational leaders across State of New York's City Health & Hospitals, the second-largest public health system in the world to bring their vision to life: transforming care. She developed and built talent within the health IT culture while overseeing the implementation, optimization, and support of the electronic health records and financial systems across all inpatient and outpatient settings.
After completing a successful playbook and roadmap for deploying the EHR across NYC Health + Hospitals and leaving behind a trusted team, she accepted the role of Associate CIO at Cleveland Clinic. There she was responsible for partnering with the organization to lead the digital transformation across Cleveland Clinic across the globe.  She had direct oversight of 200+ employees, 8+ director level reports, and served with amazing leaders and partners across the Cleveland Clinic organization with associated vendor partner to drive results. Here, she worked with the organization to apply Lean and Agile methodologies and tools to transform a traditional IT operating model into a more transformational approach to all digital and technical business needs.
After that, she took a CIO role at Philadelphia Academic Health System, LLC (PAHS). Pamela was a key member of the C-suite for the health system and was responsible for transitioning from a shared IT operating model with Tenet Health System to an independently owned and operated PAHS model that focused on new people, processes, and technology to align strategically with the vision of the organization.
Serving in these multiple roles allowed her to widen her skill set and gain valuable insight into the healthcare sector. Capitalizing on her healthcare industry experience, she laid the foundation of Ellit Groups to amalgamate technology with the healthcare sector. She adds, "My experience coming from a healthcare operations background into Healthcare IT, combined with training and experience in Project management (PMP certified) modernized with agile ingredients combines the art and science of the essential "toolkit" to intertwine soft skills with a risk-based IT governance to produce returns using data-driven facts to drive results at the speed of light required in today's V.U.C.A (Volatile, Uncertain, Complex and Ambiguous) healthcare and technology landscape."
Promoting women community
As a woman leader, it's still an uphill climb to break into the male-dominated healthcare industry.  On a global scale, women account for only 25% of healthcare leadership roles despite constituting 70% of the workforce. This, combined with the force of a female influence throughout her life inspired by her grandmother, is one of the reasons Pamela founded Ellit Groups and works every day to ensure they are inclusive and equitable.
Ellit Groups is a woman, minority-owned business and certified by WBENC. Provider and Life Sciences organizations are prioritizing diversity and working with firms like Ellit Groups. Pamela states, "Diversity in an organization brings strength, differing outlooks, and opinions. It helps us be our very best. In fact, we strive for it at Ellit Groups. We are proud to be a woman, minority-owned company."
Bringing innovative solutions with Ellit Groups
Ellit Groups focuses solely on healthcare with experience in provider, payor, and life sciences and provides comprehensive consulting services. They offer advisory services, learning and adoption, optimization services, support services, EPIC managed services, data analytics to help organizations turn insights into actions, and implementation services. The in-house team believes that IT is an enabler to drive results in helping healthcare organizations to realize operational efficiencies and offer competitive advantages. Pamela adds, "Over the last 20 years, through Ellit's combined experience, we have been entrusted to provide an end-to-end IT service delivery model to support running healthcare operations starting with advisory services to planning and to implement some of your most important solutions, continuing to modernize/optimize the user experience, and offering ongoing learning and adoption of the IT solutions."
When it comes to redefining the traditional paradigm of the sector, Pamela aims beyond the EHR to provide more cost-effective solutions that offer healthcare providers and patients a better overall experience and improved outcomes. A study done by The Commonwealth Fund compared health care systems in eleven nations, namely, the United States, Canada, Switzerland, France, Sweden, New Zealand, Germany, the United Kingdom, Australia, the Netherlands, and Norway. The study found the overall top-performing countries are Norway, the Netherlands, and Australia. The United States ranks last overall, despite spending far more of its gross domestic product on health care. The U.S. also ranks last on access to care, administrative efficiency, equity, and health care outcomes, but second on measures of the care process. Pamela aims to change this by building a company that will help its clients focus and invest in systems and high-value services that result in better outcomes.
Steering the wheel with a unique philosophy
Pamela's philosophy in life professionally and personally centers around the 5L's. The first is LEAD which means leading by inspiring the heart and mind. Then comes LIVE, which refers to living with vision and purpose. LEARN means learning is lifelong, and LAUGH refers to the team's positive energy and culture that drives creativity and results. At last, comes LISTEN, which tells one to be a good listener.
Pamela uses this philosophy to guide Ellit Groups to develop industry-leading solutions to not only solve existing challenges but to anticipate and predict new challenges so they can mitigate issues proactively.
Company's long-term vision
Pamela defined Ellit Group's mission while formulating the company's culture. She says, "Ellit Group has to be a top leader in blending together art and science of people, technology, process, as well as knowledge across Operations, Information Systems, as well as Vendors."
To make this vision a reality, it is essential to hire the best-talented individuals in the healthcare industry to be a part of Ellit Groups. She always looks for individuals who have that passion fire ignited in them with an entrepreneurial spirit that aids in delivering superior quality and presents the right thing for all the clients every time.
She always ensures that everyone meets regularly to discuss several industry trends, technological advancements as well as regulatory requirements. This also helps them to talk about different priorities and charting the future roadmap.
Following the Process Improvement techniques, they also elucidate their internal operations perfectly and adjust their designed solutions as per the problems for a proactive future plan. Moreover, they also engage in national organizations, which helps in strengthening their personal networks to stay one step ahead of client's minds. It will also allow them to design lean and efficient solutions with their immense knowledge.
Proud Moments
Pamela finds herself quite lucky to have gained profound experience while working with some of the most prestigious healthcare organizations in the nation and some of the best people she has served with.  She says every person along the way has shaped her life in "lessons learned or blessings" as she strives for continuous improvement.  She looks back each day to self-reflect but her goal is always to be forward solutions.
During her job as a healthcare provider, she was asked to join a new healthcare technology division at Sutter Health. It is a large California-based health system and was helpful for her to embrace new technology. The best part was that her hospital operational expertise quickly began illuminating opportunities for improvising the healthcare experience and results all over their extensive network. She states, "Over the next 23 years, I held several leadership positions and helped a dedicated team transform Sutter's digital health offerings. I was instrumental in completing a 5-year roadmap EHR roadmap across continuity of care + rationalized IT systems from "Best of Breed to Integrated."
Explaining her role further, she adds, "I led a team that reshaped the IT department, launched the Epic Refuel initiative and M+A playbook on a global scale. To be able to drive this kind of change in the delivery of healthcare has been one of my greatest achievements."
A Passion-driven Entrepreneur
Being the proud CEO of Ellit Groups, Pamela is the champion of handling a myriad of responsibilities. From developing both short and long-term strategies, overseeing quality, setting realistic goals for each of the Service Lines, to staying relevant by working directly with the clients to understand and solve their problems effectively, Pamela is always helping the clients by proffering the best possible care to their patients. Her passion is to ameliorate healthcare delivery, create marvelous solutions for their clients' challenging problems, and transform the lives of people. Since she knows that there is so much to be done in the healthcare industry, she feels excited and enthusiastic each and every day.
As all her days are super busy with new responsibilities, there is no monotonous routine that she has to follow. She adds, "On any given day, I can be found mentoring and coaching upcoming executives on how to apply emotional intelligence to their delivery of messaging to the right audience, working with them to build out their governance model for organizational oversight and decision making, or leading a team to perform a business continuity assessment." She is happy to have new roles to play every day and make a difference in people's lives.
Besides being passionate, she also follows an old mantra that helps her ride through all her life situations brilliantly. It states, "You can't assist others with their needs if you don't take care of yourself." Thus, she always makes time for her own little things even if all the circumstances stand against her be it a hectic or chaotic schedule, she always takes time out to enjoy outings and events with family, friends, and work colleagues.
Well, the celebrations don't end just here. She shares, "This year, I have been fortunate to spend time in small groups being mindful of COVID-19 protocols, celebrating birthdays, baby showers, and relaxing with family.  My employees are family to me.  Whenever we are working on a client site, we plan team events to celebrate our successes and collaborate to find solutions to the challenges we encounter.  We work together and play together to form strong, cohesive teams."
Laying the Future plans
Being a long-term goal setter, Pamela has already charted Ellit Groups' future goals to taste success in the best way. They are carving strategies to become more innovative, impart unsurpassed healthcare IT services, as well as enhance the global healthcare industry through knowledge, linking people, processes, and technology. They are also looking forward to seizing every opportunity to harness the power of technology as well as evidence-based practices for ameliorating current healthcare delivery and outcomes. They will mainly target Data Management and Analytics for converting big data to relevant information and reporting it, telemedicine for enabling customers to interact with doctors virtually and conduct healthcare checkups, Consumerism for excellent care delivery at a budget-friendly rate, and enhanced security to safeguard and maintain patient privacy at all times.
She knows that as a minority, woman-owned business, she must keep the integrity of staying true to the business mantra that constantly asks them, "Get the job done right putting your customer's success first in all you do." Having catered to the needs of a plethora of clients, she is well-aware of being both inclusive and diverse to respond urgently to clients' needs by providing the best talent with the right culture fit to design and deliver high-quality and high-value solutions. She believes, "Diversity and inclusion are about enabling varying perspectives and opinions to shape the best solution for our customers."