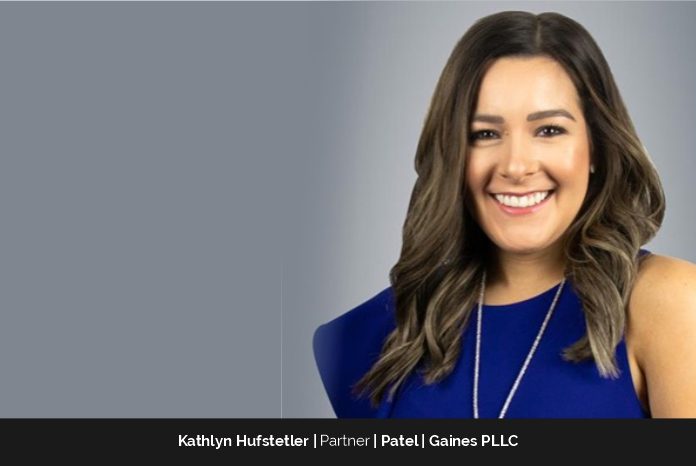 As a Partner at Patel | Gaines PLLC, Kathlyn Hufstetler's ability to fiercely advocate for her clients in over 35 Texas counties, and manage high-volume property tax litigation matters, have made her an invaluable asset to her clients, and have truly prepared her to handle even the most difficult cases.
Kathlyn's primary focus is on commercial property tax litigation. Her exceptional attention to detail, litigation experience, and love of the law have made her an invaluable member of the Patel Gaines team – and a strong advocate for her clients.
Excelling as a law student
Kathlyn earned a Bachelor of Business Administration degree from the University of Texas Pan American, followed by a Juris Doctorate from St. Mary's University School of Law. She graduated near the top of her class at St. Mary's, excelled in mock trial as a 2L student, was a staff writer for the Law Journal 2L-3L, and served as Senior Associate Editor for the St. Mary's Law Journal during her final year.
"I was a law student, then undergrad. However, I started with Patel Gaines in 2015 as a law clerk," Kathlyn recalls. Having begun her career at Patel | Gaines PLLC, she became a licensed attorney in 2016, and was promoted to Associate Attorney, where she concentrated on commercial property tax appeals, exemptions, valuations, and complex litigation matters.
Leading the expansion of the firm
Kathlyn spearheaded the expansion of Patel Gaines to Houston in 2019, by opening the Houston office and giving the firm a presence in the largest county in Texas. Her ability to serve as a leader within the property tax team, as Head of the Property Tax division, made her an excellent choice for Partner and an invaluable asset to the Patel Gaines legal team.
"Some of my responsibilities as a Partner include running the property tax division's day to day activities and case management of hundreds of lawsuits, maintaining client relationships and all communication, as well as seeing that the team as a whole is succeeding," says Kathlyn.
Bringing Tech to an Antiquated Practice
When Patel | Gaines PLLC needed to fine-tune their efficiency, Kathlyn worked closely with the Managing Partner and spearheaded a new project. Closely, with a help of software developer created custom software to bring tech, value, and cost savings to its clients and by being able to provide valuable, real time reports and updates for their property tax litigation case(s).
Kathlyn's expertise as a property tax litigation expert has also contributed to the growth and success of Patel | Gaines PLLC, since property tax is one of the main areas of law that the firm handles. "I believe that my knowledge and ability to handle the volume has helped us continue to grow each year, while still maintaining excellent service and results for each client," she remarks.
Making Partner at 30
Kathlyn feels that making Partner at Patel | Gaines PLLC by the time she was 30 was her greatest achievement. "I think that success, or the feeling of success, changes throughout the various stages of life you go through. What I thought success looked like in my twenties while in law school versus now is vastly different," she observes.
For Kathlyn, success now means working for a firm and company that values her skill sets, helped her grow those skills, and provided her with opportunities that have ultimately led to her having the position she holds today.
Kathlyn believes that growth and strength come from challenges and "setbacks" which are necessary to encounter in life to get you to the position you want to be in, for both professional and personal areas in life, and sometimes this can be intertwined.
Becoming a leader & mentor to others
"As my personal life has changed, and I have become a wife and a mother, my professional life also changed, and I had to learn how to now be a mentor to others on my team, so they could learn and grow into new roles," Kathlyn notes.
As far as balance is concerned, Kathlyn maintains that time management is key. Having a plan leading into each week of what needs to be accomplished, and who is tasked with handling it, makes everything go smoother.
"I had to learn to give up some control and delegate to others, so as the firm grew so did the property tax team, and as a result, we have a team that I am truly confident in and proud to work with," she declares.
Kathlyn's personal goal as a business leader is to continue to grow and develop as a leader, and to always strive to be better and willing to learn.