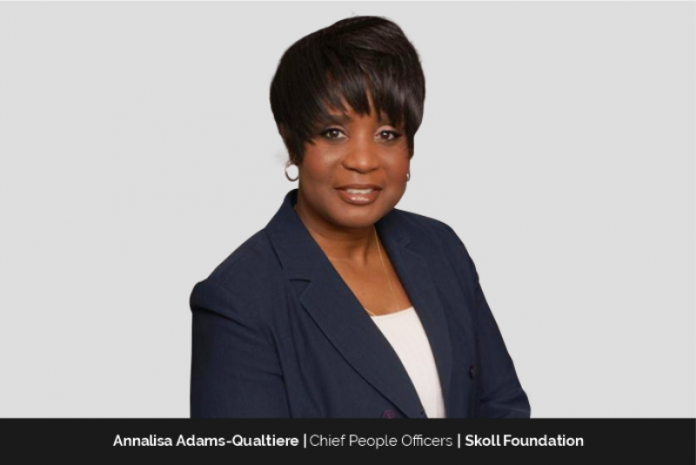 She had a boss once, and he asked her: 'Do you know how Windsor steel is made?' Windsor steel is the hardest steel out there. She didn't know the answer. And he said, 'It's subjected to the highest heat.' And so, he used to tell her: "When you're in a situation, think blades of steel, stop thinking about what's happening to you. Start thinking about how you can use this to become a blade of steel. That's not hardening your heart, that's being able to withstand the heat that's there."
Little did she know, this single moment of advice would serve her really well in an exciting rollercoaster of a career. She is Annalisa Adams-Qualtiere, the Chief People Officer at the Skoll Foundation, where she focuses on managing the strategy and processes related to building, supporting, and retaining the Foundation's exceptional talent.
With more than 30 years of experience in human resources, Annalisa has played a pivotal role in mentoring and guiding countless individuals toward their full potential, equipping them with the confidence to act with care, authenticity, and integrity.
Annalisa's approach to leadership is rooted in the belief that a poor manager can have a more devastating impact on the human brain than a car accident. With this in mind, she brings all her acquired tools and experience to bear, working tirelessly to inspire leaders to think and act ethically and effectively in pursuit of their organization's vision and values.
"Becoming an effective leader is a process that requires fearless introspection, feedback-seeking, and committed efforts to behavioral change."
Navigating through a play of three acts named Annalisa
Annalisa's career journey can be best described as a play with three acts. Act I saw her working in Lending, where she started as a homeowners insurance reviewer before climbing the ranks to become a Vice President of Loan Servicing and Secondary Marketing. Her responsibilities included selling and servicing loans into the secondary market, with Fannie Mae and Freddie Mac being her primary clients.
In Act II, Annalisa took on the role of a consultant at PwC, where she implemented enterprise-wide solutions for Fortune 500 companies. Her expertise in human resources management implementation for SAP, Oracle, and Peoplesoft solutions—gained from her time at ADP—was particularly valuable. It was during this period that she was offered a position in human resources, focusing on leadership, change management, and organizational design, leading to her current Act III, where she is now a People/HR specialist.
Creating a sense of belonging in the workplace
Annalisa reflects on her journey as a leader, acknowledging that her early experiences were not without flaws. She recognizes that technical proficiency alone does not make a good leader and that it is important to cultivate the ability to lead with empathy and to develop a deep understanding of how one's leadership impacts others.
As she has progressed in her career, she has found her true calling in helping others become effective leaders and in promoting a culture of introspection and personal growth. Looking back on her journey, she sees a clear thread connecting her various roles and experiences and is proud to have made HR the primary focus of her work.
Annalisa understands that becoming an effective leader is a continuous process that involves taking a fearless look at oneself, seeking feedback, and making a committed effort to change one's behavior. In her current position, she helps leaders understand that the most significant way to enhance their team's commitment and accountability is by creating and sustaining a work environment where everyone feels like they belong.
She says that there's no one-size-fits-all approach to creating a culture of belonging, particularly when it comes to considering the rising importance of employee well-being in the HR function. She believes that traditional organizational structures are inadequate for defining employee well-being and that it requires a more nuanced and individualized approach.
Breaking through the Iron Ceiling by having outstanding mentors
For Annalisa, when discussing the challenges that women-of-color face, the glass ceiling becomes an iron ceiling, making it even more challenging to break through. The best way to navigate this ceiling is by having mentors and advocates who can help create opportunities and open new doors.
Annalisa herself faced a fear of stepping up when an organization showed no willingness to invest in her, resulting in a lack of opportunities. "There's a saying from my mother and it went like this 'go where you're celebrated, not where you're tolerated'," she recalls. She believes that if an organization does not align with one's values and opportunities for growth, it may be best to leave and seek a better environment.
To overcome these challenges, Annalisa recommends being clear about one's standing in the organization, identifying and closing any developmental gaps, aligning one's values with the organization's expectations, and seeking out mentors and sponsors who can invest their time and support.
She acknowledges she has been fortunate to have outstanding sponsorship within the organization by leaders who saw her talent and were willing to invest their time in her. She reiterates that it's extremely essential to be deliberate and intentional in seeking out such people.
Leaders that inspire triumph against all odds and succeed
Annalisa speaks highly of her mother, who had a significant impact on her life and career. Her mother was a wise counselor and Annalisa still uses and reflects on her mother's teachings. She also highlights several other mentors who have influenced her thinking and leadership style, particularly in philanthropy, including Nicole Taylor, CEO and President of the Silicon Valley Community Foundation, and Skoll Foundation President, Marla Blow.
"Both women exhibit excellence in thinking and acting holistically. Both are women-of-color. I have proximity to them, so I can learn by example. A former Chief Human Resources Officer is my current mentor who I connect with monthly. I also think it is important to include virtual mentors—Ursula Burns (former CEO of Xerox), Thasunda Brown Duckett (President & CEO, of TIAA), and Clara Harris (former Chair of the Morgan Stanley Foundation). These are examples of leaders who have shared their journeys and speak and share openly about their trials, triumphs, and tripping points," she adds.
Growing need for tailored and individualized hybrid work culture
Annalisa believes that the hybrid work culture is a new challenge for organizations, and there is no one-size-fits-all solution or a set of best practices that can be applied universally. Instead, she suggests that it needs to be tailored and individualized for each organization and its specific departments. To navigate this challenge, her organization has implemented CEO listening sessions, which allow the CEO to interact more closely with staff and work with HR leaders to make informed decisions.
Annalisa also acknowledges that remote work has become the norm, and most organizations have adapted to it. However, the hybrid work model presents unique challenges, such as microcultures, which can be disrupted by your decisions. She emphasizes that organizations need to be sensitive to their staff's needs and recognize that the office is not just a place to work. Her organization has fully embraced remote work but continues to view the office as a place of collaboration, which has been successful for them.
They have also implemented 'Home Weeks' and other events to bring their employees together. However, she recognizes that while the pandemic has become endemic, remote work is something that they will have to learn to live with.
It will be a continuous process of figuring out what works and what doesn't work for their organization. Additionally, Annalisa believes that leveraging the gig economy can be a strategic diversity lever – she supports the idea of leveraging freelancers as a part of their work.
"Utilizing freelancers is built into the fabric of our work and those who work with us. Our work is in support of social entrepreneurs and other actors involved in addressing the world's most pressing problems. From an HR/People perspective, I believe in a variable work model that includes building in a contingent workforce (contractors, temporaries) as needed. I have used this as an opportunity to support small women-owned and minority-owned businesses from our procurement process through our core HR processes," she adds.
Integrity, Authenticity, Empathy, and Stewardship
The leadership qualities that Annalisa values most are integrity, authenticity, empathy, and stewardship, in addition to core business competencies and capabilities. At the Foundation, they have a leadership model which focuses on five key areas of competencies. She believes that personal leadership, team leadership, business leadership, results leadership, and equity and change leadership are key competency areas that leaders should focus on.
Annalisa emphasizes the importance of integrity as a leadership quality and believes that it goes beyond not lying or cheating. She believes that leaders should have the courage to speak to conflict and manage through it, and should be willing to seek feedback and insights about their leadership.
At a previous organization, she created an accountability group that provided her with feedback on how she handled and participated in conversations during key meetings. "That's what it means to sit in integrity. Without that visibility, I could still be successful, but that human component would be lost. Integrity encompasses the authenticity, empathy, and stewardship of others. Integrity, by default, encompasses all the others, including outside knowledge, skills, and capabilities," states Annalisa.
Importance of examining processes through an equity lens
In terms of diversity, equity, inclusion, and belonging (DEIB), Annalisa emphasizes the importance of examining processes through an equity lens and recognizing how personal experiences impact work. She believes that DEIB should be a strategic lever in an organization rather than a program owned by a single individual, and stresses the importance of properly resourcing and empowering Chief Diversity Officers (CDOs) to effect change.
Annalisa partners closely with Shivani Garg Patel, Chief Strategy Officer of the Skoll Foundation to embed equity throughout their processes and has already made significant changes in their hiring, procurement, and grantee community practices.
Shivani works closely with Annalisa as a part of the executive leadership team. She joined the Skoll Foundation after merging her non-profit with another entity. Shivani was drawn to philanthropy and the Foundation due to the challenges and barriers she faced as an entrepreneur raising capital for social good. Having an opportunity to influence the flow of capital and support great projects and efforts is now a part of her purpose.
People management has always been a big part of Shivani's role, which she loves doing. She leads the development of strategy and evaluation of the learning team for the organization's purpose. Identifying and setting the organization's purpose is closely linked to its assets, people, and funding.
Shivani believes that it is all about the people who are doing the work. The Skoll Foundation funds social innovators, and Shivani and Annalisa partner on how the organization lives into its values, executes its strategy, and the capabilities and competencies that are required for success. They also work closely on what this means for the Foundation's staff.
Annalisa and Shivani approach their work from an inside-out perspective, meaning they aim to address systemic change by first examining the barriers that are hindering progress. To achieve this, they prioritize focusing on the most marginalized and under-resourced communities and the specific challenges they face. By centering on these groups, they can work to identify and address the barriers that exist in entrenched systems and work towards creating meaningful change.
In terms of competition, Annalisa notes that the Skoll Foundation sees other foundations as partners and allies, and they work together, not against, one another. "There isn't a competition, but rather, collaboration. We're looking at making room for solidarity. At the Foundation, we're focused on issue areas like democracy, justice and equity, health and pandemics, and climate. We work to catalyze impact in those areas by supporting and providing a platform for the organizations and leaders who are co-creating solutions to those pressing global problems," she adds.
Rising need to address some of the systemic inequities in workplaces
Annalisa recalls her proud moment from when she started the African-American Leadership Program because there was a deficit in the country of programs for leaders of color, specifically African-Americans. "And because I had that instructional design background, I went ahead and created it. We piloted it and we rolled it out. And got national acclaim and attention. I was really proud," recalls Annalisa.
Currently, she is very active in a membership group of over 30,000 diverse leaders through LinkedIn. She leads this group by creating cohort-coaching opportunities, introducing mentorship opportunities with other leaders, and through networking. It has become a safe space for authentic conversations and the sharing of leadership development tools. She also coaches and mentors individual Black and Brown leaders.
Annalisa is also proud of the certificate of appreciation that she received from her internal team with whom she collaborated on a pilot. They organized a surprise award ceremony, which included two members of the board of directors (Black leaders) who were part of this journey. This turned out to be one of the proudest moments for Annalisa. On a professional level, being recognized by the Silicon Valley Business Journal as a "Woman of Influence" in 2012 was remarkable for her.
Concluding the interview, Annalisa emphasizes that she is "doing this interview on the heels of the release of the Trye Nichols videos. I share that frame because navigating intersections of racism that disproportionately impact Black and Latin people, it dawned on me that the field of human resources is uniquely positioned and equipped to address some of the systemic inequities in our workplaces, which include public and government institutions. It's so important that the HR Leaders find their voice in this conversation and lead through systemic barriers and microaggressions as you advance the work. It's also important to stay in community with other Black and Brown HR leaders, not in absence of other more homogenous groups, but in addition to. At the end of the day, we experience the workplace differently—for now. My hope for the future—HR-specific—is that that will not be the case. Until then, persevere."