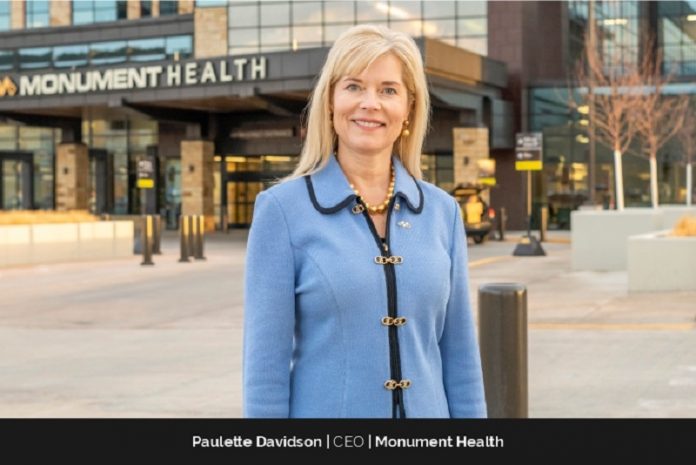 Paulette Davidson began her career in healthcare at the age of 16 as a housekeeper. Today she serves as President and CEO of Monument Health, a western South Dakota-based community health care system with over 5,500 caregivers and physicians.
Always determined to find a way forward, Paulette in her previous jobs played a crucial role in building a new cancer center for a community that did not have one and expanding an organ transplant program for children. At Monument Health, she led the expansion of hospitals, clinics and specialty clinics, most recently taking the initiative to start construction on a 54-bed long-term acute care facility for people who need to recover from traumatic injury or chronic disease. She was also at the helm of the organization at a time when the COVID-19 pandemic massively disrupted the health care sector. Her leadership and strategic planning have enabled Monument Health to provide uninterrupted, safe, high-quality care to communities across western South Dakota and eastern Wyoming.
A Career in Healthcare
Paulette has spent her entire career in healthcare. When she was a 16-year-old high-school student, she began working as a housekeeper at a hospital. It was a job of cleaning floors, toilets, the emergency department, patient rooms, and operating rooms.  She enjoyed her work and the experience it offered. Taking care of people, working in a team setting, and realizing the opportunity to do her best excited Paulette.  "That was my introduction to health care," she says.
Paulette earned a bachelor's degree in Business Administration from the University of Wisconsin-Parkside and an MBA from the University of Notre Dame Mendoza College of Business. As she worked her way through school, Paulette worked in various roles in the healthcare industry. She worked in the admissions department as a switchboard operator and in the patient account department as a file clerk.  She moved into clinical areas and worked as administrator of an ambulatory clinic.
"I just continued along the path, and the opportunities that were presented to me always allowed me to grow and learn something new," Paulette says. "My formal education was helpful, but I would say my experience working in all of my roles has led me to where I am today."
Caring for her family and raising children was also important. She credits her role as a working mother in helping her children become more capable and successful in their own careers.
Success as a Health Care Leader  
For Paulette, a health care career is truly a "noble" career, so it is not a surprise that she does not define success in terms of gains or profits.  She defines it as the "satisfaction of knowing that you did your best to improve yourself, improve your organization and improve the world around you."
Personally, Paulette feels more successful when she is actively engaged within her organization, with the community and with her family.
"I don't feel successful when I'm unable to be visible or to interact with my team, the people within my organization, or the people external to my organization," Paulette says. "The ability to connect and work with different people to solve very difficult problems and know that at the end of the day we did something – that is what drives me."
Monument Health: An Integrated Health Care System
In 2015, Paulette joined Rapid City-based Monument Health as Chief Operating Officer, and in September 2018, she was named CEO by the organization's Board of Directors. An integrated, community-based health care system, Monument Health's mission is: "To make a difference. Every day." It offers care in 31 medical specialties and serves 12 communities in western South Dakota and eastern Wyoming. It is also a member of the Mayo Clinic Care Network.
One of the priorities of Monument Health is to ensure that families and communities in the region can depend on it to deliver high-quality care. Paulette points out that most areas in the region are rural communities. For families who live in such communities, a health care facility may be two to three hours away. When they need care, they expect Monument Health to deliver it.
"We serve around 450,000 people," Paulette says. "We look at the barriers to receiving health care. Is it transportation? Access to internet service? Then we identify what we can do to keep care close to home. It is powerful when you can stay at home and get care from experts. It offers peace of mind, and the burden of travel is removed."
Solving Issues by Leveraging Technology  
At Monument Health, technology has assumed a key role. During the pandemic, Paulette led teams to leverage technology to solve the problems of extremely busy emergency departments, urgent care clinics and ambulatory clinics.
Paulette points out that the staff was under pressure, and the clinics had long wait times for many patients. Paulette and her team developed a virtual method to help newly diagnosed patients recover at home. Equipment such as a pulse oximeter and thermometer were sent to patient homes along with instructions on how to use them, and a technology-enabled home monitoring program, called the Care Companion Program, was put in place.
"We were able to take care of recovering COVID-19 patients at home and avoid the need for them to visit emergency departments or clinics," Paulette says. "Technology allowed us to do that. We came together as an organization and created this new service." She intends to continue to leverage technology.
Upcoming projects where Paulette believes technology will be transformational –making sure physicians and caregivers are practicing good hand hygiene, and tracking vital signs and other patient health information during emergency department visits.
"Negative Brainstorming" to Overcome a Crisis 
Paulette reports to Monument Health's Board of Directors, and board members hold her accountable for everything that happens in the organization. Paulette says it became very clear to her that if she failed to bring the right people to the table to look at a specific problem or crisis, they would not be able to find the best solution – and innovation would not happen.
"I can tell you, day after day, crisis after crisis, as we brought the right people to look at issues, we came up with probably not only one solution but multiple solutions, and many times, backup solutions," Paulette says.
Over the years, she has developed a method to addressing crisis situations. She calls it negative brainstorming. It is very much like a brainstorming session, where people think about ideas to solve a problem. Negative brainstorming encourages people to think about all the things that could possibly go wrong. What are the potential things that we can control, and what things are outside of our control? What are all the variables that could make it difficult for us to be successful? After that, each of the negative variables is identified and a plan is developed for each.
"That way, depending on what happens – hopefully, you thought of everything that could go wrong – you know how to mitigate that specific issue," Paulette says. "If you do negative brainstorming through a crisis, you are going to be prepared."
Risk-Taking Leader
Paulette is a risk taker. She makes lots of small bets, which pay off over time. For example, the 54-bed long-term acute care facility will be the first hospital of this kind in the region. Paulette says that she sat down with her team and identified the need for such a hospital because patients are being sent six or seven hours away from their homes for that care. "We need to be able to provide that care here, close to home" she says.
Ultimately, she presented the plan to the Board of Directors, weighing the investment cost (over $ 40 million to build the hospital) against the needs of the region. "We brought all the data, including financial data, volume, and regulatory data, and we presented the full picture," Paulette says. "There is a risk of doing this because of the cost, effort, and energy, but I do believe it is a risk we need to take."
Changing Landscape of Health Care Industry
Paulette says that the health care industry is now more regulated than ever, and leaders must pay attention to both state and federal government regulations. And at the same time, it's essential to stay on top of changing times. Both medicine and technology are changing all the time. There are better therapies now compared with what was available 30 years ago, Paulette says, adding that equipment is more precise, and the medicine is more precise.
"In order to stay abreast of all the changes, and for all of those innovations that are important, we are partnering better with our physicians across our health system," Paulette says. Physicians are being asked to help Monument Health plan for the future, because they know best what is happening in their clinical areas. For example, what CT Scan unit Monument Health should plan to purchase in the next five years, or what the operating room spaces should look like.
The input from the key stakeholders helps Monument Health ensure that the plans will meet the needs of the communities it serves and improve and expand services to meet the needs of future generations.
Future Plans
In the last three years, Monument Health has invested over $300 million to expand its hospitals and clinics, with the aim to meet the needs of the region.
Monument Health has a dynamic team of physicians and caregivers who engage with technology organizations from around the world. Paulette says that Monument Health is piloting some innovative technologies, and its work is contributing to science and advancement of different technologies. Hopefully, she adds, "what those organizations learn from our experiences will also help other health care organizations around the world."
"Advancements in the application of technology to health care is pretty incredible," Paulette says. "There are touchless points of care, where technology can really assist our caregivers with recurring tasks, improving what happens with their patients on a daily basis. This will lead to a smarter and leaner way to deliver care in the future."
Best Achievement
One weekend Paulette received a text from one of her neighbors, a retired nurse. The neighbor had returned from a lunch with a few nurses who work at Monument Health. During lunch, she had inquired about how things were going at their organization. The neighbor texted their answer to Paulette.
"It's really going well," they told the retired nurse, adding, "Because Paulette made things better for everyone."
"I laughed because it takes so many good people to create the innovation and change," Paulette says. "But I thought that was a nice recognition, as they gave me a shoutout. And for nurses, the hardest-working and the most dedicated people we have, to give me some credit, I felt great about that little message."